The films Sleeping Beauty (January 29, 1959) and Peter Pan (February 5, 1953) are celebrating their anniversaries… the perfect opportunity to look back at these productions that inspired Imagineers to create Fantasyland! We start today with a look at the Disney short films referred to in Fantasyland.
There are a thousand and one ways to visit the "Land of Eternal Enchantment," as Walt Disney liked to call it. One of them is a journey through Europe's fairy tales, from Charles Perrault's France to the Grimm Brothers' Germany, stopping by Collodi's Italy and Lewis Carroll's Great Britain.
Just as exciting is the opportunity for us to be guided by Disney films, through the history of the most famous animation studio.
IT ALL STARTED WITH A MOUSE!
Like the story of Walt Disney Animation Studios, we begin our journey at the very start with Mickey! It was indeed natural that he be honored at Fantasyland. He's featured in Meet Mickey Mouse and on the big screen in Steamboat Willie, released on November 18, 1928 as the first animated film in history to feature a perfectly synchronized soundtrack.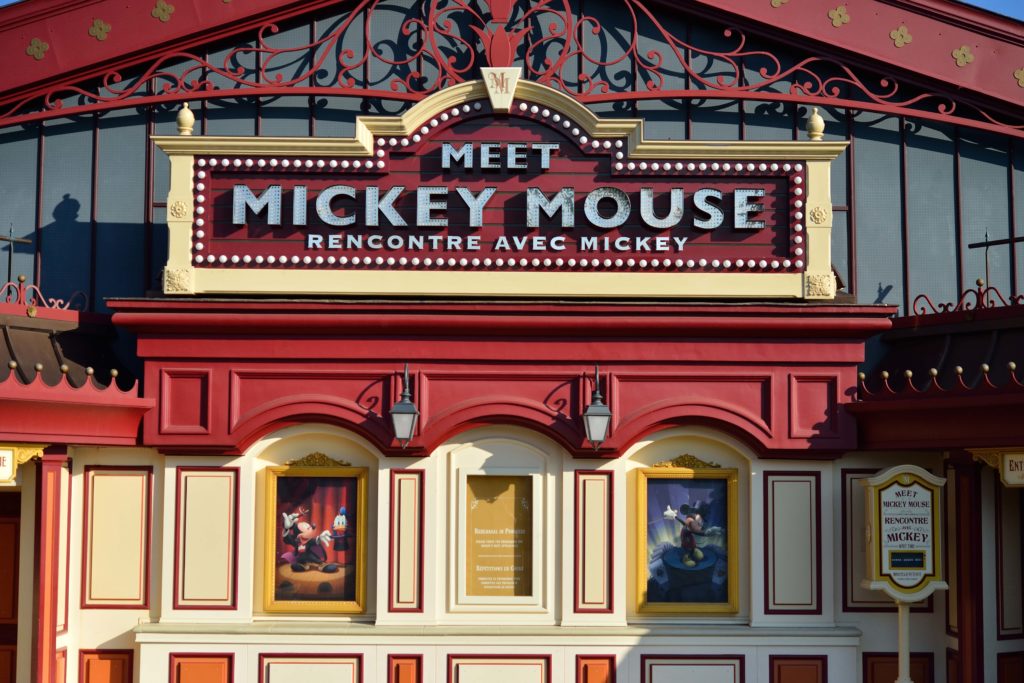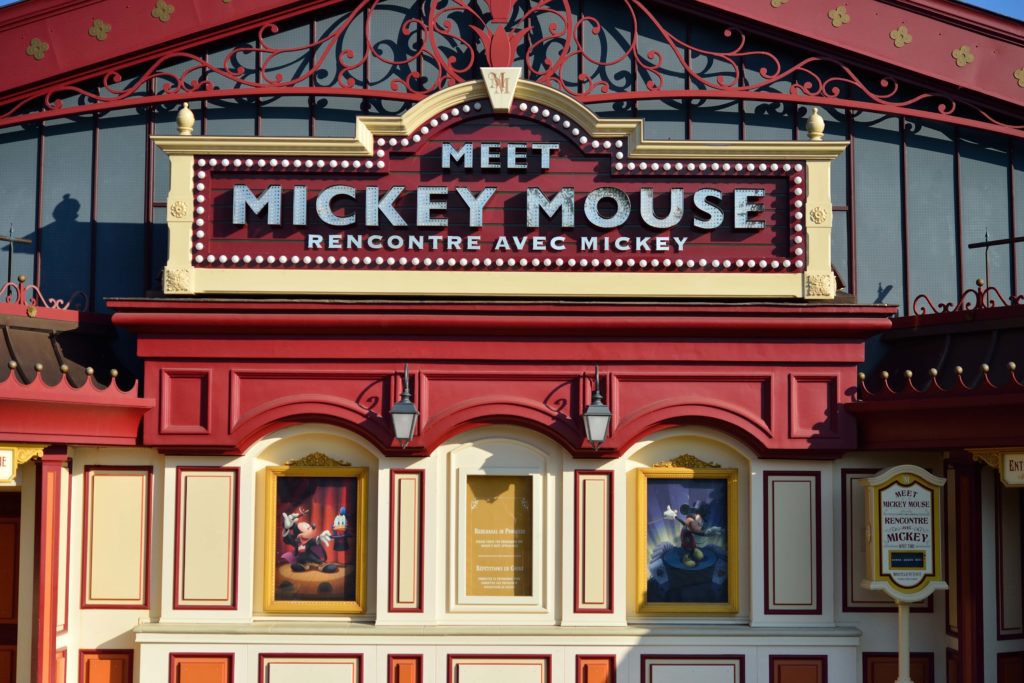 Many of Mickey's other roles are evoked here – be it in the form of films or paintings, by the Italian artist Fabrizio Petrossi, a great specialist of the famous mouse. One of them, located at the beginning of the line, depicts Mickey in the role of the Brave Little Tailor, whom he played in 1938 in an animated film inspired by a Grimm Brothers' fairy tale, featured at Sir Mickey's Boutique. There are many sewing tools and accessories, rolls of fabric, thimbles transformed into lights and his famous scissors. This story of a giant hunt is associated with another one known as Mickey and the Beanstalk, a mid-length film originally proposed in Fun and Fancy Free (1947). In fact, the shop is invaded by the famous giant plant that Mickey tries valiantly to climb.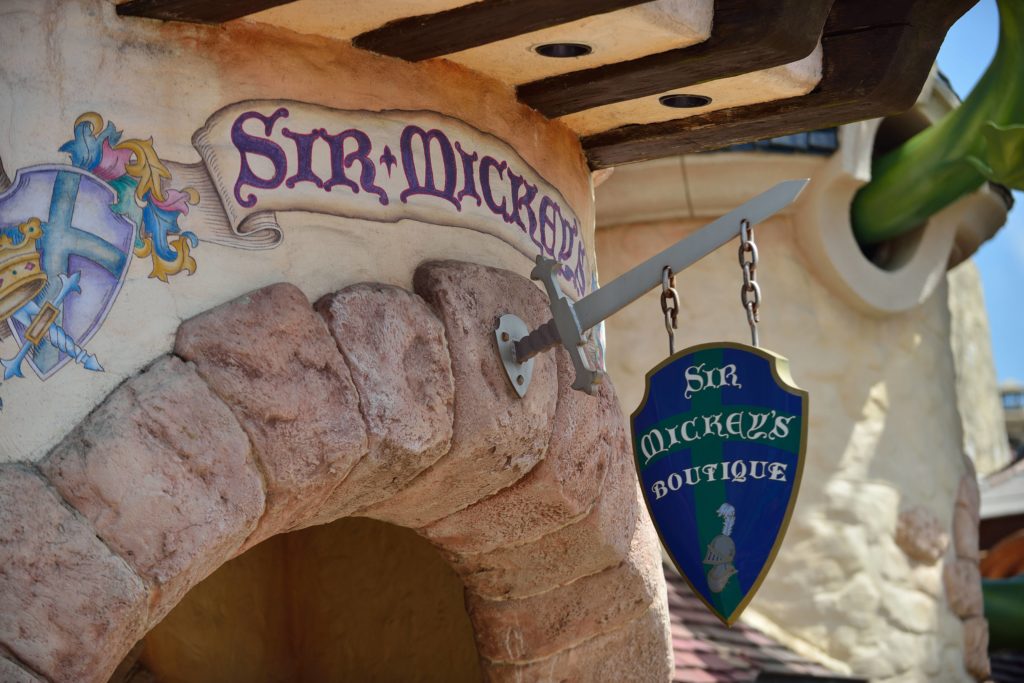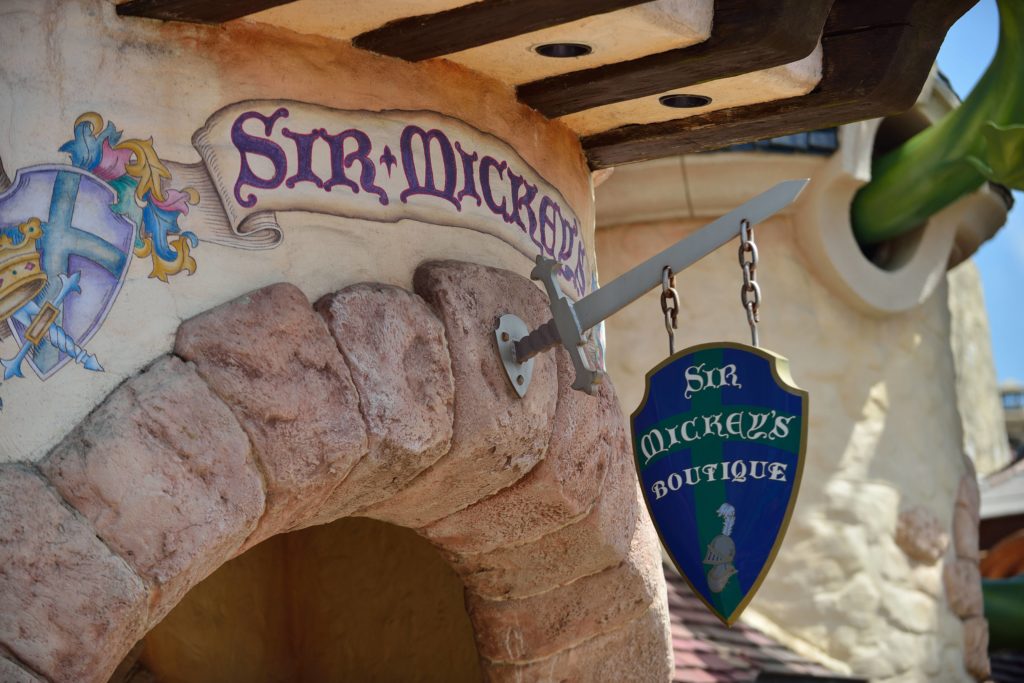 The Happy Valley, where this tale takes place, is depicted in the giant book at the entrance of the attraction Le Pays des Contes de Fées. It is dominated by a magnificent castle, also illustrated in the Princess Pavilion's stained glass window.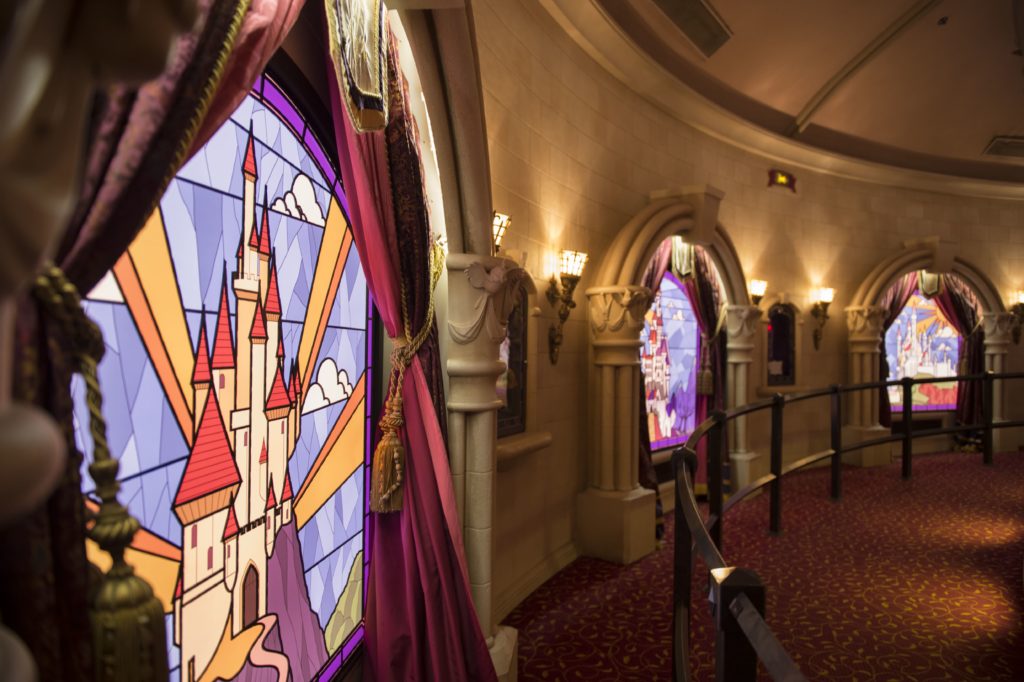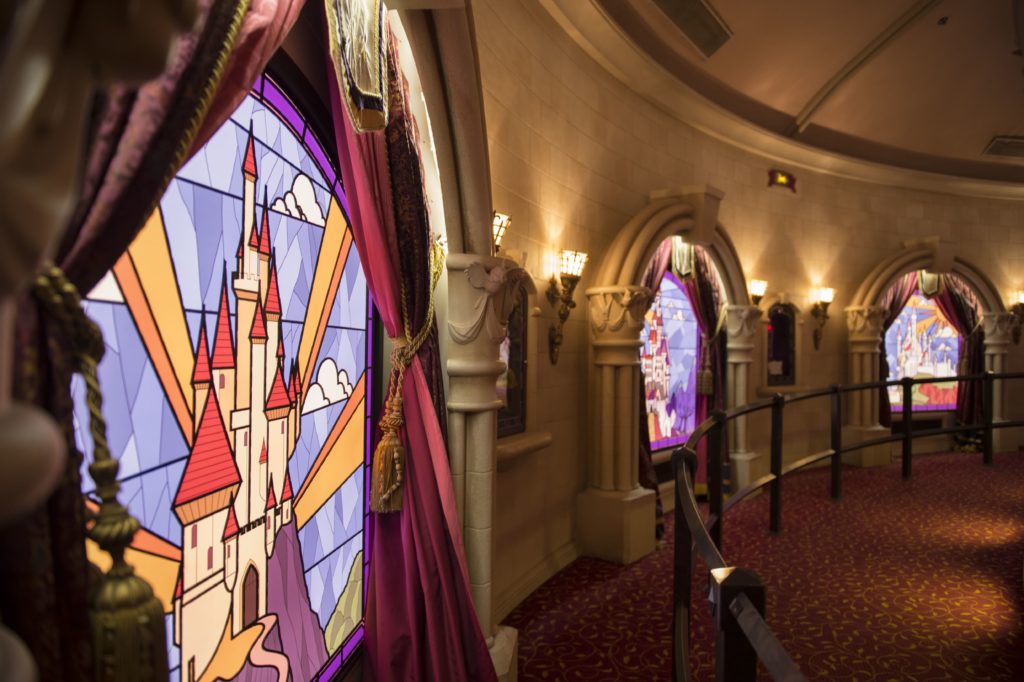 In this story, Mickey, Donald and Dingo are brought together for the occasion and find themselves battling with Willie the Giant, who can be seen at Sir Mickey's boutique, peering out of a window! As for his buddy in Brave Little Tailor, he finishes this story tied up. Deeply asleep, his snoring makes it possible to run an entire medieval carnival by turning the wings of a windmill connected to some imaginative machinery…It even includes a carousel evocative of Lancelot!
That's all it takes to continue our visit on the other side of Fantasyland, in the area dedicated to Holland, including its canals and windmills!
ON THE WINGS OF IMAGINATION
The Old Mill is a food kiosk that sits between "it's a small world" andAlice's Curious Labyrinth. It is inspired by a musical cartoon of the same name from the Silly Symphonies collection released on November 5, 1937, which is emblematic in more ways than one. Evoking an abandoned mill swept up by a storm, it was a true masterpiece of production, special effects, dramatic lighting and animation. Above all, it is the first to use the multiplane camera (one of the three can be found at Animation Celebration) which was developed by Disney Studios to give unprecedented depth of field to the images. All these innovations were used in the feature films that followed, starting with Snow White and the Seven Dwarves which won the Oscar for best full-length film in 1938.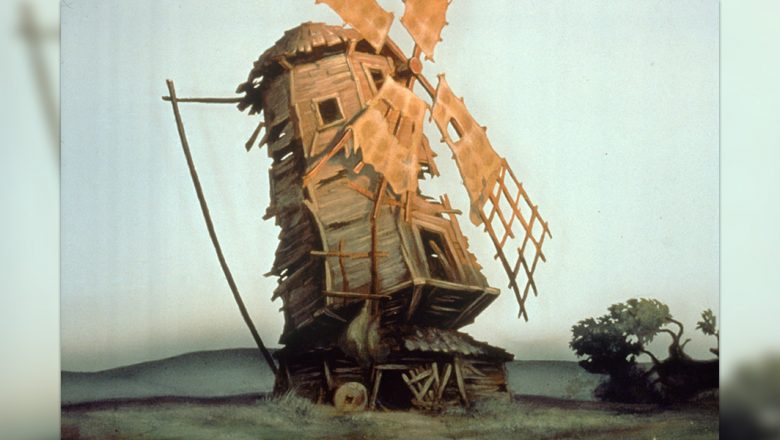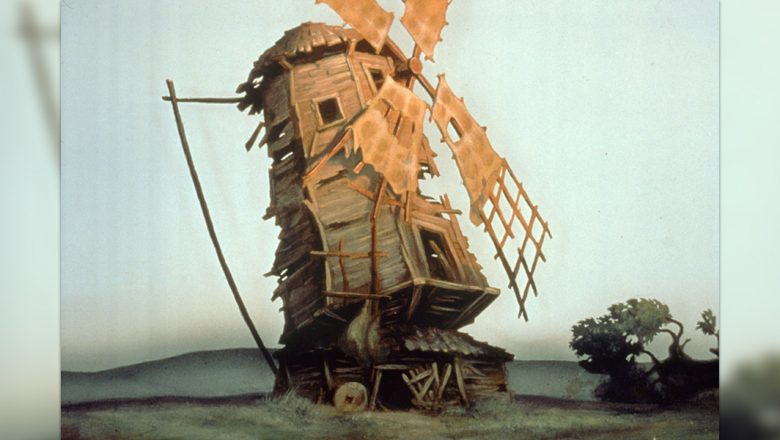 As for the mill, Imagineers based their design on the work of Gustaf Tenggren, a Swedish-born draftsman whom Walt had noticed mainly for his illustrations of the Grimm Brothers' tales. Naturally, it would appear that European culture has its rightful place at Disneyland Paris!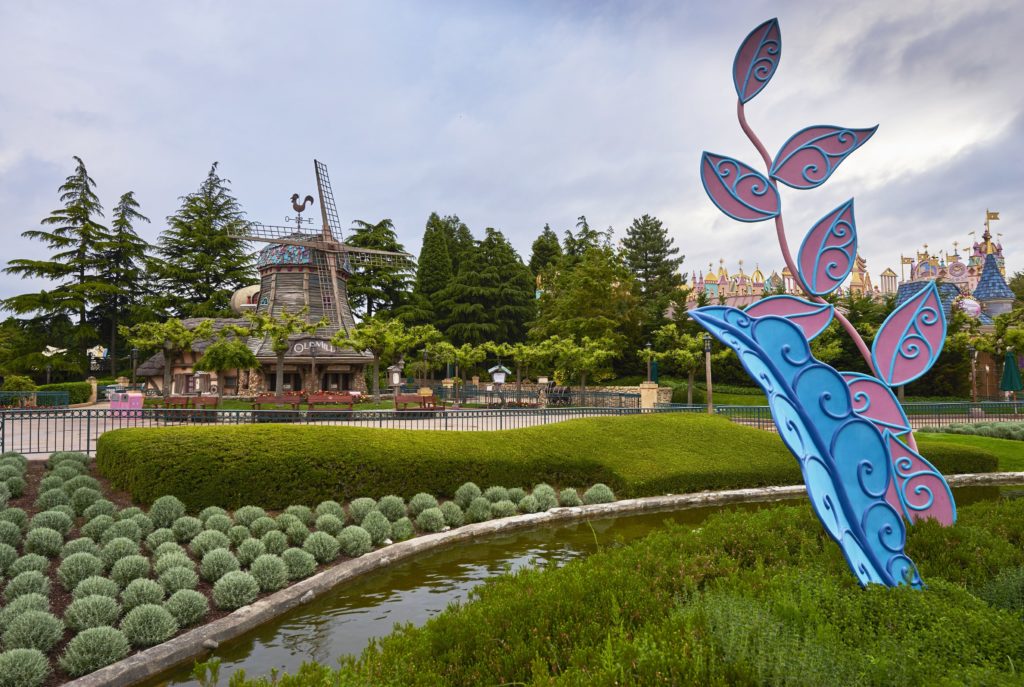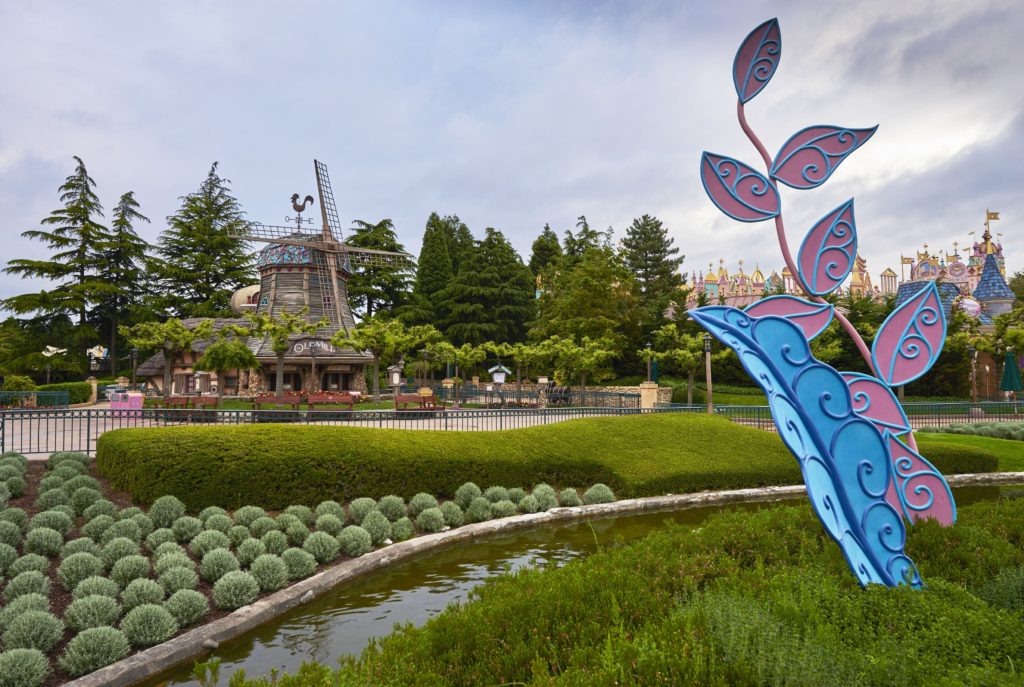 This is not the first time that Imagineers have been inspired by The Old Mill. In the 1950s, Bruce Bushman, one of the designers of Fantasyland at Disneyland Resort, proposed a Ferris wheel concept that had the aesthetics of this windmill, with gondolas at the tips. He even took up this concept again in 1960 with slight modifications. Although this project never saw the light of day, the old mill was nevertheless featured for many years in the Dutch portion of the Storybook Land Canal Boats attraction, which takes Disneyland Resort guests on a journey through a miniature universe paying homage to folklore and tales from all over the world.
Imagineers at Disneyland Paris were able to integrate this iconic windmill into the Dutch Fantasyland area as soon as the destination opened in 1992. It started as The Old Mill, home to a quick service restaurant, and it was not uncommon to see its blades turning. In June 1993, with a Ferris wheel installed at the back of the building in acknowledgement of Bruce Bushman's original project, it was transformed into the attraction Les Pirouettes du Vieux Moulin. The attraction closed in 2002, and today the windmill has gone back to its original purpose, welcoming visitors seeking a snack or refreshment in a quiet and peaceful setting.
In addition to this one, did you know that there is a second mill inspired by the film in Fantasyland? It is located just after the tower in Tangled, as you cruise through the attraction Le Pays des Contes de Fées, inspired by the Storybook Land Canal Boats attraction in California. One could not dream of a more beautiful tribute!