The Royal Pub is a British-inspired restaurant located in Disney Village. On the menu: all-day breakfasts, traditional fish and chips, Guinness braised beef and a wide selection of craft beers, all served in a warm and lively atmosphere.
Informations pratiques – The Royal Pub
Name: The Royal Club
Location: Disney Village
Opening date: February 17, 2023
Owner: Groupe Bertrand
Theme: British pub
Former restaurant: King Ludwig's Castle (June 2003 to 08 January 2023)
Type of cuisine: British-inspired
Type of experience: Table service
Capacity: Approximately 350 seats including mezzanine 180 seats
Price range: €€
Discounts: Happy Hour (17h30 – 19h) | Annual Pass (-10%) | Cast Members (-20%)
Meal vouchers: Up to 2 people
Holiday vouchers: Unlimited
Opening hours: Continuous service from 11:30 to 23:00
Bookings: No
Phone: 01.60.42.71.80
Terrace: Yes
Menu – The Royal Pub
Restaurant
The restaurant's menu features classics such as Burgers, Salads and Club Sandwiches. You can also try traditional British recipes such as Fish and Chips, Guinness-Braised Beef, Grilled scottish beef skirt steack and Chicken Tikka Masala.
Vegetarians also have several choices, including the Veggie Platter, the Power Ball, the Mushroom Pie and The inimitable Mac & Cheese.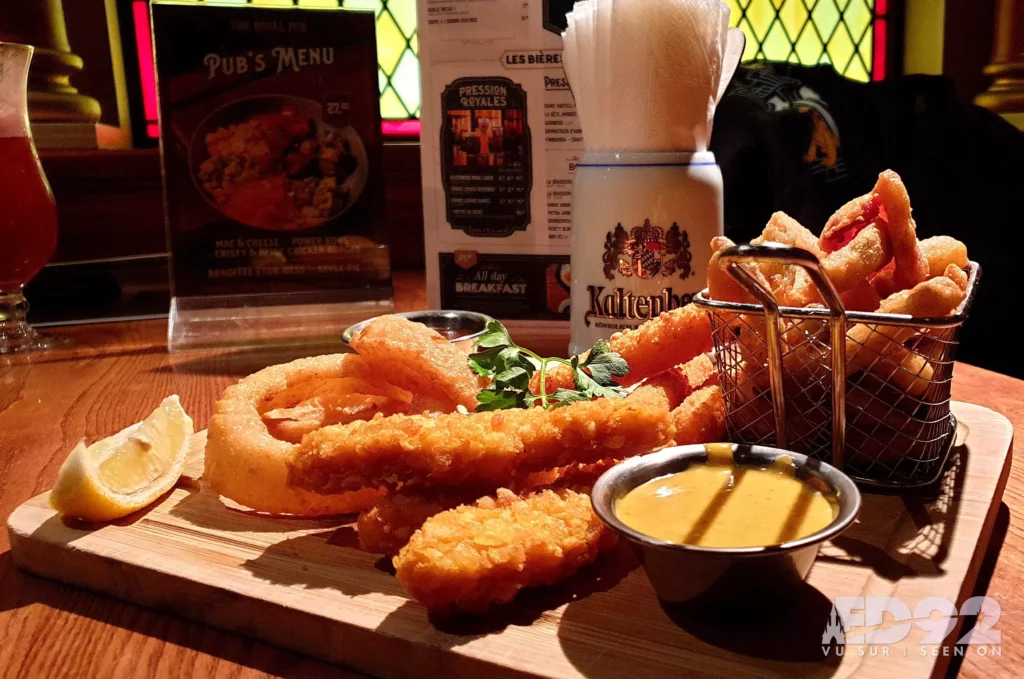 To end on a sweet note you can choose between the Eton Mess Banoffee with bananas, mascarpone and milk jam, the Bushmills Irish Tiramisu (mascarpone, biscuit and Irish whiskey), the Brookie, the Apple Pie and the Pecan Pie. You can also try one of the ice creams (Crunchy mint-choc or Cookie Dough) or Coffee/Tea with mini desserts.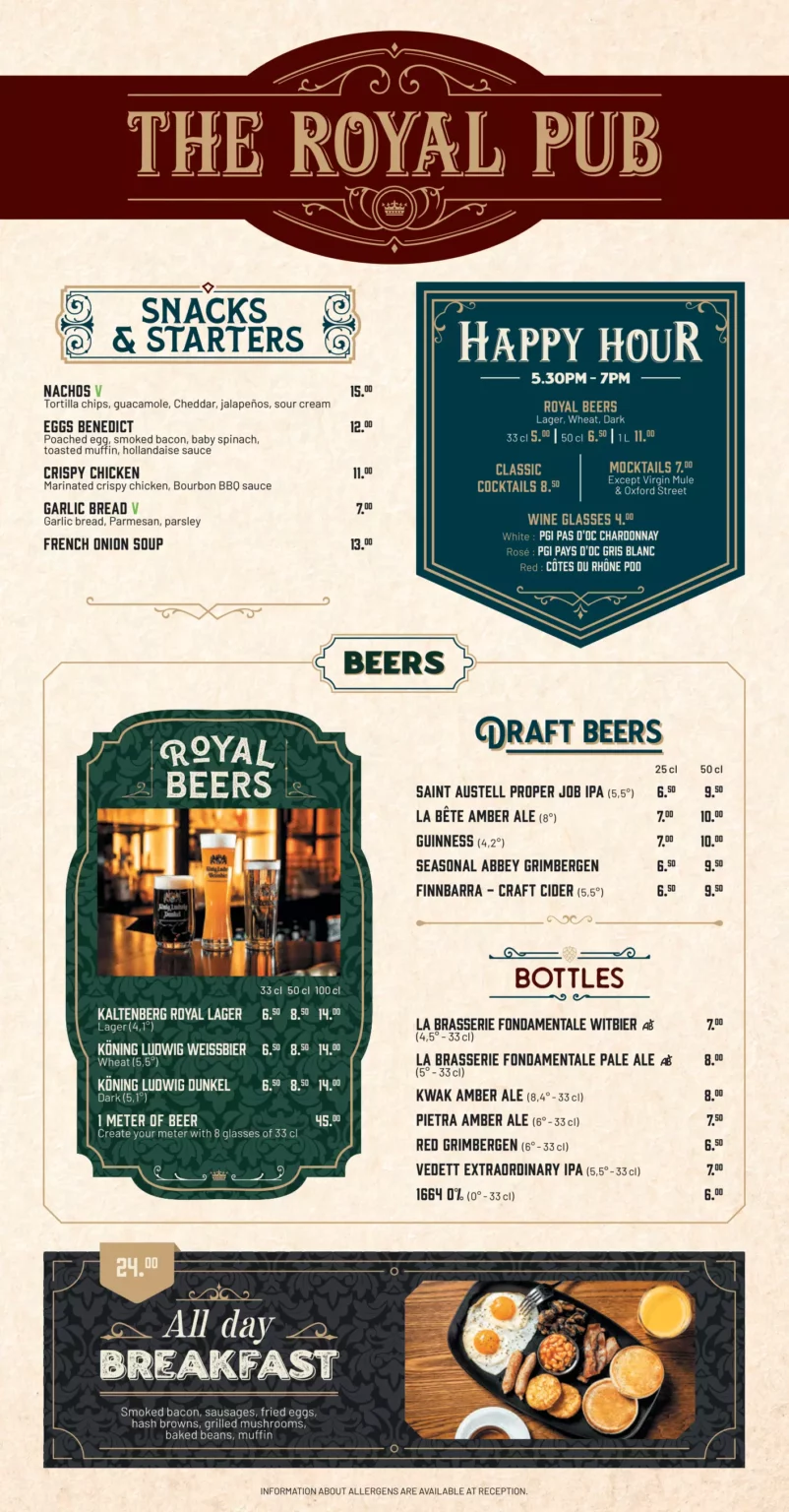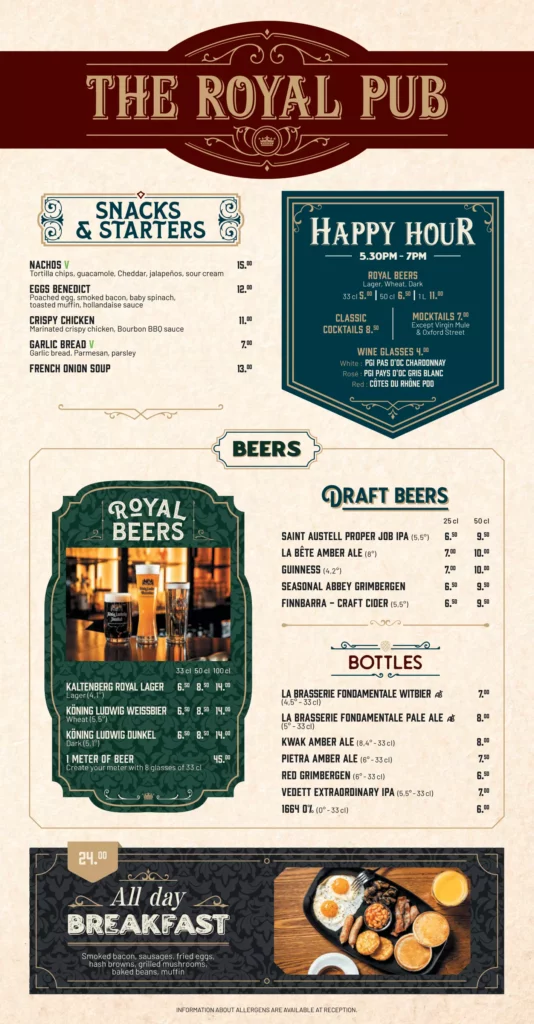 Bar
In addition to the restaurant, The Royal Pub has a bar area where you can enjoy beers, alcoholic and non-alcoholic drinks. Happy Hour applies every day from 5.30 pm to 7 pm on a selection of beers, cocktails, mocktails and glasses of wine. To be consumed in moderation!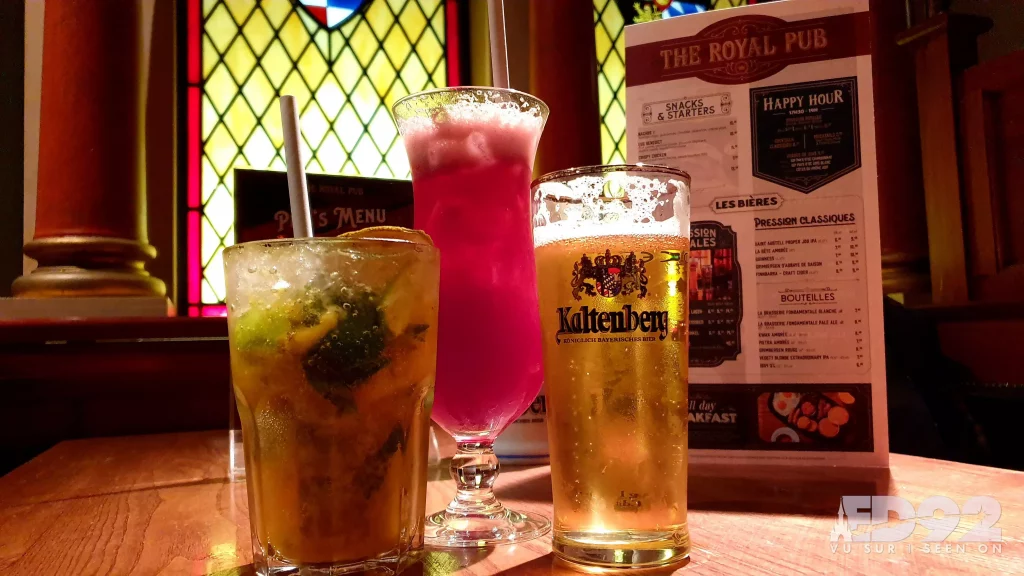 Breakfast
Throughout the day, The Royal Pub Disney Village also offers a breakfast menu of smoked brisket, sausages, fried eggs, potato cakes, grilled mushrooms, white beans with tomato, muffins and more.