Find all the information on Tinkerbell, symbol of Disney since its beginnings!
BIO EXPRESS
Tinkerbell
First apparition in 1953 (Peter Pan)
Originally, her purpose is to be loved by Peter Pan.
She is born from the first laugh of a child.
Lives in the valley of the fairies.
She is a tinkerer fairy.
She is curious, go-ahead, sulky, reckless, close to her friends, sensitive.
She has a twin sister born from the same laugh split in two: Cristal.
Her friends are: first Peter Pan, then come Roselia, garden fairy, Iridessa, light fairy, Ondine, water fairy and Noa, animal fairy.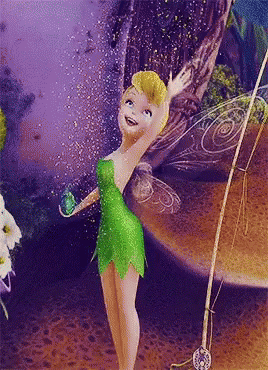 From frivolous to symbolic
To begin with, we discover for the first time the character as Tinkerbell in Peter Pan (1953). She doesn't speak and expresses herself with little jingles. She has a strong character and lives with Peter Pan.
It is a sulky and jealous Tinkerbell who is presented to us. No one is allowed near her precious Peter Pan.
Moreover, the work has known many critics judging the character of Tink too seductive, especially by its curves. Yes, we are in 1950, I remind you!
Walt Disney defended himself explaining that it was Marilyn Monroe who inspired the character of Tinkerbell.
She is also seen in the credits of The Disneyland Story and Walt Disney's Wonderful World of Color, presented by Walt himself from 1954!
Of course, it is present in a more subtle way in the famous Disney credits of which we all know the music and the emblematic castle.
Tinkerbell is a symbol for Disney and its projects. We can even see her in Disney parks all over the world! In parades, at events, in decorations, etc.
Her popularity grew even more in 2008, with the arrival of the animated film Tinkerbell, which made her the star of the 6 other films bearing her name!
The origins of the character
Tinkerbell was born from the imagination of James Matthew Barrie.
Indeed, he created a play Peter Pan (later published as a novel in 1911), a story much darker and more tragic than the one we know.
Barrie describes Tinkerbell as a small woman with a beautiful figure, despite some curves. However, not represented as a real person in the play, she was symbolized by a simple lamp hanging from a stick.
Moreover, her story ends rather badly in the original version, since she dies for lack of humans believing in her existence.
An endearing side
Tinkerbell is one of the most beloved personalities in the Disney universe. What we love about her is her strong character!
She breaks the clichés of perfect princesses and shakes up the codes by this clumsiness and spontaneity that we know.
Her fairytale side, her wings and her adorable face make her a character that we love and to which we easily get attached. And if she was Walt's favorite, then I say a big YES!