Discover or rediscover in this article all the information about the Disney Wish!
The Disney Wish is the 5th and last cruise ship of the Disney Cruise Line. It will make its debut at sea in the summer of 2022. The Disney Wish is also one of three new ships that will join the Disney Cruise Line fleet through 2025. These three ships, powered by liquefied natural gas and with nearly 1,250 cabins, will be slightly larger than the Disney Dream and Disney Fantasy.
Aboard the Disney Wish, the beloved fantasy worlds and stories of Disney, Marvel, Star Wars and Pixar will come to life like never before.
Exterior design
The Disney Wish will continue the Disney Cruise Line tradition by incorporating an elegant, classic exterior design – a tribute to the golden age of cruising – and iconic Mickey Mouse colors.
One of the hallmarks of Disney Cruise Line is the ornate artwork on the bow of each ship. For Disney Wish, the elegant filigree artwork on the bow – an intricate scroll pattern reminiscent of classic 1930s ocean liners – will feature Captain Minnie Mouse 🐭 for the first time!

The stern of the ship will feature a custom sculpture of Rapunzel hanging by her enchanted hair, who will appear to "decorate" the stern of the ship with her brush and the help of her chameleon friend, Pascal.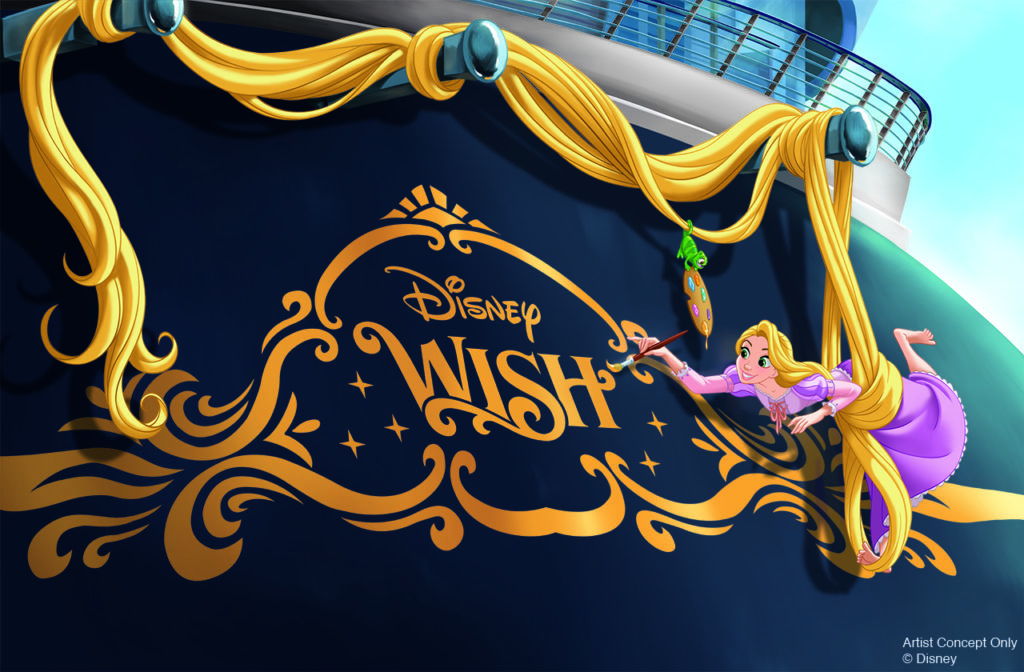 The Grand Hall
This large, bright and elegant space will welcome guests as soon as they come aboard. Its fairytale castle-inspired design is infused with French Gothic, Baroque and Rococo influences that will bring columns, sculptures, trim and ornaments to life.
At the foot of the grand staircase, beneath the glow of the wishing star, stands a majestic bronze statue of Cinderella. A cornerstone of the Walt Disney Company's legacy, the story of Cinderella exemplifies the magic that turns wishes into dreams and dreams into reality
This statue is just one of many tributes to her story in the design of the Grand Hall. Many other details are hidden in the railings, the stained glass windows in Cinderella's colors, the carpet whose patterns represent icons from the film, and the winks to her carriage and glass slipper in the metalwork and lighting.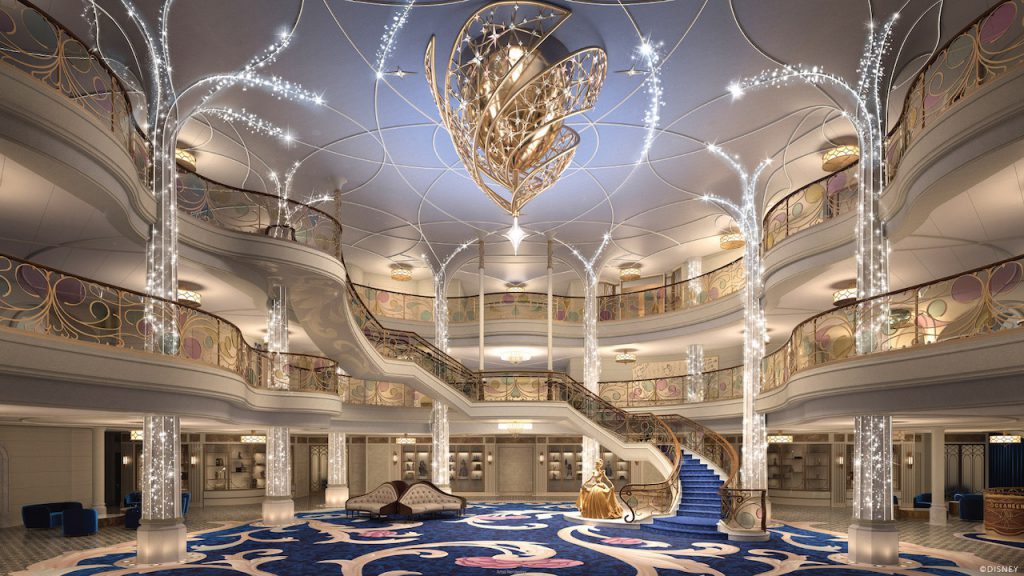 The aquatic spaces
The AquaMouse
Disney Wish has the first ever Disney attraction at sea called: AquaMouse! This new attraction has a dedicated storyline, show scenes, lighting, special effects and even a few surprises.
As you board the AquaMouse, you'll adventure into the animated world of the short films "The Wonderful World of Mickey Mouse" and discover an original and unique story to this attraction: Scuba Scramble. Mickey and Minnie have created their own tour company called Port Misadventures and invite you to join them on an underwater excursion to the Mermaid Lagoon that will inevitably (and amusingly) go wrong.
The journey begins when you board a two-seater vehicle and enter a magical tunnel that teleports you into the animated world of "Scuba Scramble" through virtual portholes. Along the way, you'll encounter curious sea creatures, Disney characters and over 60 water effects that bring the adventures to life, all perfectly synchronized to an original score by Emmy-nominated composer Christopher Willis ("The Wonderful World of Mickey Mouse").
Thrills guaranteed on 230 meters around the upper deck!
The pools
On Disney Wish, families will have more pools, more deck space and more restaurants than ever before. In addition to the AquaMouse, the expansive Mickey and friends area will feature six pools of varying sizes and depths, spaciously spaced across the tiered decks and surrounded by lounge chairs. A fast food area with a festive touch will also be available.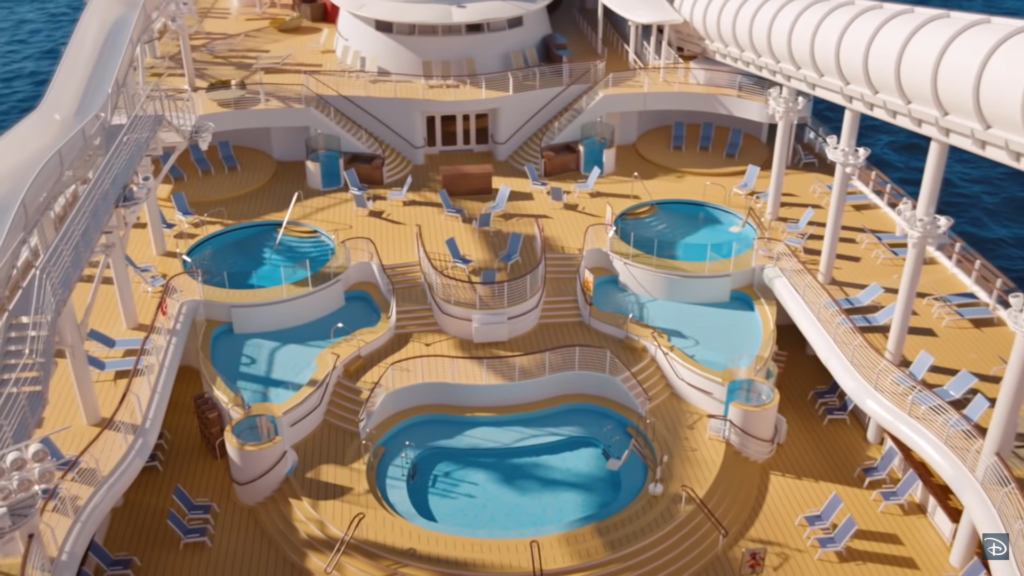 Adults can indulge in the serenity of the sun at Quiet Cove, a peaceful retreat dedicated to lounging, sipping and relaxing. Away from the hustle and bustle of family activities, this secluded adults-only area will feature an infinity pool, hot tubs, a poolside bar and a chic café.
For the little ones, there is a brand new Toy Story themed area designed especially for families with young children. This area includes a splash zone, wading pool, "Slide-a-saurus Rex" family waterslide and smoothie bar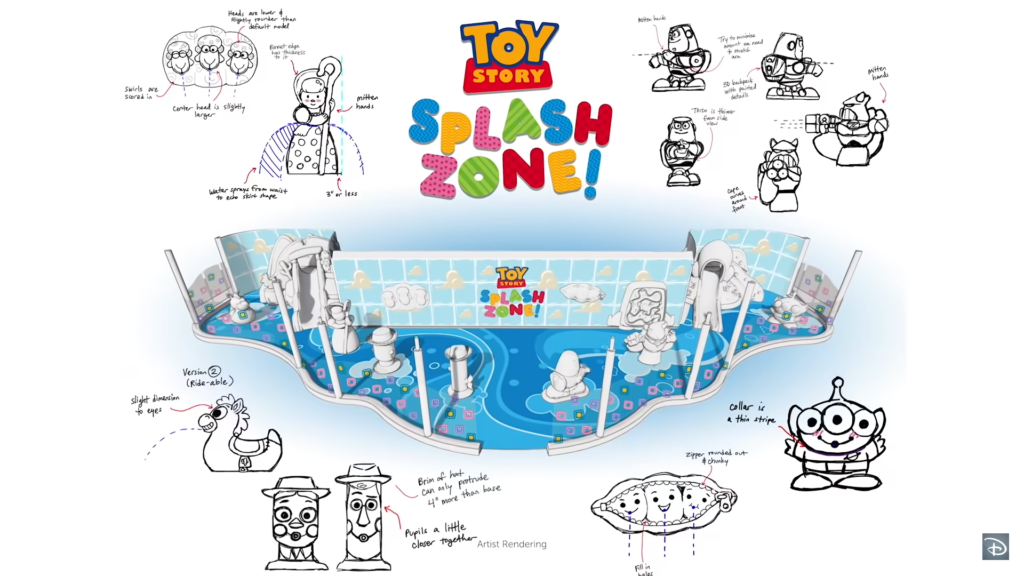 Kids Clubs
It's a Small World Nursery (6 months to 3 years)
For little cruisers ages 6 months to 3 years, the It's a Small World nursery will offer babysitting services with specially trained staff in a whimsical environment inspired by the famous Disney attraction of the same name. Mickey and his friends will make surprise appearances throughout the day.
Disney's Oceaneer Club (3 to 12 years old)
Children aged 3 to 12 have a space completely dedicated to them on board the Disney Wish: Disney's Oceaneer Club. And for the first time ever on a Disney Cruise Line ship, this club is accessible via a secret slide in the Grand Hall! Cool, isn't it?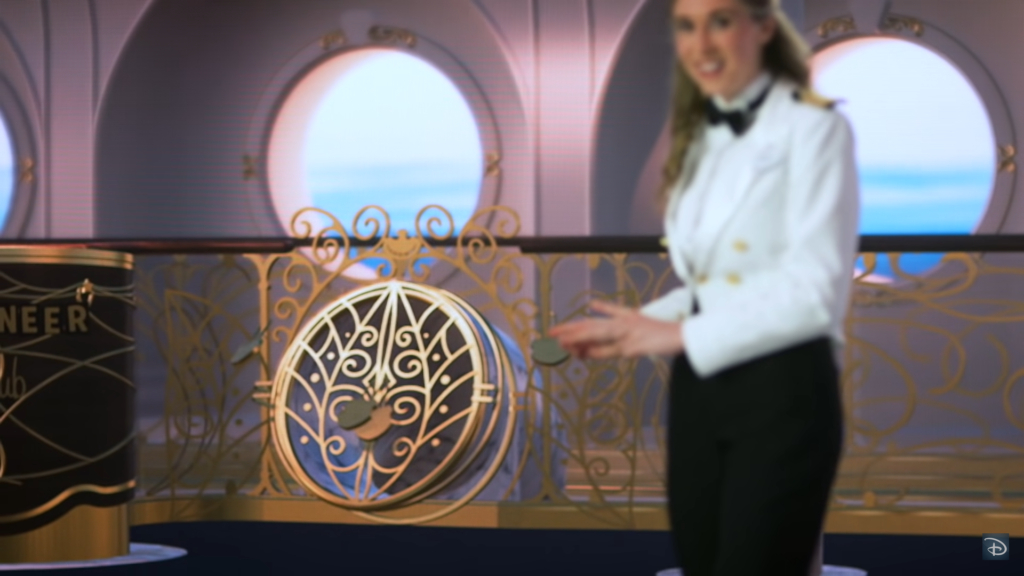 Disney's Oceaneer Club is composed of 3 different areas:
The Marvel Super Hero Academy: a high-tech Avengers headquarters where young "recruits" will train to become the next generation of superheroes with the help of professional superheroes like Spider-Man, Black Panther and Ant-Man and the Wasp. Kids will also be able to choose their own costume and put it to the test in a battle against some of the Marvel Universe's most infamous villains.
The Fairytale Hall: a royal trio of activity rooms where princesses and princes can unleash their creativity in Rapunzel's art studio by making floating lanterns, read and play stories in Belle's library, and create their own icy magic at Anna & Elsa's Sommerhus.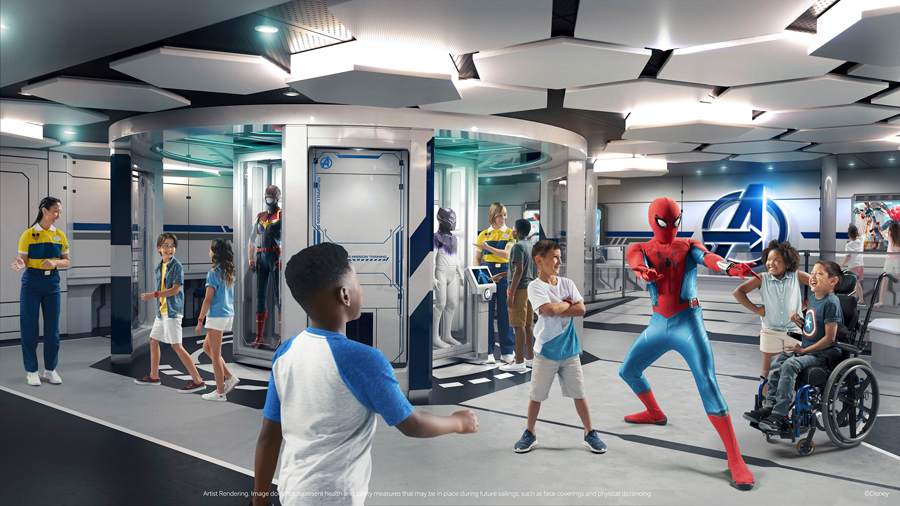 Walt Disney Imagineering Lab: a unique opportunity for kids to discover the secrets of Disney's Imagineers through hands-on activities and inventive experiments. Kids will be able to design their own roller coaster in the style of classic attractions like Big Thunder Mountain and Space Mountain and ride in a specially designed capsule to try out their creation!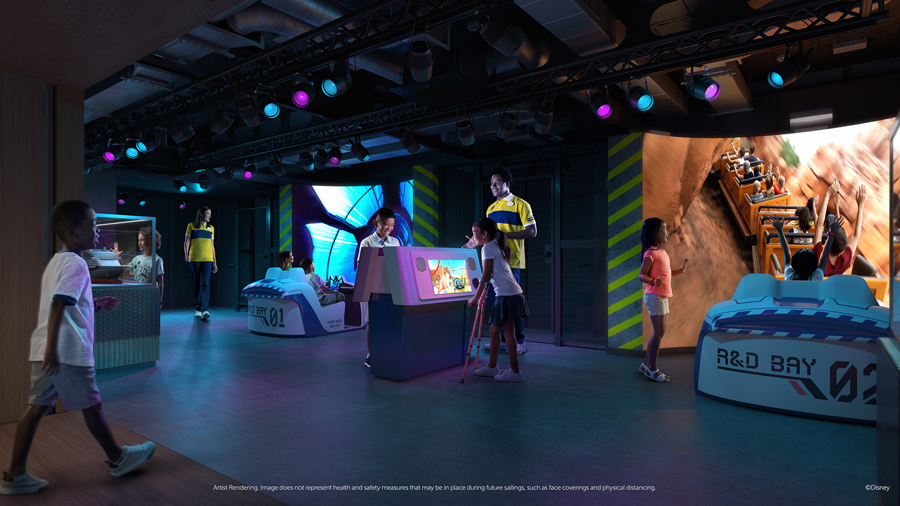 Edge (11 to 14 years old)
Tweens will also have their own space called "Edge" and inspired by New York City. They will be able to access it via a secret entrance of their own: a door located behind a work of art in a style inspired by pop art, with Disney characters.
Vibe (14 to 17 years old)
Teens will enjoy hanging out at Vibe, a stylish space inspired by a Parisian loft and pop art where every angle will be worthy of a selfie!
Indoor entertainment areas
Combining innovative design, cutting-edge technology and classic storytelling, Disney Wish brings the Disney magic to life in new and unexpected ways, while creating the next generation of family entertainment. A diverse entertainment program will be offered throughout each voyage, with shows, deck parties, unique character experiences, fun family activities, contemporary cabarets and more.
Walt Disney Theatre
Cruisers will enjoy a large theater with Fantasia-inspired sets. The Walt Disney Theater will host three Broadway-style shows, including Disney's Aladdin – A Musical Spectacular in addition to two new original productions.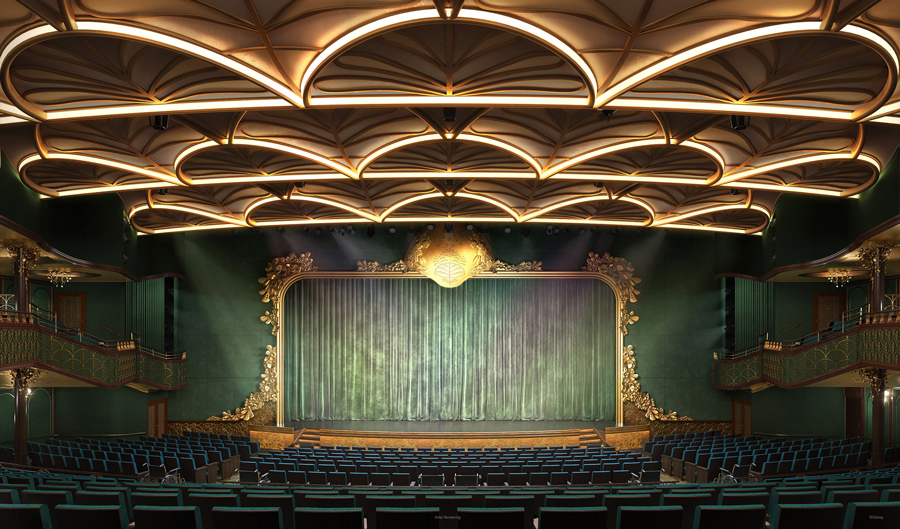 Grand Hall Stage
The Grand Hall will transform several times during the cruise into an immersive theater with the magic of integrated special effects and the first-ever atrium stage on a Disney ship. Dedicated shows and interactive entertainment will come to life on stage and around the room, putting you at the center of the experience in which you will play a special role!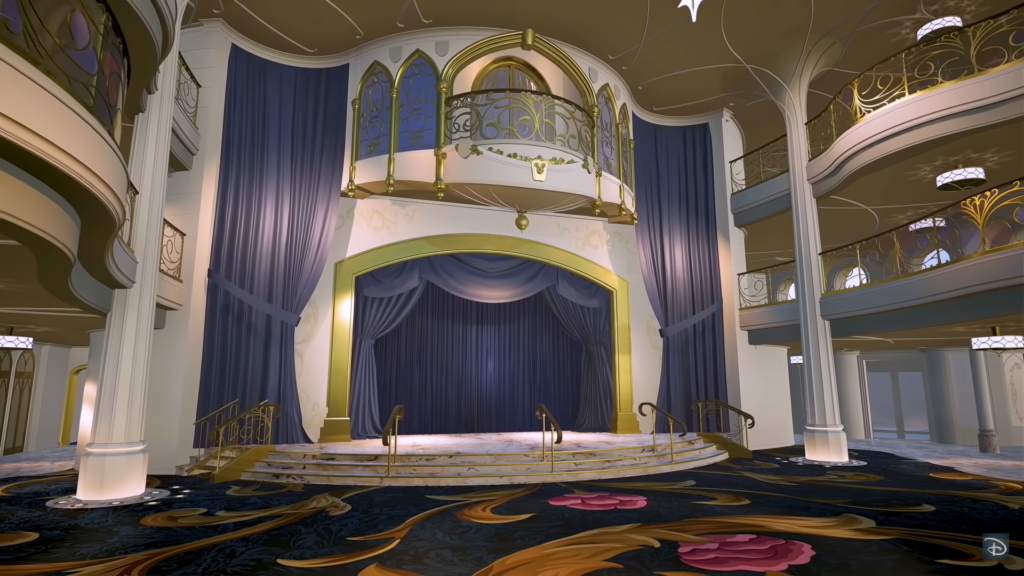 Luna
An all-new entertainment center that will transition from a daytime setting for family fun to an elegant evening venue for adults-only entertainment, offering a variety of live shows and interactive programming throughout the day. Cruisers will enjoy live music, comedy acts and family games, among other things.
Hero Zone
Hero Zone is a futuristic sports arena where physical activity meets imagination in action-packed challenges and game show-style competitions that families can enjoy together. Sports fields, playgrounds, cinema… and many other activities to discover.
Wonderland and Never Land cinemas
Two intimate screening rooms inspired by Peter Pan and Alice in Wonderland, equipped with the latest sound and image technology in which films from Disney, Pixar, Marvel, Lucasfilm and more will be shown.
Family restaurants
With the launch of three all-new family dining concepts, ranging from theatrical entertainment to cinematic adventure to sophisticated elegance, dining aboard the Disney Wish will be more than just a meal – it will be an opportunity to interact with your favorite Disney stories in new ways.
Arendelle: A Frozen Dining Adventure
Arendelle: A Frozen Dining Adventure is Disney's first "Frozen"-themed theatrical dining experience, bringing the world of Arendelle to life with an immersive live show – featuring your favorite characters like Elsa, Anna, Kristoff and Olaf – and upscale cuisine infused with Nordic influences. In this show, Queen Anna and Kristoff are celebrating their engagement and have invited you, as their guest of honor, to join them.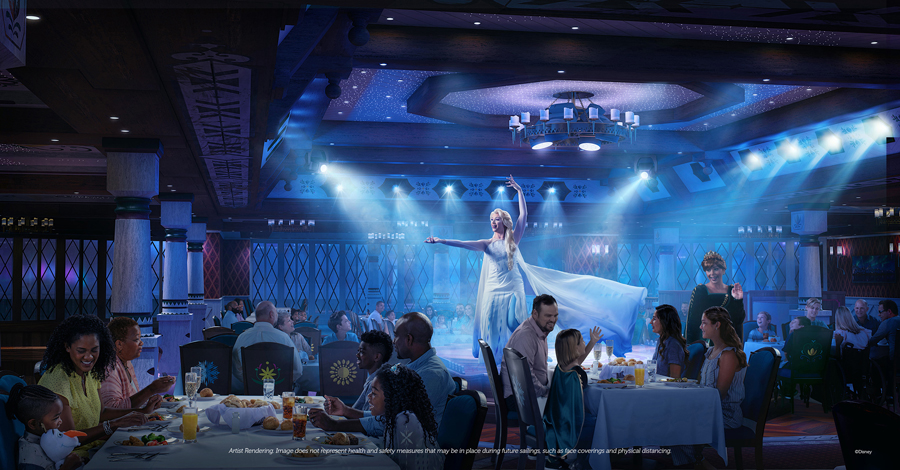 Worlds of Marvel
Worlds of Marvel is the first-ever Marvel family cinematic dining adventure, where you will play an interactive role in an Avengers mission. During the meal, explore cutting-edge quantum technology at the Avengers Technology Showcase while enjoying delicious world cuisines, from traditional American dishes to the rich flavors of Africa, inspired by some of your favorite heroes. You'll also have the opportunity to jump into your own action-packed superhero story, where some of your favorite Avengers ask you to help them save the day!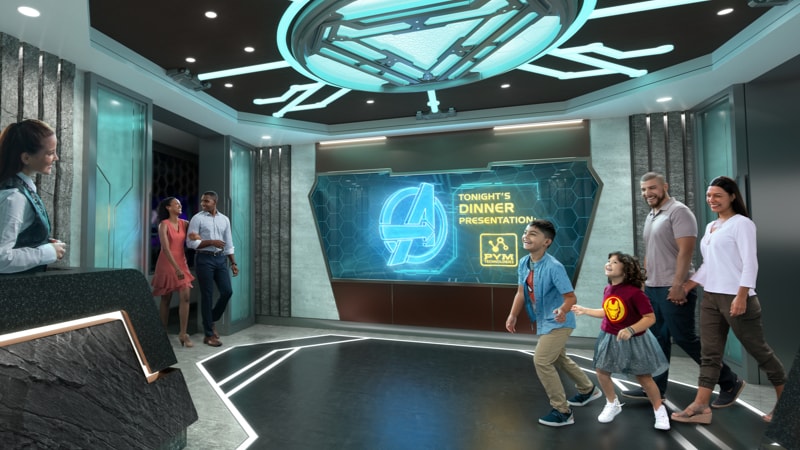 1923
Named after the year The Walt Disney Studios was founded, the 1923 restaurant evokes the extravagance and charm of Hollywood while celebrating the unwavering spirit of those who worked at the original studio where it all began. Step back in time as you dine among the concept art, sketches and props that illustrate the animation process of the early years of the Walt Disney Company, while enjoying California food.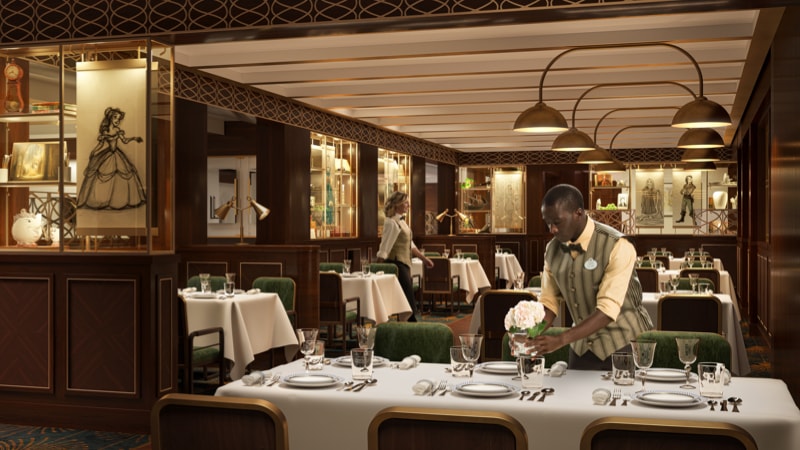 Restaurants and bars exclusively for Adults
Star Wars: Hyperspace Lounge
Star Wars au Star Wars : Hyperspace Lounge is a high-end bar designed like a luxurious spaceship. Cruisers will be able to enjoy stellar views of the Star Wars Galaxy with visits to Coruscant, Tatooine and Batuu while sipping on extraordinary beverages. The bar will offer interactive tasting experiences and signature drinks inspired by destinations such as Batuu, Tatooine and Mustafar.
Families can enjoy the interstellar bar experience during the day, but at night, the lounge bar becomes a nightclub with an adults-only "cantina" atmosphere.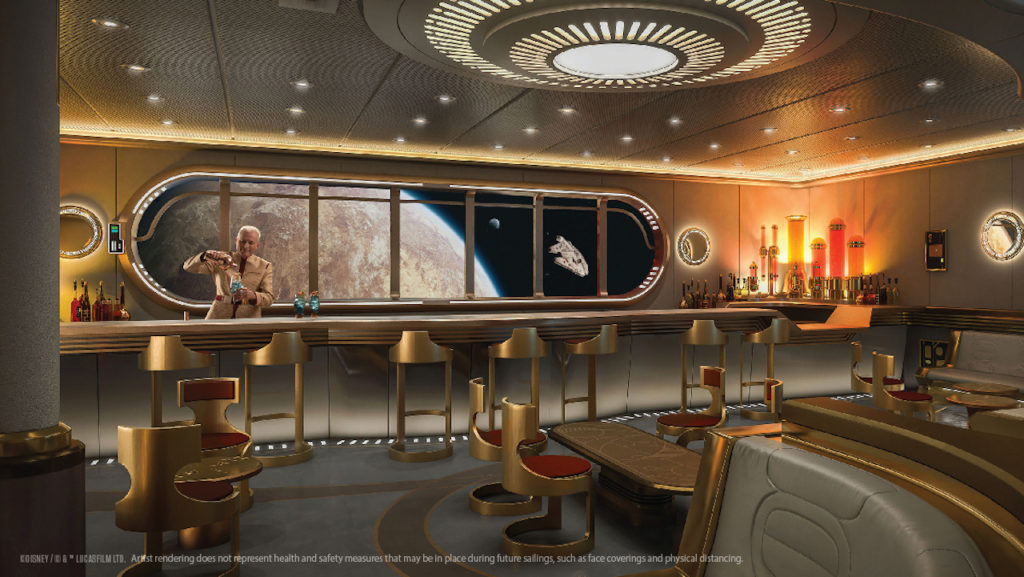 Palo Steakhouse
Palo Steakhouse is an evolution of the Palo restaurant that Disney cruisers know and love. In a space inspired by Cogsworth, the tale's majordomo-turned-enchanted-clock from Disney's Beauty and the Beast, adult cruisers will enjoy a selection of premium steaks and Italian dishes.
The layout will offer tables with large benches or more intimate tables that will be adjacent to large windows offering a breathtaking view of the ocean.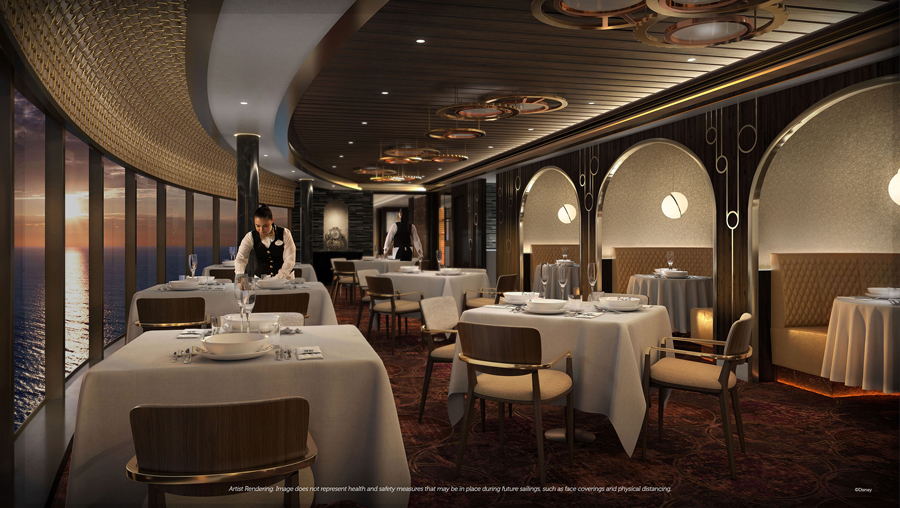 Enchanté by Chef Arnaud Lallement
Enchanté by Chef Arnaud Lallement is another adults-only restaurant that evokes the spirit of Lumiere, the character from Beauty and the Beast. It will offer new and innovative recipes inspired by classic French dishes, prepared by Chef Arnaud Lallement, holder of three Michelin stars. The restaurant also boasts a panoramic view of the sea in a luxurious atmosphere.
Enchanté by Chef Arnaud Lallement and Palo Steakhouse will have private dining rooms and will be connected by an outdoor terrace overlooking the ocean.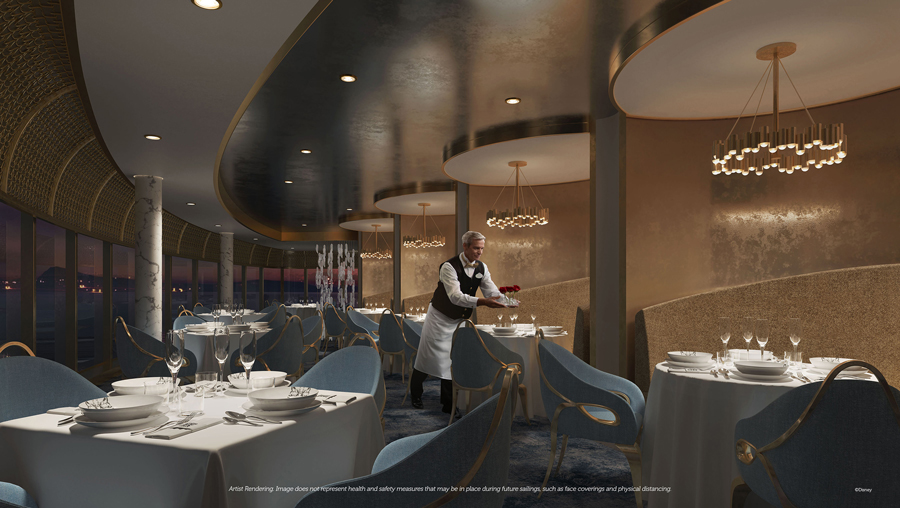 The Rose
Located at the entrance of Palo Steakhouse and L'Enchanté by Chef Arnaud Lallement, the lounge, named The Rose, will be the perfect setting for a pre-dinner drink or an after-dinner cocktail.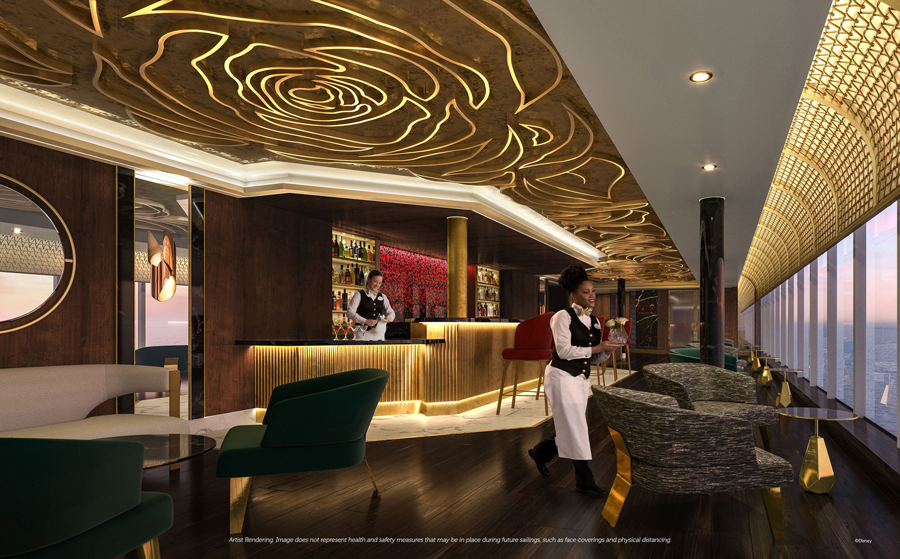 Senses Spa
Adults will also be able to enjoy the Senses Spa, which will offer spa and beauty treatments, drawing on the serenity of the natural elements to promote well-being and relaxation. The spa will feature private treatment rooms, lavish spa villas, steam and aromatherapy rooms, while the revamped Senses Fitness will offer state-of-the-art exercise and wellness facilities.
The staterooms
Most of the ship's 1,254 staterooms will offer ocean views – including 877 with large verandas – and 451 with connecting doors that will allow rooms to be joined to accommodate large families.
Disney hints around enchantment and magic are present in each stateroom. Artwork will feature classic and contemporary Disney stories that capture the essence of granting wishes and fulfilling dreams.
Beyond the artwork, every detail was designed to tell a story, from the furniture to the delicate linen embroidery inspired by the fleet's signature gold filigree.
"Classic" Staterooms
Each cabin aboard the Disney Wish has been designed to provide ample space for families, plenty of storage space, and top-of-the-line amenities.
Most staterooms will feature Disney Cruise Line's signature split-bathroom concept, with a sink and shower in one room and a sink and toilet in a separate room.
Optimized storage options, spacious closets and elevated bed frames with ample under-bed space will keep suitcases and other bulky items organized.
Younger children will be surprised to discover a secret star field hidden above the fold-down beds, with original artwork revealing a fairy godmother constellation above their heads.
Other amenities will be available in the cabins such as a 43-inch TV, USB and USB-C ports, large vanity, mini drawer refrigerator, full-length mirror, mini safe, hair dryer, privacy divider, queen beds and pull-out sofas, luxury toiletries, robes, linens and comforters.
Concierge Staterooms, Suites and Service
Disney Wish will feature 76 staterooms and concierge suites, more than double the number available on other Disney ships. Sleeping up to five guests, these staterooms will feature spacious living areas, queen beds, luxurious finishes and high-end amenities.
Most will have a large private veranda.
The design of the majority of these cabins and suites was inspired by the color palette and iconography of the Walt Disney Animation Studios film "Tangled".
One-bedroom suites will have a separate living room, walk-in closets, two 43-inch televisions and two bathrooms (including a master bathroom with rain shower, tub and double vanity).
Seven exclusive ocean-view staterooms with décor inspired by The Little Mermaid are the first-ever Disney staterooms located above deck. They feature a large living area with floor-to-ceiling windows that provide a breathtaking view of the ocean and the ship's bow.
Royal Suites
The Disney Wish will also offer four Royal Suites that celebrate the world of "Sleeping Beauty." Two Princess Aurora Royal Suites and two Briar Rose Royal Suites will be available. Each pair includes a single-story option and a two-story configuration, the first of their kind for the Disney fleet.
High-end furnishings and first-class amenities, including a spacious living area, open dining room, large pantry and a private hot tub on the large veranda.
Two master bedrooms – each with its own bathroom including a double sink and rain shower or bathtub – as well as a double sofa bed in the living room and a third bathroom with a shower.
The two-story Royal Suites feature floor-to-ceiling windows, an elegant spiral staircase and a spectacular two-story custom stained glass frieze.
The Wish Tower Suite
Located in the forward funnel of the Disney Wish, this 600 square meter penthouse will be the most unique accommodation on a Disney Cruise Line ship to date. This suite that can accommodate up to 8 guests and includes:
A spacious loft on the upper level
Two main bedrooms
A child's room
A library that turns into a bedroom
Four bathrooms
A living room that will have an open dining area, a large pantry and a bar
A two-level wall of windows offering extraordinary views of the upper decks and the ocean.
The suite will feature artwork, iconography and materials inspired by the Walt Disney Studios film "Moana" The suite's centerpiece will be a handcrafted porcelain sculpture that comes to life when guests enter the Wish Tower Suite. The statue will glow in a myriad of shades of green amidst soft chimes reminiscent of Te Fiti's signature heart soundtrack. This will be complemented by special lighting and sound effects to provide a truly magical and unique welcome.
Cruisers lucky enough to stay in this suite will enjoy a VIP experience with expert service from a personal concierge team, select services, gourmet treats, and even a private elevator.
Other advantages of the staterooms and suites with concierge service
All cruisers staying in a concierge stateroom or suite will enjoy dedicated luxury service and access to exclusive areas and amenities throughout their journey. The Disney wish's Concierge Lounge will be more than three times larger than on previous Disney ships and will feature a bar, delicious snacks, a special children's area and an outdoor deck. From the lounge, cruisers will have access to a private deck with two hot tubs, a wading pool, a bar, luxurious lounge furniture and dedicated pool deck service.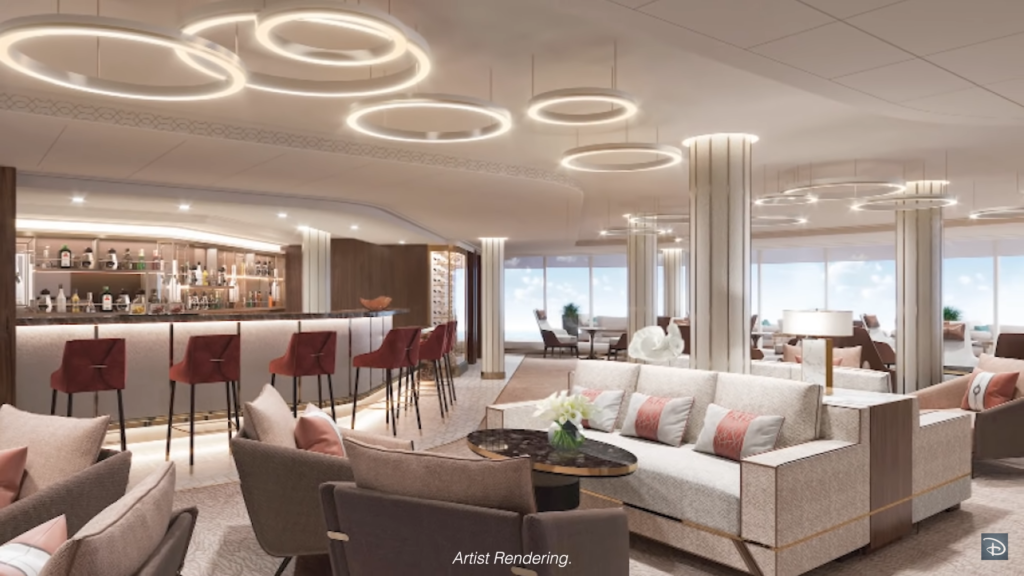 Destinations
The Disney Wish will sail on its inaugural voyage – a five-night cruise to Nassau, Bahamas, and Disney's private island, Castaway Cay, on June 9, 2022. This voyage will be followed by an inaugural season of three- and four-night cruises to the same destinations from Port Canaveral, Florida.
Reservations open to the general public on May 27, 2021.