On Tuesday 4 April, actress and Disney Legend Hayley Mills was pleased to visit Disneyland Paris.
On this occasion, our Ambassadors Carmen and Quentin welcomed her in Harrington's Fine China & Porcelains on Main Street, U.S.A., whose decoration was directly inspired by Pollyanna (1960), the first Disney film in which she was the heroine. Hayley took the opportunity to talk about her memories of Walt and the film.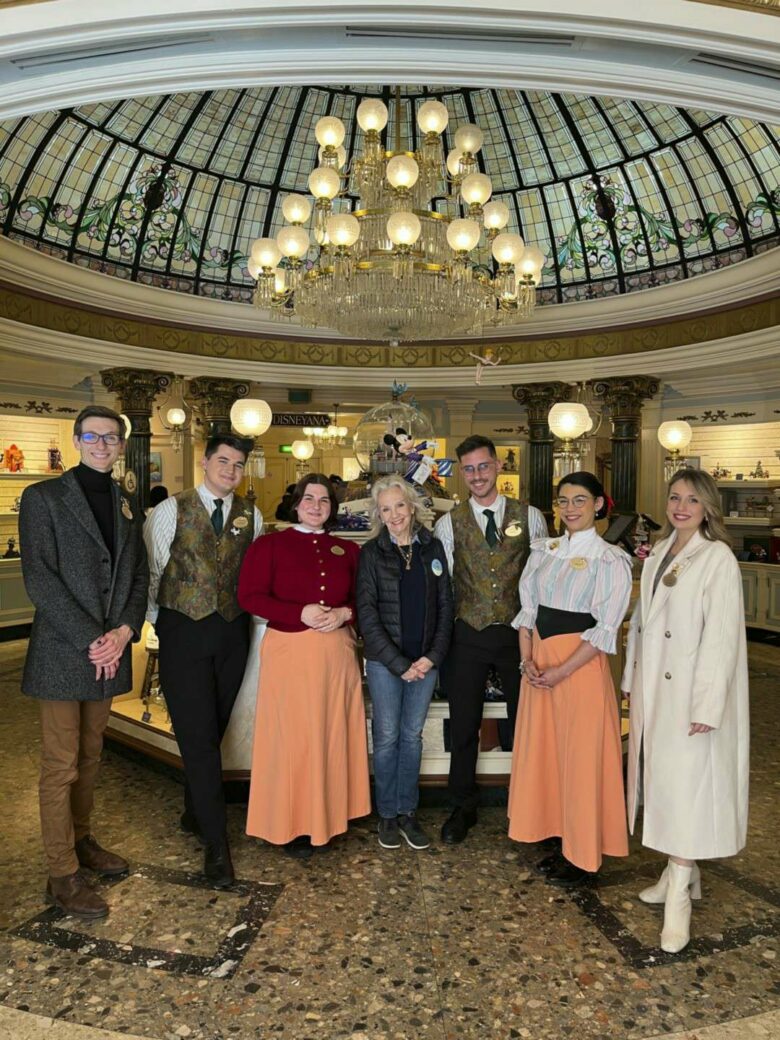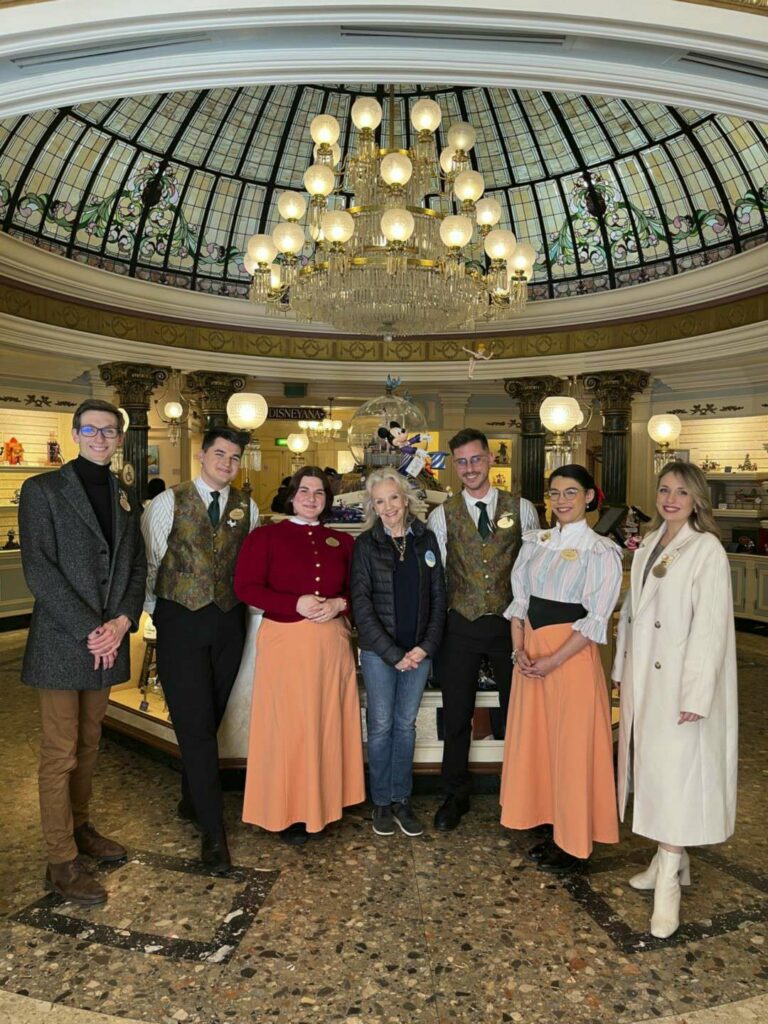 What was your first meeting with Walt Disney like?
This took place at the Dorchester, a famous hotel in London. Walt wanted to meet me to make sure I was the right person to play Pollyanna. So I went to the hotel with my parents, my then 9 year old brother and a white Pekingese puppy called Suki who had been given to us by friends. Walt was staying in the Harlequin Suite. I was 12 years old at the time, and I remember the door to that suite vividly. There was a porcelain disc with a Harlequin painted on it with red and white stripes. It seemed to me the perfect door to take us to Walt Disney. When it opened, we discovered a man in grey trousers and a yellow cardigan, with grey hair and a moustache. My parents, my brother and I stood there for a while looking at him, unable to say a word. For us, as for most people, Walt Disney was mostly a studio and a name that you could read at the beginning of each of his films, and suddenly this legendary man was a real person! We could hardly believe it! We went in and after the introductions, my brother and I started playing with Suki. The most amazing thing was that Walt started playing with us! He was a very simple person who loved animals. We stayed with him for quite a long time. We walked through his entire suite and especially on the balcony where you could see a spectacular view of London. He and my parents got on very well. I also remember him introducing me to a mocktail called 'Shirley Temple', named after the famous actress who presented him with the Oscar for Snow White and the Seven Dwarfs, in the form of a statue with seven statuettes. I would love to give it to my granddaughter as a souvenir of that encounter.
What memories do you have of making Pollyanna?
This was a very important film for Disney, and the studios spared no detail. The sets in Aunt Polly Harrington's house were particularly elaborate, with huge mirrors and many other props from abroad. I especially remember the costumes, which were very elaborate. To design them, Walt called on Walter Plankett, a renowned specialist in period film costumes, including those for Gone With the Wind. Every effort was made to make this recreation of 1910s America as authentic as possible.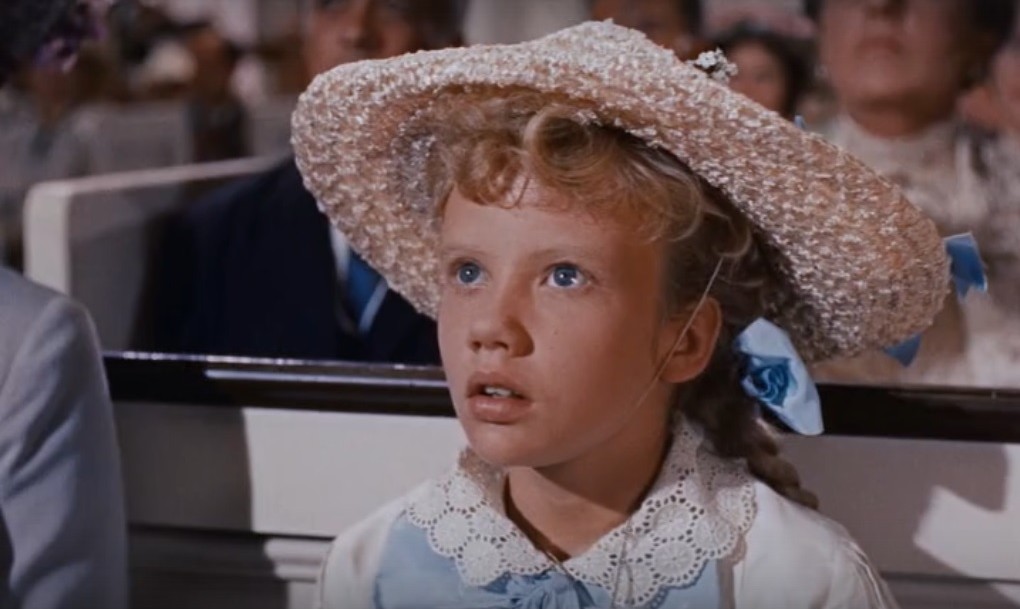 How do you like our shop, Harrington's Fine China & Porcelains, which pays tribute to the film?
It's a beautiful shop, with this beautiful stained glass window over the central cash desk. I really feel the spirit of the film there. I especially love the lighting fixtures. In the script, Pollyanna uses the crystal prisms of the lamps to create rainbow effects in Mr Pendergast's and Mrs Snow's house. This brings a little colour into their dreary lives. And it's the same prisms that are used here. It's a detail that really touches me. I also love the costumes of the Cast Members in the shop. They are perfectly in style, and very colourful. When you see them all together, they look like a bunch of flowers!
Afterwards, you made a lot of Disney films such as The parent trap, In Search of the Castaways and That Darn cat But what do you keep from this very first experience at the Studios?
Pollyanna is such a lovely story, especially with that "Joy Game" that her father taught her, that way of always focusing on the positive side of things. I think that has influenced me a lot in my personal life. I'm the kind of person who tends to see the glass as half full rather than half empty, as they say. Like Pollyanna, I think that in life, despite the difficulties, you can always find a reason to be happy. This is a very strong message that still inspires me today.