Mickey Mouse is the most emblematic character of the Disney company. No other fictional character is as world famous and recognized.
Express biography :
Full name : Mickey Mouse
Other known name : Mortimer Mouse
First appearance: 18 November 1928
Previous form of the character: Oswald the lucky rabbit
Links with other characters: he is friends with Goofy and Donald, has a romance with Minnie and is accompanied by his dog, Pluto.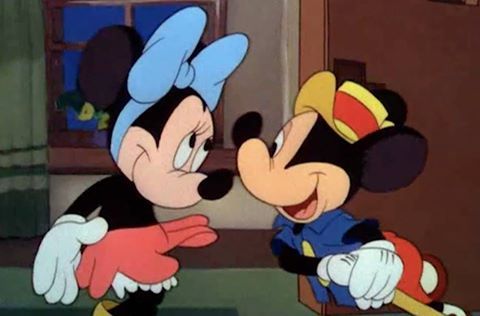 Mickey Mouse – En détails :
Before Mickey Mouse was born, Walt Disney first created Oswald the Lucky Rabbit. Oswald appeared on our screens in 1927, distributed by Universal Pictures who owned the rights. After several episodes of Oswald's adventures were broadcast, Universal decided that the production of these adventures would be entrusted to other studios than Disney's in order to reduce costs. With the contract between Disney and Universal terminated, Walt Disney turned his attention to creating a new character. This is how Mickey Mouse was born.
The idea of the anthropomorphic mouse emerged. It seems that the studio where Walt was working at the time was infested with them, which inspired him. But there are other explanations for the choice of the rodent. The name that was first chosen for him was 'Mortimer Mouse'. However, Walt Disney's wife found it unsellable and suggested changing the character's name to Mickey.
Mickey's sketch is mainly drawn in three circles. This choice of the draughtsman Ub Iwerks facilitates the animation of the character. Walt Disney himself dubbed the voice of the character of Mickey during the first cartoons, then he had to give up his place, his voice becoming too hoarse for the character because of smoking.
The date of 18 November 1928 is most commonly remembered as the character's first film appearance. It was on this day that "Steamboat Willie" was first released at the Colony Theater in New York. "Steamboat Willie" is remembered as Mickey's first film appearance because it is considered the first known sound cartoon. However, the real first appearance of our favourite mouse dates from 15 May 1928, in "Plane Crazy", a silent cartoon that did not arouse the enthusiasm of the public. It was also in "Plane Crazy" that Minnie made her first appearance.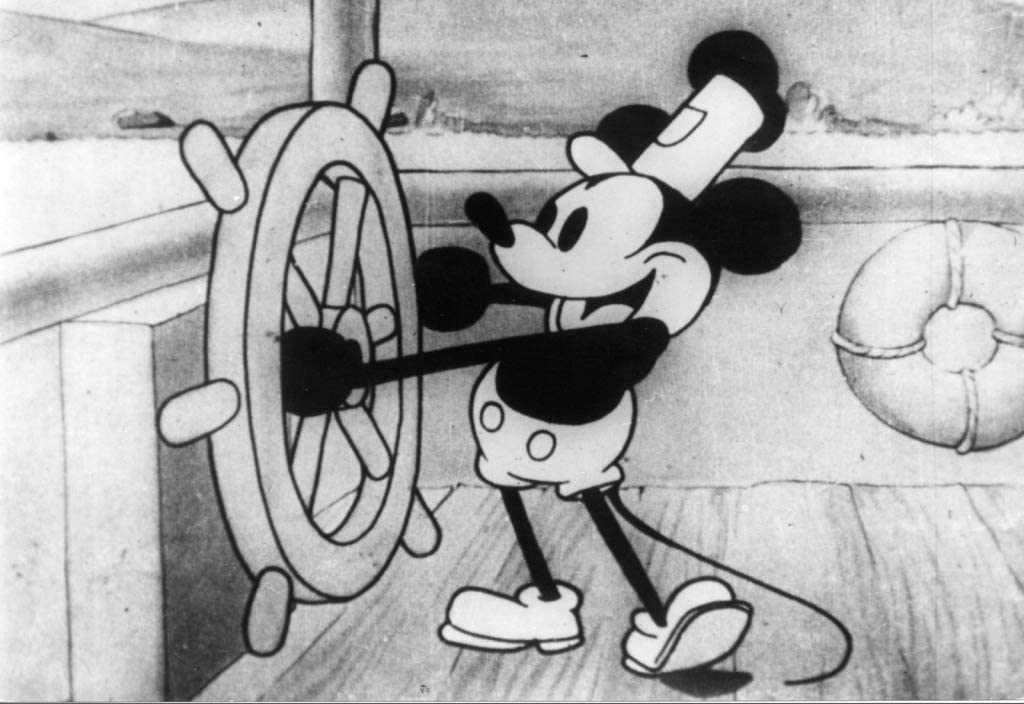 Between 1928 and 1953 Mickey was the star of 119 films, then it would be 30 years before we saw Mickey again on our screens in "Mickey's Christmas".
Mickey is also the star of several television series such as "Mickey Mania" or "Mickey's House".
Mickey also appeared in several comic strips. From 1930, he was the star of a daily comic strip. In 1932, a weekly strip was published on Sundays. But it was in Italy in 1933 that Mickey's future on paper took a real turn: an entire newspaper was devoted to him, a newspaper that was transformed into a magazine in 1949. This newspaper, like the magazine that succeeded it, was called "Topolino", a translation of Mickey's name in Italian.
On 5 June 1934, Mickey Mouse became a registered trademark in order to publish books, magazines and other newspapers. In October 1934, the "Journal de Mickey" was published in France.
The emblem of theWalt Disney Company is also the hero of several video games, the best known being "Kingdom Hearts" and "Magical Quest". The first video game featuring Mickey was "Sorcerer's Apprentice" for Atari, released in 1983.