Express biography
Date of birth: July, 21th 1951 at Chicago
Date of death: August, 11th 2014 at Paradise Cay
Nationality: American
Inducted as a Disney Legend in 2009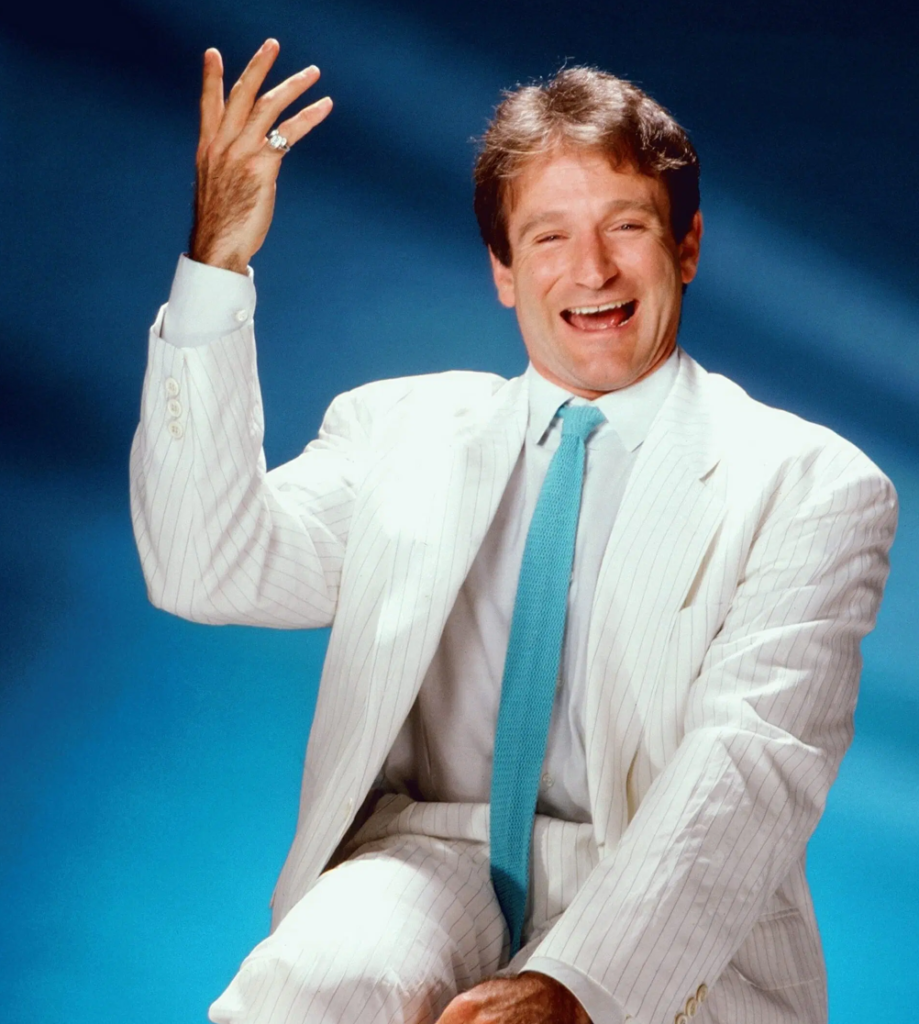 Above all, laughter
Robin Williams was born on July 21, 1951 in Chicago. But it is in Bloomfield Hills, California that he grows up. With his father, Robert Fitzgerald Williams, responsible for the car manufacturer Ford. And his mother, Laurie McLaurin and his half-brother Robert Todd-Williams. The latter died on August 4, 2007, following complications related to a heart surgery performed a month earlier.
After briefly studying political science, he decided to study theater at the Juilliard School where he met Christopher Reeve.
Street comedian, he auditioned for the television series Happy Days in 1976. He is noticed by the director Gary Marshall. He impressed the producers by his humor when he put on his head to sit on a seat. He was given the role of the alien Mork, for which he made many improvisations, especially on the dialogue and staging. His original performance (he speaks with a high-pitched and nasal voice) is so appreciated that a spin-off series is born: Mork and Mindy, from 1978 to 1982. In 1978, he won a Golden Globe for best actor in a musical or comedy television series.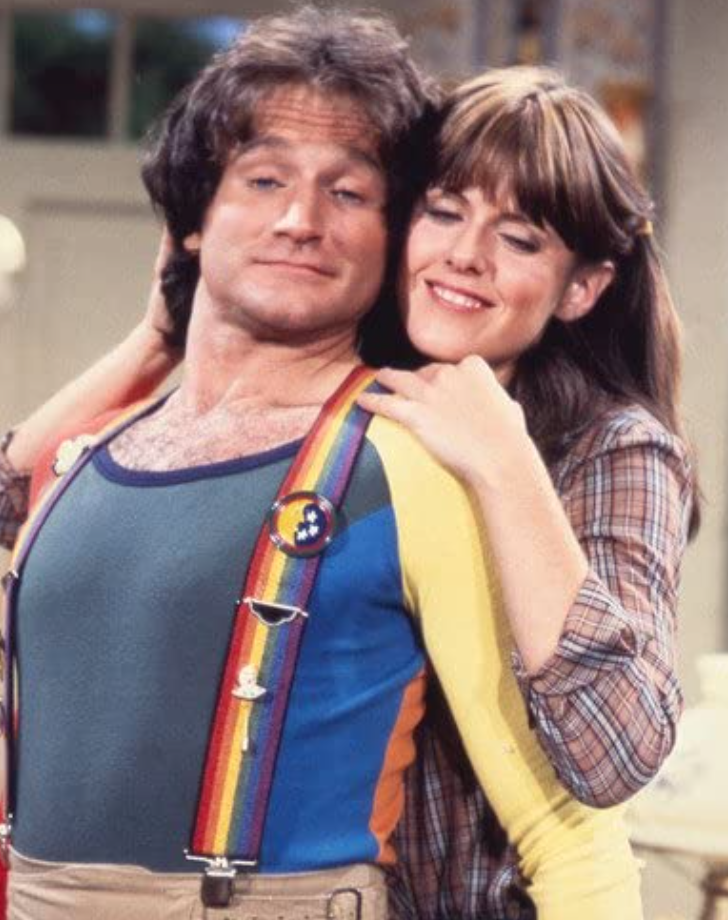 The magic of the big screen
Laughter and feelings
Robin Williams made his first steps in the cinema in the film Popeye by Robert Altman in 1980. Then in The World According to Garp by George Roy Hill in 1982, an adaptation of the novel of the same name.
In 1988 he showed the extent of his talents in Good morning, Vietnam by Barry Levinson where he plays a radio host. His performance earned him his first nomination for the Oscar for Best Actor. It is almost immediately followed by two others for his role as a professor of literature in The Dead Poets Society by Peter Weir in 1990 and for The Fisher King in 1992.
In 1994, he was noticed for his memorable performance in Mrs. Doubtfire. He received a Golden Globe for Best Actor in a Musical or Comedy, an American Comedy Award and an MTV Movie Award for this role.
In 1997, in Will Hunting, he plays Sean Maguire, a psychiatrist who must treat the behavioral problems of Will, a young mathematical genius played by Matt Damon. He won the Oscar for Best Supporting Actor.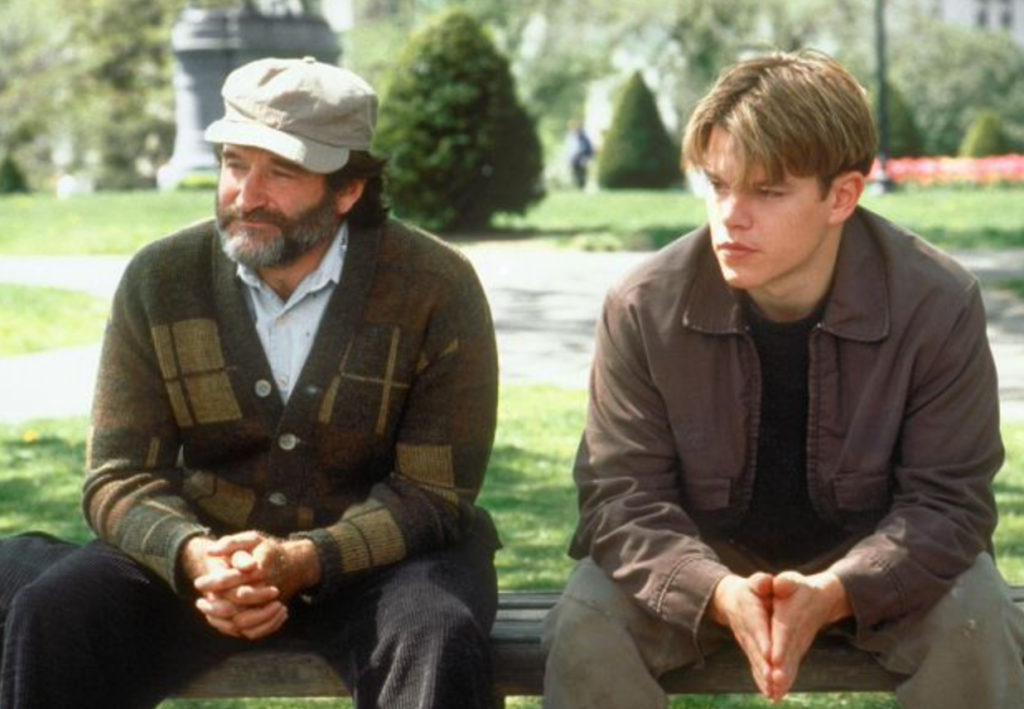 Disney Studios: for better or for worse
In 1992, for their animated feature film Aladdin, Disney Studios was inspired by his face and personality to create the Genie of the Lamp. Indeed, this sympathetic, colorful and particularly talented character can only be a tribute to Robin Williams. The latter agreed to give him his voice on the condition that it would not be used in the film's merchandising and other promotions. Unfortunately, this clause was not respected by Disney and a conflict broke out between the Studios and the actor. Robin Williams refuses to lend his voice in the first sequel of the film Aladdin and the return of Jafar. However, he agrees to return for the 3rd film Aladdin and the King of Thieves. Tensions subside and, in 2009, he receives the distinction of Disney Legend.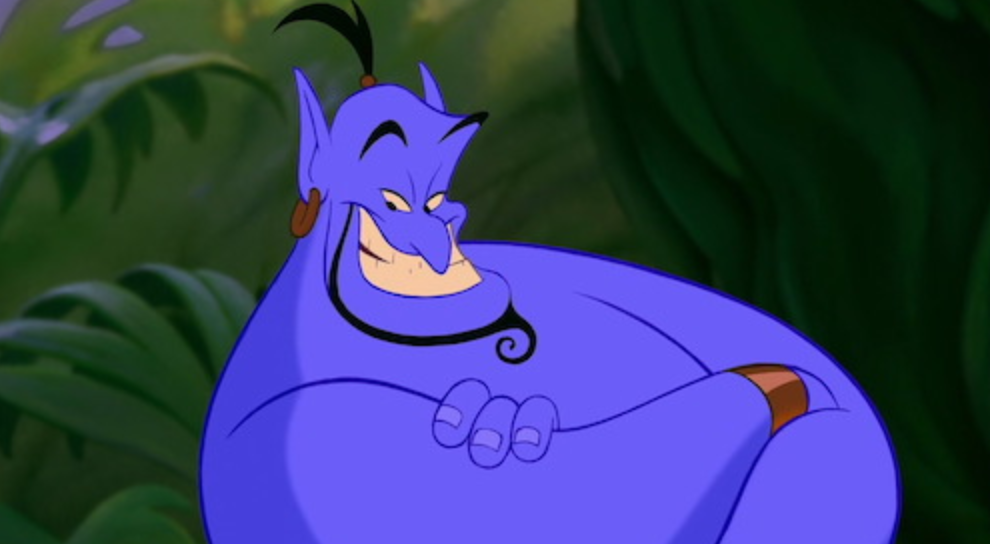 360° turn
Following these successful years, the actor decided to show his range of talents and change the type of project. In 2002, he plays the psychopathic killer Walter Finch in Insomnia by Christopher Nolan. The film was favorably received by the public and critics.
The same year, he pursues darker roles and plays in Photo Obsession by Mark Romanek, in which he plays Sy Parrish. A maniacal employee of a photo development lab is obsessed with a family from his clientele.
In 2011, he announced to meet Christopher Nolan to play the role of Hugo Strange in The Dark Knight rises. However, the character does not finally appear on screen.
An unwavering commitment
Famous for his multiple talents and his good humor, Robin Williams is also distinguished by his great philanthropy. Thus, the actor has participated in many events organized by the United Service Organizations to support the morale of American troops. He went to Kuwait, Iraq, Afghanistan, the Persian Gulf, Bahrain and Southwest Asia.
Moreover, particularly sensitive to the cause of the homeless, the actor has always added a clause in his contracts for filming or events, stipulating that homeless people must be hired.
Our paths separate
After being an integral part of our cinematic landscape (sometimes forever for some of us), Robin Williams ended his life on August 11, 2014. The actor was found hanged in his California home.
The next day, his body was cremated and his ashes scattered in the San Francisco Bay. Many artists and famous personalities pay tribute to him. Barack Obama declared on Twitter: "Robin Williams was an aviator, a doctor, a genius, a nanny… and everything in between. But he was one of a kind."
Awards
Film Oscars :
Oscars 1998 : Oscar for Best Supporting Actor in a Drama for Will Hunting.
Golden Globes :
1979 : Golden Globe for Best Actor in a Musical or Comedy Television Series for Mork and Mindy.
1988 : Golden Globe for Best Actor in a Biographical Drama for Good Morning, Vietnam.
1992 : Golden Globe for best actor in a fantasy comedy for The Fisher King
1993 : Golden Globe Award for Special Contribution for voice work in an animated comedy for his dubbing of "The Genie of the Lamp" and "Peddler, the Peddler" in Aladdin.
1994 : Golden Globe for best actor in a family comedy for Mrs. Doubtfire.
2005 : Cecil B. DeMille Award for lifetime achievement.
Primetime Emmy Awards :
1987 : Best Individual Performance in a Variety or Musical Program for Carol, Carl, Whoopi and Robin.
1988 : Best Individual Performance in a Variety or Music Program for ABC Presents: A Royal Gala.
MTV Movie Awards :
1993 : Best Comedy Performance in an Animated Comedy for Aladdin.
1994 : Best Comedy Performance in a Family Comedy for Mrs. Doubtfire.