Where can you buy the best Disney board games in UK stores for Christmas 2021? There's a Disney game for everyone, from villainous strategy games for adults and teens to adorable games for kids. And of course, Disney spans all generations – so there are plenty of games you can play with your friends, siblings, parents and kids.
The Best for Music-Lovers – Disney Play That Tune Game
The perfect game for Disney singalong fans – with a twist! Can you play your favourite song on kazoo? You're about to find out, with 60 prompts to test your musical skills and Disney knowledge.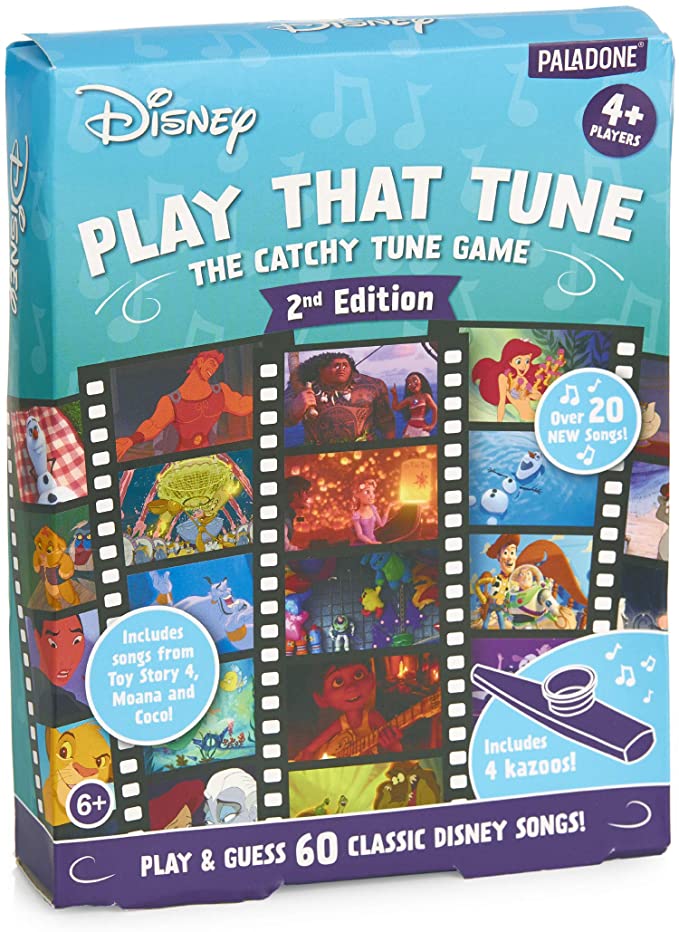 The game is recommended for 4+ players working in teams, with 4 kazoos provided in the set. In a post-Covid world, additional players might want to bring their own from home? We'll leave it to you to make the arrangements, but this be a great way to get music-lovers and natural performers involved.
Find it on Amazon and Truffle Shuffle.
The Best for Little Princesses – Disney Princess Tea Party Board Game
This Disney board game for kids and families to play together is aimed at ages 4 and up. Pour the dice from the teapot to move around the board. Collect cupcakes as you go, to make your Disney Princess party a success! Mulan, Aurora, Belle and their friends feature on all the cups and the teapot, lending a regal touch to the game.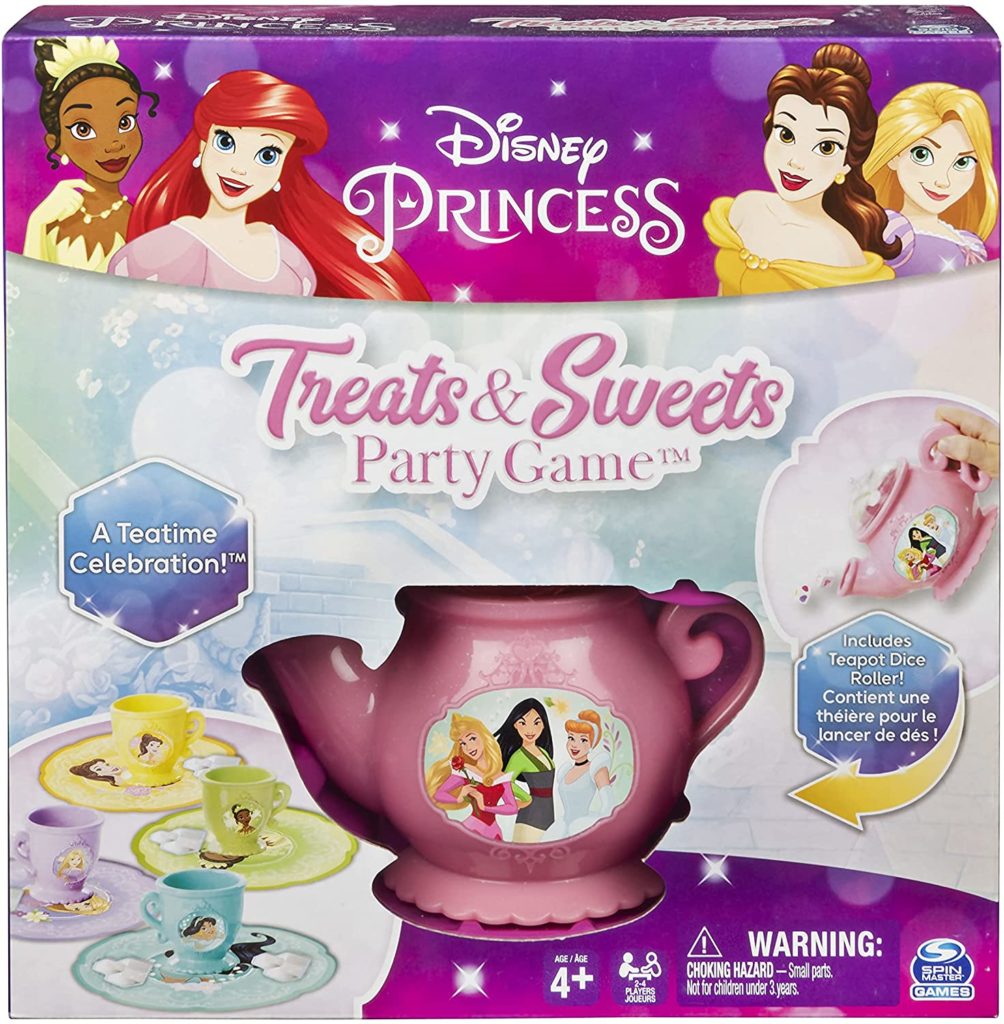 It's certainly for younger ones. But with a combo of dice and cute printed cards that don't require many reading skills, it could make a nice introduction to board games.
Find it at Argos, The Entertainer and Amazon.
The Best for Supervillain Families – Monopoly Disney Villains
Play your way around the board as Cruella, the Evil Queen, Maleficent, Jafar, Scar, or Captain Hook. Not evil enough for you? The properties are also Disney Villains – so the aim of the game is to collect as many baddies as you can. Poison Apple cards are on hand to give you a helping hand.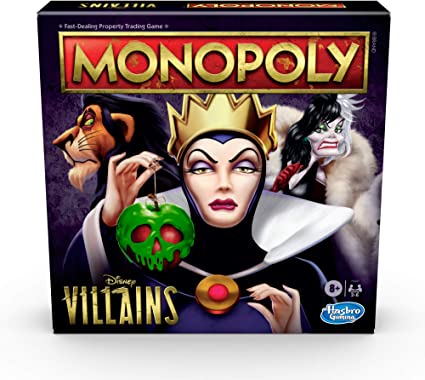 Despite the villainous branding, this age 5+ Disney game borrows from the Monopoly Junior format with fewer properties/villains to collect. Not that older fans won't enjoy it, of course…
The Best Strategy Game – Disney Villainous
A strategy game for ages 10+, with some rare characters making an appearance. Choose from Captain Hook, Maleficent, Jafar, Ursula, the Queen of Hearts, and Prince John as you get into villain mode.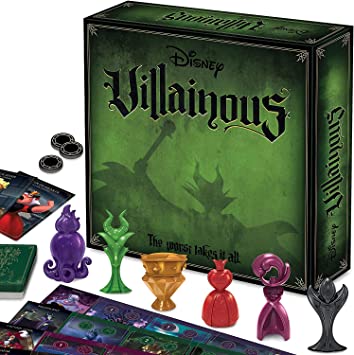 You'll be getting up to all kinds of mischief to win the game, from setting traps and using curses to achieve your character's story goals. Since we're the bad guys here, you'll be contending with Pixie Dust, Wishes and heroes from the Disney movies along with way.
Recommended for 2-6 players, this Disney strategy game is one for more dedicated players who want to really get into the game.
Find it on ShopDisney, Smyth's Toys and Amazon.
A Marvel Villainous version is also available, if you want to unleash your inner Thanos or Ultron.
The Best for Frozen Fans – Monopoly Disney Frozen 2 Edition Board Game
Another Disney Monopoly? Disney Frozen 2 Monopoly lets you circle the famous board as one of 4 characters from the movie. All the properties are named after scenes from the Frozen movies – collect a set to build Arendelle-style houses or castles! The classic Monopoly houses have been overhauled specially for this Disney Monopoly game, fitting in perfectly with Arendelle's architecture.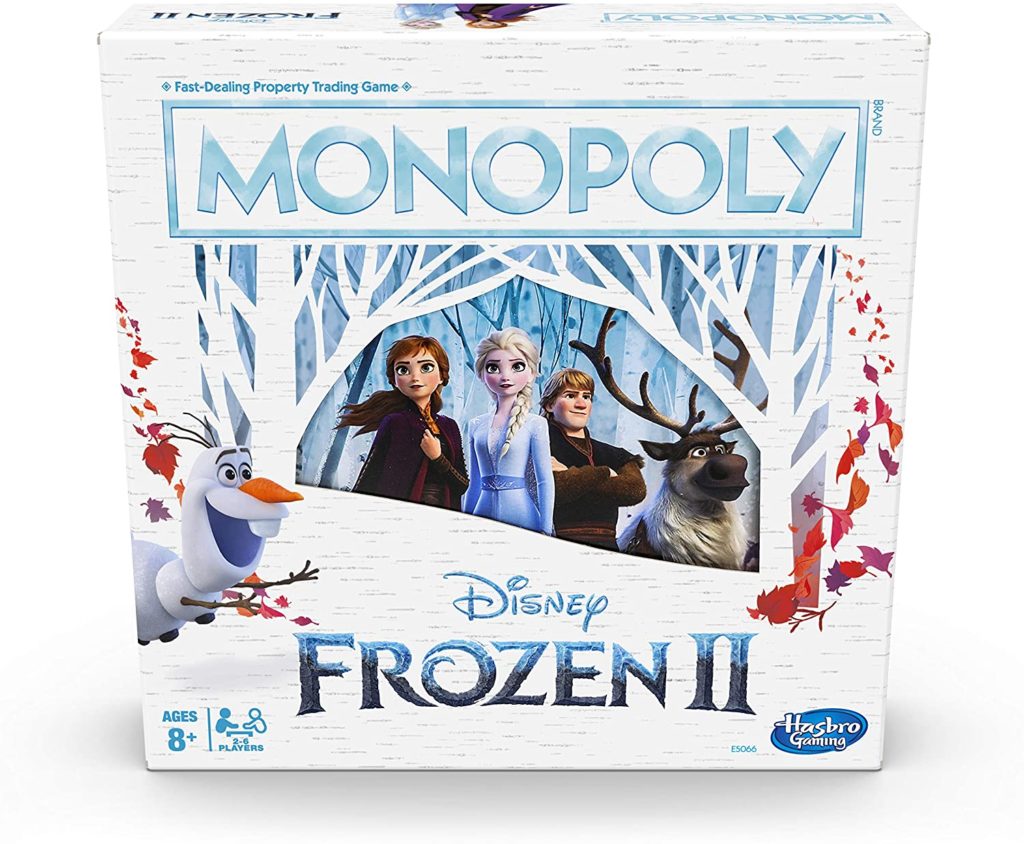 Keeping up the characters' warm-hearted morals, certain cards ask you to share a special moment with your fellow players. Watch out for nasty surprises though – you could be unlucky enough to find out you've fallen for Hans' tricks again!
Frozen 2 Monopoly features a smaller board than the full-scale version. It's recommended for ages 8 plus (and of course, no upper age limit on Frozen fandom). Be aware, the lower price reflects simpler packaging – there's no organiser tray in this Monopoly set, so the banker has some extra work cut out for them when you set up.
Find it at Argos, The Entertainer and Argos.
Best for Young Pixar Fans – Disney Toy Story 4 Home Sprint
Buzz, Woody, Bo Peep and Forky take on snakes and ladders in Toy Story 4 Home Sprint! Make your way around the spiral gameboard, rolling the dice to see if you'll move, leap forward or miss a turn.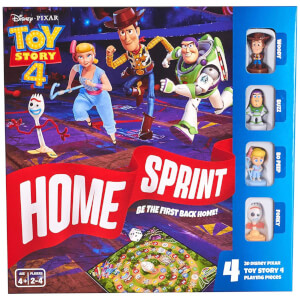 Recommended for ages 4-8, this game is a fun variation on a classic with a good amount of theming thrown in. As an awesome extra, the Buzz figurine looks suspiciously like his Small Fry counterpart. Did he find a home inside this board game? You can judge for yourself…
The Best Travel Game – Disney Princess Monopoly
Going to Grandma's for Christmas? Disney Princess Monopoly is a Disney travel game that comes in its own storybook-style folding case. All the tiny pieces fit inside.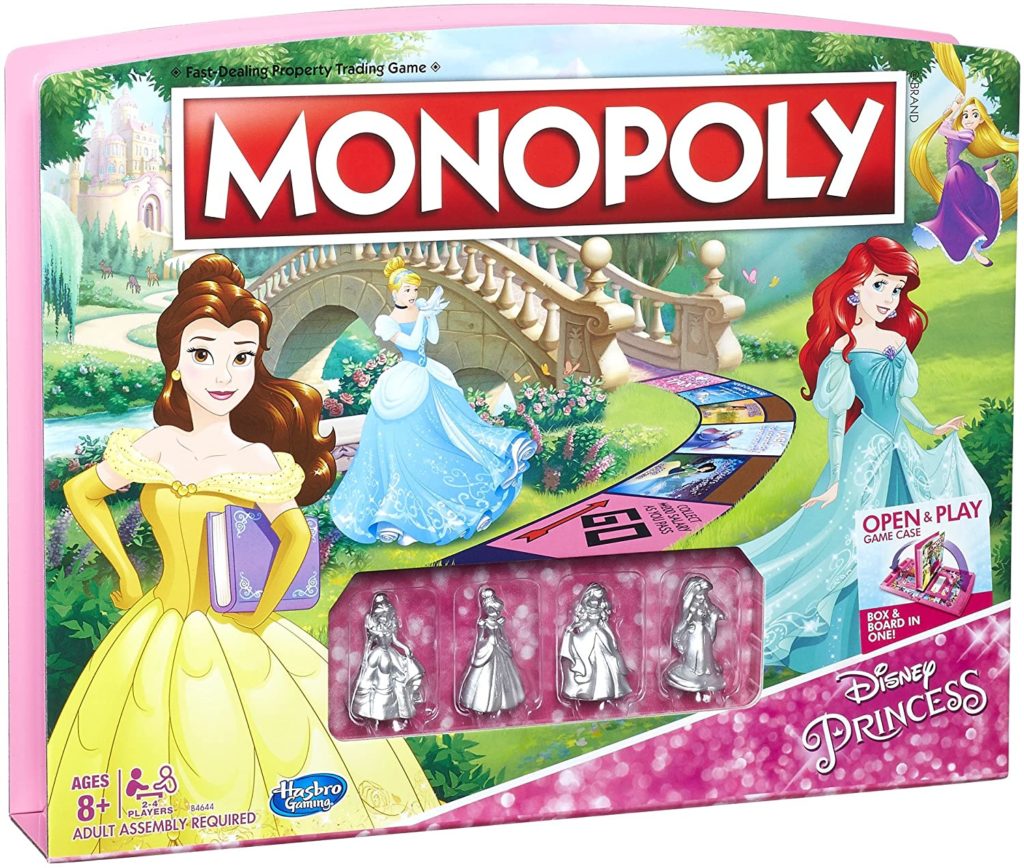 The theming ranges from properties representing Disney Princesses' interests like Merida's Archery School, to the detailed counters representing Belle, Rapunzel and friends. Disney Princess Monopoly is recommended for ages 8 to adult, for 2 to 4 players.
Find it on Amazon.
The Best Disney Board Game – Disney Colourbrain
Challenge your memory and creative abilities with Colourbrain Disney Edition! This is a clever Disney game for mixed age groups because it's deceptively simple – just remember the colour schemes from your favourite movies. But can you remember all the colours seen on Mrs Potts, or on Bo Peep's dress?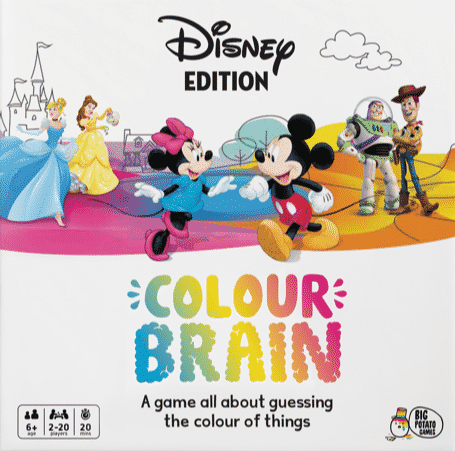 This game is recommended for ages 8 and up, though plenty of younger ones will be able to join in. Disney Colourbrain includes 4 sets of themed colour cards, but you can play with anywhere from 2 to 20 players by buddying up to make teams.
It's easy to pick up the concept, you can play in a pair or a large group and most ages can play. Plus, this game mixes creativity, trivia-style knowledge of Disney movies from all eras, and doesn't call for extra supplies.
What else could you ask for? We have a winner!
Find it at House of Fraser, John Lewis, Waterstones and Amazon.