The Hocus Pocus book is called Hocus Pocus and the All-New Sequel, featuring a sequel to Max, Dani and Allison's adventures along with a Hocus Pocus novelisation.
Is it the perfect spooky book for Hocus Pocus fans, or a mistake of black flame candle-lighting proportions? Let's find out!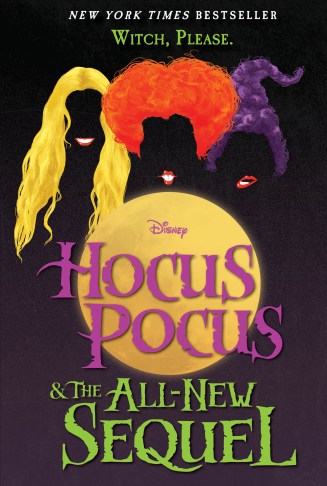 Synopsis
Like the movie, Hocus Pocus follows two sets of characters in Salem, Massachusetts – yes, the same one that's infamous for its witch trials. In 1693, we meet Thackery Binx as he attempts to save his sister, Emily, from the mysterious Sanderson Sisters.
Over in 1993, (the present day when the film was released) we meet Max Dennison, who has just moved to Salem from California. With the town bullies targeting him, the last thing Max wants to do is take his little sister, Dani, trick-or-treating.
But when they accidentally call at his classmate Allison's house, he finds the perfect way to impress the girl he likes. Because Allison's mother has the key to the Sanderson house… and soon they've unleashed Sarah, Mary and Winifred Sanderson on 20th Century Salem.
The second Hocus Pocus story follows Poppy Dennison and two friends in 2018. We get to see where several original characters are now – and how the events of 1993 changed them. Following the true Hocus Pocus tradition, Halloween strikes Poppy and friends as the perfect time to take a spirit board to the Sanderson house. This isn't going to go wrong at all, is it?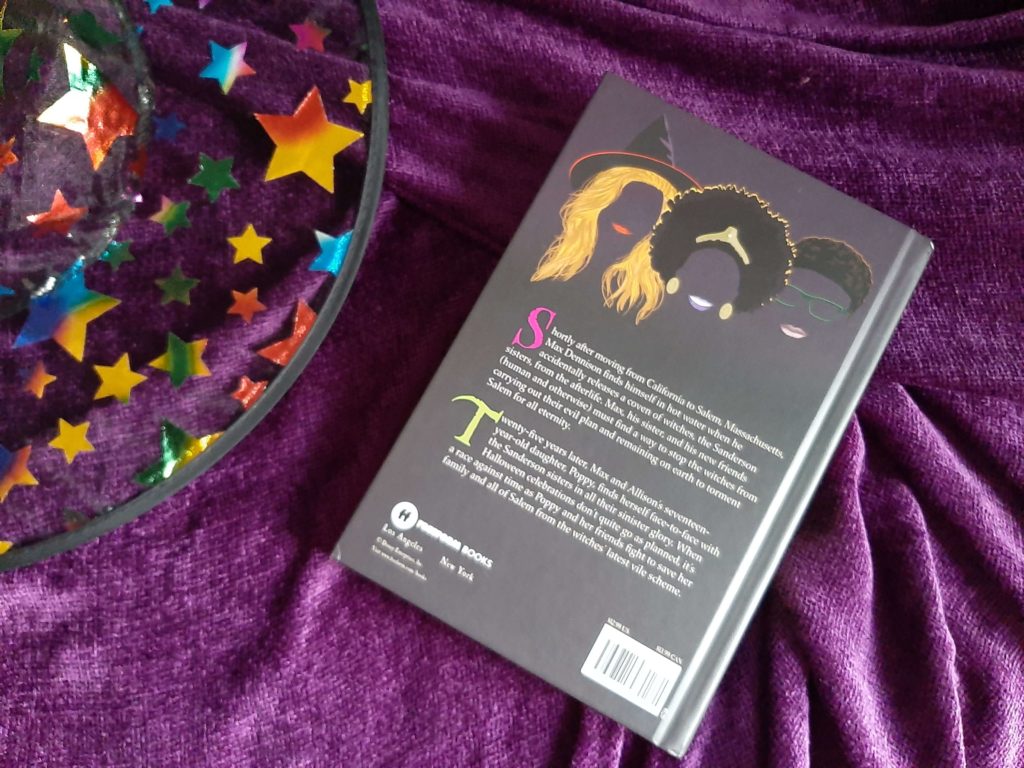 "Boo-ook!"
The Hocus Pocus book and sequel were illustrated by Matt Griffin, who has also created licensed illustrations for Marvel titles.
Both stories were written by A. W. Jantha based on the movie. Now, there is no trace of this author anywhere but this Disney title, so it seems the Hocus Pocus novel set was written under a pseudonym.
The mysterious A. W. Jantha's writing style works fairly well in adapting the movie. You can expect a page turner that picks up the movie's social dilemmas and supernatural frights pretty well.
Oh yes, and all your favourite quotes and movie moments are in the novel too. As you would hope, there's some added content – but actually the classic scenes aren't altered at all. Most of the additions come from characters' thoughts about past events that led them to make their choices.
This is a YA novel, which can mean older writers getting carried away with teen talk… in this case, that's not too much of a problem. Though there are a few slang-dropping moments in the sequel. On the other hand, like the original Hocus Pocus the events happen on a set date, so the dialogue can live on as a 2018 moment.
Because the official Hocus Pocus novel set was released on 10th July 2018, as part of the cult classic's 25th anniversary celebrations. It appeared on bookshelves just as the fandom was picking up steam, with the Halloween becoming current again – and not just a 90s favourite. The Sanderson Sisters were already appearing at the Hocus Pocus Villain Spelltacular at Walt Disney World.
And by 2020, Bette Midler, Kathy Najimy and Sarah Jessica Parker had signed up to reprise their roles as Winifred, Mary and Sarah in a movie sequel.
Is Hocus Pocus 2 Based on the Book?
The Hocus Pocus 2 movie is set to follow a similar plot to the sequel novel, with the Sanderson Sisters returning to Salem. But based on other details released so far, there are differences too – and it's possible the sequel will be treated as a separate timeline.
And a 2020 Disney+ press release described a similar plot: "three young women accidentally bring the Sanderson Sisters back to modern day Salem and must figure out how to stop the child-hungry witches from wreaking a new kind of havoc on the world."
That said… what we would want from a Hocus Pocus sequel if not three modern kids accidentally bringing the witches back? It's totally possible that In other words, we can't confirm either way.
We Love:
Getting to spend more time in the Hocus Pocus universe.
The thoughts and back-story feel true to the characters in the Hocus Pocus novelisation.
While there's added content, it's described in the characters' thoughts or memories so there are no changes to the timeline.
The Hocus Pocus sequel novel adds some welcome diversity.
And it also gives us a hint of LGBT romance that runs alongside the action like the Max/Allison subplot.
We Didn't Like:
The teen-speak in the sequel can feel awkward to read at times, and risks dating quickly.
A couple of bigger set pieces in the sequel story risk missing out on the simplicity that makes the original work so well.
With Hocus Pocus 2 in production, will the sequel be lost to time as a new follow-up takes its place?
Or are we unintentionally feeding ourselves spoilers for the movie, if it does draw on the novel?
Like many novelisations, spin-offs and sequels it might not please every fan. But it does offer another way to spend some time in Salem over Halloween if you've already watched it on Disney+, and it's a pretty fun read.