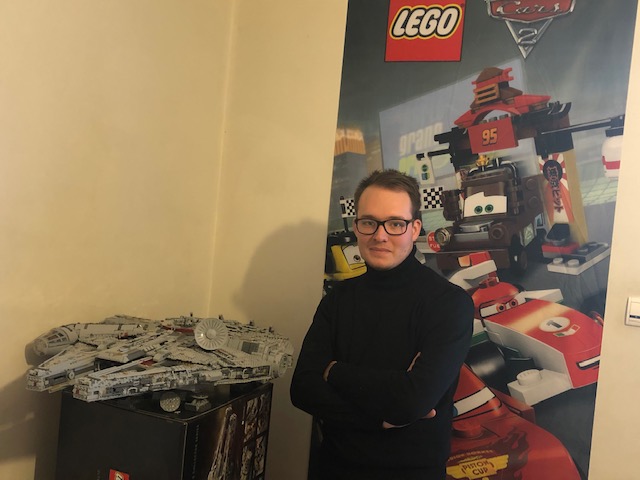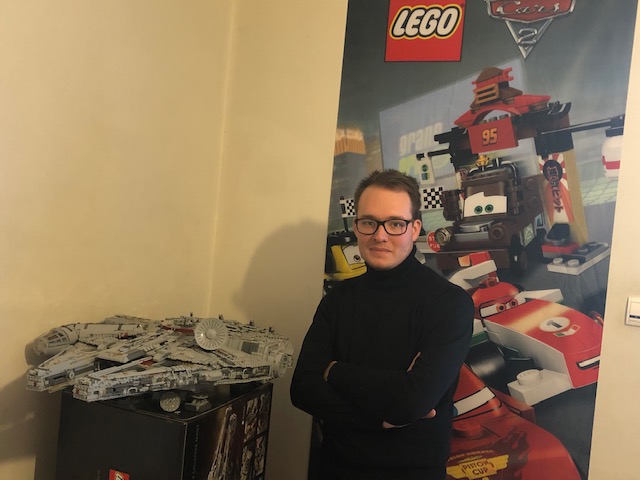 Guillaume ROUSSEL, originally from the Marne, is an industrial engineering student at the engineering school in St-Omer and is a LEGO fan. In 2020/2021, he participated in the famous show "LEGO MASTER" on M6 for several weeks, with tenacity and motivation!
*Definition of AFOL : Adult Fan of LEGO
I had the chance to meet him last January, and it was an interesting and nice moment!
Guillaume introduces himself
In order to get to know each other better, I ask Guillaume to tell me a little about his background as a student and enthusiast.
"
"I am a student in engineering school. I am making an interpretation of Disneyland Park using LEGO. Disney and Lego being my main passions, I'm combining the two by proposing my version of the Disney parks with a model measuring about 20 m2 in total. I expand it a bit every year. I am currently building Big Thunder Mountain, the most popular attraction in the parks, mainly inspired by the Disneyland Paris version but also by the other parks.
I've also created part of Main Street, with several buildings, but also a few vehicles lining the street.
The dimensions from the station to the Castle are 4m50 in length, and I still have more buildings to create before this legendary street is as complete as possible."
Guillaume le "geek de la brique" est inspiré par le Royaume magique"
Guillaume has always been attracted to theme parts in general, but Disneyland is a always a particular sounce of inspiration for him.
"The Disney parks in particular, they're built in a way that tells a well-defined story, nothing is left to chance. There's a multitude of things and details to see in the parks, anywhere you go you'll find them. The parks are rich in subtleties! And the fact that there are many lands, allows me to work across many universes while always keeping the diorama uniform and unique. So I can pass from Main Street to Frontierland, no problem."
Guillaume et the famous views
Because no diorama, of any sort, can be made without preparation…
At Disney, nothing is left to chance – not even the subtleties of Main Street's construction. I'll hand over to Guillaume…
"When I take on a project, I do my homework in advance, so I'm taking the same approach as the Imagineers who costructed the parks. For example, for one of the buildings on Main Street where I've respected the technique of "forced perspective". In effect, the windows shrink in size with each successive storey to make something more realistic."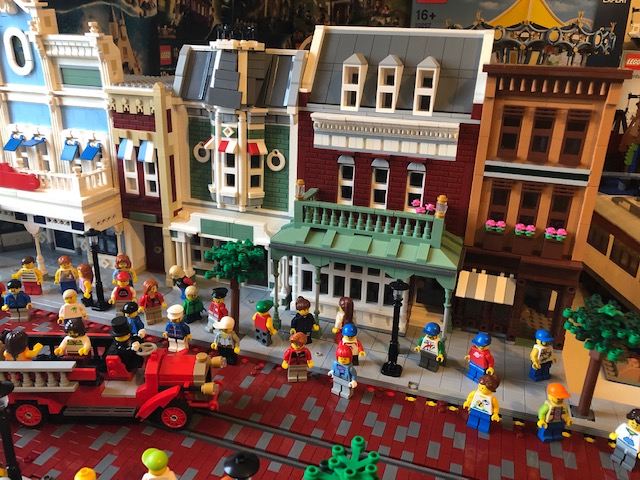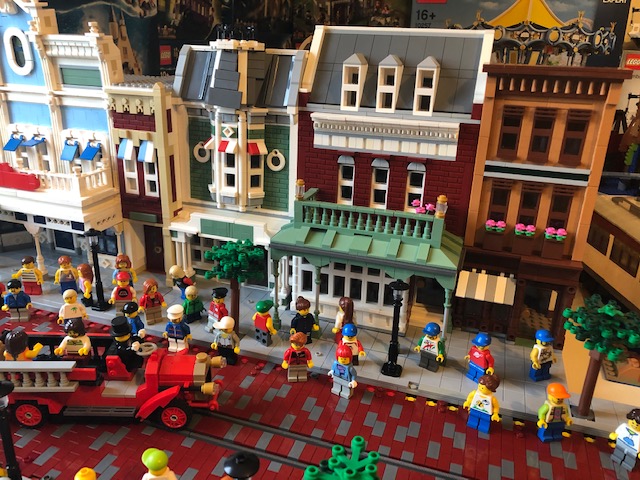 The Disneyland Rail Road
Guillaume has constructed one of the locomotives of this authentic steam train that lets you tour the park and discover it from another angle.
"I have constructed one of the four locomotives fo the Rail Road Station in LEGO, called the George Washington. I've created the other three on my computer, for the eventuality that I change around the diorama."
Big Thunder Mountain
It was the unmissable "mine Train" that I discovered first, when Guillaume opened the doors to his replica of Disneyland Paris…
"I"ve been working on Big Thunder Mountain for many months and I'm trying to come up with an interpretation that's as close as possible to the ride which qualifies as the park's most popular attraction. I have still got about a year's work ahead of me. For the moment, I've created the train's route as faithfully as possible. I have also created the boarding station, which is, of course, the starting point of the attraction."
C'est cette attraction que j'ai pu admirer en premier, lorsque je suis arrivé chez Guillaume !"J'ai essayé de reconstituer l'île de Big Thunder Mountain et l'attraction elle-même. J'ai pour un an de travail , et je projète d'y ajouter l'attraction "Thunder Mesa River Boatd Launding" avec soit le River Boat soit le Marc Twain. "Cette construction nécessite à peu près 30 000 pièces !"
Guillaume has plans to expand
Guillaume plans to expand Frontierland…
"The construction of Big Thunder Mountain is already being well under way, this should be completed withing a few months, and I'm already committed to it. Once that is finished, I'll devote myself to the realisation of Phantom Manor; I have already planned the placement and the connections, since it will require a BTM extension of BTM, and this rather long project should require about a year's work.
Next, I'm thinking of creating Adventureland with, of course, Pirates of the Caribbean, Indiana Jones, etc…"
Guillaume is inspired by the Imagineers
Finding out more about the Imagineers was, of course, indispensable for Guillaume…
"When I'm planning a new building, attraction or venue, I do a lot of research beforehand, to get a feel for the project in question, whether it's in terms of details, dimensions or the story it tells. I do my research online, of course, and my support is the Imagineers site where I find sketches of their creations. Sometimes I discover general plans, others are more specific. The one that helped me out the most, is the plan of the foundations of Sleeping Beauty's Castle. I printed it out, and then scaled it up to 1:50 scale, in order to have a rendering that resembles my own realisation of the this building as closely as possible. Similarly, I have used the plans of the front, back, sides etc…"
The Disney must-haves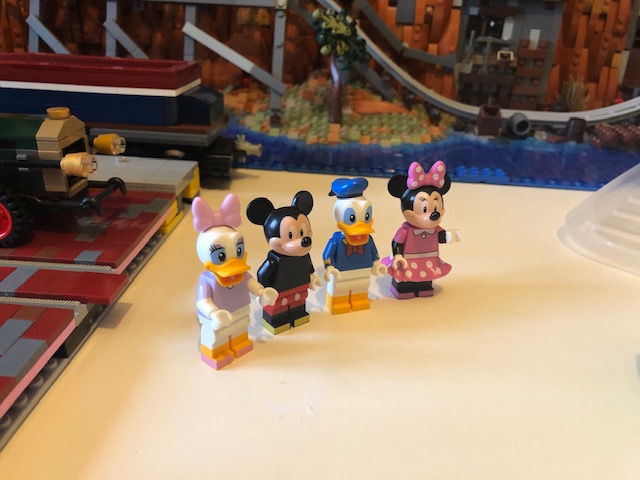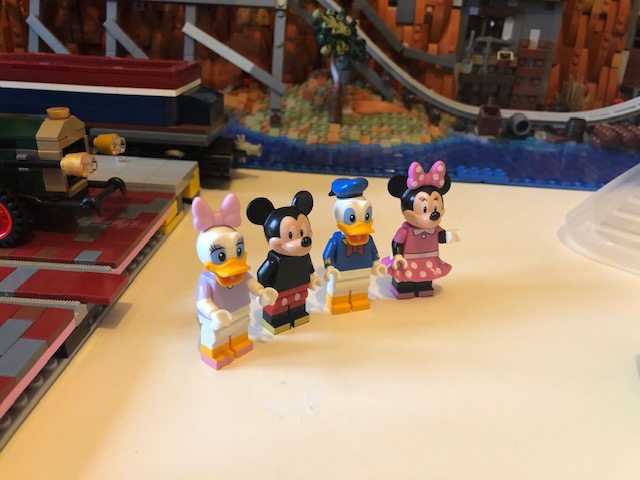 Of course, I couldn't leave without meeting Mickey, Minnie et ses amis!
"Of course, I use the LEGO minifigures, to integrate into my dioramas to create the mise en scene, whether it's to bring a parade to life, positioned at a precise spot in the park, which allows me to change the theme at for every exhibition."
Construction in progress
Guillaume never stops! Here is his current project…
"This is the start of a new build. It's Casey's Corner, situated on Main Street, the building that completes the left side of this iconic location. This building needs a few more days of work."
How do you transport these models?
Given the scale of these creations, I'm curious to find out how our AFOL transports them, to present them in the various exhibitions he participates in.
"I have several packing crates adapted to the dimensions of my models. I transport them as a single block on a wooden panel. For example, BTM has a size of 1m15 x 1m15. This block is placed on a custom frame. So when I arrive at my destination, I just remove the frame. It takes two of us to remove it, and it allows us to rebuild the park relatively quickly."
Guillaume's September Disneyland Paris trip
I asked Guillaume the date of his last trip to Disneyland Paris..
"My last visit was in the month of September 2020, just after the reopening in July 2020. I went witha friend, the sanitary protocol was very well respected. And despite the context, we had an excellent day! Although the access to the priority tickets was complicated… But we got there!"
Thank you Guillaume
After a two hour interview with an AFOL, or a LEGO geek, in short a passionate enthusiast, it's time for me to let him get back to work…
"I would like to thank him warmly, on behalf of ED92, for having welcomed me, while his schedule is very full. I wish him the best of luck for the rest of his career, both in his studies and in his passion… and I will have the pleasure of contacting him soon, in order to follow the evolution of the construction of this magical place!!"
"Thank you very much, and see you soon on my Facebook page Disneybrick". !!!