Disney Parks Blog takes us back inside of Avengers Campus for a closer look at some of the details.
The main entrance to the land is located adjacent to the Worldwide Engineering Brigade – also known as WEB. However, the land also features a back entrance just outside of Guardians of the Galaxy – Mission: BREAKOUT!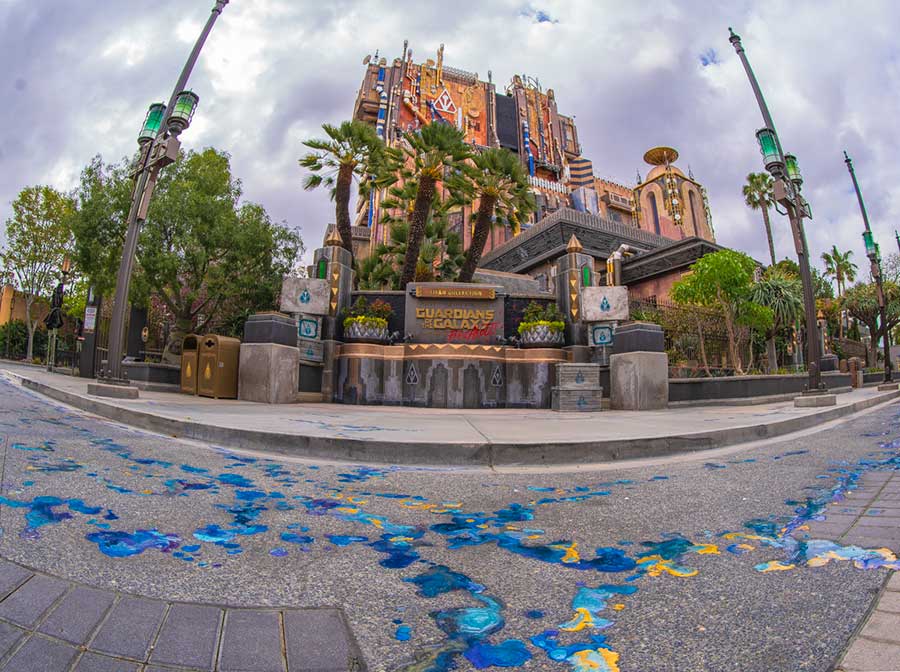 Disneyland is also adding more storytelling with a late addition to the Campus, Taneleer Tivan, a.k.a. the Collector, who placed his Fortress against its edges. This placement warped the ground immediately surrounding the alien stronghold causing a cosmic disruption to ooze from the ground below. Hues of blues, purples and yellows glow in the daylight.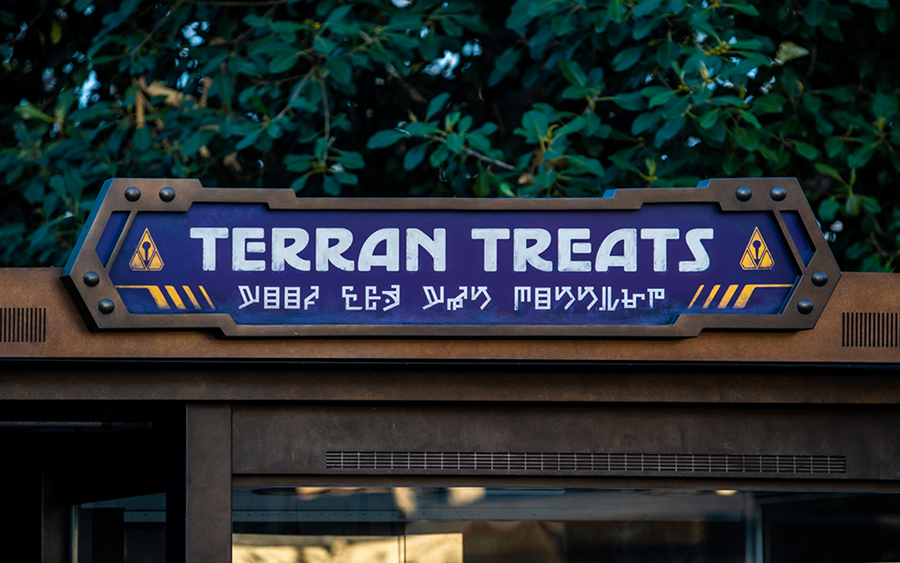 Nearby, the Terran Trears food cart has been settled by The Collector. You'll be able to there find one of his curious creations, the Sweet Spiral Ration Churros that will feature « unique and unexpected flavors ».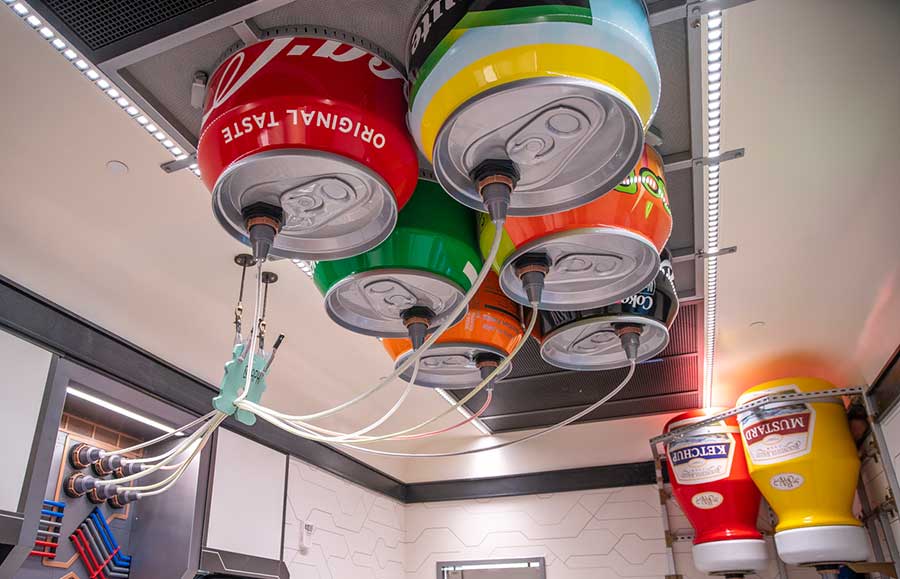 We are also getting a 1st look inside Pym Test Kitchen. This restaurant featuring Impossible™ is a food innovation science lab where the food and drinks tell a story. Just as Ant-Man and The Wasp use "Pym Particles" to grow and shrink just about anything, Pym Technologies applies this innovative science to the creation of inventive-sized foods, like the pretzels that grow and shrink as they pass through the quantum tunnel. This logic also applies to the beverages and condiments, seen here overhead in the beverage and condiment station. As a reminder, a similar restaurant will open its door inside Avengers Campus at Disneyland Paris.
Then, at the heart of the land, there is Avengers Headquarters, where you'll be able to see Avengers super-heroes. You can see the emblematic Avengers "A" on the building and surrounding areas. A Quinjet atop its roof will serve as a beacon for the campus.
Here is the Orb of Cagliostro, illuminated at night in the overgrown ruins of an Ancient Sanctum where you'll learn mysterious secrets from Doctor Strange and discover ancient, magical artifacts.
Last but not least, at the front of the land, guests will find Stark Motors factory. Built by Tony's Stark father in the 1940' in California, it has been transformed by Tony into the Worldwide Engineering Brigade – also known as WEB. This is the place where innovators like Peter Parker have been assembled by Tony Stark to invent new technologies and equip everyday people to become heroes.
That gives us some hints about Disneyland Paris version of the building and attraction.
Finally, Disney Parks Blog shares the meaning of Campus = Centralized Assembly Mobilized to Prepare, Unite, and Safeguard.
Avengers Campus will open on June 4th 2021 at Disneyland, are you looking forward to it?