At the D23 Expo 2022, the ultimate event for Disney enthusiasts, Josh D'Amaro – CEO Disney Parks, Experiences and Products – outlined the future developments to the Disney parks to be discovered in the coming years. Check out the many announcements about the magic happening around the world in the parks, on the high seas, at home and beyond.
Disneyland Paris
Find all the announcements concerning Disneyland Paris in the dedicated article here: A limitless future for Disneyland Paris unveiled at Expo D23 2022.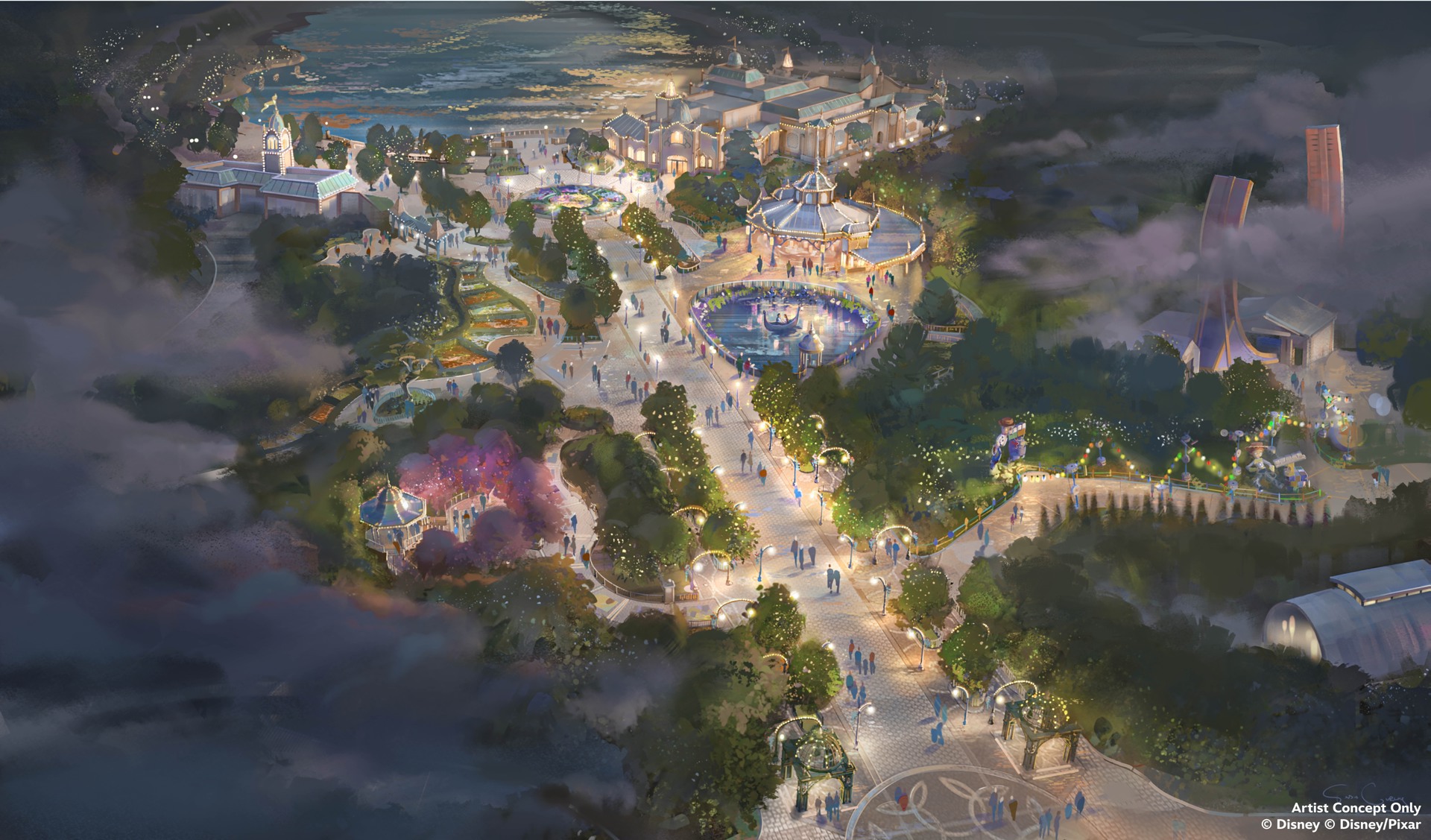 Disneyland
Surprises to come in the Marvel and Star Wars universes
At the launch of the D23 Expo 2022, Disney CEO Bob Chapek announced that Avengers Campus at Disney California Adventure will expand with a third attraction. The third attraction will feature a brand new storyline that will take guests into the Multiverse! The attraction will be an epic family adventure, where you can team up with other Avengers and their allies to battle enemies from the Multiverse, including "King Thanos", a villain designed specifically for Avengers Campus.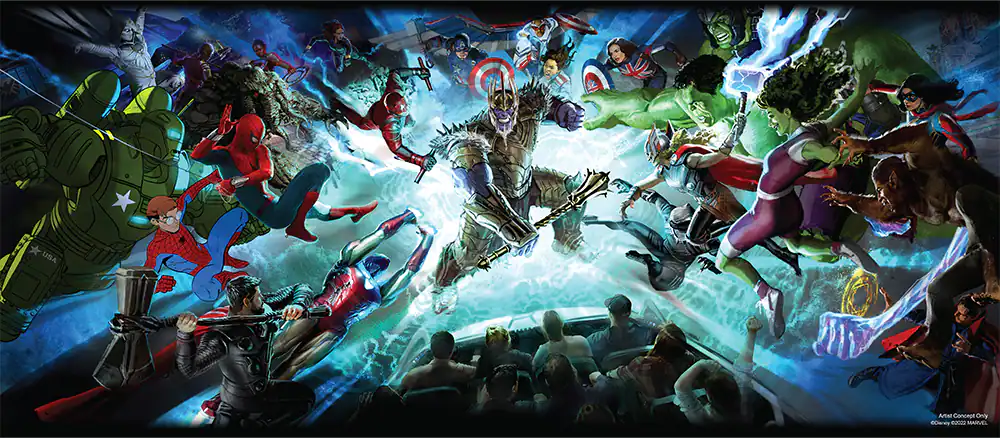 While more than 35 different characters have already made appearances at the Avengers Campus at Disney California Adventure, the Incredible Hulk in his Quantum suit will be coming to meet visitors in the next few days.
The Mandalorian and Grogu will make their first appearance on Batuu in the Star Wars: Galaxy's Edge universe from mid-November 2022.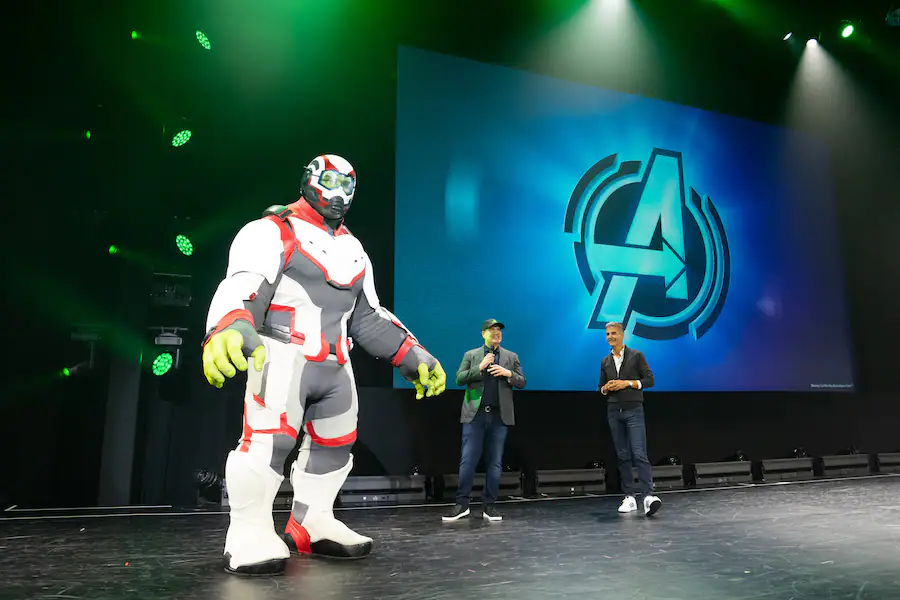 New shows for Disney's 100th anniversary
Disney's 100th anniversary celebrations will begin at the end of January 2023 for a limited time. For the occasion, visitors to the Disneyland Resort will be able to discover two new night shows: "Wondrous Journeys" at Disneyland Park and "World of Color – One" at Disney California Adventure.
"Wondrous Journeys" will include nods to the 60 films made to date by Walt Disney Animation Studios, and will take us on a journey filled with art, music, storytelling and heart. It will continue to rely on projection effects and fireworks to bring the characters to life. The show will also feature a new song: "It's Wondrous".
"World of Color – One" will celebrate the legacy of storytelling launched by Walt Disney a century ago. It will tell a new story about how a single action, like a drop of water, creates a ripple that can turn into a wave of change. The show will also feature a new original song, "Start a Wave".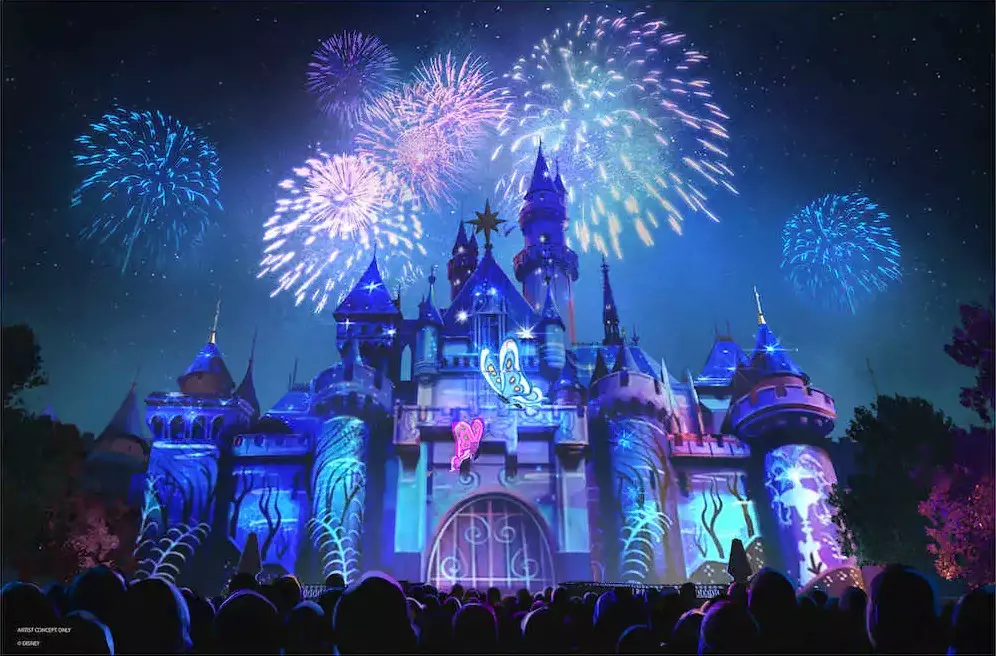 There is also good news on the shows and events front with the long-awaited return of the "Magic Happens" parade at Disneyland Park and the runDisney at Disneyland Resort in 2024.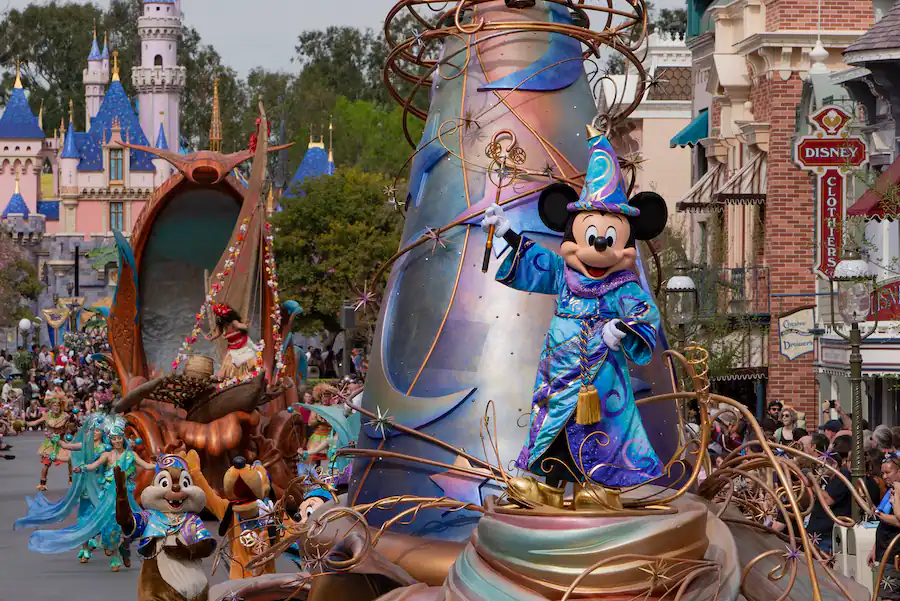 Big Hero 6 arrive at Disney California Adventure and Downtown Disney continues its transformation
At Disney California Adventure, Pacific Wharf will be reimagined as San Fransokyo inspired by the animated film Big Hero 6. This project is still in its early stages of development but we already know that it will be possible to meet Baymax and enjoy restaurants and shops.
Downtown Disney California (equivalent in principle to Disney Village) will introduce more than a dozen new or redesigned establishments. Din Tai Fung will offer Asian specialties from Taiwan. Porto's Bakery and Café, widely known throughout the United States, will also move in with its Californian and Cuban inspired pastries and dishes.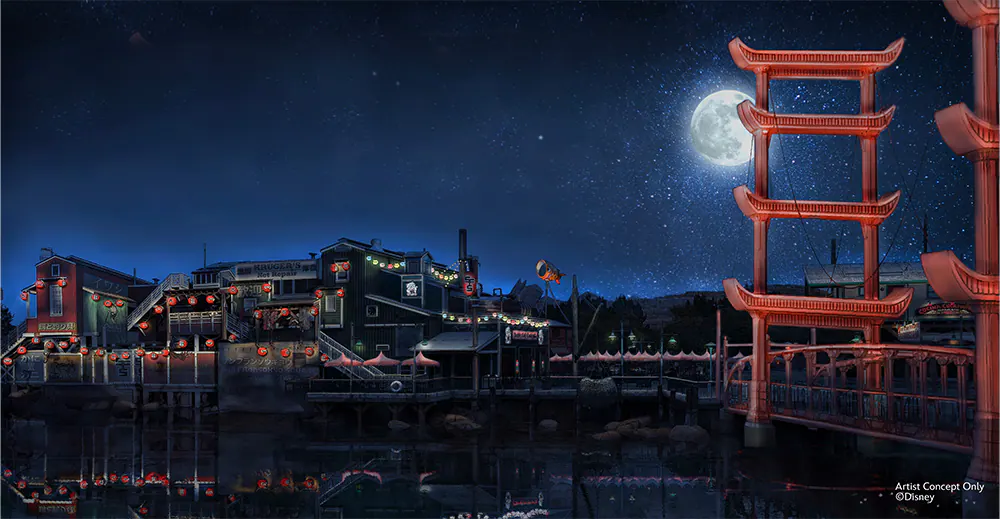 Mickey's Toontown reimagined
"Mickey's Toontown" continues its re-enchantment. The headquarters of Mickey and his friends will host a new version of the "Mickey & Minnie's Runaway Railway" attraction. Inside the "El CapiTOON" theatre, an exhibition will celebrate Mickey with costumes and accessories from the world of toons. You will recognise the famous "Steamboat Willie"!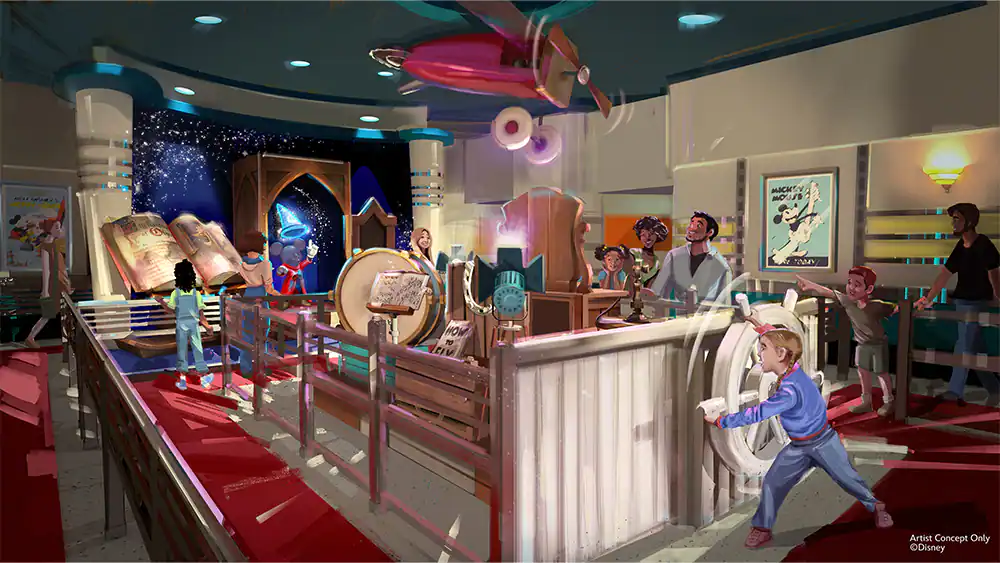 New Pixar hotel
The previously announced Pixar-themed transformation of the 3Disney Paradise Pier Hotel3 will be called the Pixar Place Hotel. The hotel will incorporate the art of Pixar in a comfortable, contemporary setting, with fantastic spaces for everyone to enjoy, such as this "Finding Nemo" themed swimming area.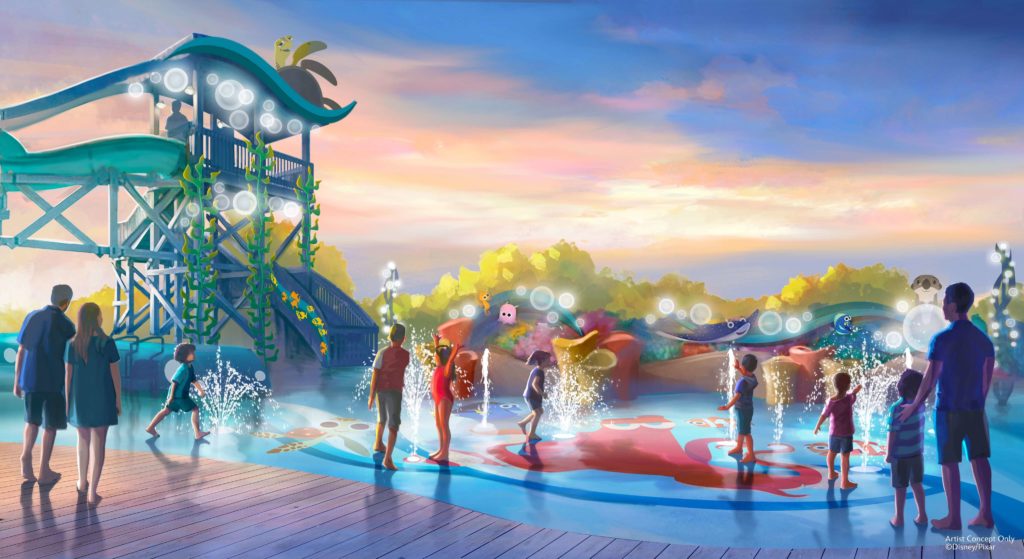 Walt Disney World
At Magic Kingdom TRON Lightcycle will open in spring 2023. You'll climb aboard your very own Lightcycle and race through a dark, computerised world alongside your family and friends. Along the way, your team will compete to be the first to pass through the eight energy gates and win.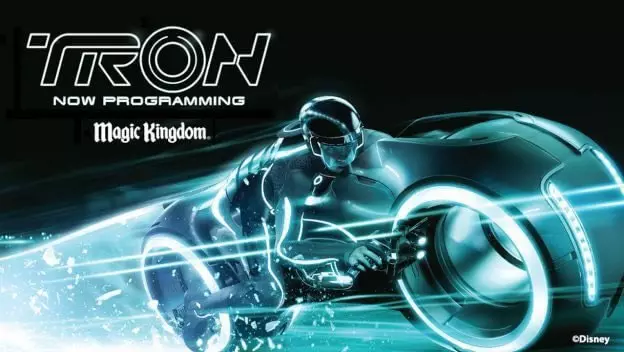 The "Happily Ever After" nighttime show will return in 2023 in a redesigned version. After California, the popular character "The Hatbox Ghost" will take his turn at Haunted Mansion at Walt Disney World.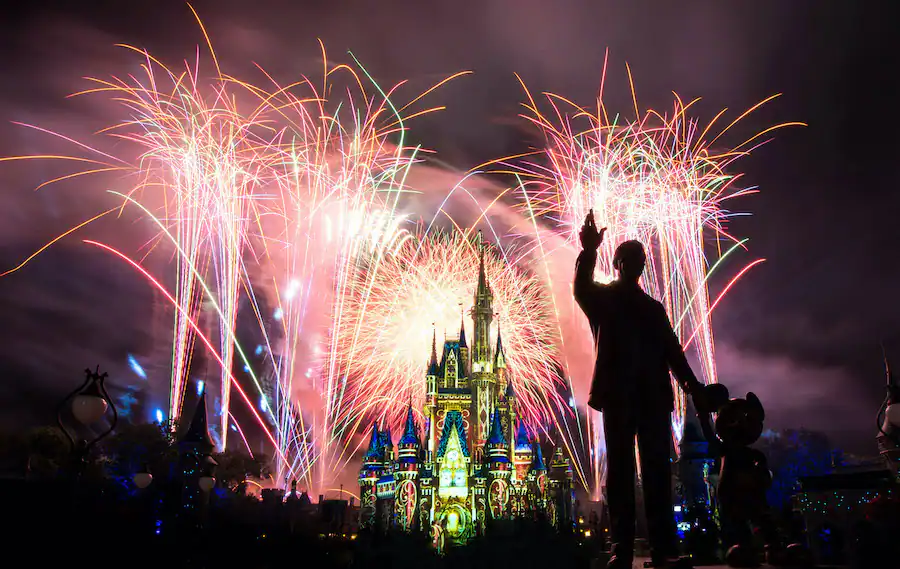 The multi-year transformation of EPCOT continues. A brand new statue entitled "Walt the Dreamer" will be created. The new "Journey of Water" attraction, inspired by the animated film Moana, will open at the end of 2023 and allow visitors to discover the history of water on our planet.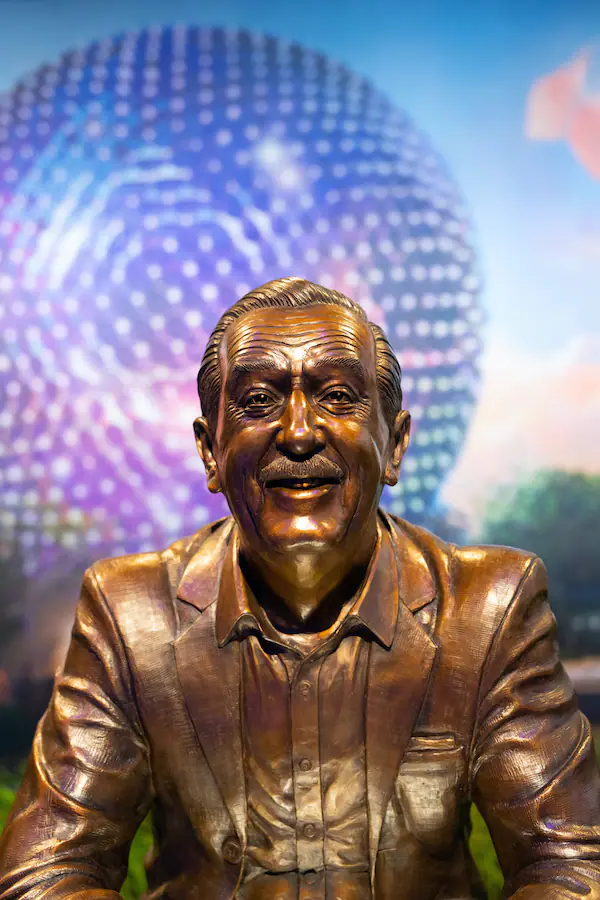 Disneyland & Walt Disney World
As you probably know, the classic Splash Mountain will be replaced in a few years by a redesigned version based on The Princess and the Frog. Tiana's Bayou Adventure will open in late 2024 at Disneyland and Walt Disney World. Music will be an integral part of Tiana's Bayou Adventure experience. Several original cast members will return to lend their voices to the attraction.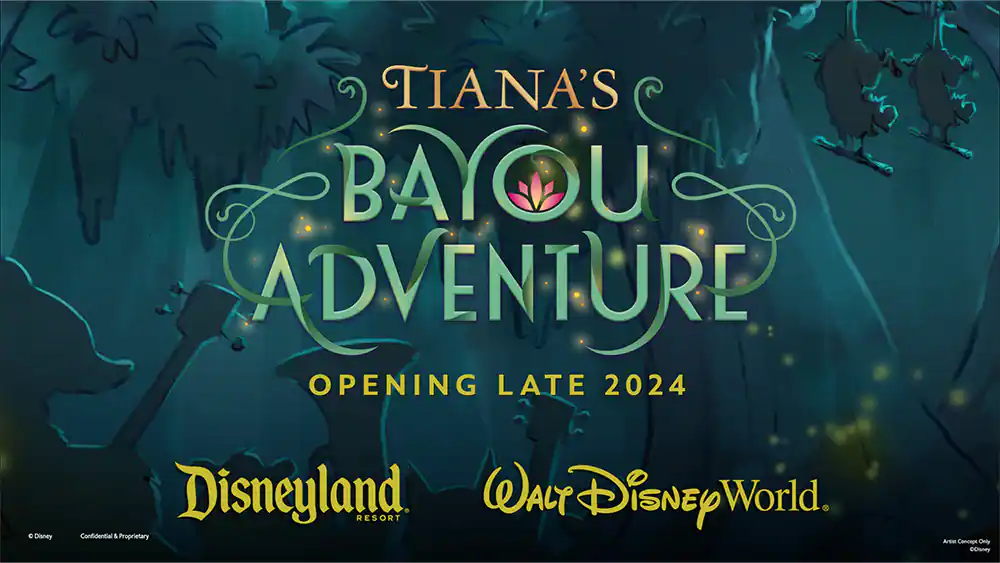 Tokyo Disney Resort
The rebuild of Space Mountain at Tokyo Disney Resort will begin in 2024. This transformation will bring a new story and an enhanced experience. As for Tokyo DisneySea and its Fantasy Springs expansion, Japanese visitors will be able to discover the worlds of "Peter Pan" and "Rapunzel" in addition to "Frozen". The latter will feature several audio-animatronics including Elsa.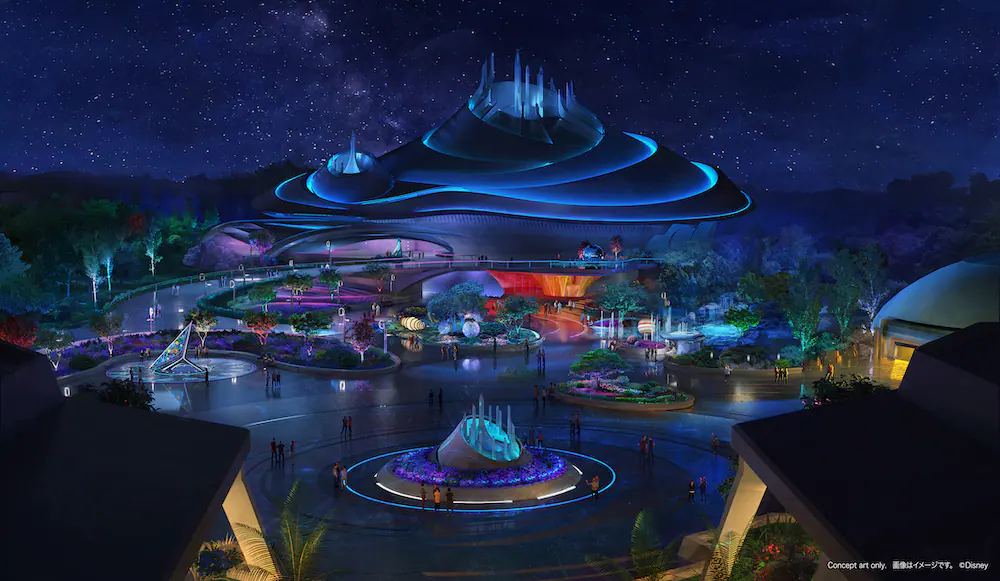 Shanghai Disneyland
Announced in 2019, Shanghai Disney Resort will be the first Disney resort to bring to life the world of Walt Disney Animation Studios film "Zootopia". At the Zootopia Central Station, visitors will find animals going about their daily business. At the Zootopia Police Department, which serves as the entrance to the park's new family attraction, visitors will be greeted by an audio animatronic of Officer Clawhauser.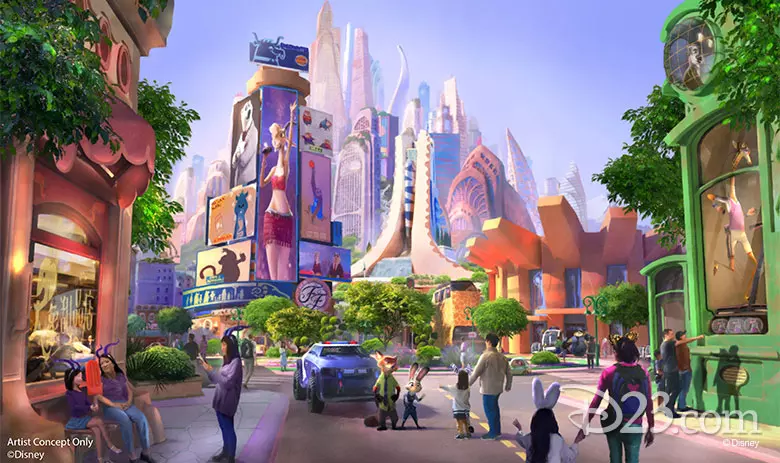 Hong Kong Disneyland
"World of Frozen" will open in the second half of 2023 at Hong Kong Disneyland.
A new statue of Walt Disney and Mickey Mouse will be unveiled near the "Cinderella Carousel" as part of Disney's 100th anniversary.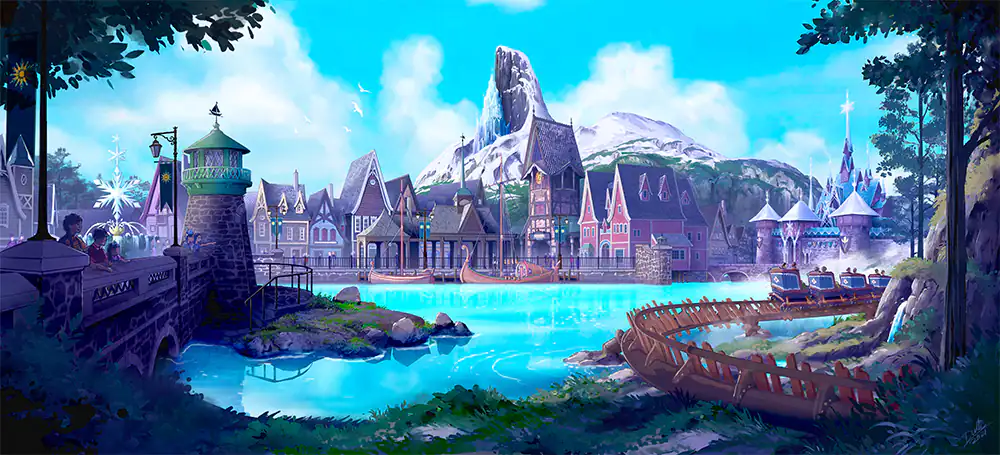 Disney Cruise Line
Disney Cruise Line has revealed the name of its sixth cruise ship: Disney Treasure. Imagineers have come up with a new concept inspired by the theme of adventure, celebrating Walt Disney's love of exploration. The Great Hall is inspired by the grandeur and mystery of a golden palace. It draws on real-world influences from Asia and Africa and pays homage to the distant land of Agrabah. In the centre, the iconic statue will represent Aladdin, Jasmine and their magic carpet.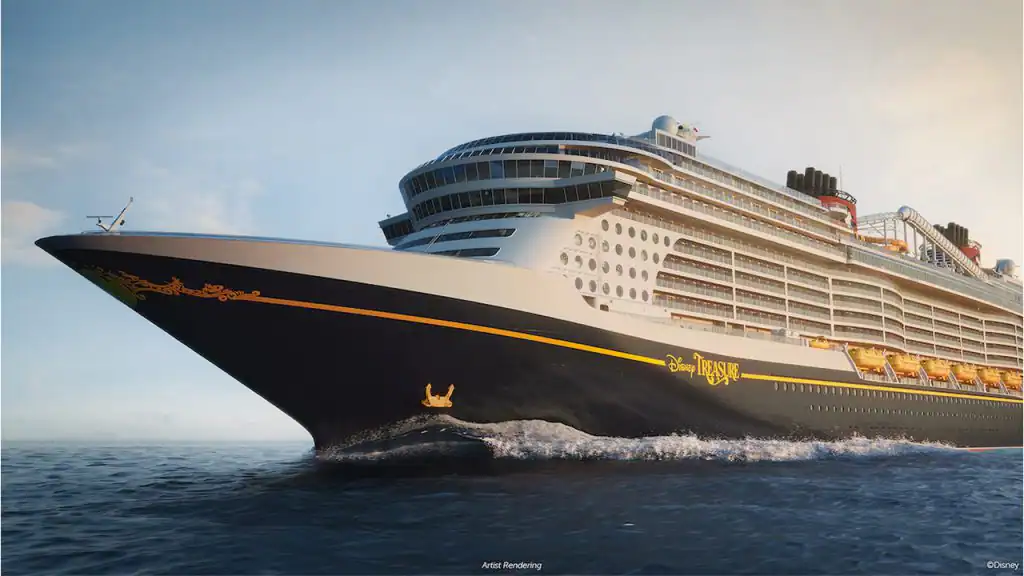 A new private island called "Lighthouse Point" will provide a new destination that brings to life the natural beauty and culture of The Bahamas.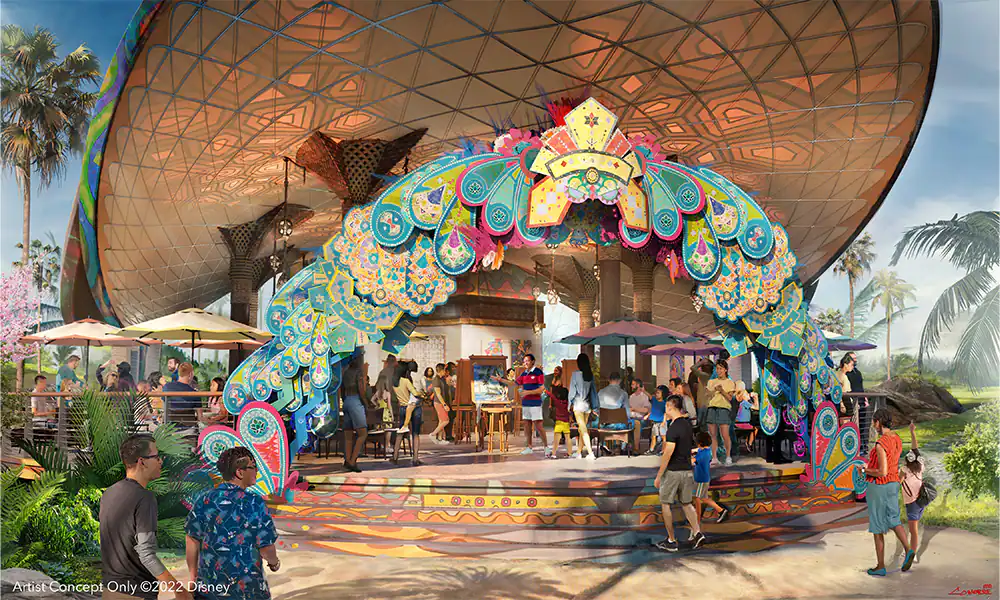 Unlimited imagination…
Disney made a point of ending its presentation by mentioning some of the creative ideas that have been imagined but will not necessarily see the light of day. What if, for example, the worlds of Coco, Moaana, Zootopia, Encanto or even the Disney villains were to come to Walt Disney World one day?