ON MARCH 6, 2022, DISNEYLAND PARIS WILL CELEBRATE ITS 30TH ANNIVERSARY!
New sets, new costumes, new shows, the first drone air show, or a fashion collaboration with Stella McCartney… Disneyland Paris reveals the details of the festivities that will plunge visitors into the new era of the destination.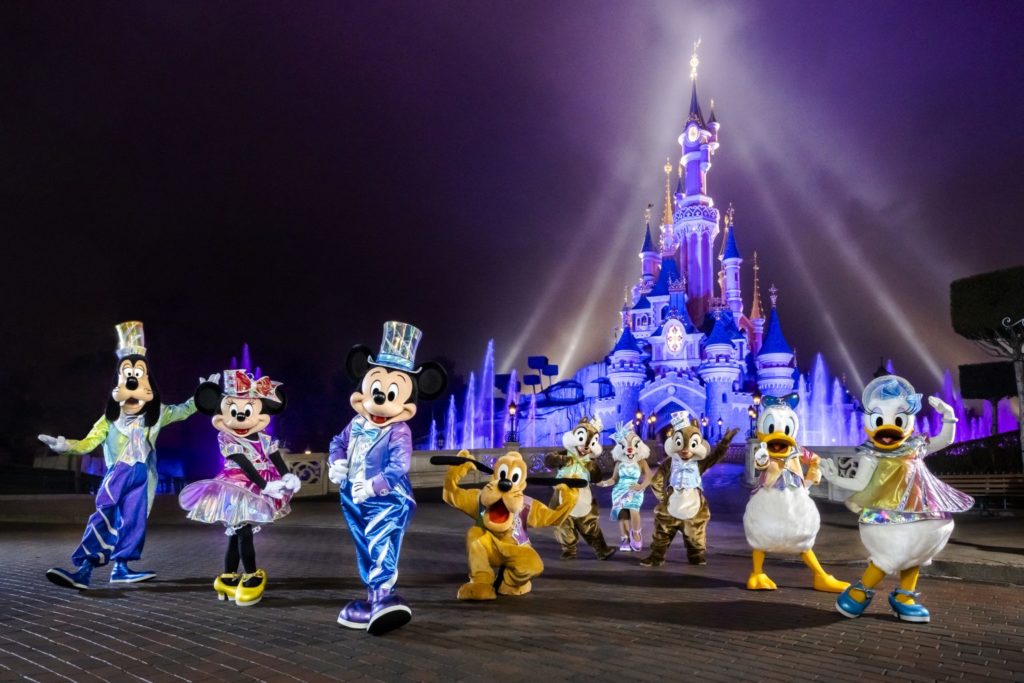 Disneyland Paris, 30 years of magic, innovation and pop culture
April 12, 1992 marked the historic opening of Disneyland Paris, the kingdom of dreams and magic that has continued to amaze young and old for 30 years. 375 million visitors* later, and to the rhythm of innovations and new experiences, Disneyland Paris has created unforgettable memories in all of us and has become the number one tourist destination in Europe. Because innovating in the service of the imagination, exploring new territories and constantly reinventing itself while remaining true to the spirit of Walt Disney to create memories with family and friends is one of the secrets of the longevity and success of Disneyland Paris.
Today, Disneyland Paris has become a part of our collective culture. Over the past three decades, it has inspired numerous international artists such as chefs and pastry chefs, fashion designers and photographers who have shared their interpretations of the destination's universe over the years. The legacy of Disneyland Paris is celebrated in this clip that traces 30 years of history through archival images that have left their mark:
For 30 years, Disneyland Paris has never stopped developing ever more immersive experiences, bringing to life the stories and Characters of the Disney, Pixar, MARVEL and Star Warsᵀᴹ franchises. The role and talent of the 16,000 Cast Members is paramount: their attention to detail, creativity, sense of service and, above all, their passion, bring the Magic of the destination to life. Whether it be through the attractions, shows (nearly 200 have been produced by the Entertainment Department since 1992), restaurants, stores, hotels, gardens, or even the decor, there are more than 500 professions represented in this way that contribute to imagining the future of entertainment every day.
A new era will begin on March 6, 2022. An era of transformation, limitless creativity and new technologies, for an ever more immersive and unforgettable visitor experience. To reach this historic milestone, Disneyland Paris, more resplendent than ever, will celebrate its promising future, where visitors will dream bigger and laugh harder.
A dazzling new show and nightly pre-show around the iconic castle
A new daytime show called "Let's Dream…and the World Lights Up!"
The creation of new shows is part of the DNA of Disneyland Paris: Mickey and the Magician, The Lion King and the Rhythms of the Earth and Disney Junior's Dream Factory are all examples of successes that contribute to the magic of the experience for visitors. For the 30th Anniversary of Disneyland Paris, a new show will be presented daily – and several times a day – in the central square of Disneyland Park, at the foot of Sleeping Beauty Castle, more resplendent than ever after 12 months of renovation.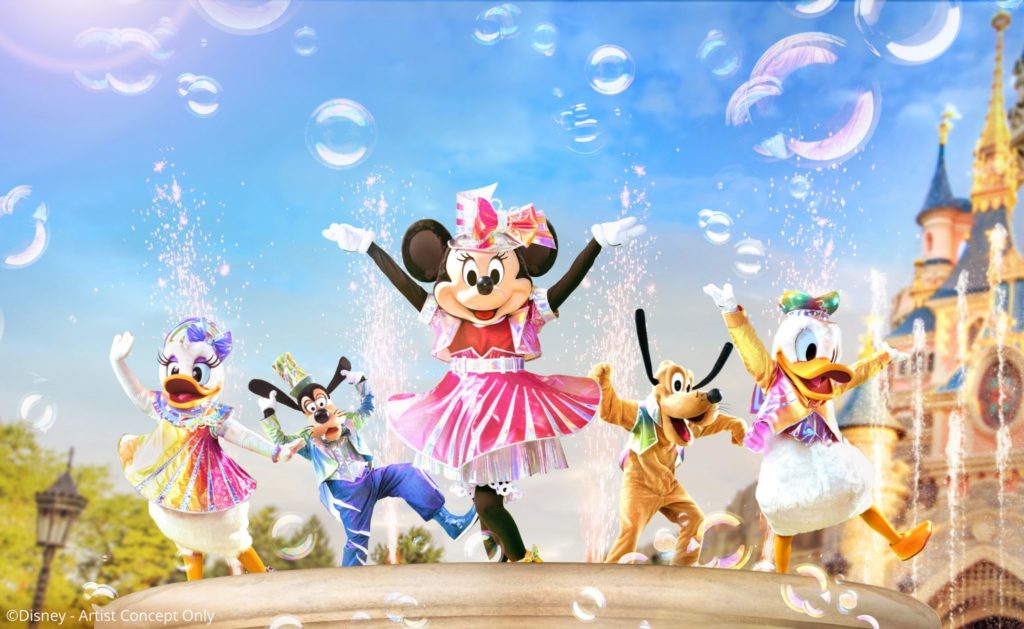 Composed of three themes celebrating the power of laughter, passion and dreams, it will feature more than 30 Disney Characters and dancers with new colorful floats and a new musical composition. The opportunity to see Mickey, Minnie, Donald, Daisy and their friends in new iridescent costumes, created especially for this anniversary. They will be accompanied by many other characters who have marked the history of animation such as the Genie from Aladdin, Princess Rapunzel, or Jessie and Woody from Toy Story to name a few.
To preview the new costumes for this celebration, Disneyland Paris put Mickey, Minnie and their friends on parade in a unique setting:
Costume design at Disneyland Paris: 30 years of Couture know-how
Mickey and Minnie have a wardrobe that would make any fashionista swoon: more than 450 costumes, now enriched by the new iridescent outfit and hats created especially for the 30th Anniversary of the Park!
Since 1992, more than 30,000 costumes have been produced in the Couture workshop at Disneyland Paris, one of the largest costume collections in Europe.
Designers, model makers, dressmakers… in total, more than 40 people work in the Couture workshop at Disneyland Paris
The creation of the costumes for this 30th Anniversary represents more than 2000 lines of rhinestones, more than 700 meters of printed fabrics and more than 190 jewels
And a new night sequence of Magic, at the cutting edge of technology!
As soon as night falls, a new moment of spectacular emotion will await visitors as a prelude to one of their favorite Disney Illuminations shows. Under the name Disney D-Light, this new pre-show will mix video projection, luminous water jets, lighting effects, fog, lasers, famous Disney music, and above all, a choreography of drones, to offer an additional touch of Magic around the iconic Castle. A real concentrate of special effects, the different scenes will transform the Castle like never before.
To mark the beginning of the celebrations and for a limited time, a light and air show of 200 drones* – designed with the support of the European specialist Dronisos – Official Technology Supplier, based in Bordeaux – will create an unforgettable finale to this new nightly pre-show. This ballet of drones will symbolize just above Sleeping Beauty's Castle, a sparkling number "30" in the sky, to the new 30th Anniversary musical anthem: "A World That Lights Up". This soundtrack was recorded with a symphony orchestra at the legendary Abbey Road Studios in London, and rearranged especially for this pre-show, offering a true moment of emotion.
This will be the first time a Disney Park has used drone technology for a daily outdoor show above its Castle. This innovation is one more step towards the development of ever more immersive and spectacular experiences for Disneyland Paris visitors, or when technology is used to enhance emotion!
Disneyland Paris, special festivities to enrich the existing offer for even more magic
In addition to the festivities developed especially for the 30th Anniversary, visitors will be able to continue to enjoy the existing offer with family and friends: more than 50 attractions for everyone, whether they are eager for thrills, escapism or enchanted interludes, "Selfie spots" for interactions with the Disney Characters and the many shows such as Mickey and the Magician (from spring/summer 2022), Disney Junior's Dream Factory, Disney Stars on Parade (which made its grand return at the beginning of January 2022 after almost two years of absence) or Disney Illuminations to immerse yourself in the heart of Disney stories, including Pixar and Star Wars™, past and present.
NEW FAIRY GARDENS THAT CELEBRATE NATURE AND THE DIVERSITY OF DISNEY AND PIXAR CHARACTERS
Fairy Gardens – composed of 10 thematic gardens – will appear in Disneyland Park. Installed in front of Sleeping Beauty Castle, the gardens will feature 30 never-before-seen works of art. These kinetic sculptures will celebrate nature and embody the diversity of the Disney and Pixar Characters, offering visitors a truly enchanted walk. Each of these unique pieces was designed thanks to the expertise and creativity of the Park's Horticulture and Entertainment teams, and then produced by local artisans whose know-how has been contributing to the Disneyland Paris experience for many years.ées.
These 30 works of art with multiple inspirations – from children's windmills to the world of Salvador Dali, for example – grouped into 10 themed gardens, will represent a wide variety of Disney and Pixar Characters, from Princesses to Villains. For example, the Asian Garden will feature Baymax (The New Heroes), Mushu (Mulan) and Sisu (Raya and the Last Dragon).
The 3D modeling and handcrafted production of these 30 works of art were carried out in collaboration with 3 French companies expert in the production of sets, all located in the Paris region. These companies, composed of engineers, technicians and painters, worked on the creation of these Fairy Gardens in collaboration with Yves Ollier, Artistic Director and Scenic Designer at Disneyland Paris. The video report above, presents the backstage of this creation.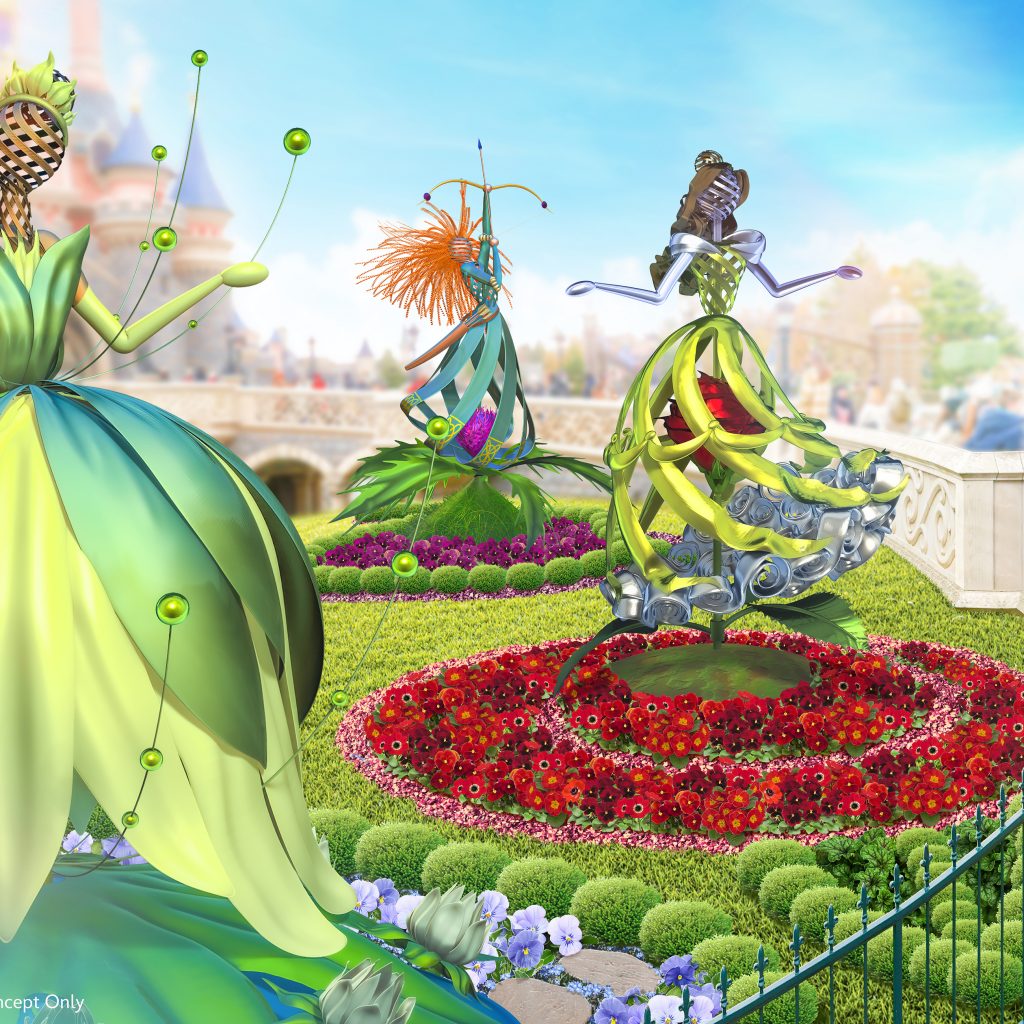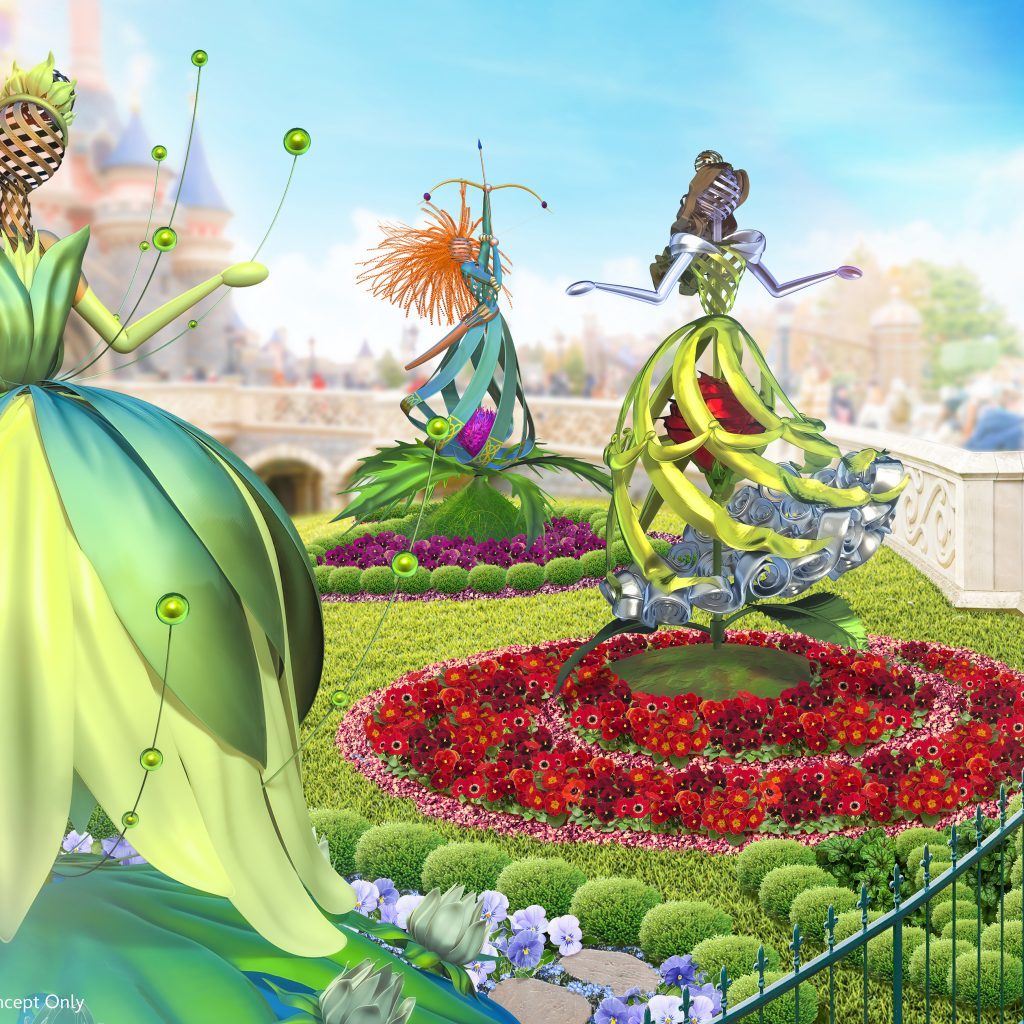 Disneyland Park will also be redecorated around the "iridescent" theme, with sparkling shades of blue and purple. Lighting effects, neon lights and backlit kinetic mobiles will be used in the various main areas of Disneyland Park, such as the Gazebo and the Main Street U.S.A. Station, as well as Disney Village.
Did you know that ?
Disneyland Paris is the largest garden in Europe, covering an area of 2,230 hectares. With more than 35,000 trees, 450,000 shrubs and more than 1 million flowers planted each year, this kingdom of nature sublimates the Park to the rhythm of the seasons and celebrations.
In all, a hundred or so Cast Members, true "show gardeners", shape and maintain exceptional vegetation straight out of Walt Disney's imagination and help bring the dream to life.
Disneyland Paris also has nine horticultural professions, arborists, an irrigation system with 6,000 km of pipes that is unique in Europe, not to mention the famous indoor plants that enhance the seven Disney Hotels. The Horticulture Department's teams play a vital role in the continued success of Disneyland Paris, with a mission to go ever further in creativity.
And, more globally, the environment and nature are at the heart of the destination's daily life through a long-standing commitment to environmental management.
A catering offer that also celebrates the 30th anniversary
At Disneyland Paris, the emotion also goes through the plate! For several months, chefs have been passionately developing and testing new recipes for this unique anniversary. As of March 6, 2022, visitors will be able to discover some sixty tasty dishes and new vegetarian options, including a vegan panini, a savory waffle with potato crush, but also gourmet desserts and exclusive cocktails.
To extend the magic, desserts designed by the team of pastry chefs, sous-chefs and pastry clerks at Les Délices de Minnie will be offered in the sit-down restaurants. The menu includes the "Final Bouquet" dessert, served under a bell, and composed of white chocolate and strawberry. In the various all-you-can-eat buffets in the Park's restaurants, the "Gourmet Macaroon Parade", in the colors of the 30th anniversary, will delight the eyes and taste buds of young and old. The Disneyland Paris bartending teams have also created exclusive cocktail recipes, such as the pink "Happy Birthday Cocktail" or the "Smoothie with a twist", which combines the flavors of blueberry with banana and coconut, or the blue "Flûte Enchantée" cocktail.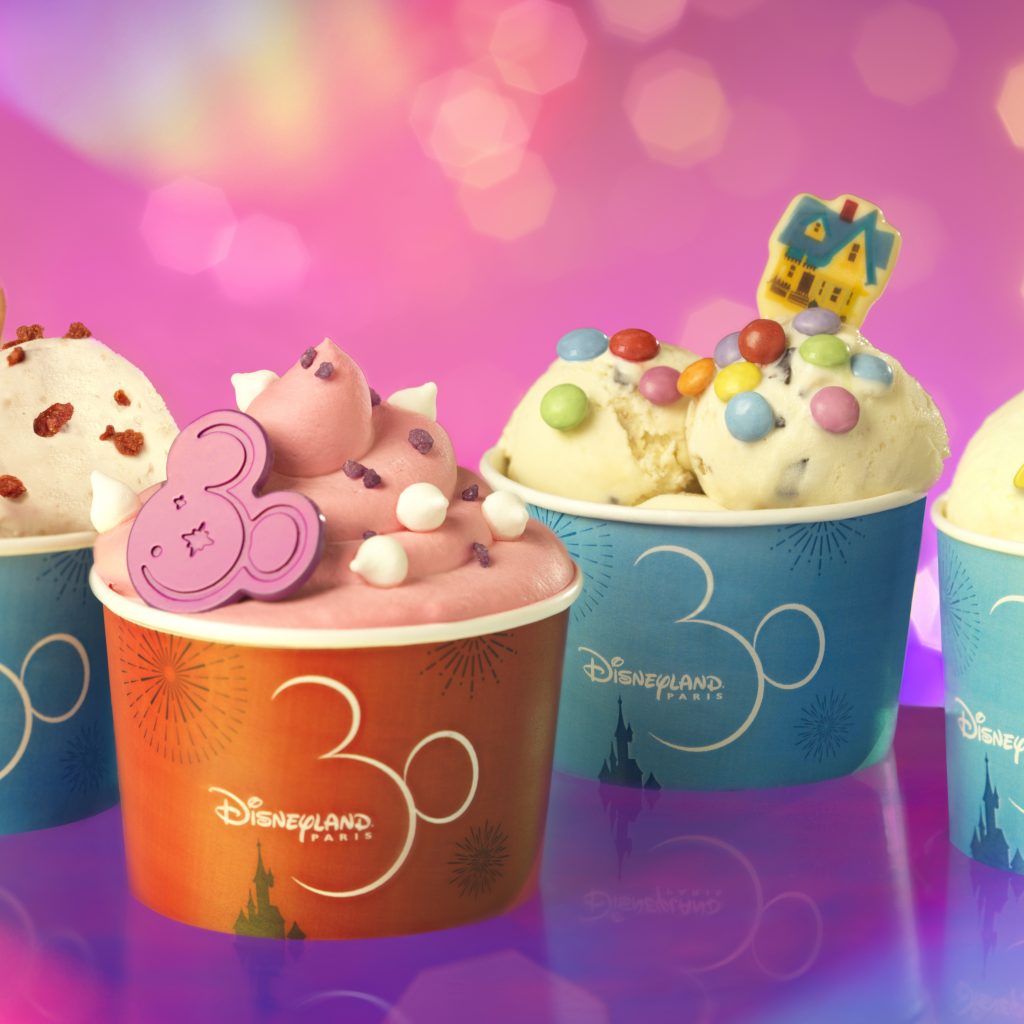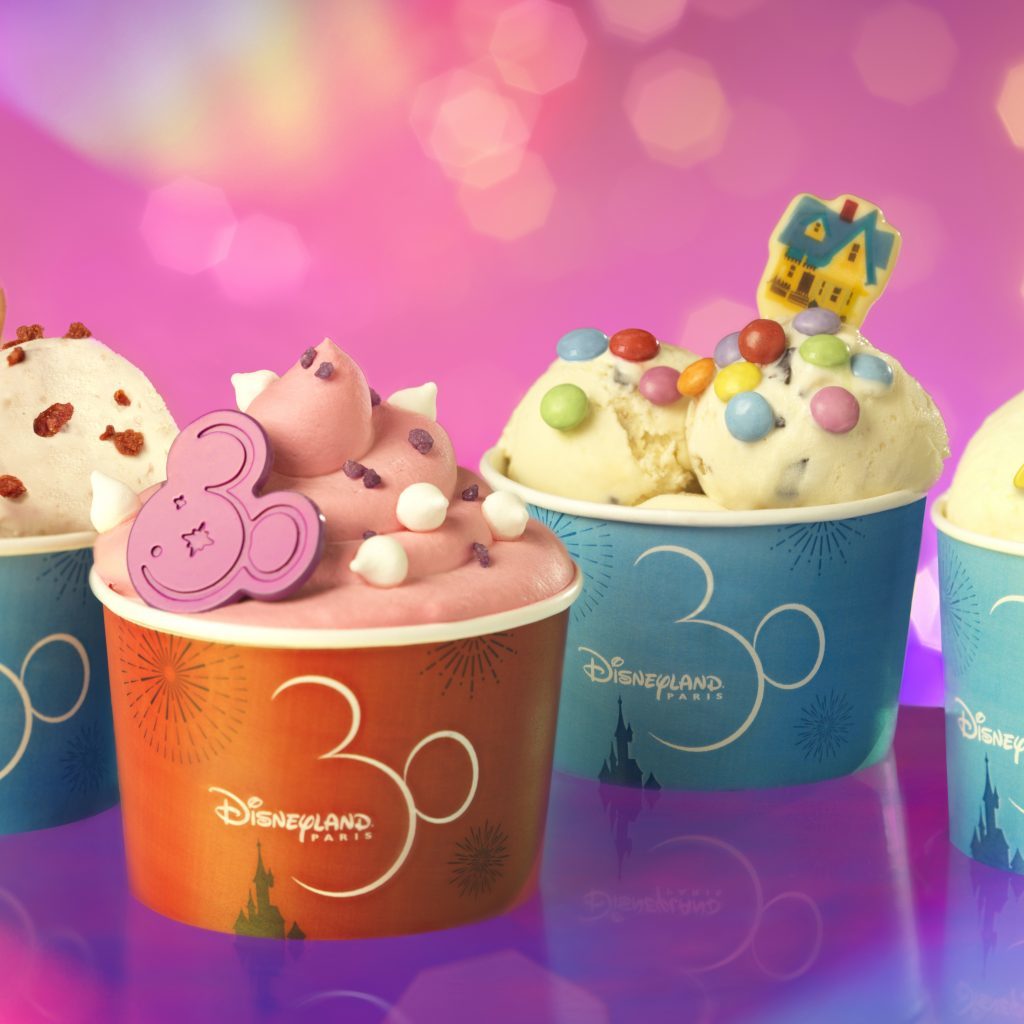 Did you know that ?
Disneyland Paris offers a choice of 59 restaurants, 10 bars and numerous takeaway kiosks within its destination.
100% of the restaurants offer vegetarian dishes.
An even more unique shopping experience for the 30th anniversary of Disneyland Paris
With its 63 themed stores, shopping is an experience in itself at Disneyland Paris. For the 30th Anniversary of the destination, the teams have developed more than 350 new exclusive items. This is the largest merchandising program ever carried out at Disneyland Paris! What would an unforgettable celebration at Disneyland Paris be without exclusive products to take home to prolong the experience? With this in mind, visitors will be able to discover a brand new collection of sparkling products, exclusively dedicated to the 30th Anniversary of the destination. From limited edition collectibles to key chains, from anniversary plush toys to the iconic "ears" headband and trendy sweatshirts, everyone will be able to shine in their own way! As the months go by, new collections and collaborations with well-known brands will punctuate the 30th Anniversary season in the boutiques, revealing even more surprises for visitors.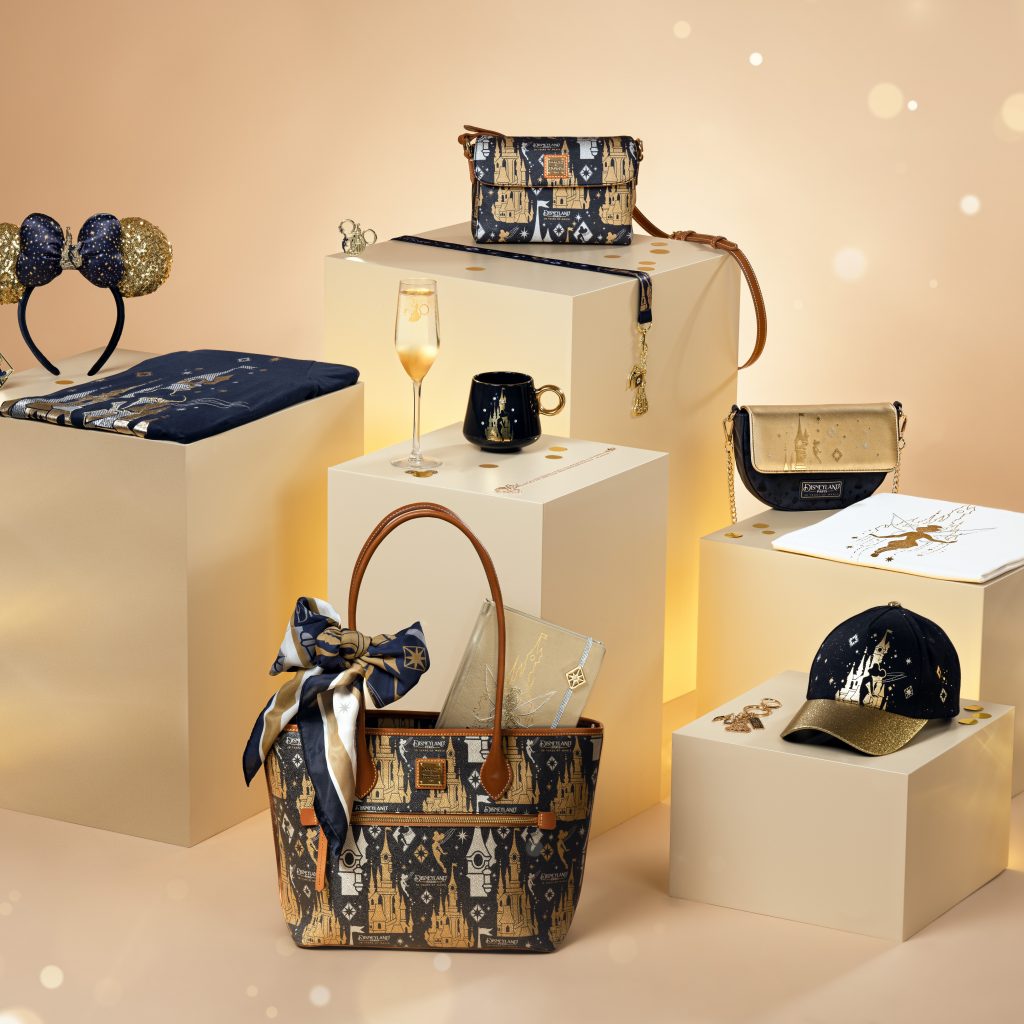 Did you know that ?
Disneyland Paris has its own integrated creative studio for merchandising development. It is constantly on the lookout for the latest trends in color and shape, and is also keen to keep up with the latest technological advances. The team, made up of a hundred or so talents, from design to procurement, including styling, visual merchandising and window dressing, worked on the development of these new collections for nearly 18 months.
…And Minnie Mouse's first ultra-chic pantsuit at Disneyland Paris designed by Stella Mccartney Herself!
For the 30th Anniversary of Disneyland Paris, Minnie called on British designer Stella McCartney to design her first pantsuit at Disneyland Paris.
"I am thrilled to be working with the one, the only, the iconic Minnie Mouse. I designed a special custom outfit for her to celebrate the 30th Anniversary of Disneyland Paris. Minnie has always had a special place in my heart. We share the same values. What I love about Minnie is that she embodies happiness, self-expression, authenticity and inspires people of all ages around the world. Plus, she has amazing style! I wanted Minnie to wear her very first pantsuit at Disneyland Paris, so I designed one of my signature suits, a blue tuxedo, using responsibly sourced fabrics. This new version of her signature polka dot suit makes Minnie Mouse a true symbol of progress for a new generation. She will wear it in honor of Women's History Month in March 2022. I can't wait for you to see this new look at Walt Disney Studios Park!" said Stella McCartney.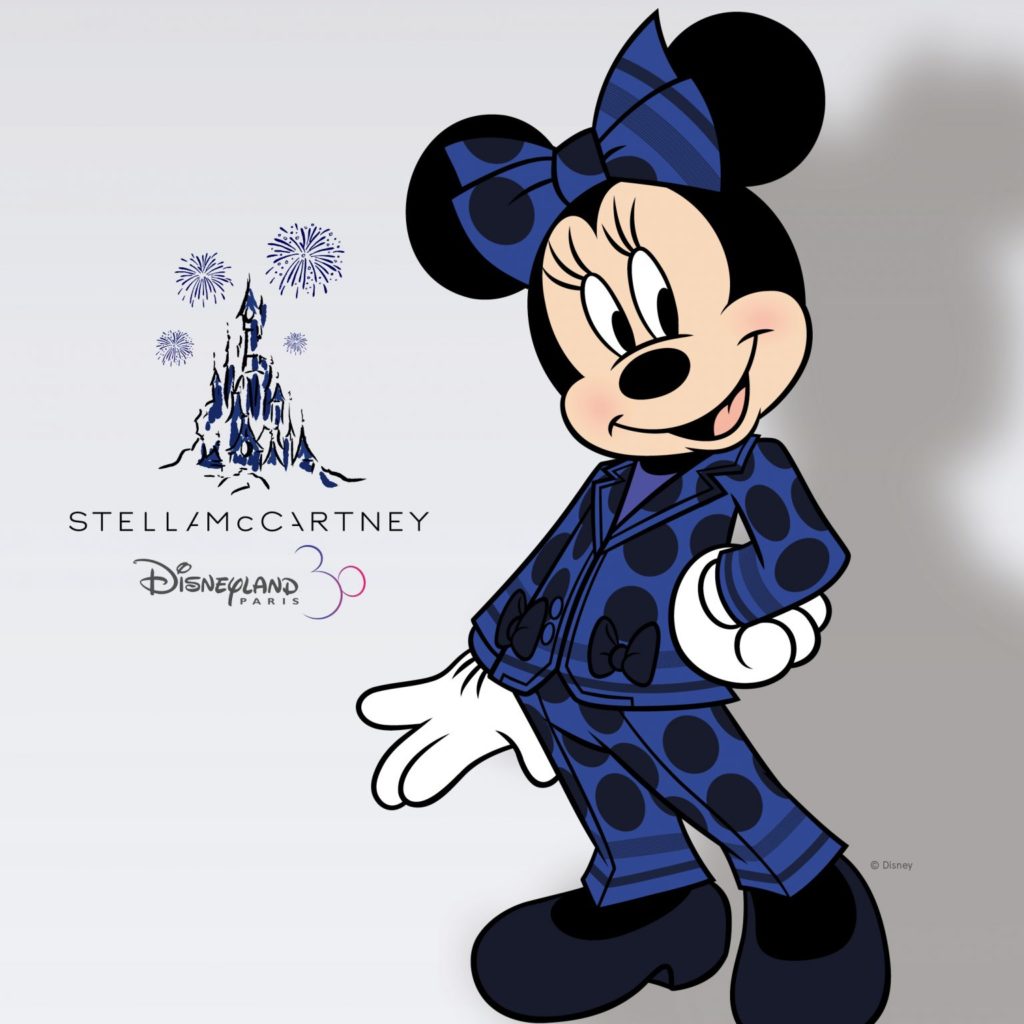 And as part of a larger collaboration with The Walt Disney Company, Stella McCartney will release a unique Minnie Mouse t-shirt for International Women's Rights Day. The t-shirt will be available exclusively online and in Stella boutiques on March 8, 2022. And in Spring 2022, a capsule collection inspired by the cult film Fantasia will be launched by Stella McCartney in limited edition.
Avengers Campus to open in summer 2022
The 30th Anniversary will also mark the long-awaited opening of the new Avengers Campus theme area, an integral part of the Walt Disney Studios Park transformation. Starting in the summer of 2022, the Super Heroes of the Marvel Universe will meet at Avengers Campus. They will take visitors on an epic new experience of heroic adventures and missions, continuing the immersion in the MARVEL universe that began with the opening of Disney's Hotel New York – The Art of Marvel in 2021.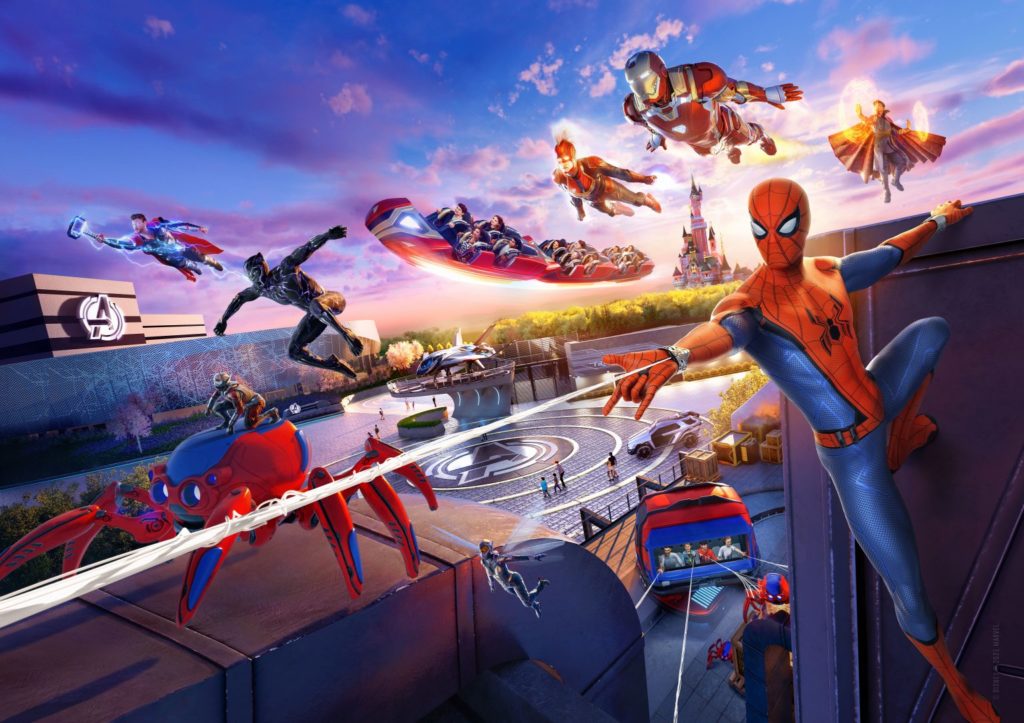 Disneyland Paris in a few figures
1st tourist destination in Europe
Over 375 million visits since 1992
16,000 Cast Members (Disneyland Paris employees)
2 Theme parks
59 attractions
7 Disney Hotels
2 Convention Centers
Disney Village