Could this be the start of something new?
Thirteen years ago, Troy, Gabriella, Sharpay and all the others took us on the turbulent (and admittedly a little bit kitschy) journey of high school teenage life – in musical style.
After first rumors about a 4th part of HSM, it was decided to put the story in a series with a new class of high school students.
Admittedly I was sceptical. Do we really need another series and what should it be about? Troy and Gabriella 2.0? Another Teenage love story? I couldn't imagine that this show was really worth watching. But I was proven wrong.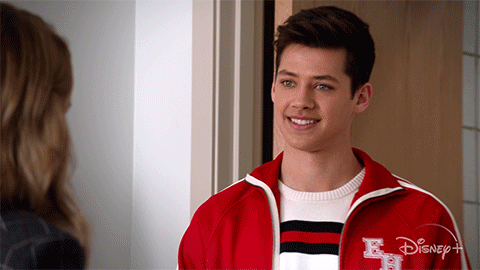 he first big surprise was that the series was shot in a mockumentary style. Mockuwhat? This is a type of TV show of fictional events in a comedic documentary style. And that was really well done. The characters, each of which has its own loving characteristics, were portrayed in an exaggerated way and yet they were interpreted in such a lovingly balanced way that in the end you can feel the excitement with everyone. And of course, the one or other side blow to the original movie shouldn't be missing.
But let's start at the beginning – what is THMTMTS all about?
Led by the new, slightly clumsy, drama-teacher Miss Jenn (Kate Reinders), the East High students are planning a performance of « High School Musical » – because the musical was never performed back then. And of course there is a lot of drama not only on stage, but also behind-the-scenes. High school junior Ricky (Joshua Bassett) launches a bold plan to win his ex-girlfriend Nini (Olivia Rodrigo) back. But since summer camp Nini has a new boyfriend, E.J. (Matt Cornett), the super-confident and sporty senior class student. You can imagine the drama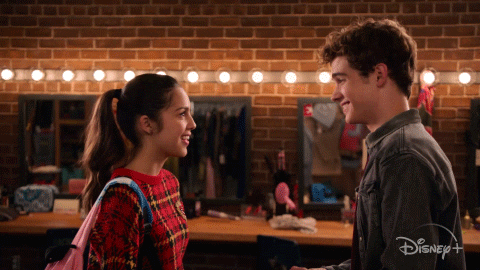 The movie is lovingly linked to the series, so every episode will feature a new version of a popular HSM song (such as « Start of Something New » or « We're All In This Together ») as well as a new song. You will see "old" scenes and the movie is often taken for a ride and the (supposed) reality is presented (It's Leopards not Wildcats!).
So it's all just a knockoff and HSM in a new dress? Well, yes and no.
Shot at the original location of the film we encounter the teenager drama on and behind the stage and of course love is the Nr.1 topic. The series also sheds light on the difficulties of teenage life today (Insta doesn't show your followers your real life – right E.J.?) and once again we will learn that you need to "feel" the music to be a good singer or dancer.
And still I claim that the series contains many new (worth seeing) points. The characters are more balanced even though many classic stereotypes are served. And yes – finally we do have a gay couple in a Disney teenager series! I love that the story focusses on the relationship between Carlos and Seb and that HSMTMTS shows us how it should be seen: like any other relationship! The series deals with problems profoundly and they are not solved within a song. Within minutes you will start to emphasize with the characters and share the trill with them to reach their goals. They just need to realize that they were born to be brave. Apart from that it's simply entertaining and it's a pleasure to see the development of each character
Côté musical, comme cela s'articule autour du film High School Musical, certaines anciennes chansons ont eu droit à un renouveau et nous pouvons entendre quelques bribes des nouvelles. Petit hic, je ne les trouve pas tellement fédératrices. J'espère que la prochaine saison leur donnera une vraie place et une affirmation du style. Je comprends le challenge car en soit faire du neuf avec de l'ancien, c'est très compliqué.

J'accorde donc un avis positif sur la série, mais j'émets une petite réserve pour la suite et la prochaine saison. J'attends vraiment qu'ils trouvent une identité propre afin de créer un véritable engouement pour la série tout en respectant le coté High School Musical.

En revanche, c'est une véritable plus-value pour Disney+. Cela apporte de la fraîcheur, et surtout quelque chose de très actuel dans leur base de données. Ce qui fait qu'il y a une très grande diversité de contenu pour les petits ou les plus grands.
| On aime | On n'aime pas |
| --- | --- |
| Le mélange entre Glee et High School Musical | Les thématiques peu approfondies |
| Cette ode à la diversité | Les personnages secondaires pas assez mis en valeur |
| La nostalgie pour les fans | Le peu d'épisodes |
| Les décors | Le peu de chansons inédites |
| Les clins d'œil aux films | Où sont Zac Efron & Vanessa Hudgens ? |
Sur ce, je suis désolé, mais je suis attendu au club de théâtre, il faut que je répète la prochaine chorégraphie et je ne suis pas sûr que ma voix soit bien prête pour ma version de Start of something new !