Natalia, can you introduce yourself and explain your background?
Yes, of course! I am from Russia, and after my studies I travelled quite a bit as a professional dancer. When I arrived in Paris, I auditioned for Disneyland Paris and I was accepted! I was really lucky; I met a lot of wonderful people.
My career at Disneyland Paris started in 2002 as a Dancer on shows like The Tarzan Encounter. Afterwards, I became a Dance Captain and then a Choreographer.
I've been a Show Director at Disneyland Paris for 5 years now, and today, I'm lucky enough to work on the Star Wars Legends Selfie Spot.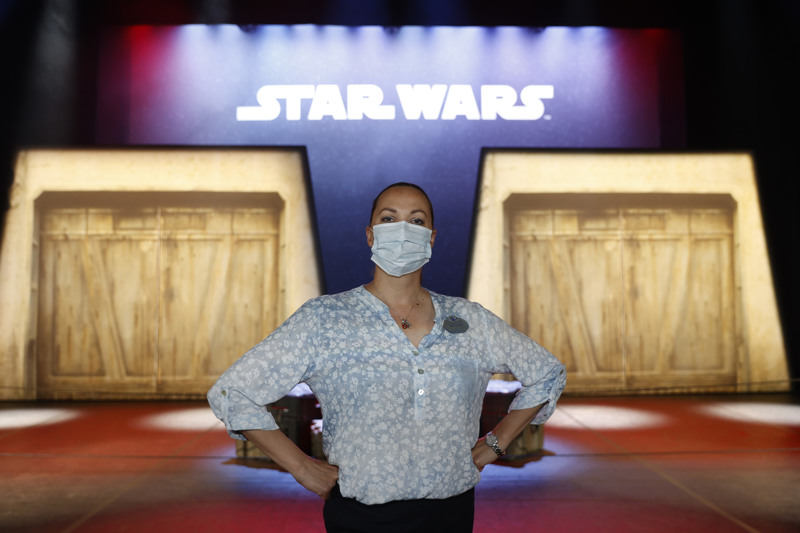 What can our Guests expect at Videopolis when it reopens?
At Videopolis, guests can for the first time meet many characters from the Star Wars galaxy and take their best selfie with them!
Everything is done so that the Guests have the impression they'll be arriving on Tatooine. The scenography allows for complete immersion thanks to the lighting adapted to the characters, depending on whether they are on the dark or the light side of the force! This is also achieved through the backdrops and set elements that create the scene, and the visual result is a true success.
We completed this project in only 3 months, and we are very proud to be able to offer this new experience. So, if you want to meet Chewbacca, Rey, Phasma, Boba Fett and many more… May the force be with you!
How did the collaboration with the Star Wars franchise teams go on this project?
Working with the Star Wars franchise teams was very rewarding, especially because I've already worked with them since the first Season of the Force (2017).
They work directly with the movie production company Lucasfilm Ltd., so they are the best people to help us with this project. I've been talking with the Star Wars franchise teams in an effort to stay true to their vision and especially to understand all of the powers of The Force!