Disneyland Paris is writing its next fairytale as it unveils the royal transformation of its five-star Disneyland Hotel.
In a kingdom not so far away, the magic of an iconic hotel is about to come back to life. When it reopens on 25 January 2024, the Disneyland Hotel will invite all its visitors, especially the youngest, to experience an immersive journey right to the heart of Disney's royal stories. This experience will offer an unrivalled sense of hospitality, a restaurant offer that will appeal to gourmets and an entertainment offer that only Disney can provide.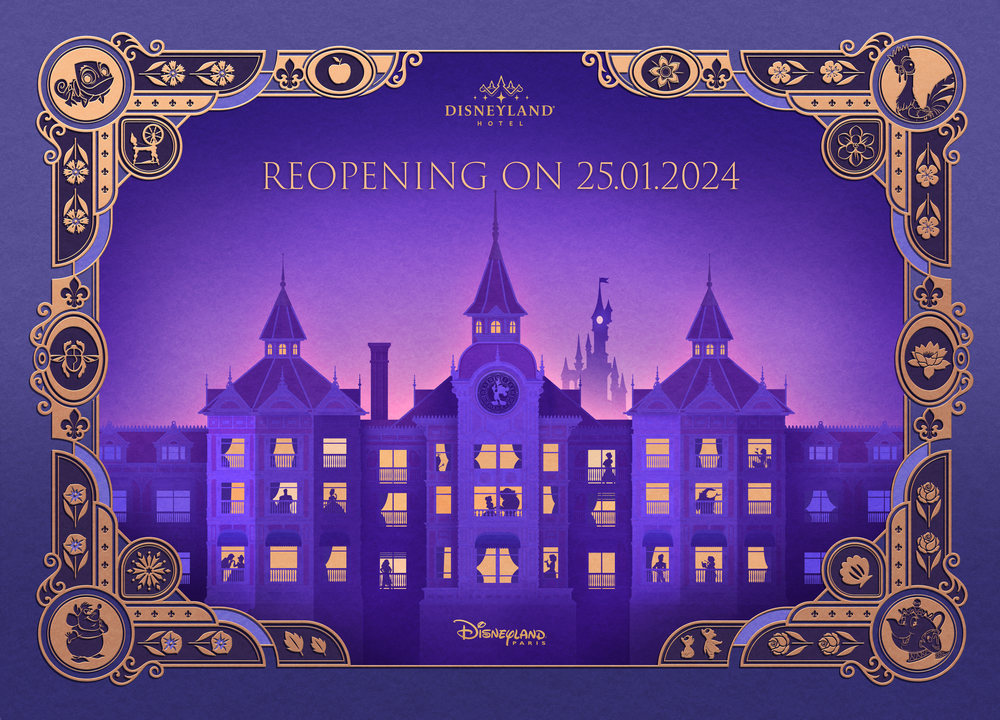 Disneyland Paris is taking another step forward in its ambitious transformation project with the long-awaited reopening of the iconic five-star Disneyland Hotel, which will welcome its first guests on 25 January 2024. Every square metre of the legendary hotel's interior is being "reinvented" to offer future visitors an all-new luxury experience that will highlight the royal Disney stories and Characters from the great classics and recent hits. From majestic lobbies to luxurious rooms and suites, the Disneyland Hotel experience promises to be a royal one!
The Disneyland Hotel reinvents itself
"This reinvention marks a new stage in the history of Disneyland Paris, which continues to be a major player in the European tourism landscape thanks to its immersive storytelling and unrivalled sense of hospitality," says Natacha Rafalski, President of Disneyland Paris.
"We are delighted to unveil the reinvention of the Disneyland Hotel. It's an exceptional five-star hotel that celebrates Disney's much-loved royal stories. We are always committed to innovation and delivering unrivalled experiences to our guests and look forward to welcoming them to one of the most immersive hotels in Europe."
The Disneyland Hotel will be the first Disney Hotel to offer a five-star journey through the world of Disney royalty in all its forms. From Cinderella to The Snow Queen, via Merlin the Enchanter, The Princess and the Frog and Vaiana the Legend of the End of the World, visitors will have the opportunity to become part of history and write their own fairytales.
By combining their creativity with the expertise of European suppliers and craftsmen, the Walt Disney Imagineering Paris teams have brought to life an immersive experience that pays tribute both to Disney's most beautiful royal stories and to monuments that have left their mark on European history, such as the Château de Versailles and the Château de Neuschwanstein.
Featuring an elegant new design, the Disneyland Hotel will invite visitors to discover a number of gems, such as its majestic lobby, restaurants, bar and lounges(2), but also to experience unforgettable, emotionally-charged moments alongside numerous Characters from Disney's royal stories. Visitors will also have the opportunity to meet Mickey, Minnie and their friends** in exclusive new royal costumes and interact with a duo of outstanding actors, the Disney Royal Troupe.
Disneyland Hotel, 487 rooms and suites
A total of 487 rooms and suites, including 346 Superior Rooms, 82 Deluxe Rooms, 41 Castle Club Rooms, 16 Signature Suites, 1 Princely Suite and 1 Royal Suite, have been completely redesigned to create a refined ambience and offer visitors all the comfort and luxury they need. The tradition of Disney storytelling(1) will be present in each of the rooms and suites, as they will showcase iconic elements from Disney Animation Studios' greatest royal stories through paintings, decorative pieces and other references that blend subtly into the décor.
Guests staying at the Castle Club will enjoy a prestigious service. In this "hotel within a hotel", they will enjoy even greater privacy, thanks in particular to a private lift and reception. They can even have breakfast with the Disney Princesses in the Castle Club Lounge. The suites will also offer an unrivalled level of immersion in Disney's royal stories.
With a level of storytelling as captivating as the rest of the hotel, the Royal Banquet and the Table de Lumière will offer a refined culinary experience combining French savoir-faire and Disney creativity.
During their stay, children will be treated like princesses and princes. To this end, special areas have been designed for them, such as the Royal Kids Club, where they can immerse themselves in the magic of augmented reality and enjoy unforgettable encounters. Younger visitors can also take part in the My Royal Dream experience, during which they will be transformed into a royal character thanks to a selection of costumes and accessories, hairstyles and a sprinkling of stardust. And after a magical day in the parks, families will have the opportunity to enjoy a wellness experience at the Disneyland Hotel Spa by Clarins or enjoy a relaxation session in a dedicated area. All the hotel's restaurants, bars and lounges(2) will also offer a selection of delicious themed dishes and pastries to delight every taste bud.
Disneyland Hotel, an enchanted experience
At the heart of this enchanted experience, a team of Cast Members, selected from both within and outside the destination, has been carefully trained to offer a personalised service and ensure that all visitors enjoy a royal stay. For example, a Royal Greeter will provide a unique welcome from the moment they step through the hotel doors, concierges will anticipate their every need and Story Keepers will offer guided tours to discover the hotel's fabulous secrets.
The Disneyland Hotel will set a new standard in terms of immersive experience in a five-star hotel, with a special focus on children. Through this transformation, Disneyland Paris continues to redefine the hotel sector, while consolidating its position as Europe's leading tourist destination with its seven hotels and almost 5,700 rooms.
Disneyland Hotel: reinvention as part of a global transformation
Disneyland Paris has entered an era of transformation and limitless creativity to create an ever more immersive and unforgettable visitor experience. Witness the renovation of Sleeping Beauty Castle and other park icons, the recent opening of the Marvel Avengers Campus and the ongoing construction of Frozen themed zone.
The destination's hotel complex, comprising 7 Disney Hotels ranging from two to five stars, offers something to suit all tastes and brings the Disney magic to life beyond the parks by immersing visitors in a variety of themed worlds, while offering exclusive benefits for an unrivalled experience.
Disney Hotels extend the stories and magic of the parks. In recent years, some of the destination's hotels have undergone a makeover with enhanced storytelling(1), ever-improving facilities and services, new entertainment offerings and more opportunities to interact with Disney, Pixar and Marvel Characters.
The opening in 2021 of the four-star Disney Hotel New York – The Art of Marvel has taken the theming to new heights, giving visitors the opportunity to experience immersive encounters with their favourite superheroes and to discover one of the largest collections of Marvel artworks in the world. A creative space called the Marvel Design Studio has even been designed for the youngest heroes, along with the Hero Training Zone, an outdoor field where visitors of all ages can take part in a range of sporting activities.
The Disneyland Hotel will raise the bar even higher. It will offer unrivalled service while transporting visitors to the heart of a royal voyage from the moment they enter the establishment.
An exceptional and unique five-star Disney experience. Since the opening of Disneyland Paris in 1992, the Disneyland Hotel has delighted visitors from all over the world with its sublime Victorian façade and enchanted atmosphere. Ideally located at the entrance to Disneyland Park and offering breathtaking views of Sleeping Beauty Castle and Fantasia Gardens, the hotel has remained one of the destination's most iconic landmarks. It also offers dedicated access to the park and exceptional hotel service.
By staying at the Disneyland Hotel, visitors will be taking part in an unforgettable five-star experience that only Disney can provide. Reinvented to meet the highest standards of excellence, the Disneyland Hotel will offer both a warm atmosphere and the ultimate Disney experience for young and old alike! Every detail of the Disneyland Hotel has been carefully thought out so that visitors can be treated like queens and kings.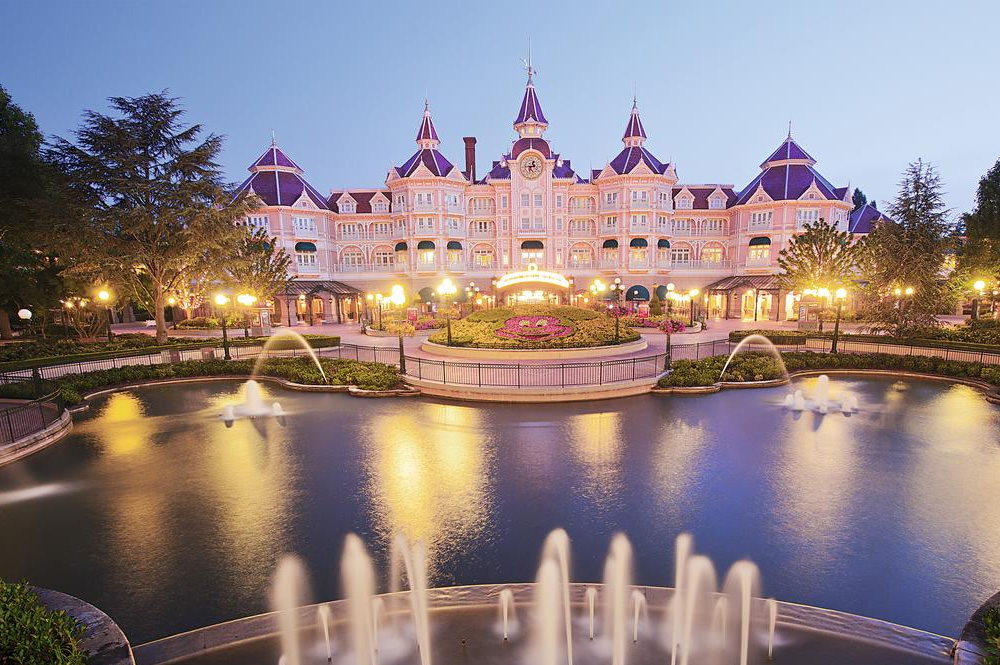 A tailor-made trip to the heart of Disney royalty
Following its reinvention, the Disneyland Hotel will take visitors on a captivating journey featuring Disney's most iconic characters and royal stories, such as Sleeping Beauty,
Merlin the Enchanter, Vaiana, Frozen and Raya and the Last Dragon, all in a comfortable and refined setting.
Combining creative ideas with unrivalled technical expertise, Walt Disney Imagineering Paris has teamed up with the destination's in-house construction and refurbishment project management team and talented European suppliers and craftsmen to bring this royal adventure through French and European culture to life.
Whether exploring all the nods to Disney royalty subtly hidden in the décor or experiencing a unique immersion in their favourite royal stories, visitors to the Disneyland Hotel will be offered a whole range of choices enabling them to personalise their royal stay, become the protagonists of these stories and even write their own.
Living the life of a castle at the Disneyland Hotel
A majestic lobby
A grand welcome awaits young and old at the Disneyland Hotel. The immersive experience of Disney royalty begins the moment visitors enter the sumptuous lobby, an architectural masterpiece inspired by the finest libraries of France's famous castles and featuring a subtle blend of precious materials in shades of ivory and gold.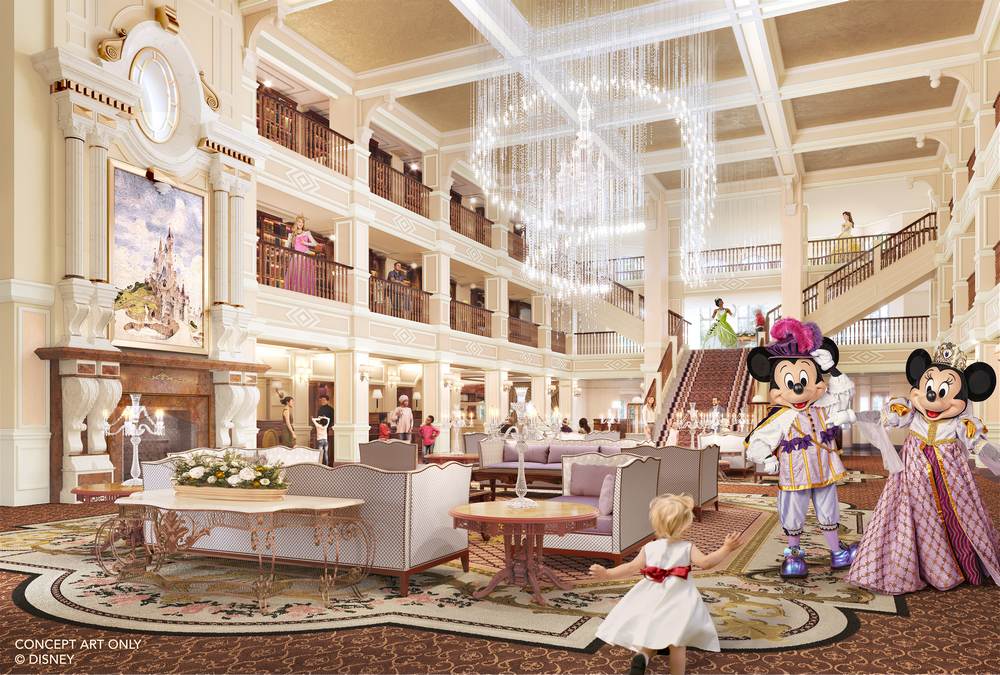 The lobby is crowned by a masterpiece.
When they look up, visitors will discover a monumental chandelier in Bohemian crystal bearing the image of Sleeping Beauty Castle.
A magnificent ribbon of lights will spread the magic of this creation all the way up to the wood and marble mezzanine, where some fifteen books and parchments will plunge visitors into a world filled with fantasy and royal adventures. This masterpiece has been crafted in the Czech Republic by a glass-blowing specialist who has brilliantly combined priceless crystal with the cutting-edge technologies of the 21st century. As soon as they enter the lobby, visitors will be greeted personally by a Royal Greeter(3) , while actors from Disney's Royal Troupe will make surprise appearances, inviting young and old to sing along or tell them royal stories. An exclusive moment that will give them an interactive experience unlike any other Disney Hotel. Disney Characters such as Cinderella and Rapunzel will sometimes even join this joyful duo of comedians.
Rooms and suites celebrating royal stories
The Disneyland Hotel will feature 487 rooms and suites, including 346 Superior Rooms, 82 Deluxe Rooms, 41 Castle Club Rooms, 16 Signature Suites, 1 Princely Suite and 1 Royal Suite, offering all-new refined spaces imbued with Disney storytelling(1) and offering unprecedented comfort. From works of art to references subtly hidden in the décor, visitors will be able to enjoy a magical atmosphere honouring the most unforgettable moments of Disney's royal stories down to the smallest detail.
All the bathrooms have been designed to meet royal standards, offering beautiful relaxation areas inspired by Disney animated films such as The Little Mermaid. Top-of-the-range bath linen and toiletries will also be available to guests to make their experience even more regal. Finally, all the rooms will feature luxury amenities, while the Castle Club rooms and suites will offer access to prestige service and exceptional facilities.
Superior Rooms (346 rooms in total, measuring up to 40.7 m2)
The Superior Rooms at the Disneyland Hotel are refined cocoons adorned with shades of blue and silver and an exclusive collection of artworks in the colours of 11 classic and contemporary Disney animated films, such as Snow White and the Seven Dwarfs, Cinderella, Sleeping Beauty, The Little Mermaid, Beauty and the Beast, Aladdin, The Princess and the Frog, Rapunzel, The Snow Queen, Vaiana: The Legend of the End of the World and Raya and the Last Dragon. No decorative element has been left to chance: visitors can enjoy a mirror with a frame reminiscent of Rapunzel's golden hair, or have fun looking for subtle Disney references even in the carpet. At the end of their day in the parks, visitors can enjoy a well-deserved rest by slipping into beds of royal comfort, while watching their favourite films in a magic mirror that transforms into an ultra-high definition television. And if they fancy a hot drink, visitors will be able to find all the ingredients they need to make themselves a delicious tea or coffee in a sublime jewellery box.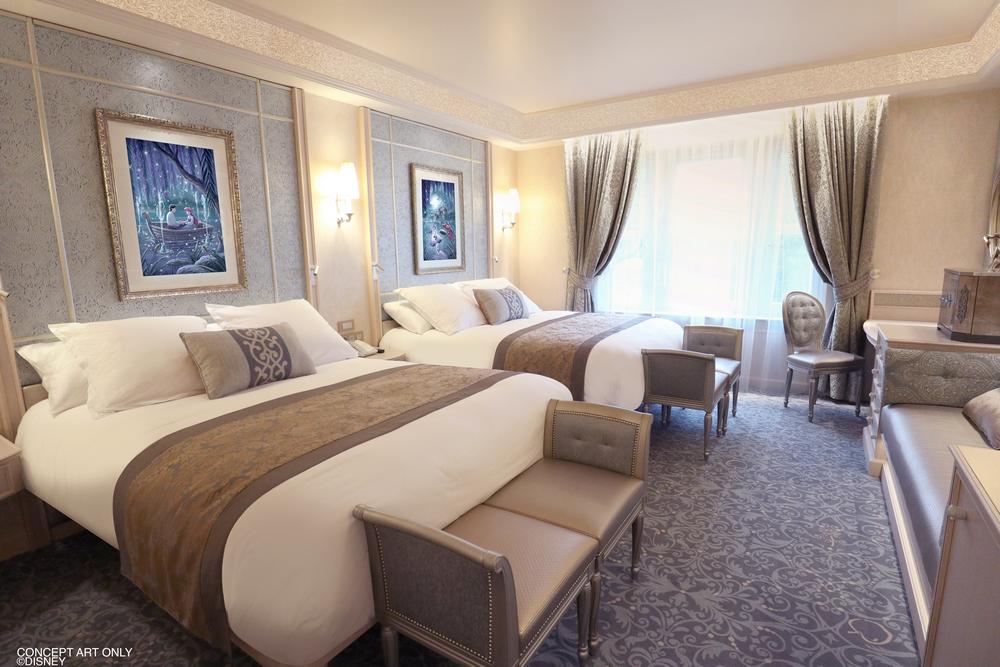 Deluxe Rooms (82 rooms in total, measuring up to 40.7 m2)
The Deluxe Rooms will take immersion in the world of 11 Disney royal stories even further. To provide a magical bedtime ritual experience, animated bed skies will light up, in harmony with exclusive paintings to give the room an enchanted atmosphere. Visitors will be able to relax in these spaces adorned with pearly and pastel colours, complemented by amenities designed to ensure optimum comfort. A dedicated reception, concierge service and exclusive access to the Deluxe Lounge(2) will also be available.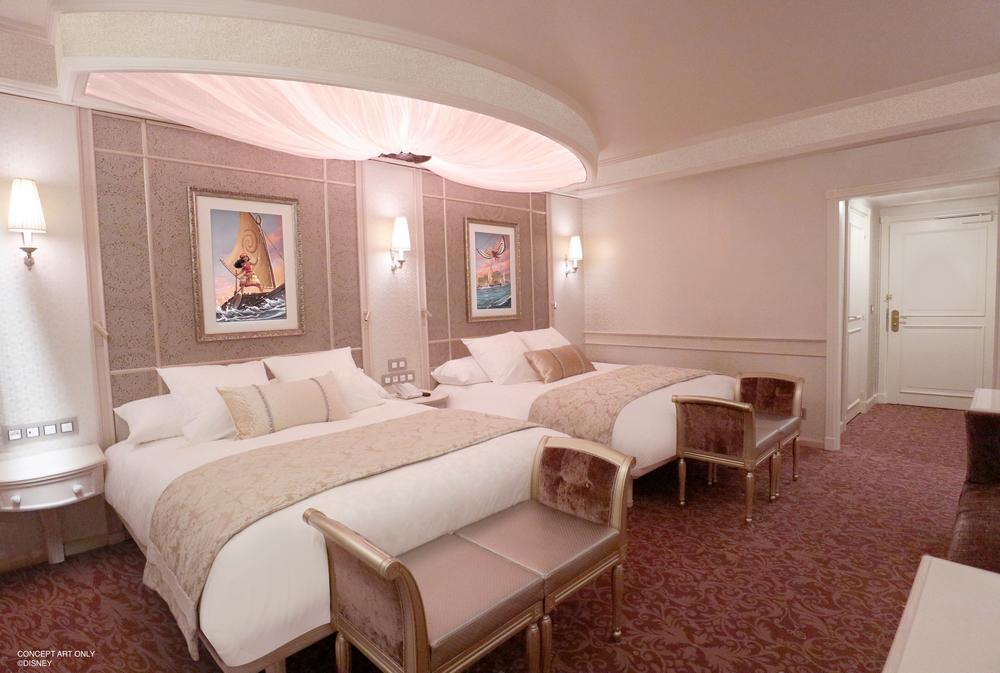 The Castle Club – a hotel within a hotel
The Castle Club will invite visitors to live the ultimate Disneyland Hotel experience, with exclusive services and a magical atmosphere that will make their stay even more unforgettable. Offering the perfect blend of intimacy and personalisation, this hotel within a hotel will pamper guests in a way that only a five-star Disney Hotel can. Located on the top two floors of the hotel, guests will enjoy the privacy of a private lift, a dedicated reception area and brand new top-of-the-range facilities. Guests staying in the Castle Club Rooms will also have access to the Castle Club Lounge, a unique place where they will be invited to enjoy breakfast in the company of Disney Princesses.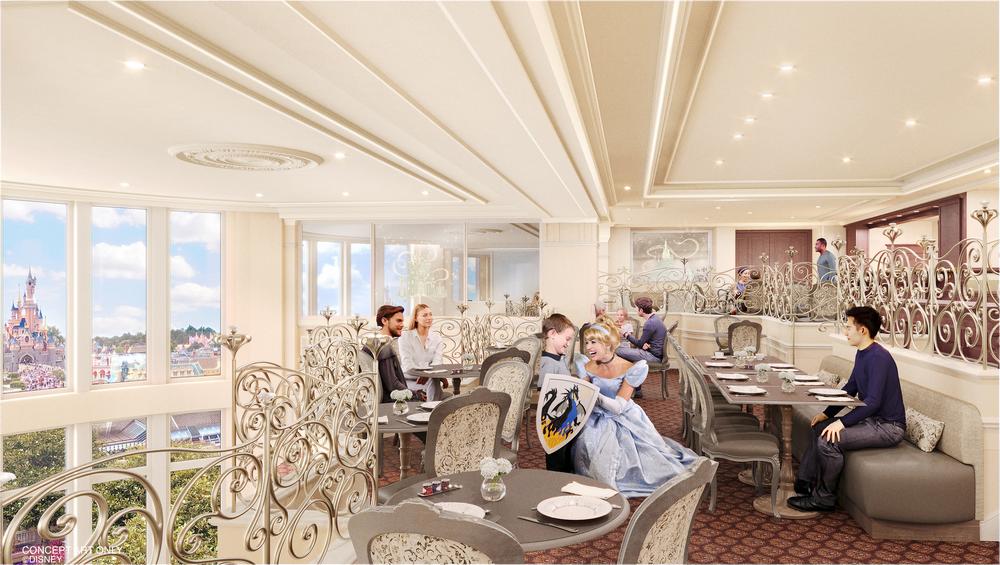 Castle Club Rooms (41 rooms in total, measuring up to 42 m2)
By staying in one of the Castle Club Rooms, visitors will be transported to the heart of the worlds of the 11 Disney royal stories featured, while the experience of the magical bedtime ritual will immerse them in an enchanted atmosphere. These exceptionally elegant rooms offer exclusive access to the Castle Club.
16 Signature Suites, 1 Princely Suite, 1 Royal Suite
The 16 Signature Suites, the Princely Suite and the Royal Suite will offer the hotel's most immersive experience as they have been adorned with unique decorative pieces directly inspired by Disney's royal stories to give guests the impression of living a fairytale throughout their stay. Guests will be able to treat themselves to royal service thanks to a selection of even more upmarket products and equipment, such as dressing rooms and whirlpool baths.
The Cinderella Signature Suites (3 suites measuring up to 90 m2)
With a design inspired by Cinderella's home, these suites will have the feel of a boudoir, with exquisitely charming furnishings and materials matched with a soft, pastel colour palette ranging from rosy tones for the bedroom to shades of blue and ivory for the living room. Visitors will be able to discover various nods to the settings, history and characters of Cinderella's home, from the fireplace to the ball gown made by her animal friends, not forgetting her iconic glass slipper, which will light up as if by magic.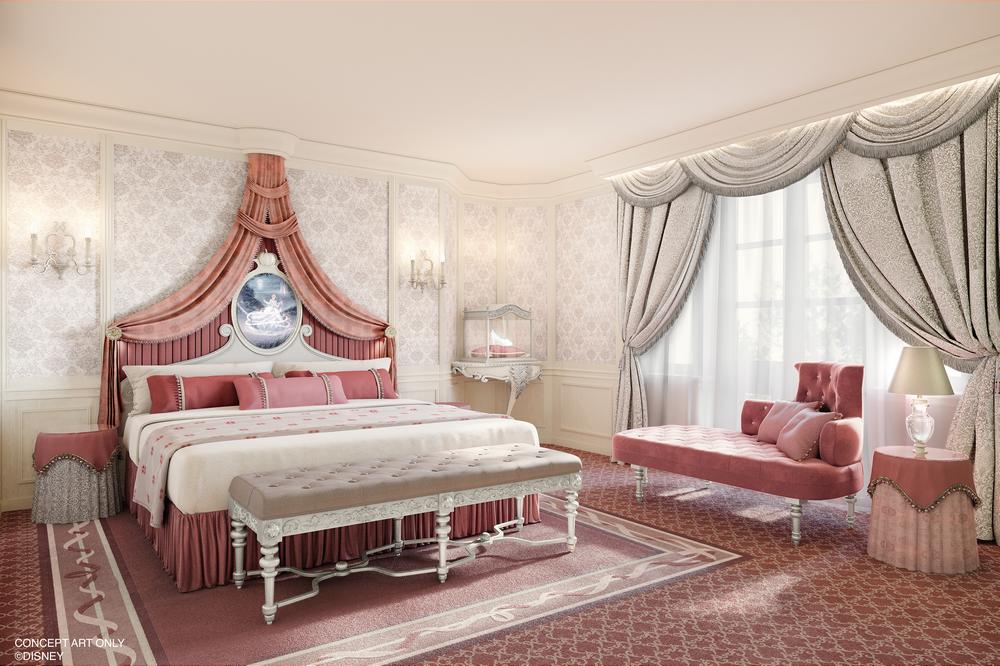 *The animated film
The Rapunzel Signature Suites (4 suites measuring up to 60 m2)
Inviting visitors to immerse themselves in the creative world of Rapunzel, these suites will offer a haven of comfort thanks to their wood elements and warm colour palette enriched by small touches of purple. In these suites, many unique elements from the Rapunzel story will come to life, such as the golden-petalled flower that will spread its magic throughout the room. To ensure that each detail is perfectly representative of the element to which it refers, the Imagineers have collaborated with Disney's animation studios and with Atelier Bournillat, a French supplier specialising in the creation of sets with which Disneyland Paris has a long-standing relationship.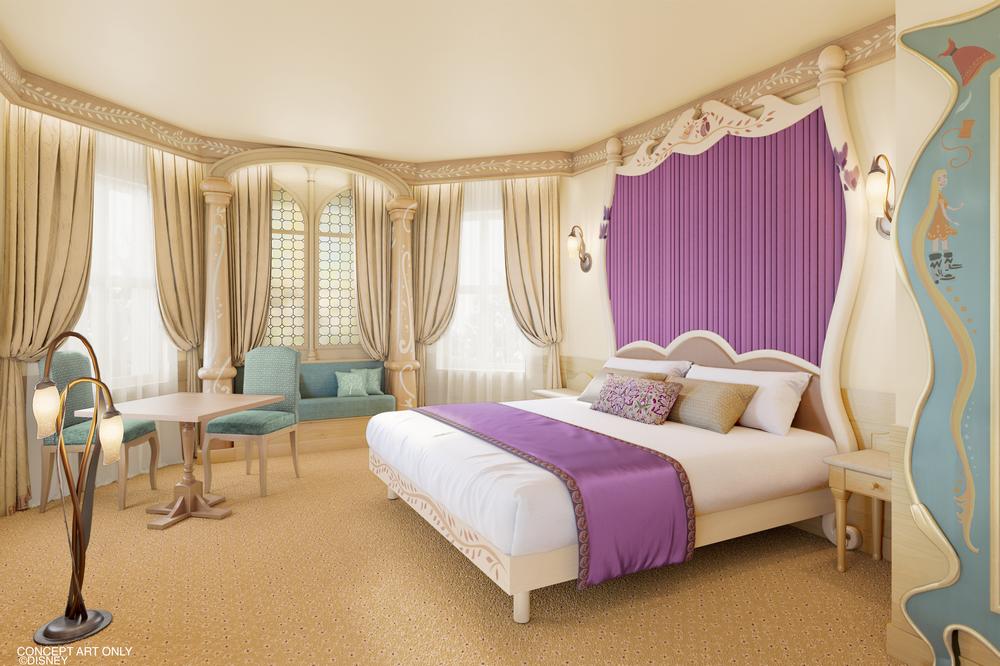 The Beauty and the Beast Signature Suites* (3 suites measuring up to 90 m2)
This immersive suite will transport visitors to the heart of the Beast's magnificent castle, with its iconic fireplace surrounded by a vast collection of books and elegant materials. Following in Belle's footsteps, visitors will find characters such as Lumière and the Wardrobe in the décor, while the Enchanted Rose, with her magical powers, will light up the room.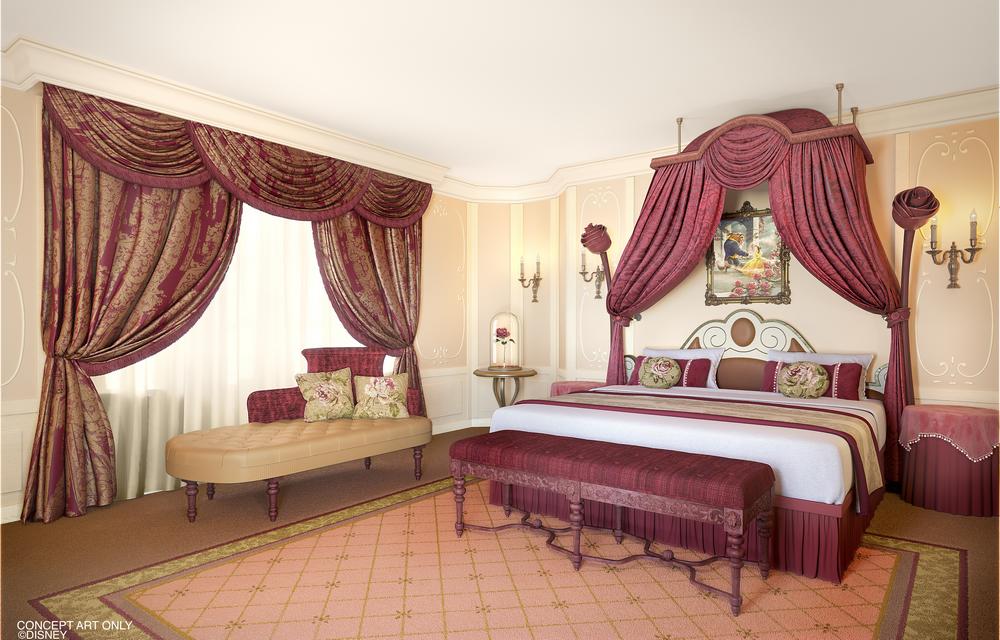 *The animated film
Frozen Signature Suites (3 suites up to 90 m2)
These suites, inspired by Scandinavian interiors, will feature the design and motifs that make the kingdom of Arendelle so charming, such as its official emblem, a crocus flower symbolising the idea of renewal. They will invite visitors to "let it go, let it go" their imaginations with a selection of unique details, such as a magnificent mantelpiece featuring a portrait of the two sisters Anna and Elsa, or a window overlooking an eternal snowflake that sparkles like magic.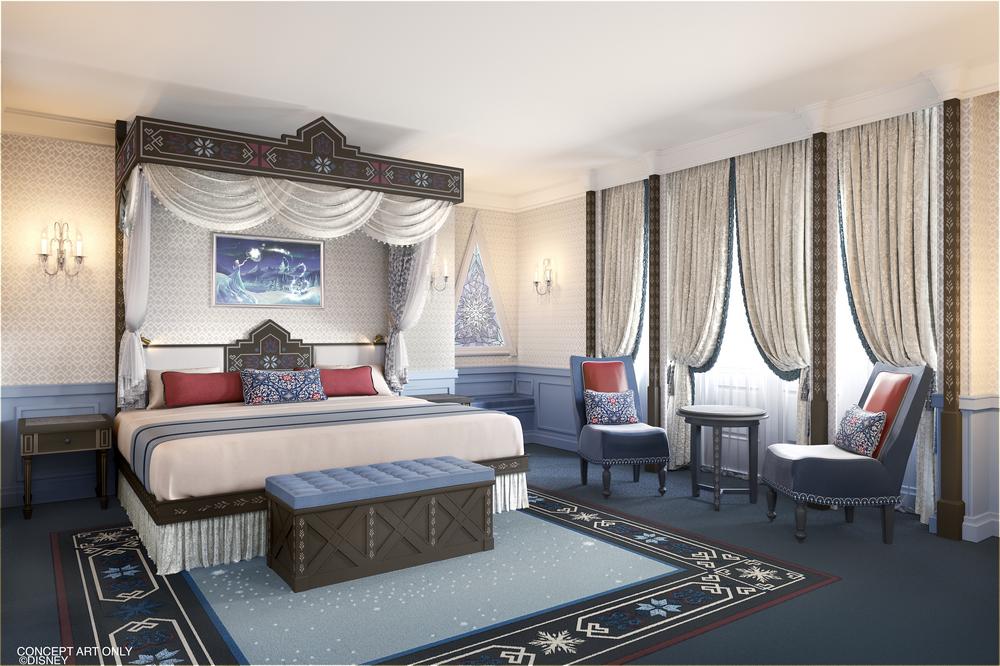 Sleeping Beauty Signature Suites (3 suites measuring up to 90 m2)
A throwback to medieval times with brick walls, columns, arches and red and blue wood finishes, these suites will feature a recreation of some of the decorative elements from Disney's classic Sleeping Beauty, such as Princess Aurora's dressing table and her sublime dress that changes colour at the whim of her fairy godmother friends.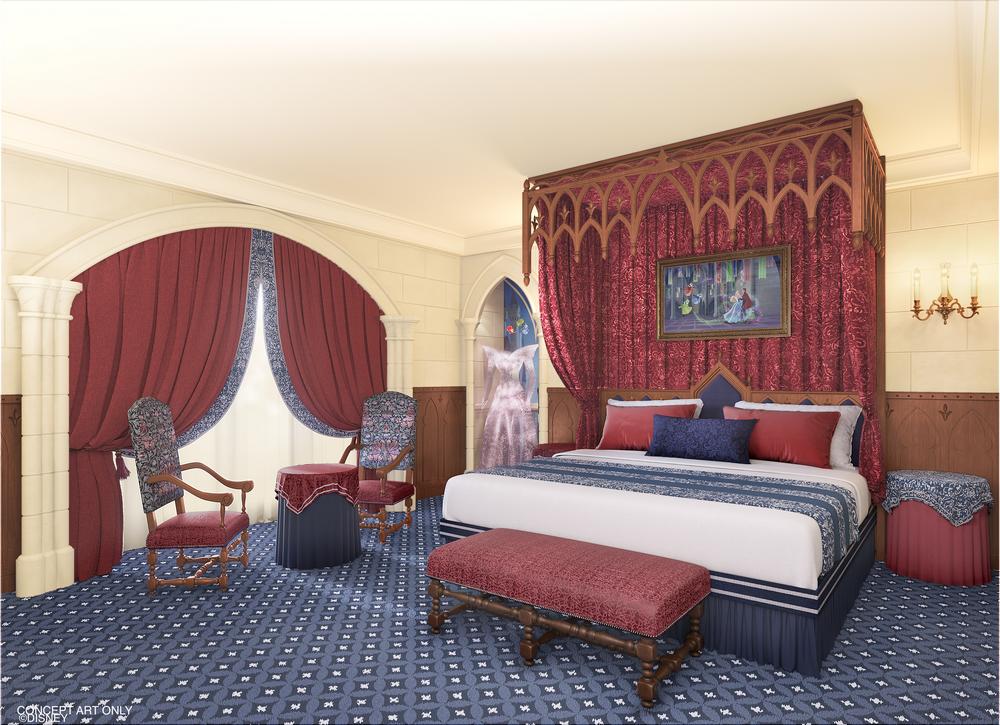 The Princely Suite The Beauty and The Beast* (1 suite,116 m2)
Guests staying in the Suite Princière will experience an extraordinary journey right into the heart of the live-action version of the animated film Beauty and the Beast. When they open the door to this extraordinary suite, they will discover a sumptuous Baroque-style décor. From the bedroom to the bathroom and the ballroom, each room will be adorned with enchanting details straight out of an eternal story.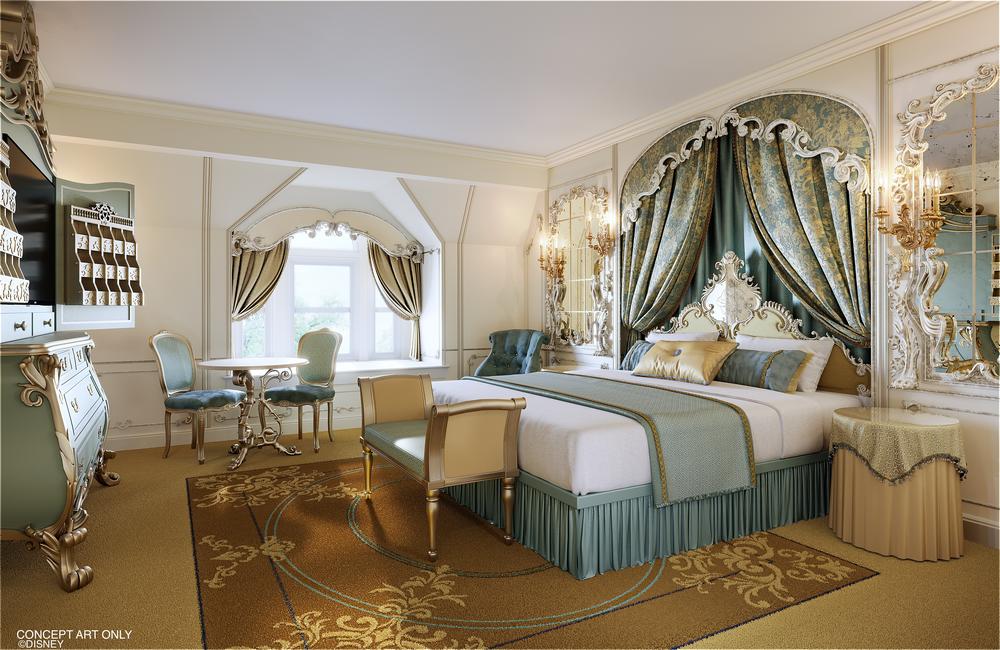 *The live action film
Frozen Royal Suite (1 suite, 206 m2)
Upon entering the spectacular Royal Suite, guests will immediately be transported to the Ice Palace that stands proudly atop the North Mountain in the first instalment of the animated film Frozen. In this breathtaking space, Arendelle's newest residents will be able to enjoy the hotel's grandest and most immersive experience, as the suite will consist of a bedroom, living room, bathroom, kitchen and dining room; each room having been decorated using Queen Elsa's ice powers. From the glittering ice chandelier sublimating an elegant silver and blue décor to the materials playing on transparency, light and reflections, visitors will be fully immersed in the story. To top it all off, this exceptional suite will have a balcony overlooking Disneyland Park, offering a breathtaking view of the iconic Sleeping Beauty Castle.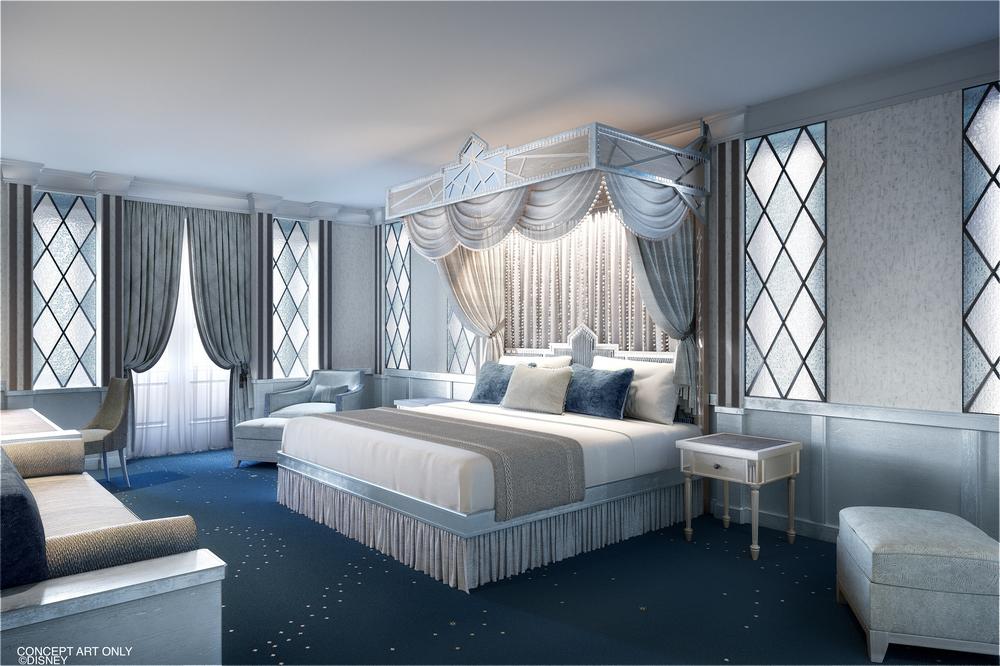 Disneyland Hotel, a royal experience for the youngest visitors
Long live princesses and princes of all ages
At the Disneyland Hotel, the youngest visitors will become princesses and princes. Whether it's the royal arrival they'll be offered or the many exceptional offers they'll be able to take advantage of, their stay is sure to be a majestic one.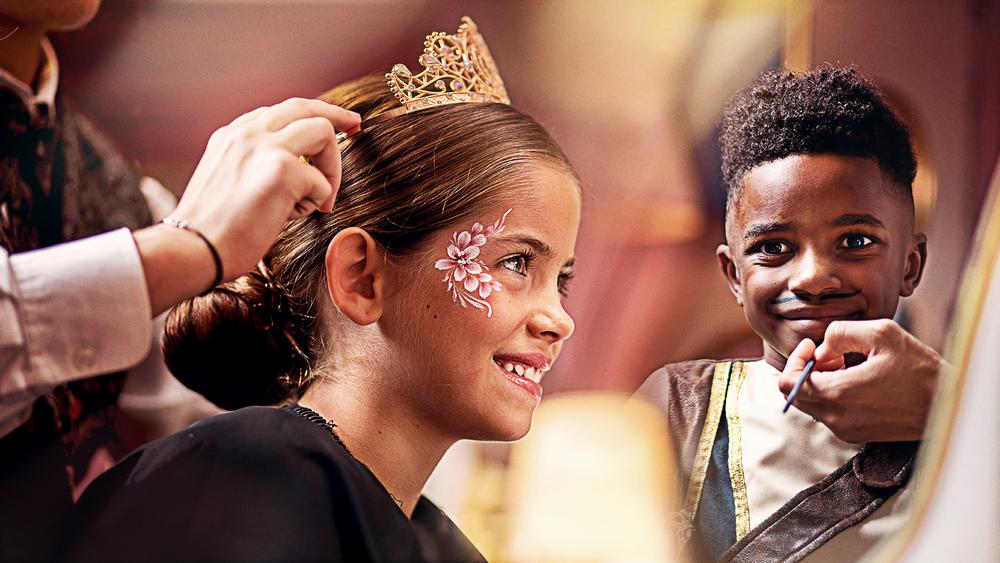 Royal Kids Club
The world of imagination will come to life at the Royal Kids Club, a place where children can become the protagonists of their favourite Disney stories. In this space, designed as a magical library, Cast Members will welcome children and give them interactive experiences in augmented reality. What's more, these young visitors and their families will be able to book a slot for A Disney Royal Encounter and take photos with Disney Princesses** such as Snow White, Jasmine or Ariel to immortalise these magical moments.
The Disneyland Hotel will be offering free childcare for children aged four to eleven inclusive. This area will be supervised by BAFA-accredited Cast Members so that parents can leave in peace for a maximum of two hours.
A royal personalised makeover
My Royal Dream will also make the dreams of younger children come true. As part of this experience, experienced Cast Members will take on the role of personal stylists to 'transform' children into pretty princesses or valiant princes thanks to a selection of magical make-up, hairstyles, manicures, costumes and accessories. This fee-paying service will offer a range of packages for young and old alike. To round off the makeover session, photos will be taken by a professional photographer, and visitors will then be given a photo in a dedicated frame to keep forever in their memories.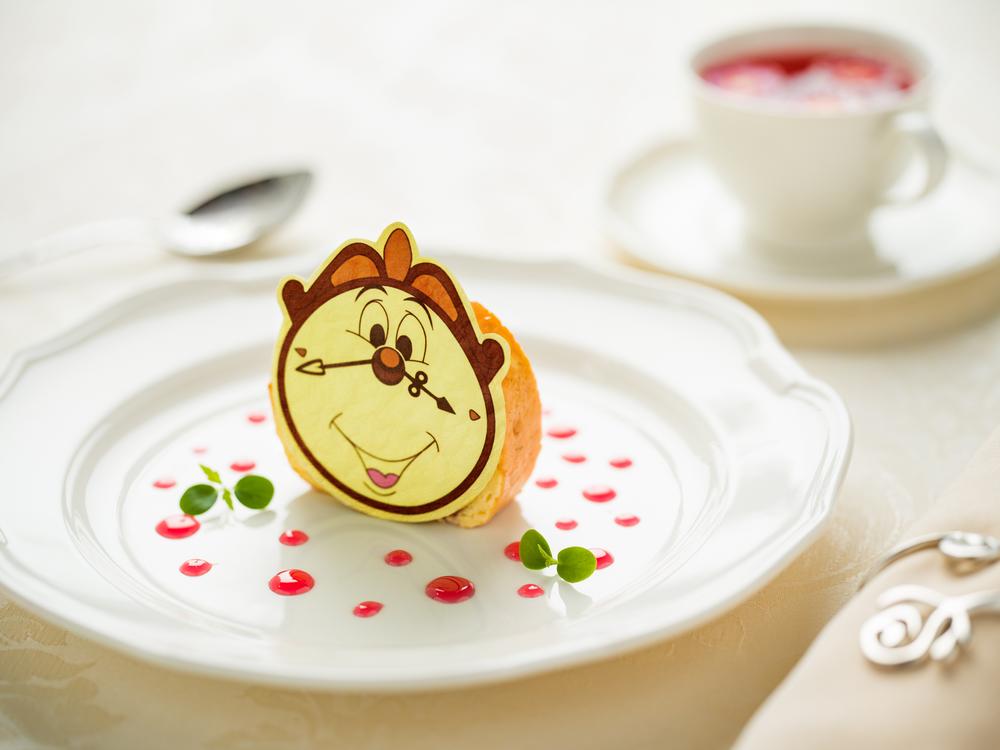 A culinary offering to suit the taste buds of the very young
The Disneyland Hotel has developed a culinary offer adapted to the youngest guests. The Royal Banquet and La Table de Lumière invite children to try traditional French cuisine, such as beef and carrot parmentier or Comté puff pastry with protected designation of origin.
Young visitors can also relax at the Fleur de Lys Bar, where mixology experts will be concocting delicious mocktails and serving a wide choice of fruit juices, cold drinks and snacks.
A personalised experience of well-being and relaxation
The relaxation areas are not just for adults. Children will also have access to the Disneyland Hotel Spa by Clarins* and the swimming pool. In these areas, the youngest visitors will be able to relax alongside their carers, swim like mermaids in the children's pool, take advantage of the toddler pool, and enjoy a well-being treatment thanks to the range of products specially designed for young customers by Nougatine Paris.
Disneyland Hotel, a royal experience for gourmets
All of the Disneyland Hotel's restaurants, bars and lounges(2) have been reinvented to showcase a whole host of Disney royal stories. With a level of storytelling(1) as captivating as in the rest of the hotel, these areas will offer a refined culinary experience combining French savoir-faire and Disney creativity.
The Royal Portrait Gallery at the Royal Banquet buffet (breakfast, lunch and dinner)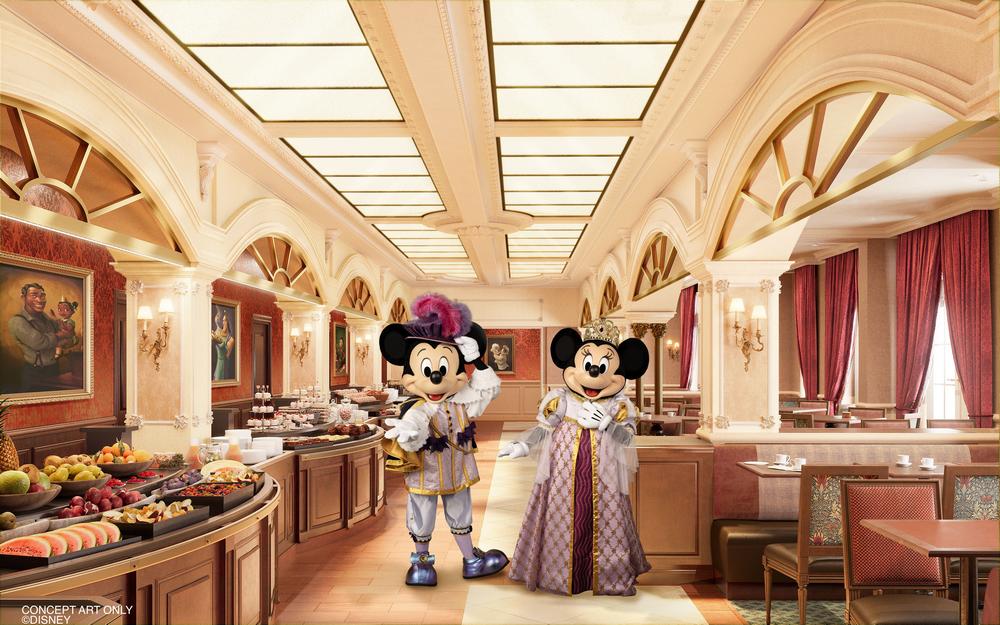 Inspired by the sumptuous reception rooms found in castles, the Royal Banquet will invite visitors to take part in a royal feast amidst a gallery of portraits representing many of Disney's royal families, such as King Triton from The Little Mermaid surrounded by his 7 daughters, the Queen of Hearts from Alice in Wonderland, Prince John from Robin Hood and Kronk from Kuzco, the Mega Emperor.
Prince John from Robin Hood and Kronk from Kuzco, the Mega Emperor. In this all-you-can-eat buffet, visitors will be offered a wide choice of dishes inspired by the various cultures featured in the Disney films, such as spicy Cajun-style prawns paying homage to Tiana's native Louisiana.
There will also be a sumptuous shucking bench offering oysters and seafood, as well as a range of meat cuts. Younger visitors will also be able to enjoy a wide selection of special products, as well as desserts that they can personalise themselves.
To crown this royal feast, the Royal Banquet, at lunch and dinner, will give visitors the opportunity to
to meet and dine in the company of Mickey, Minnie and their friends in their brand new, exclusive
exclusive royal costumes. These distinguished guests will be the stuff of dreams for young and old alike, inviting them to take photos with them.
Delicate cuisine at the table service restaurant, La Table de Lumière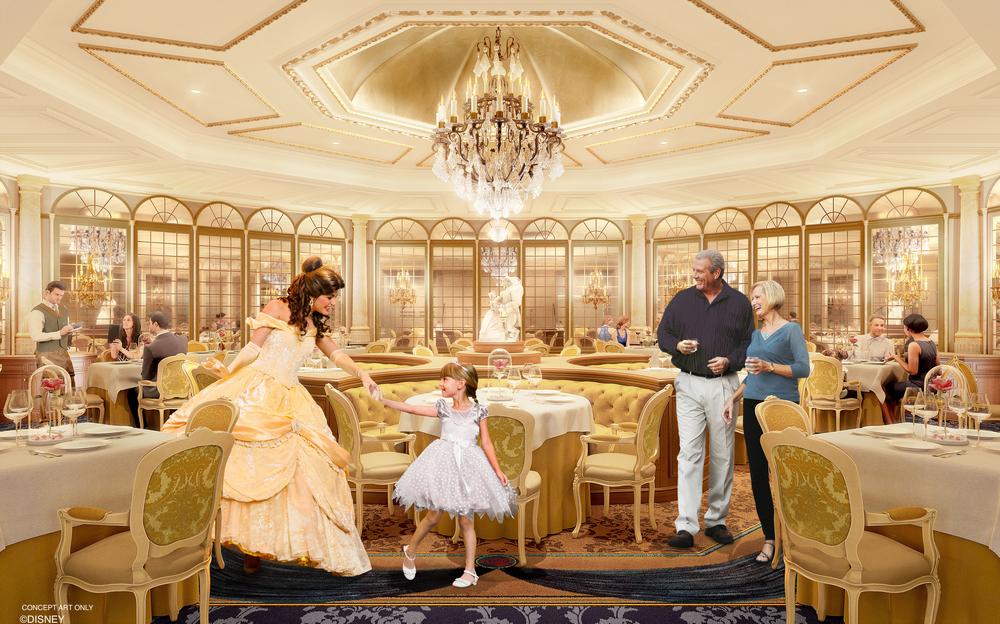 At La Table de Lumière, visitors will marvel at this setting reminiscent of the ballroom in Beauty and the Beast, itself inspired by the Hall of Mirrors at the Château de Versailles. The décor, featuring mirrors and crystal pieces, will add sparkle to the elegant atmosphere. Porcelain tableware featuring the enchanted rose and napkin rings evoking the Lepine theme will prolong the immersion. The menu will feature refined French cuisine, including local dishes such as Provins rose and seafood specialities such as sole caught off the French coast or lobster served with white cabbage in a remoulade sauce with Meaux mustard. Visitors wishing to treat their taste buds to quality meat will find what they're looking for in the rotisserie. A creamy mushroom velouté will also be on offer, accompanied by croutons of sourdough bread and toasted hazelnuts served with Isigny cream in homage to the Norman commune of 'D'Isigny', where Walt's ancestors originated. Fans of plant-based cuisine will delight in dishes such as quinoa with broad beans and morels, and a plant-based juice with red peppers and pomegranate seeds.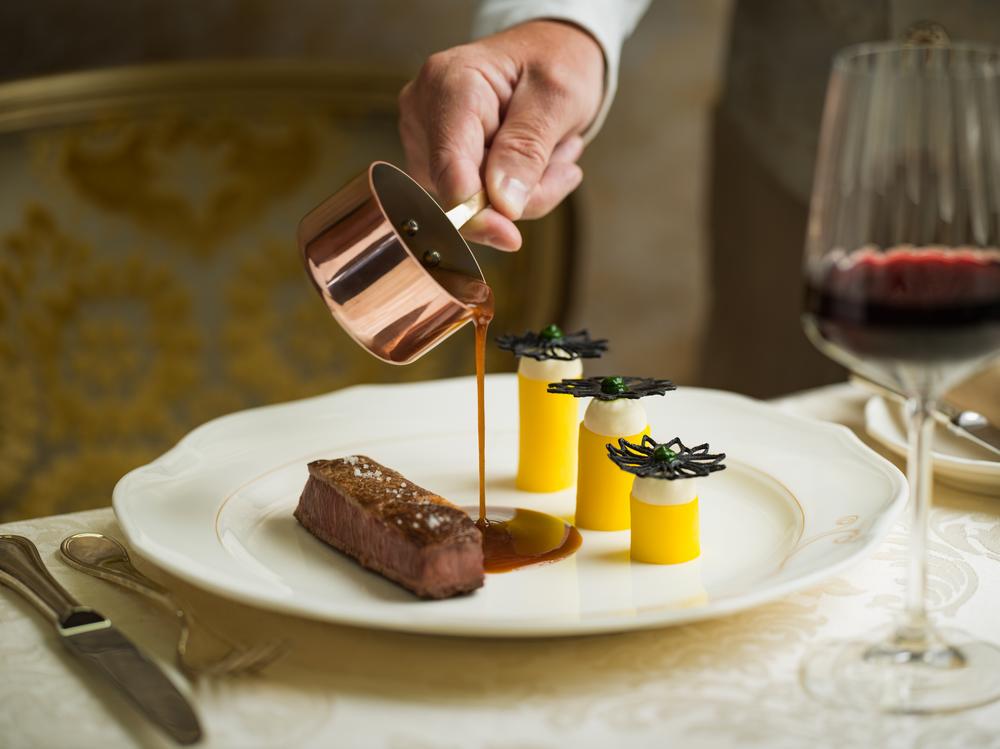 A wide selection of wines and champagnes will also accompany the delicious dishes concocted by the hotel's chefs. Visitors can round off their culinary journey by sampling treats celebrating Disney's royal stories. For special occasions, a cake inspired by the rose from Beauty and the Beast will also be on the menu.
At La Table de Lumière, visitors will enjoy the company of Disney's Royal Couples, such as Belle and her Prince (Beauty and the Beast), Aurora and Philippe (Sleeping Beauty) and Tiana and Naveen (The Princess and the Frog), who will be donning brand new outfits to interact with visitors and share unforgettable moments in an exceptional setting.
Two intimate and distinguished lounges (breakfast, snacks, drinks at any time)
The Deluxe Lounge welcomes guests staying in the Deluxe Rooms. Offering a breathtaking view of Fantasia Gardens, guests can enjoy an all-you-can-eat breakfast in a soothing setting and, in the afternoon, fill up on sweet and savoury snacks.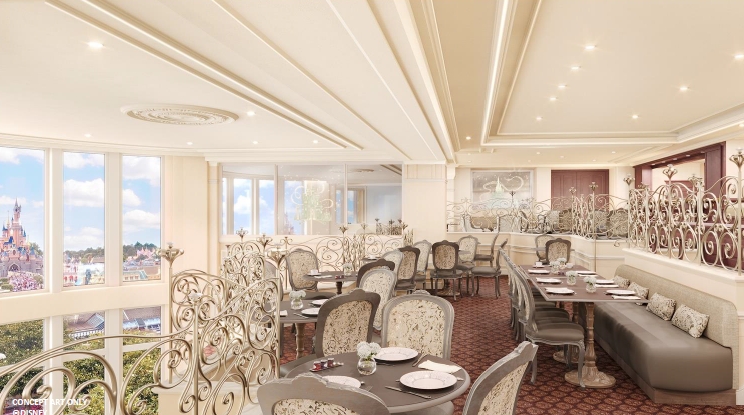 Reserve for visitors to travel to the rooms and suites of the Castle Club, the Castle Club Lounge to enjoy a beautiful view at the Château de la Belle au Bois Dormant and discover the décor of the spaces inside the many Disney châteaus. The graphics are imagined by the equipment of Walt Disney Imagineering Paris and are available in the main grace of the ancestral techniques. The lounge offers a gourmet petit déjeuner on your cart's plates, in the presence of the Disney Princesses, which tells you what's going on, Merida, Cendrillon or Vaiana. The time of the day (9), the visitors will often offer sundries and fries, as long as they eat sugar and salt, the whole service is in a proven bathroom at Maison Haviland's ateliers. The private enterprise in the fabrication of Limoges porcelain from 1842 has been in the creation of modern and innovative creations without final touches and creative décor that has been created in the main by artisans with exceptional talents.
Royal room service (24 hours a day, 7 days a week)
The royal Disneyland Hotel experience will be accompanied by an array of premium and personalized room services. Visitors will also enjoy a wide selection of food and drinks, as well as pastries and fresh fruit.
Disneyland Hotel, a royal stay to crown a dream stay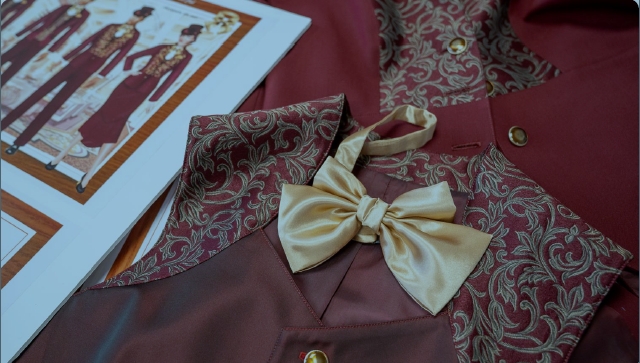 A prestigious tailor-made experience
To extend the royal experience, a concierge will be available to visitors to satisfy all their requests and ensure that their stay exceeds their expectations.
The Royal Greeter will give a personalized welcome to hotel newcomers and invite them to become the protagonists of these royal stories. At the reception, visitors will be offered a welcome book "Your Fairy Tale Guide" made by a French printer, in which they can delve into the history of the hotel.
Visitors will be able to sleep like queens and kings by making their bed more comfortable with the seven different types of pillows that will be offered to them in the establishment.
Relaxing moments with the family at the Disneyland Hotel Spa by Clarins as well as at the Crystal Pool and the Health Club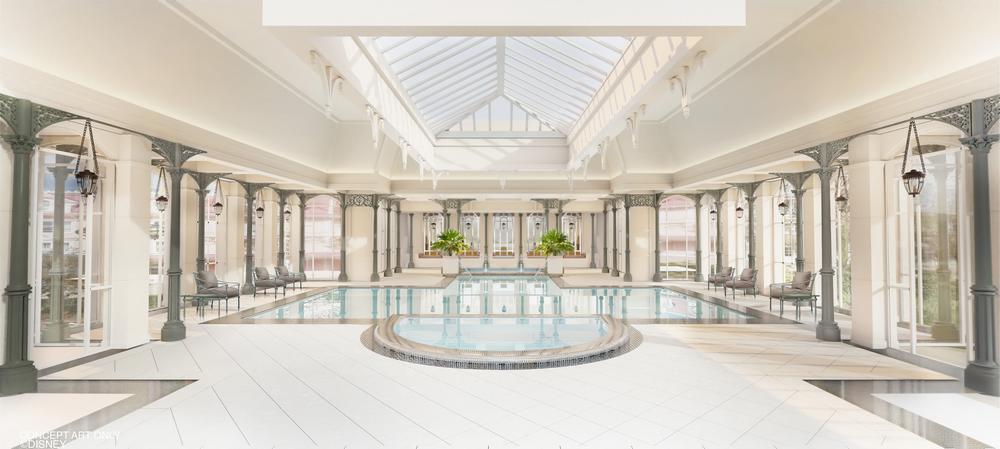 Visitors will be able to treat themselves to a moment of well-being(10) by taking advantage of the various treatments offered by the Disneyland Hotel Spa by Clarins*. Clarins is a brand with unique French know-how with 70 years of experience. Experts will offer visitors various types of classic and signature treatments, manicures, pedicures, blow-drys and makeup. Thus, young and old will be able to get a makeover in one of the 4 dedicated treatment cabins, including one accessible to visitors with disabilities or specific needs.
Visitors can also enjoy a moment of relaxation at the Crystal Pool, an area with a main swimming pool, a children's pool and a whirlpool. Swimming enthusiasts will be able to swim under a magnificent glass and metal roof reminiscent of the Royal Greenhouses of Laeken in Brussels before sunbathing while relaxing on the outdoor terrace.
As for visitors wishing to keep in shape during their stay, the Health Club will have the latest sports equipment designed by Technogym, a leading brand in the field of sports machine manufacturing. Open 24 hours a day, 7 days a week, this space will also offer well-being activities, thanks to a partnership with the well-being technology company Three Sages. Finally, a digital service will allow visitors to have access to yoga and meditation classes.