Avengers Campus is a complex with laboratories, workshops, and a new Headquarters where the Avengers and their allies work together on new ways to help humanity. It used to be a Paris-based S.H.I.E.L.D. secret location created by Tony Stark's father, Howard. Tony embraced the idea of carrying on the legacy of his father's work by reinventing the facility. He turned it into a place where everyone can lend a hand to Iron Man, Captain Marvel, Spider-Man, Black Panther, Captain America, Black Widow, and many more in their mission to save the day.
Avengers Assemble : Flight Force
Exclusive to Disneyland Paris, Avengers Assemble : Flight Force is every Super Heroes fan and thrill seekers dream come true. 
On this high-speed rollercoaster, recruits will team up with none other than Captain Marvel herself and the one and only Iron Man.
Recruits will be briefed by Iron Man himself, equipped with a brand-new Mark 80 armor exclusively designed for his missions at Avengers Campus. With no time to waste, they will have the opportunity to team up with the two Avengers on a high-speed mission. They will embark and fly up through space in a vehicle that Stark has equipped with a homing device, to lure the threat away from planet Earth.
Height requirement to ride AVENGERS ASSEMBLE: FLIGHT FORCE is 120 cm, equivalent to 47 inches.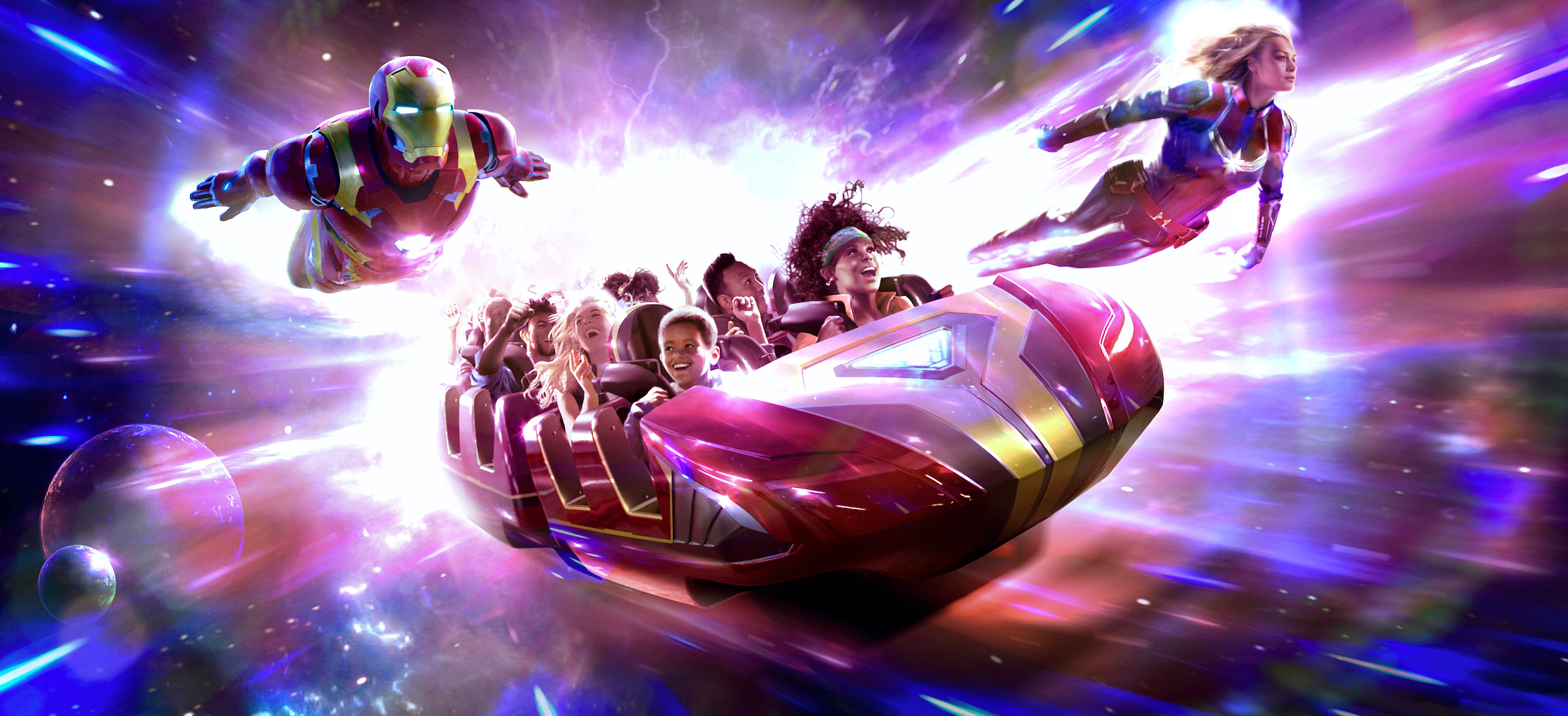 Avengers Assemble : Flight Force behind the scenes
– Brie Larson is reprising her role as Carol Danvers aka Captain Marvel in AVENGERS ASSEMBLE: FLIGHT FORCE, the exclusive attraction to Disneyland Paris. The Academy Award winning actress made a point of addressing the good news herself in a video message recorded for fans.
– AVENGERS ASSEMBLE: FLIGHT FORCEis a thrill ride unique to Disneyland Paris that features a high-speed launch of 0-60 mph in less than 3 seconds, three inversions, two rollover loops and one corkscrew.
– Iron Man in AVENGERS ASSEMBLE: FLIGHT FORCE at Disneyland Paris is a new generation Audio-Animatronic© figure exclusive to Disneyland Paris and the first Avenger Audio-Animatronic© in a Disney Park.
Spider-Man W.E.B. Adventure
A new generation of attraction at Disneyland Paris where recruits of all ages will be given web-slinging superpowers.
Spider-Man W.E.B. Adventure  is a new generation of attraction at Disneyland Paris where recruits of all ages will be given web-slinging superpowers accomplished through innovative technology created specifically for this attraction. The mission: team up with Spidey and help capture the out-of-control Spider-Bots – Peter Parker's robot sidekicks – before they wreak havoc on the Campus.
The adventure begins at Avengers Campus' Worldwide Engineering Brigade – also known as WEB – a workshop of bright innovators who specialize in developing new technologies to equip and empower everyday people to become Super Heroes like the Avengers. This workshop showcases the inventions of Peter Parker and the rest of the WEB Tech team, including their adorable Spider-Bots which are designed to be robotic sidekicks capable of building anything a Super Hero might need.
Through specially designed, innovative technology that recognizes body movements and gestures, recruits will reach out their hands and sling webs from their wrists, just like Spider-Man. As the WEB Slinger vehicles progress and the mission continues, Spider-Bots will become harder and harder to beat as they continue to multiply. After helping Spider-Man trap the rogue Spider-Bots, recruits will be able to see how many Spider-Bots they caught as a team in their vehicles.
There is no height requirement for this attraction, allowing young aspiring heroes to join the action.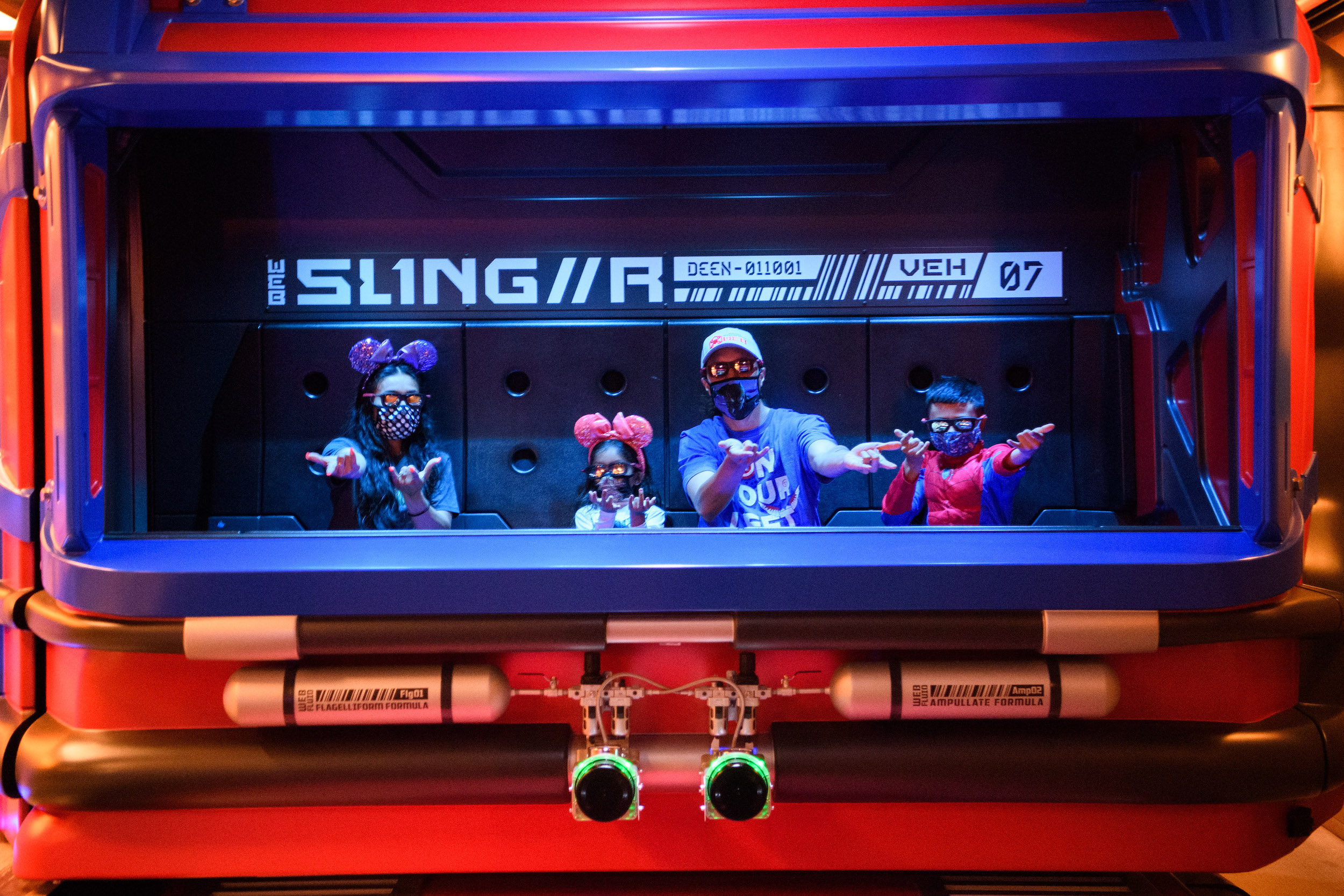 Spider-Man W.E.B. Adventure behind the scenes
Tom Holland also reprises his role as Peter Parker in this new, action-packed adventure. The actor addressed a special message to fans in Europe while filming special scenes for the Disneyland Paris attraction.
– To enable the most accurate and flexible guest interaction, Imagineers leveraged infrared cameras on the WEB Slinger vehicles to assess and analyze the actions of guests 60 times per second, tracking eye position, shoulders, elbows, and wrists. The attraction identifies when guests move their arms and maps out the geometry of their web sling, rendering a 3D web in the interactive gameplay.
– Recruits will wear 3D glasses and enjoy a blend of physical, fully dimensional sets and virtual environments that will take them on this interactive escapade, which includes animation, moving props and special effects.
– For recruits looking for a customized and enhanced experience, check out the WEB Tech accessories available at Mission Equipment shop, located inside the building of the attraction. With the purchase of WEB Power Band or WEB Shooter accessories, recruits will have access to advanced functions like a multi-firing web option while battling those Spider-Bots on the loose inside SPIDER-MAN W.E.B. ADVENTURE.
– Recruits will also be given the chance to purchase their very own, customizable Spider-Bot at Mission Equipment in Avengers Campus.