It's the bad surprise of the week, the cold shower for holders of the precious sesame that is the annual pass. Disneyland Paris customers have woken up with a hangover.
"More for less" could be the slogan of this new range, more with price increases and less with the elimination of almost all benefits.
A lack of consideration
This new range is further proof that Disneyland Paris despises, hates and discredits its most loyal customers. It reflects the desire to eventually put an end to this range. How else can you explain such a decision? It can't be a case of not knowing your customers, not after 30 years!
We know that the leisure industry worldwide considers holders of this type of pass (whatever the park) as customers who cost more and earn less than a customer visiting the park once every ten years. Disneyland Paris applies this strategy, making a selection based on money and wanting to make Disneyland Paris a premium destination, which it is far from being. This vision runs counter to Walt Disney's.
A losing strategy?
This range goes against Bob Iger's latest statements: "In our rush to increase profits, we may have been a little too aggressive with some of our pricing." He went on to say that he had always believed that "Disney was a brand that needed to be accessible" and "that our pricing strategy has been too high and quality has been declining in our parks." This strategy of selection by money is partly due to his predecessor and, at Disneyland Paris, everything is happening as if Bob Chapek were still at the helm. This high-price strategy was punished by investors when the results were announced, with TWDC's share price plummeting as investors judged theme park attendance to be too low. But when you can't get there, what can you do? Walt Disney World was even shunned on 4 July, when attendance at the complex was particularly low.
What's better? A customer who spends €3,000 every 10 years or a customer who spends €800 a year for 10 years?
Imagine a family of 5, two adults, three children, living 10 minutes from the park: total cost: 3,500 euros a year. It could also be explained by Disneyland Paris' desire to target a high-end clientele.
This policy also has negative repercussions on cast members, who suffer the wrath of Disneyland Paris customers. Such behaviour is unacceptable. Cast-members are simply applying management decisions and policies. The unions have also alerted Disneyland Paris management to the consequences of this atmosphere for cast-members. The unions are showing their solidarity with customers.
A bitter pill!
This programme has existed for 30 years. Disneyland Paris is throwing away customer loyalty. There is no recognition of this loyalty as there is in other brands. Worse still, Disneyland Paris has the nerve to say that it has listened to its customers. The Parisian resort claims to have responded to two main expectations: digitalisation and availability of access. While the first is true, it is not the main expectation. As for the second, the fact that three consecutive bookings are still required invalidates the availability argument.
Not only is the park not listening to its customers, but it also gives the impression that Disneyland Paris is giving pass holders the honour of being able to enjoy its parks and spend their money, forgetting that pass holders are customers first and foremost.
This publication concerning the removal of benefits is proof of this. No, these are not free benefits, they are benefits included in a paying offer! A benefit is always passed on by a company in the price that the customer pays. That's the basis of business.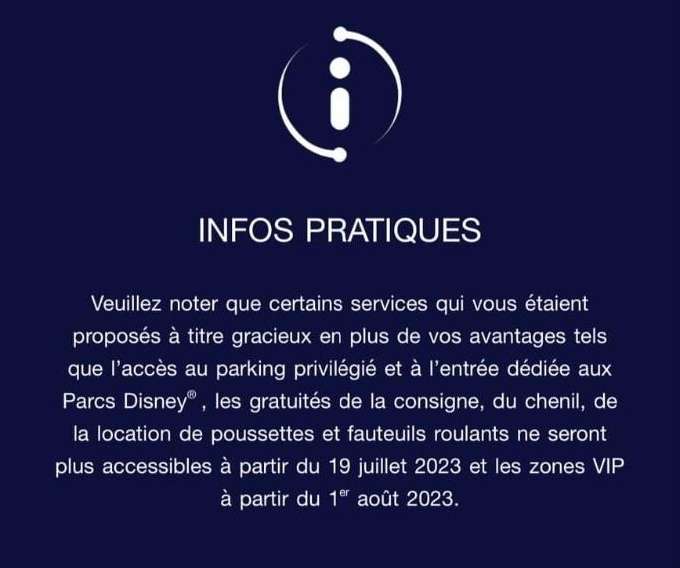 Fallacious arguments?
Some people cite inflation as a reason for raising pass prices. An amusing argument when you consider Disneyland Paris' reaction to the strikers of recent weeks. You get the impression that the lack of consideration shown to cast members is the same as that shown to pass holders.
The argument that passes at Disneyland Paris are cheaper than in the US is fallacious. It only has the appearance of truth. One comparison will suffice: Disneyland Resort has two parks and a shopping area. Walt Disney World has four, plus two water parks and a vast shopping area. Disneyland Paris has one and a half parks. Walts Disney Studios has been under construction for several years and will not be able to offer a quality product for a long time to come. Disney Village is just a work zone and Disneyland Parc has not been extended for 28 years!
D of disappointment!
Even when wrapped in beautiful pixie dust packaging, the news is not going down well. The increase in the price of passes and the elimination of benefits will have caused a furore on social networks. Thousands of comments can be read on our media. Passholders are oscillating between anger, disgust and incomprehension at Disneyland Paris' contempt for them. Both Le Parisien and Le Figaro have relayed the anger of annual pass holders. A petition is being circulated to get Disneyland Paris to change its tune.
The D in Disney no longer rhymes with Disney, but at best with Disappointment and at worst with Dividend. When it comes to annual passes, the magic is no longer working. To speak of an Annual Pass is a misuse of language. It's nothing more than a pass that allows you, when all the conditions are right, to have the honour of spending money at Disneyland Paris.
This decision is just the latest in a series of mediocre decisions ranging from the transformation of the Nautilus to the absence of the Stuntronic, not to mention the introduction of licences in unsuitable locations by forceps, price increases that have been in a shambles for years, and a Disney Village that will soon resemble the shopping area of a supermarket. Preserve Walt Disney's heritage, improve what already exists, two concerns that until now have been at the heart of the company's strategy seem to have disappeared.
Everything is now just a matter of accounting, with profitability the only concern. We know that these strategies always lose out in the long run, and that a company's image is damaged for a long time to come. It's high time the park changed direction, in every sense of the word.
And the conclusion of all this?
Unfortunately, we know in advance how it will all end.
Disneyland Paris will superbly ignore its customers. Customers who will be rushing to renew their passes. Passes that will be sold out in just a few weeks.
I'd be curious to know the attrition rate for annual passes. It will certainly be very low and probably due to a lack of available product rather than a real desire not to renew one's pass…
At a time when the Walt Disney Company is celebrating its 100th anniversary, this policy on the part of Disneyland Paris is rather ironic. Taking customers for pigeons is a profession!
Edit: as I conclude this editorial, one of the team has reported that cast-members at Victoria's Home-Style Restaurant were conducting a survey to find out whether guests intended to renew their annual pass. The result: out of 30 people surveyed on Saturday afternoon, only one wanted to renew! Is there any hope that Disneyland Paris will reconsider?