Eating like a superhero with epic culinary experiences is what the new Avengers Campus land at Disneyland Paris offers.
When it is time to take a break from the heroics, new dining spots will offer sustenance. Avengers Campus Recruits will refuel with Epic Eats and Treats at new immersive themed restaurants and food karts.
The restaurant – Pym Kitchen
Pym Kitchen is an innovation science lab where the food and drinks tell a story.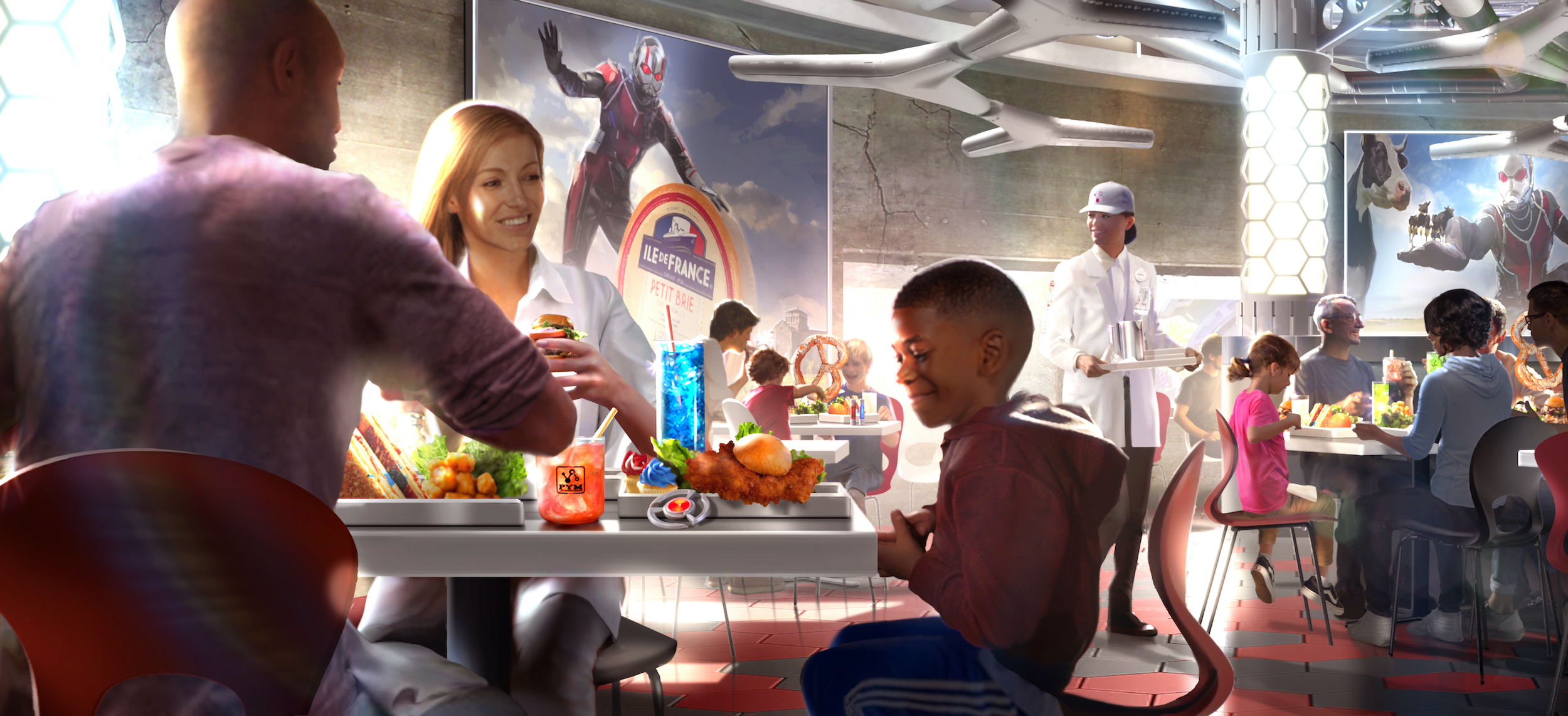 Just as Ant-Man and The Wasp use "Pym Particles" to grow and shrink to just about anything, Pym Technologies applies this science to the creation of shareable bites, inventive entrees and sweet treats as a buffet. Recruits will be able to savour items at unusual scales, including both gigantic shareable pretzel sandwiches, hot dogs, burgers, cakes, and their tiniest versions for those who wish to try everything.
Incredible oversized servings will include Jambalaya, Caesar salad with giant croutons, 0.5-meter extra-long green beans and more vegetarian options for everyone to make the most of the growing and shrinking Ant-Man and The Wasp experience. Oversized desserts will include a pecan pie by the metre, giant blue donuts and mini red donuts, mini cheesecakes, carrot cake, red velvet, giant strawberry cream cake and honeycomb cake.
Adults will be able to enjoy red wine in tiny vials as red as the color of the reducing Pym particle, or a selection of four different tiny beers served in Pym Kitchen souvenir glasses, or a special glass of Blue Chardonnay* – yes, it will be blue like the enlarging Pym particle!
The art of the table will use the codes of a LAB, with olive oil presented in test tubes, soups in beakers and wine served in Erlenmeyer flasks. Pym Kitchen will also host a bar serving a signature blue and red cocktail presented in a beaker and a superfood cocktail made with Blue Chardonnay, Perrier, Martini, and dried goji berries.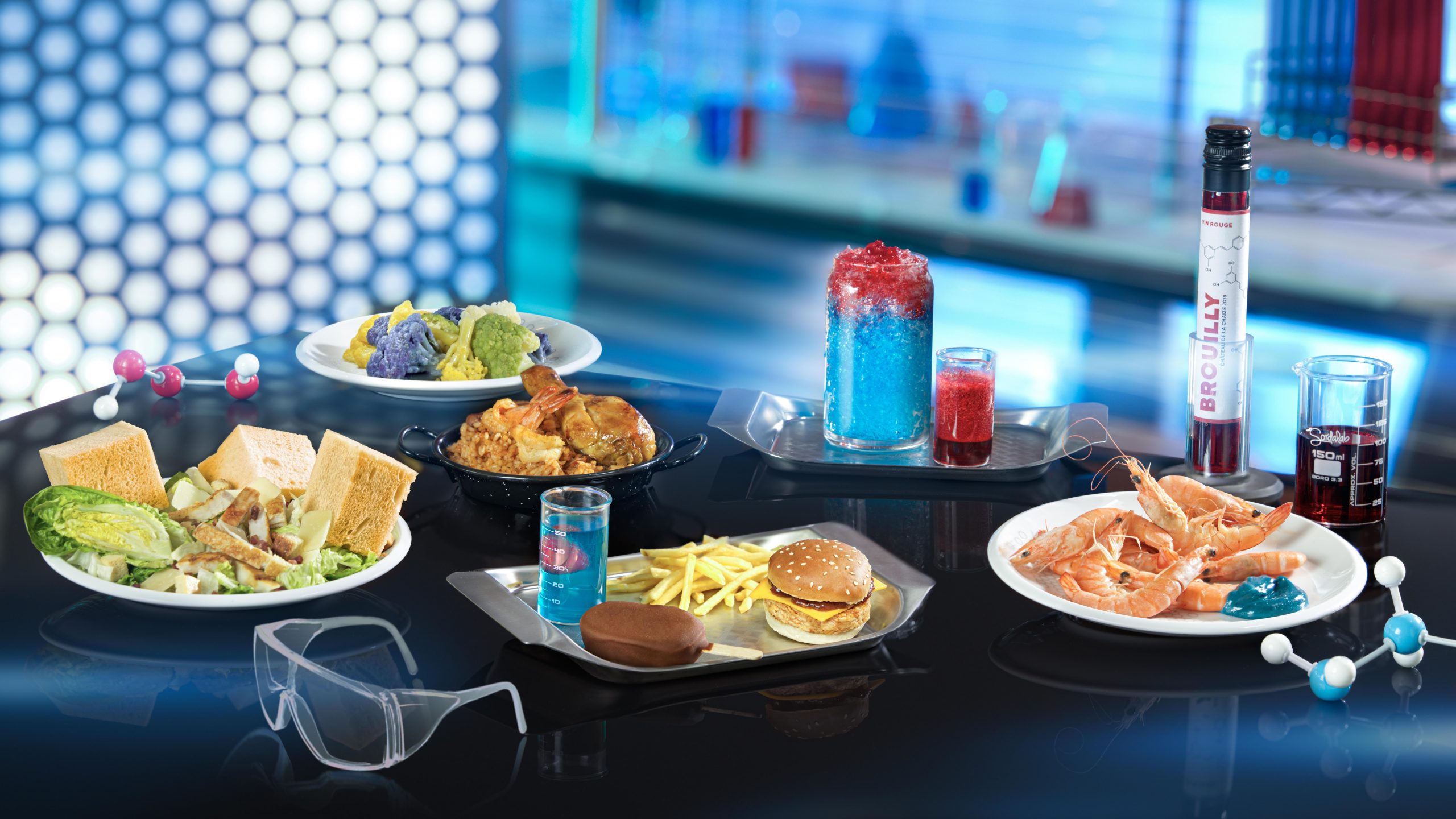 The Restaurant Storyline
Doctor Henry Jonathan "Hank" Pym is an entomologist and physicist, who developed the Ant-Man Suit, after discovering the size-shifting Pym Particles. For a time, he worked for S.H.I.E.L.D. as a consultant and became the original Ant-Man, fighting beside The Wasp, his own wife Janet van Dyne. Now their mantles are taken by Scott Lang and Hope van Dyne – Hank and Janet's daughter – the new Ant-Man and The Wasp.
Pym Particles are subatomic particles that are capable of shunting or adding mass and reducing or increasing scale of any form of matter, compressing physical forces around such objects or organisms that they are applied to, as well as increasing density and strength of the subject.
The restaurant – Stark Factory
Stark Factory is a quick service restaurant where recruits refueling will get to enjoy a cooking show experience with homemade pizzas fresh from the pizzaiolo oven, including a vegetarian option, salads, and a choice of fresh pasta.
The signature dessert will be paying tribute to Thor as it will be inspired by the God of Thunder's very own favourite treats as seen in Marvel Comics.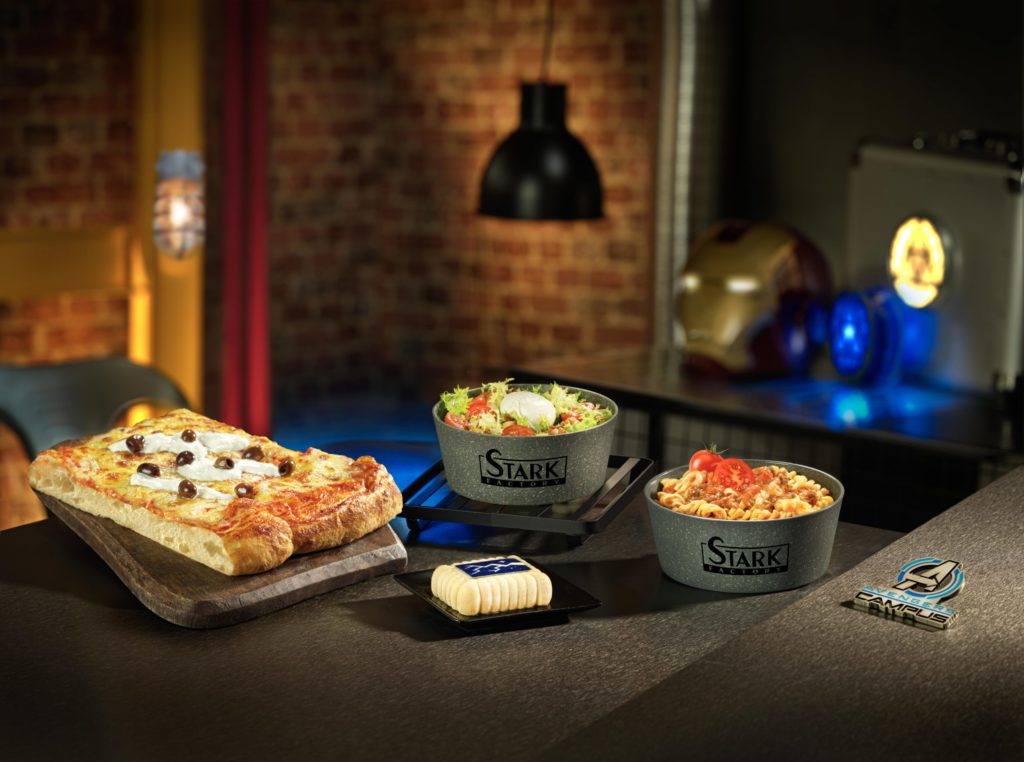 The Restaurant Storyline
Formerly an assembly line for Howard Stark, it features relics of S.H.I.E.L.D.'s earlier activities and hosts many "Easter Eggs" hidden as fan tributes including artifacts built by Tony Stark and the impressive HulkBuster – the armor he created with the help of Bruce Banner for the Hulk, which is exclusive to Disneyland Paris.
Stark Industries was founded by Isaac Stark Sr in the 19th century and later taken over by Howard Stark and then by his famous son Tony.
Stark Industries is primarily a defense company that develops and manufactures advanced weapons and military technologies. The company manufactures the armor worn by Iron Man and his pal War Machine. It builds the helicarriers used by S.H.I.E.L.D. and it produces the Quinjets used by the Avengers.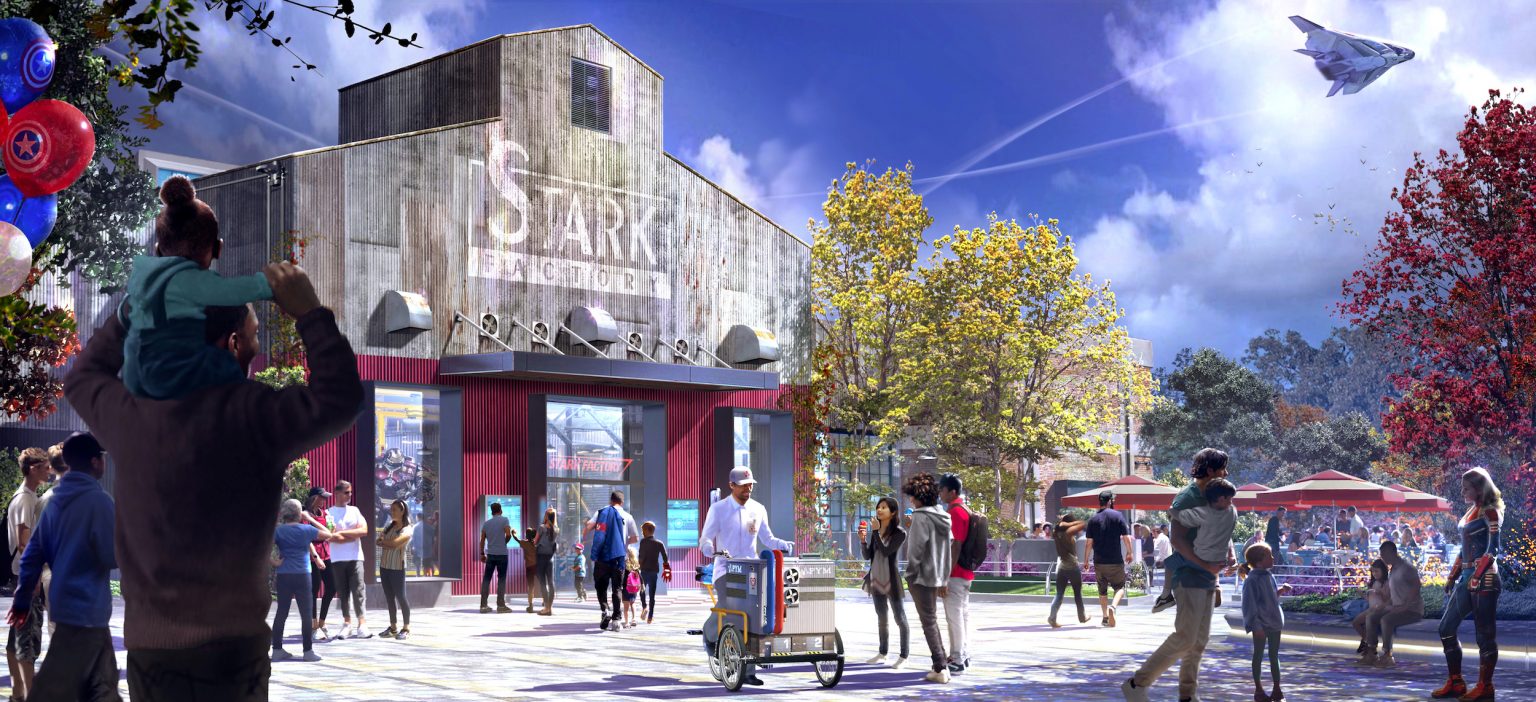 Le food truck WEB – Worldwide Eating Brigade – proposera une sélection de nouilles asiatiques et de boules de coco. Tandis que le FAN-tastic Food Truck, cher à Tony Stark, servira des hot dogs new-yorkais, dont une version vegan, avec divers types de sauces et garnitures ; ainsi qu'un cheesecake servi sur un bâtonnet. Le campus accueillera également le Super Diner, un petit restaurant à l'américaine proposant des sandwichs Reuben, une recette traditionnelle composée de corned-beef, de fromage, de choucroute et d'une savoureuse sauce servis entre deux tranches de pain de seigle.