It's time for Worlds of Disney #11! In our new issue, we have some news about the Asian parks, including news about the World of Frozen land which is scheduled to open in 2023, but also some wonderful news for the Disney Cruise Line fans. And we're celebrating Easter a little early here: with equally adorable desserts. We continue with a bit of shopping, including The Decades Collection with two plush toys, a Loungefly and ears with our favourite mice. Finally, everything there is to know about the new Disney + and Disney games such as Marvel Snap and Lorcana! So, if the Disney planet is spinning a little too fast for you and you've missed some news… Hakuna Matata! Worlds of Disney #11 is here to give you an update on Disney news from around the world! Settle in, it's time to tour the globe without jet lag!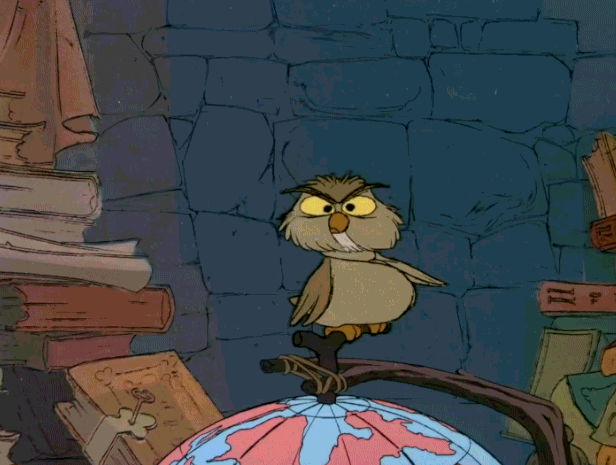 Worlds of Disney – The news that makes happy!
On March 31, ED92 was surprised and honoured to be featured in the American magazine Forbes' article praising the talent and imagination of Disneyland Paris' designers.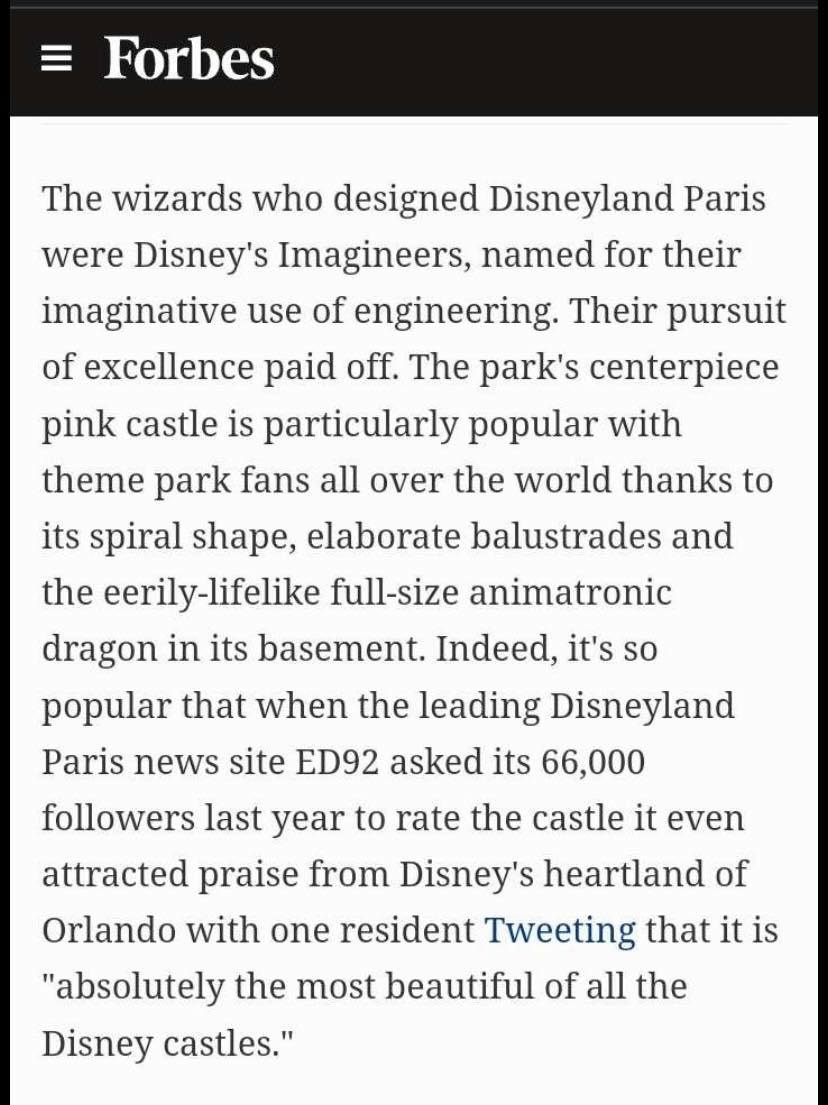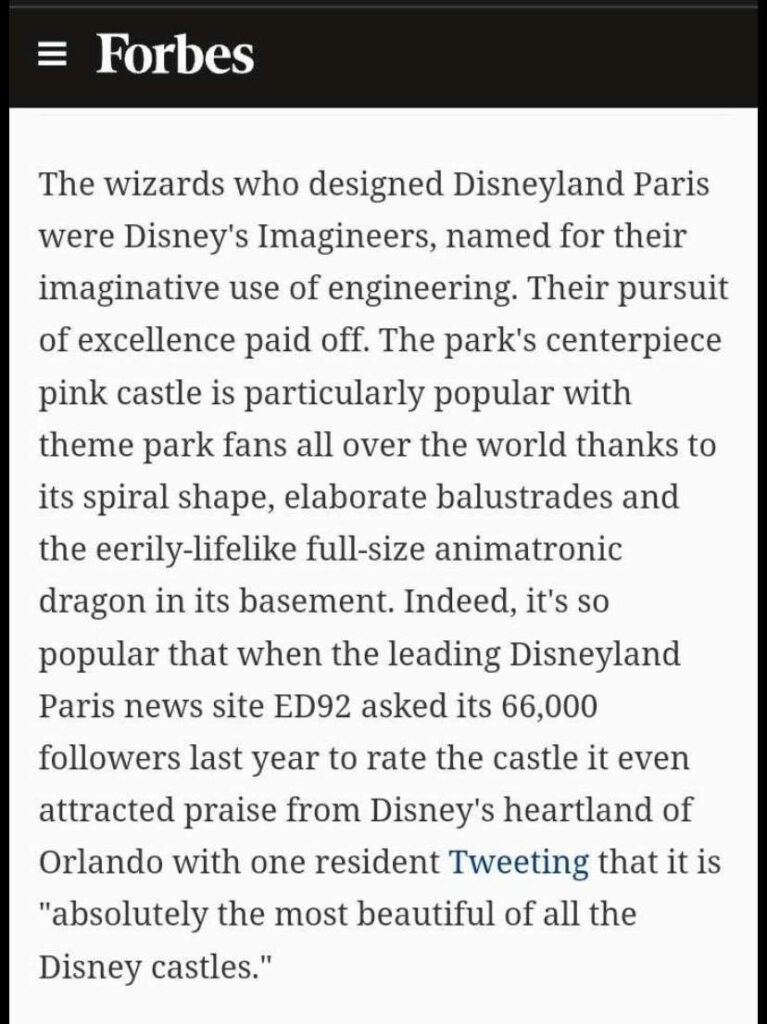 ---
📢 Disney experience By Valentin
Sanghai Disneyland Resort
Let's go to Shanghai and more precisely to the hotel dedicated to Toy Story. Because Imagineering has unveiled a glimpse of the hotel's new rooms. The first ones, dedicated to Buzz Lightyear, plunge us into a space universe that reminds us of the one imagined for the Buzz Lightyear Laser Blast attraction, which is itself inspired by the video games that can be seen in the Toy Story saga. The suites, named Toy Box, remind us of Andy's room. So what do you think?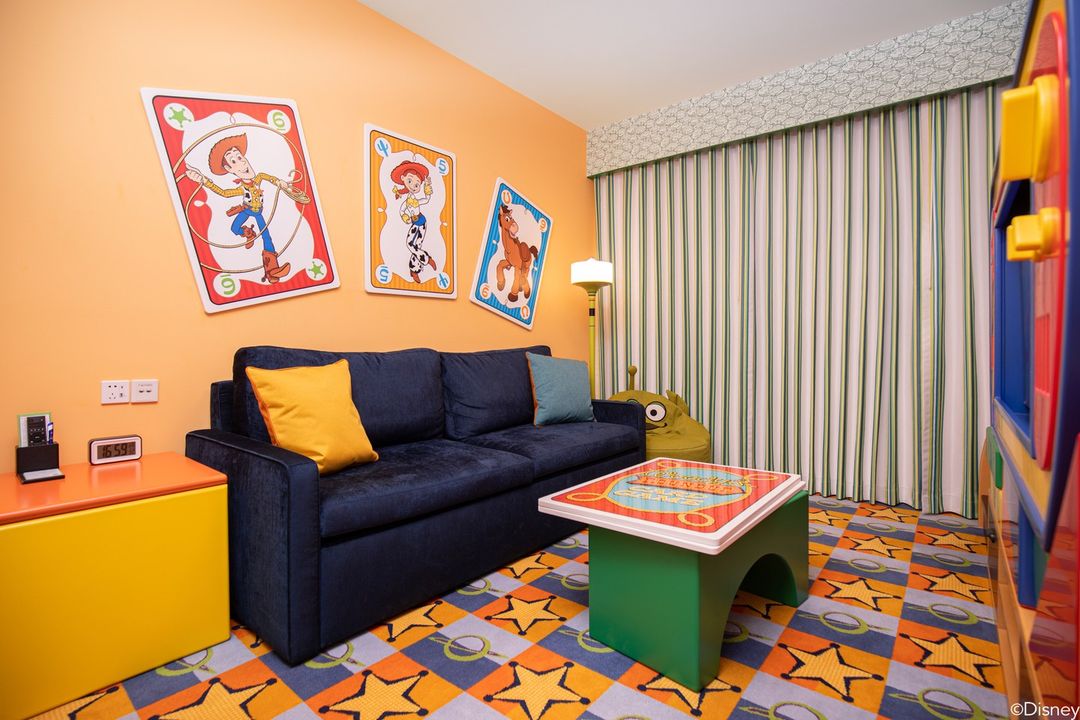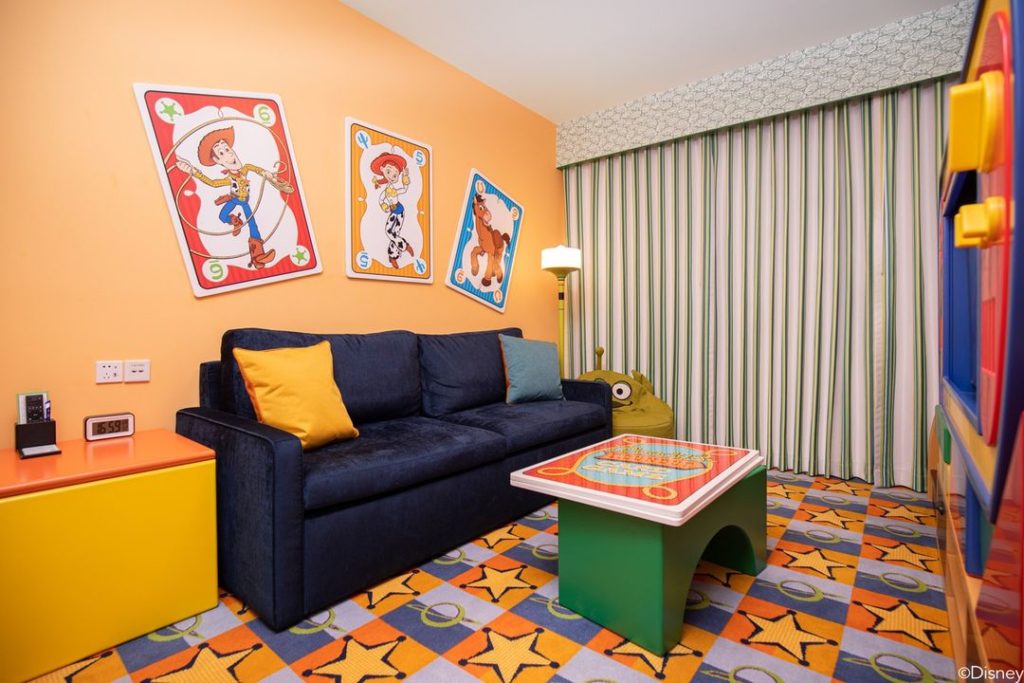 Spring is here and Shanghai Disneyland is happy to celebrate it in style. Duffy and all his pals have dressed up in their best spring outfits and even put on a show in front of the castle. Floral decorations colour the park. This is the perfect way to immerse yourself in the joys of spring.
PS: If you listen carefully, you might recognise some of the music from Duffy's spring show. So are you ready for the ride?
Hong Kong Disneyland
A short visit to Hong Kong Disneyland, which recently unveiled the posters of the new Frozen-themed land and the two attractions that will make it up. Note that only the Frozen Ever After attraction is planned at Disneyland Paris. We can't wait to discover World of Frozen which is due to open in 2023 in Hong Kong and which should give us an idea of what the land will be like in Paris.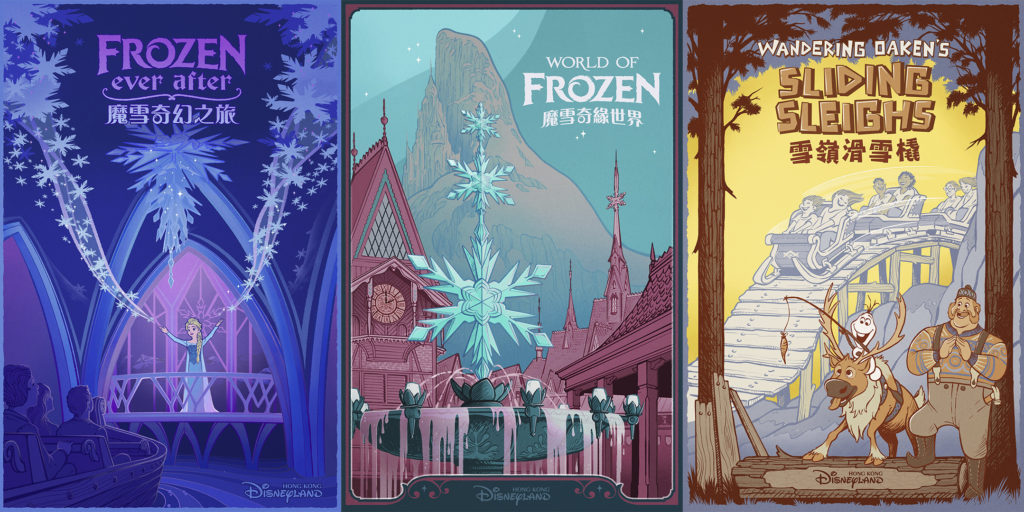 Disney Cruise Line
Let's set sail and discover the new Disney island together. Located in the Bahamas, this new Disney area named Lighthouse Point and located on Eleuthera Island will be available for the first travellers to explore during Disney Cruise Line's summer 2024 season. Fun, discovery of Bahamian culture and relaxation are promised for this new destination. So are you ready to drop anchor?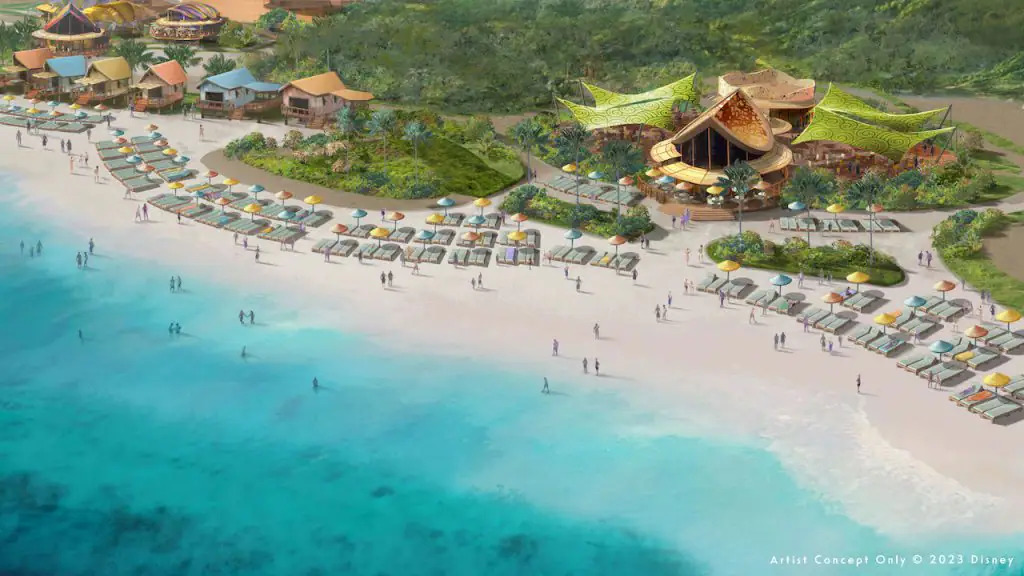 Let's stay on the seas with another announcement from Disney Cruise Line. Starting in 2025, and for five years for the time being, Disney's next ship will be based in Singapore and will allow Disney to inaugurate cruises in Southeast Asia. This ship is the one that Disney acquired in 2022. It is currently being refurbished to meet Disney Cruise Line standards. It will therefore make its debut in 2025.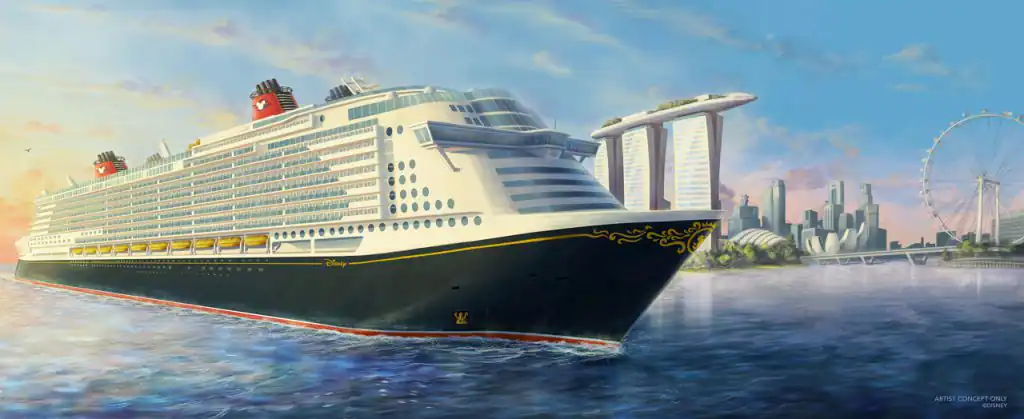 Disneyland Californie
Let's go to the other side of the Pacific Ocean in California. Because we talked about it together, Mickey's Toontown land has officially opened its doors in California and here are some pictures. As a reminder, this land has been rethought and redesigned to stick more to the style of Mickey's cartoons that we can see nowadays with the attraction Mickey & Minnie's Runaway Railway. This last one is the great novelty of the land as well as a new outfit for Mickey and the arrival of Black Pete.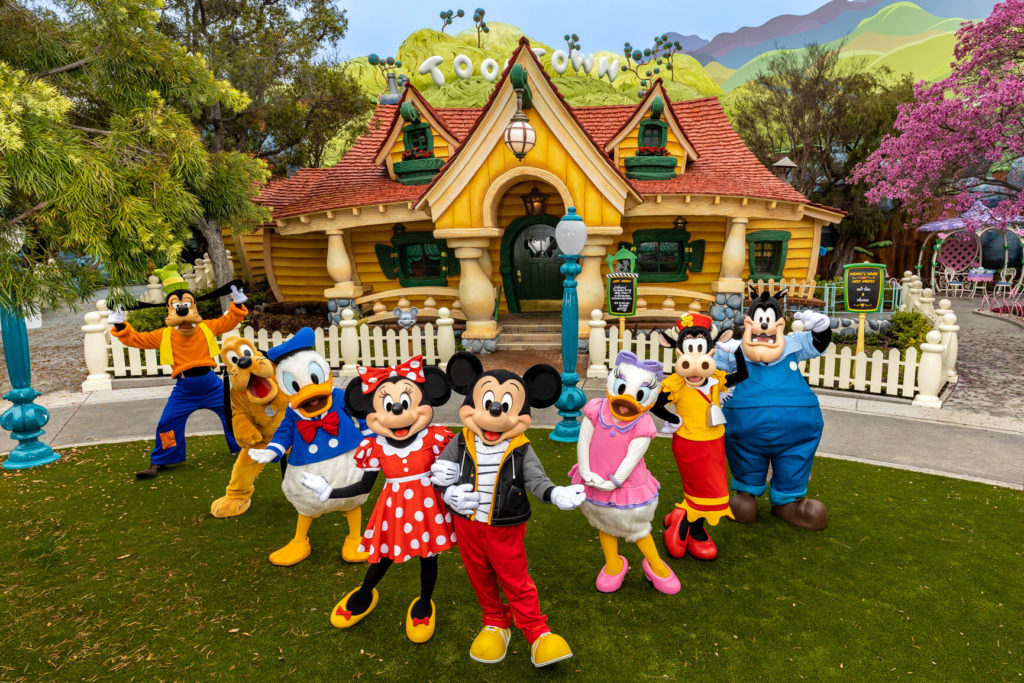 The magic is still calling to the magical place on earth. Walt Disney World's 50th anniversary festivities are now over but the magic is still there. In the Disney Hollywood park, and more precisely in the area dedicated to the Toy Story universe, a restaurant has opened very recently: Roundup Rodeo BBQ Restaurant. The concept of the land is already to shrink to the size of a toy but the immersion goes even further. Woody invites us with all his friends to eat together…but be careful not to move when Andy arrives because after all we are toys. With a card that Estelle has already presented to you, this immersion is really a step that seems almost unavoidable now.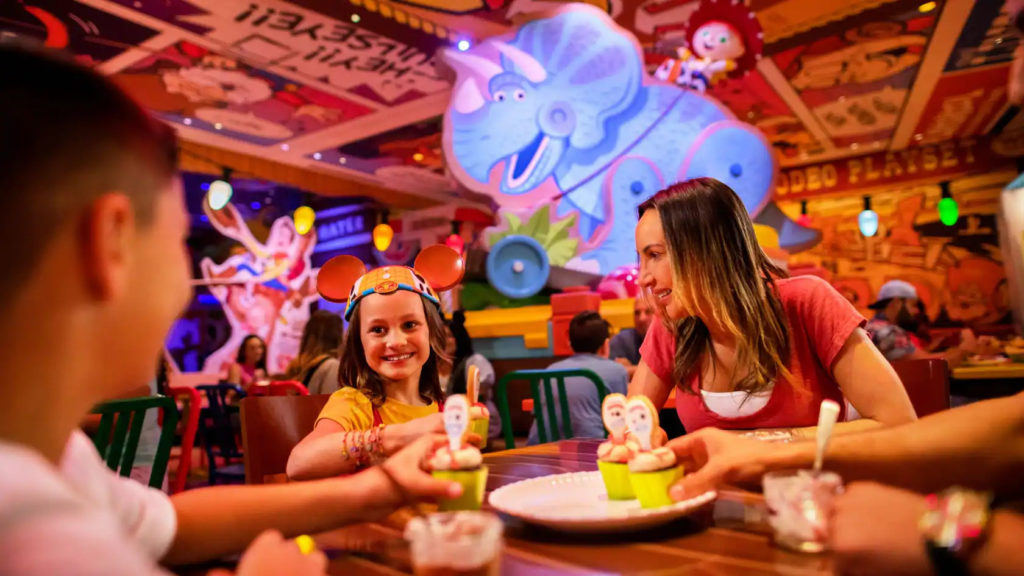 🍽 A la carte in the world By Estelle
Today, let's go on a trip! I'm taking you on a gourmet tour… get your knife and fork ready, here we go!
Easter is approaching and the Disney parks have a lot of new things in store for us! And this is the opportunity for me to make you discover all that.
Walt Disney World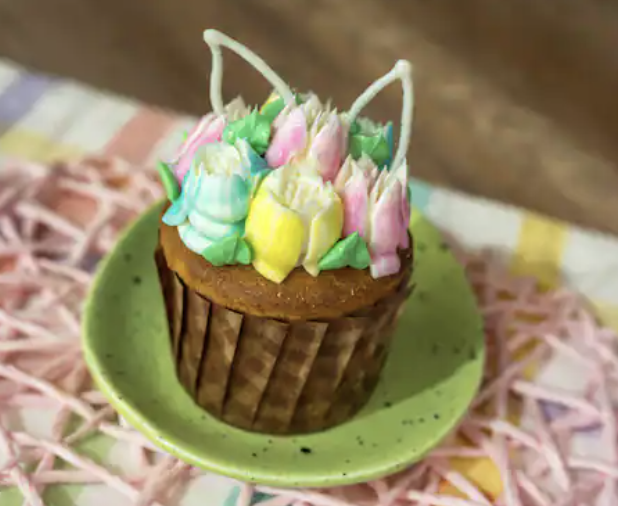 At Walt Disney World, whether in the different parks or in the hotels, Easter will be present on the Guests' plates! To make you salivate, I present you three delicacies that I have selected!
Bunny Ear Cupcake : Cupcake with pineapple and buttercream filling.
Carrot Garden Fudge : Chocolate fondant with a carrot-shaped vanilla biscuit.
Coconut Sugar Bunny Cupcake : Carrot cake with pineapple, buttercream and coconut.
Disneyland Resort
Disneyland Resort will be spoilt for snacks! Cookies, ice cream, doughnuts, there will be something for everyone! Mickey and Minnie have put on their best rabbit costumes!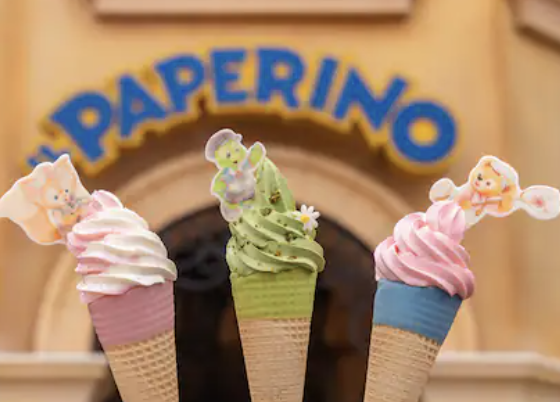 Shanghai Disney Resort
Shanghai Disney Resort and more precisely at the Shanghai Disneyland Hotel, it will be possible to have brunch on 8 and 9 April and on 13 and 14 May. A special spring brunch with new themed desserts! All cooked in front of the Guests. There's plenty of food to feast your eyes on!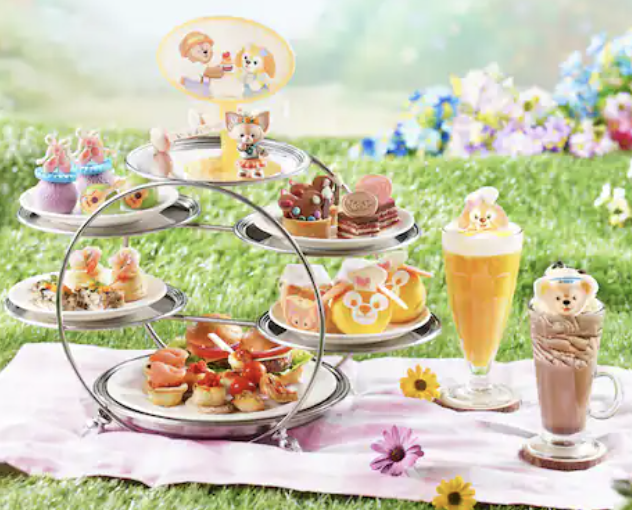 The little extra we like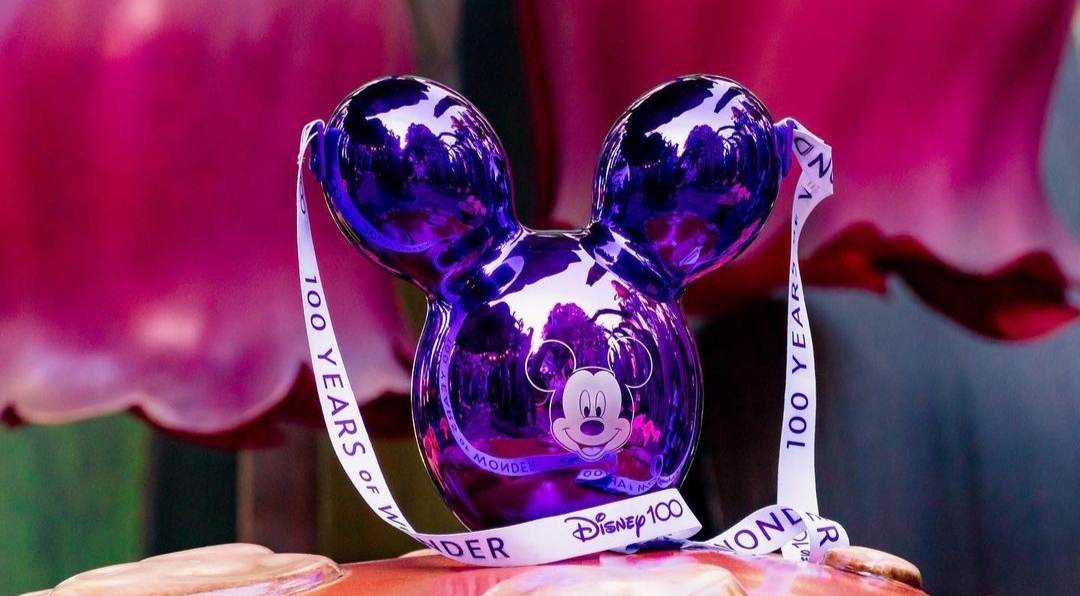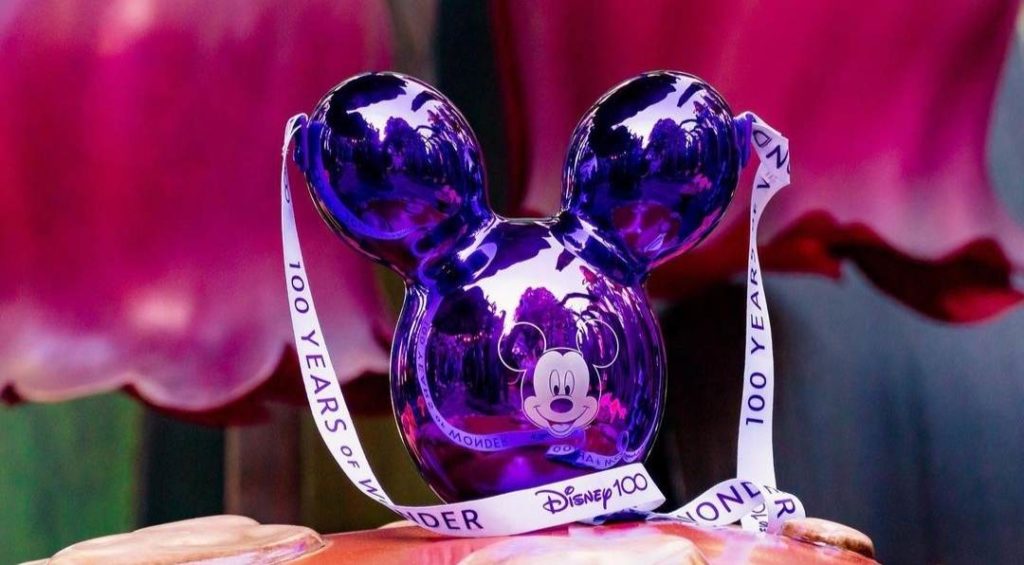 You can't eat it, but you can eat what's inside: popcorn! At the Disneyland Resort, a new Disney 100 popcorn bucket is available in the Disneyland park and the Disney California Adventure park!
We love these little things especially with Mickey's effigy!
🛍 Magic shopping By Jane
With the official arrival of spring, Shanghai Disney Resort is introducing new floral merchandise to accompany its seasonal themes. ShopDisney and a new Disney x Pandora collaboration celebrate classics from the Disney archives. Finally, Primark is showcasing our favourite characters with warm weather in mind.
Shanghai Disney Resort : Floral Fragrance Spring Flowers Collection
In Shanghai, home of the adorable Duffy and Friends products, the 2023 Duffy and Friends Floral Fragrance Spring Flowers collection is starting to arrive. Each of the characters is dressed in lilac with spring floral details. Visitors to Shanghai Disney Resort can also find headbands, blankets, bags and more.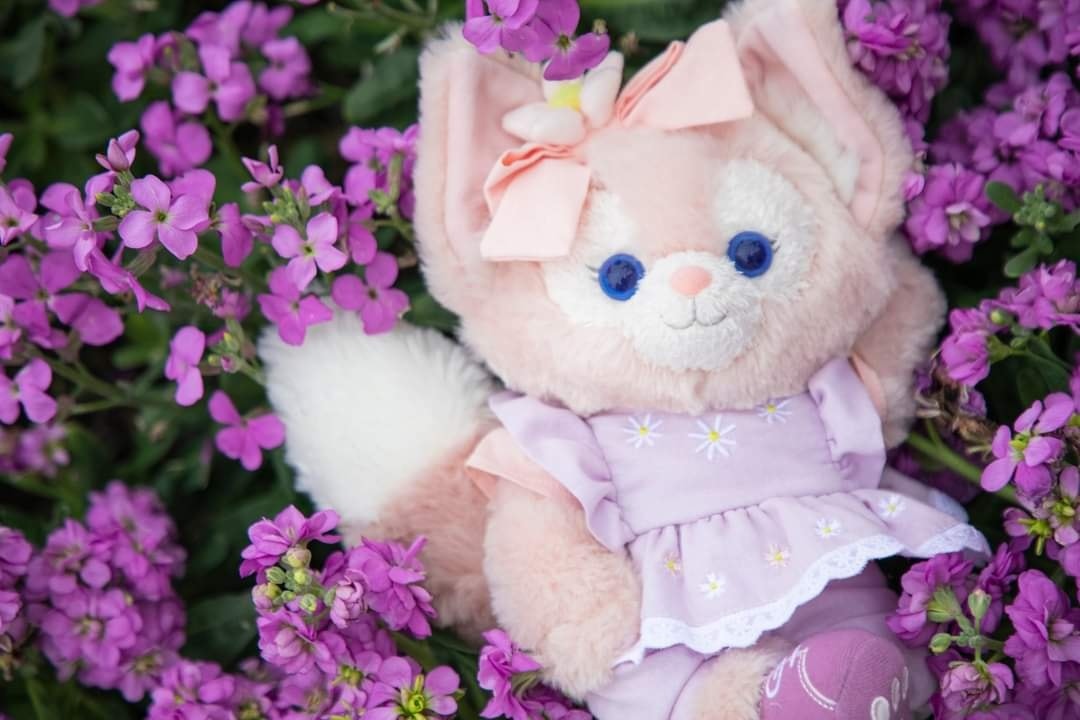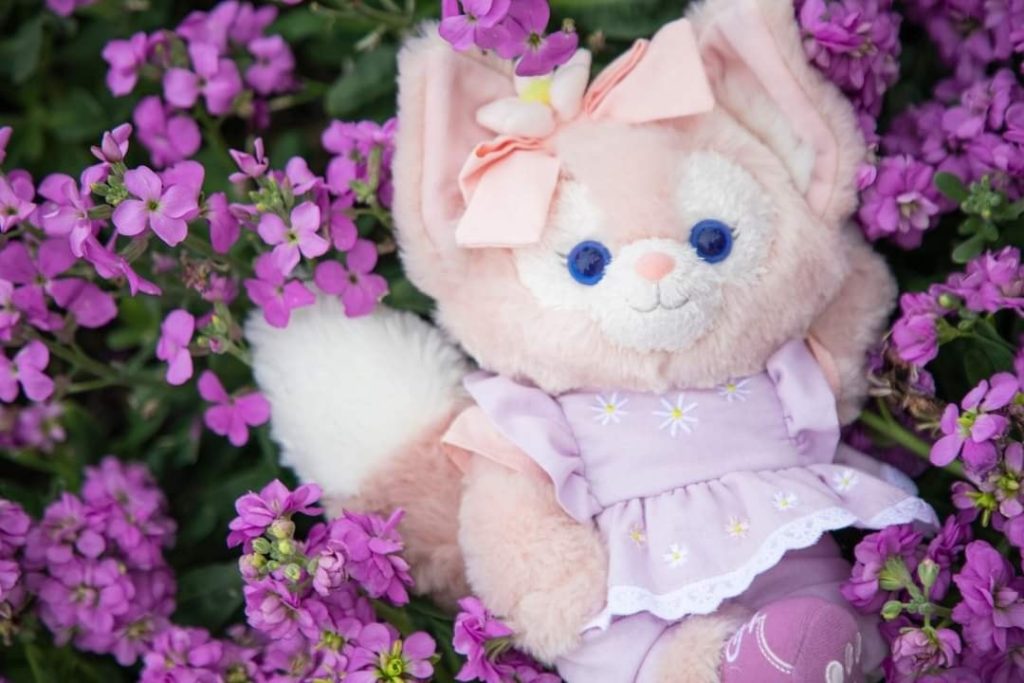 ShopDisney : The Decades Collection
On ShopDisney, the Disney 100 Decades collection has reached the 1920s. Naturally, the collection focuses on Steamboat Willie, the first Mickey Mouse film to be released in theaters. This short film was released in 1928, becoming the first Hollywood animated film to include synchronized sound.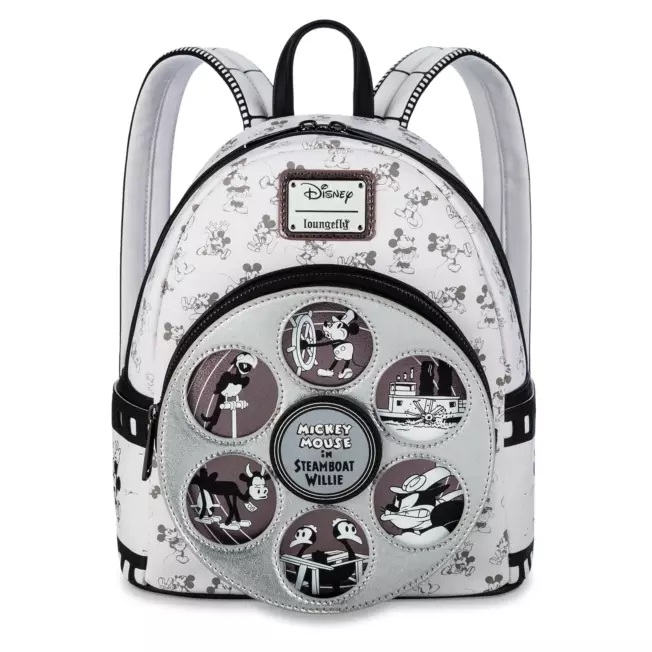 A charming detail, the 1920's merchandise is done entirely in black, white and grey. The Mickey and Minnie Steamboat Willie plush set will cost you £35.00 or €45.00. The plush toys have a few extra touches that make them worthy of their place in the celebration range. For example, they feature detailed carvings and embroidery, and come in a drawstring bag.
Disney x Pandora Tinker Bell
To celebrate the upcoming Peter Pan and Wendy movie and the 70th anniversary of the Peter Pan movie, Disney and Pandora have launched a new collaboration. Among the jewellery on offer is the Disney X Pandora Tinker Bell bracelet with Pandora Moments Snake Chain clasp, priced from £90. The bracelet, which is justifiably priced, features an adorable Tinker Bell and a tiny motto stating "I believe in pixie dust".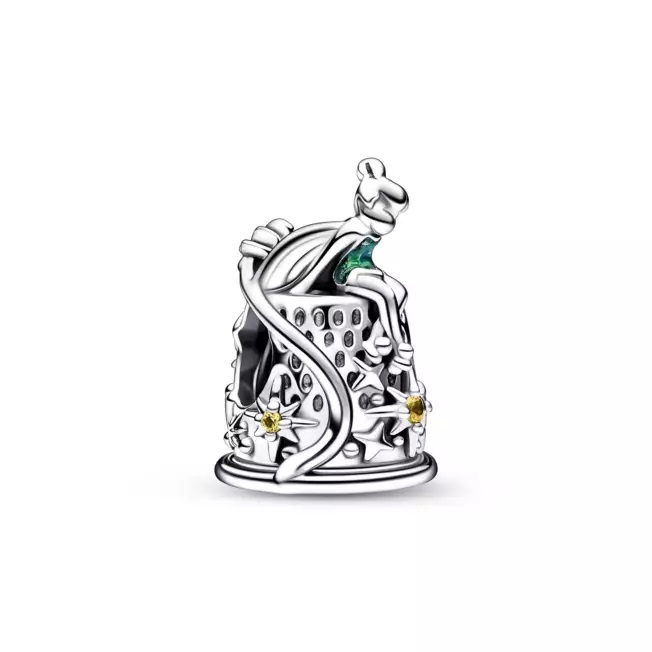 The Disney x Pandora Tinker Bell range also includes the Tinker Bell Celestial Night Dangle Charm. Priced at £60, this charm is made from sterling silver and 14 carat gold, with the starlight provided by two cubic zirconia. And in a nod to Tinker Bell's first moments in the film Peter Pan, there's also a thimble charm. This charm, which will cost you £50, features green enamel detailing that brings Tink's dress to life, while also carrying on the celestial theme.
Primark Marvel for Kids
Many of us need a new summer wardrobe, and Primark knows it – so our favourite characters are back in shop! The ranges vary somewhat from country to country. Amongst the many options, UK shops have been promoting Marvel kids suits from £10.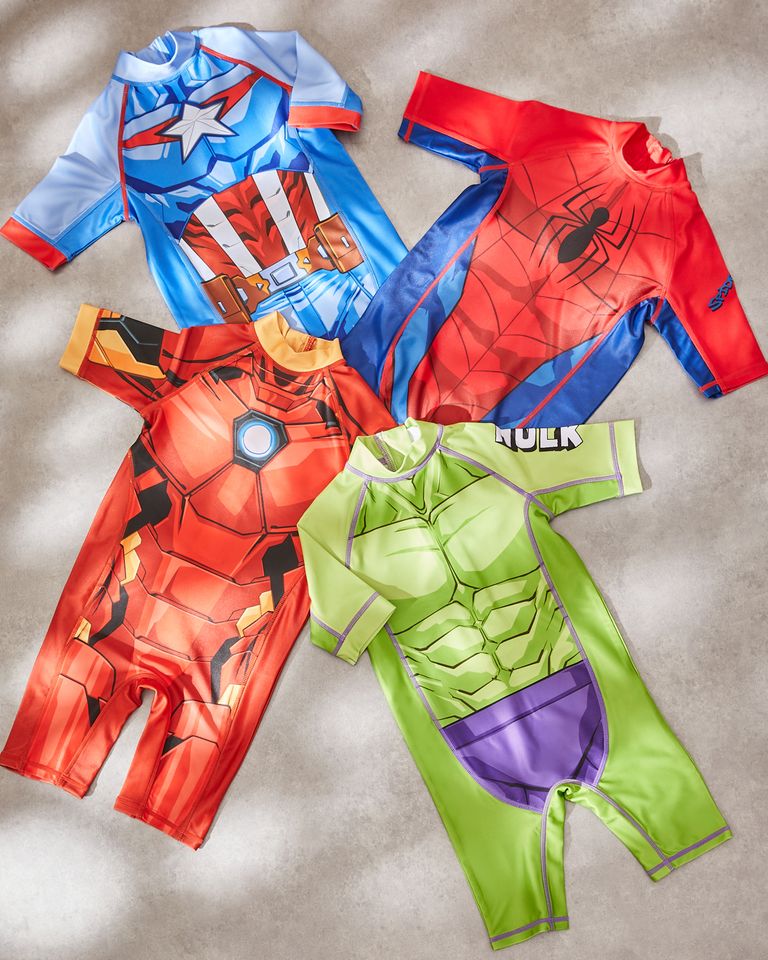 Your young Spider-Man, Hulk, Captain America or Iron Man can now find the perfect beach outfit in the discount clothing shop. These Marvel swimming costumes are available for children from 1.5 to 8 years old.
🎬🎮 Disney play By Eren
Here we take you on a world tour of Disney news through the media.
Ask for the programme!
On March 29th, a brand new Disney Original Movie was announced.
CRATER will be offered exclusively on the platform from May 12 and will be directed by Kyle Patrick Alvarez (known for his work on 13 reasons why). With a large cast, this exclusive film will be an initiatory tale, at the crossroads of adventure and science fiction.
Not much information for the moment, but we have a logo and a summary. I'm tempted, what do you think?
Summary:
Following the death of his father, young Caleb Channing, who has always lived and grown up on a lunar mining colony, is about to move to an idyllic distant planet. But in order to fulfil his father's last wishes, he grabs a mining vehicle before leaving and, together with his three best friends, decides to explore a mysterious crater…
Disney games
This section could not exist without talking about the gaming news of the company with big ears. We won't make a very long review this time, the news has been rather quiet.
Speedstorm
We recently told you that the racing video game Speedstorm should soon be released on the video game market.
Since then, the social networks of this game keeps revealing visuals on this future hit totally free. We're not going to list all the images that have been revealed, but we'll let you enjoy this music from the game. Unveiled recently, it should evoke you some well known sounds….
Marvel Snap
On the Marvel Snap side, the Days of Future Past season continues with many updates. A new map has appeared (Kitty Pride), but it has also disappeared due to bugs.
We are waiting for its return and for some evolutions on the game side, which needs to be more consistent to be really enjoyable.
Indeed, although the game is still exceptional, and surely one of the most qualitative games on Smartphone, it has its flaws. Bugs are frequent with each update, and rebalancing is also regular and forces you to constantly monitor the maps to see if they have changed.
This is sometimes frustrating, let's face it. However, we can put it into perspective by keeping in mind the youth of the game.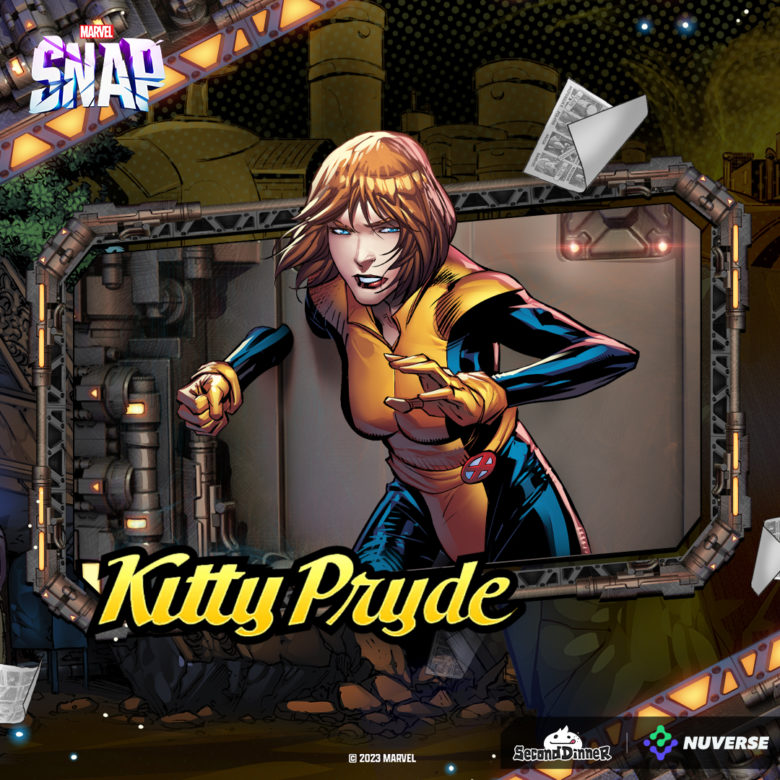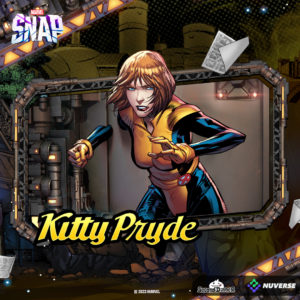 Anyway, we'll keep playing it, and don't hesitate to share your decks in the comments!
Lorcana
On the Lorcana side, we have already given you most of the current information in a previous issue. We don't have much more information, but the cards are coming out little by little.
This allows us to discover different features as we go along. We're starting to get a good feel for the rules, but we're waiting for more information before we can tell you anything about them with more certainty.
For now, however, we can show you the latest card revealed. Goofy enters the game!
The illustration is sublime, we are delighted to see Goofy highlighted, and moreover, his power seems really useful (with his "evasive" ability, he can only be attacked by characters with this ability)!
It makes us want to add it to our future deck… But we're obviously waiting to see more cards before deciding.
---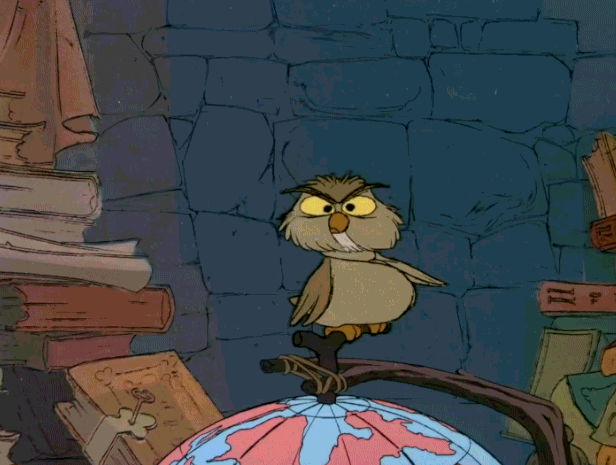 Notre vol sur Worlds of Disney est maintenant terminé et vous voilà de retour chez vous. Nous espérons que votre voyage a été agréable en notre compagnie ! Ne loupez pas notre prochain numéro pour un nouveau tour du monde de l'actualité Disney.
Pss ! Si vous avez loupé le numéro précédent, c'est par ici !