The Disney planet is spinning a little too fast for you and you've missed some news? Hakuna Matata! Worlds of Disney is here to give you the latest on Disney news from around the world! Make yourself comfortable and come on board with us, it's time to travel the globe without jet lag!
In our second issue, a cruise on the warm waters of the Pacific, more mouth-watering food and Christmas just around the corner: you can't say we're not spoiling you!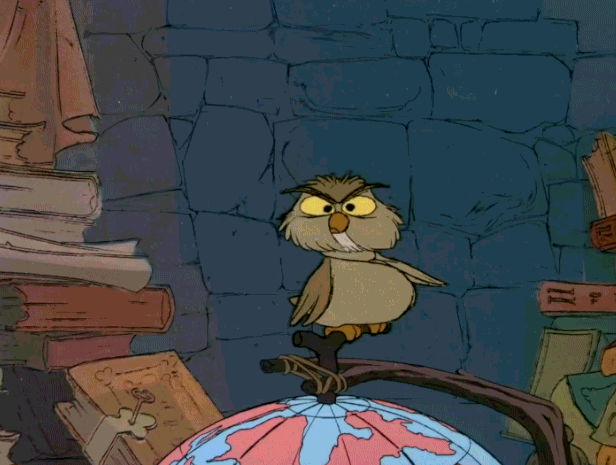 Worlds of Disney – Would you like some people?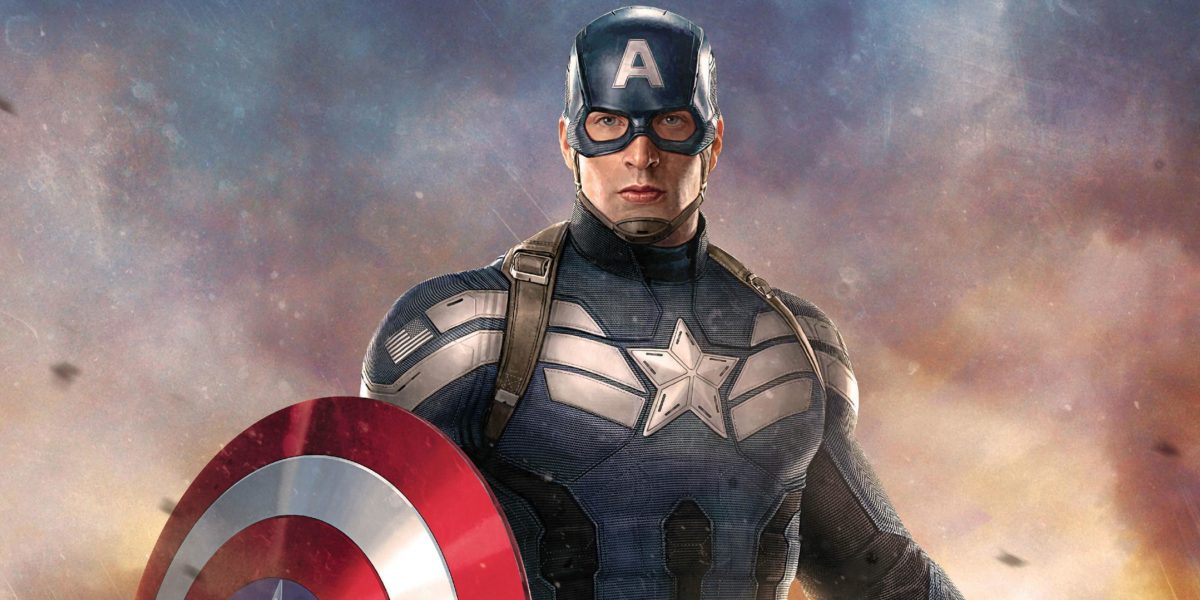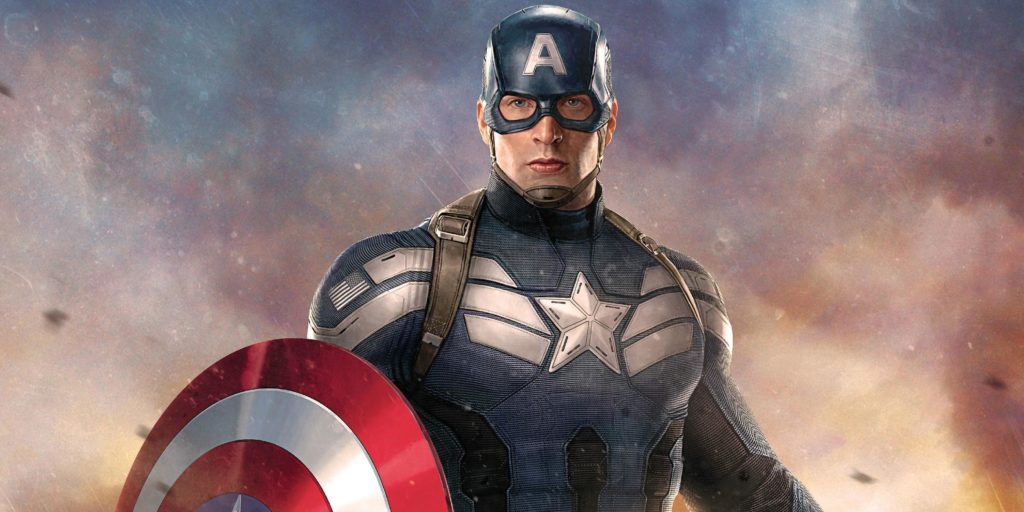 After Antman (Paul Rudd) in 2021, it's Captain America's (Chris Evans) turn to succeed him on the throne for the title of Sexiest Man Alive in 2022 (awarded by People magazine). The 41-year-old actor was very flattered and said that "the teenager in him is pumped up about it".
Any predictions for next year? We'd like to bet on the Hulk!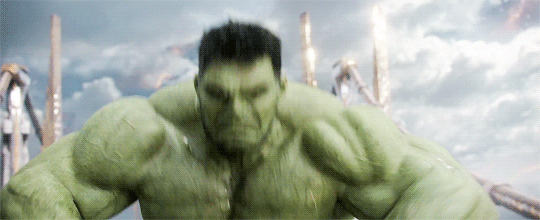 ---
📢 Disney experience By Valentin
Disney Cruise Line : Marvel at Sea
It's a small after all … Yes, it's already time to set off on our little cruise around the world to discover what's new.
And speaking of cruises, in early 2023 the first Disney Cruise Line Marvel at Sea cruises will take place. For those who are not familiar with Disney Cruise Line, they are Disney-themed cruises. The idea behind Marvel at Sea cruises is to celebrate the Marvel universe with exclusive character encounters such as Captain America, Black Panther, Shang Chi, Miss Marvel, Mighty Thor… and, in a world premiere, Wong.
In addition, there are shows and activities to keep passengers entertained. So Marvel fans, Avengers Assemble!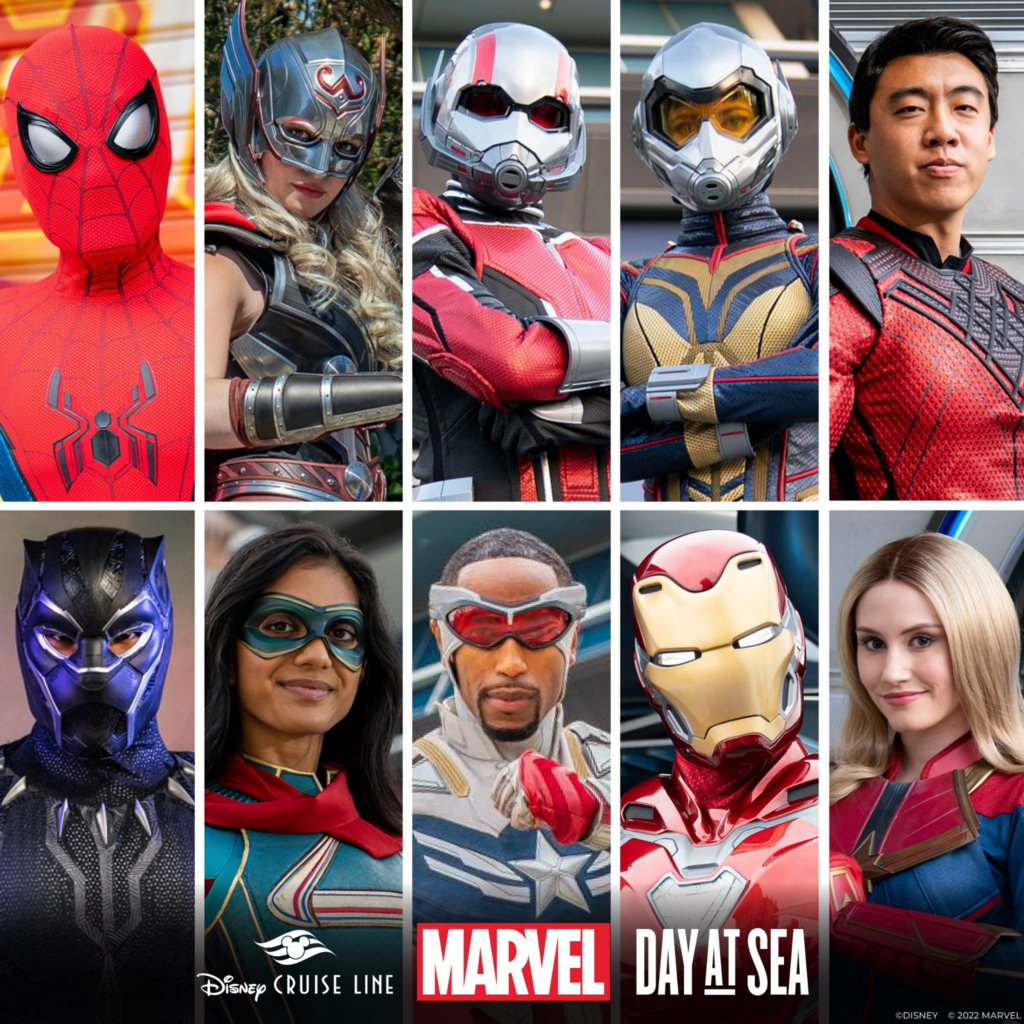 Shanghaï Disneyland
Let's get back on our little boat and stop at Shanghai Disneyland which unfortunately had to close its doors on October 31st because of the Covid. It's a sad news for the fantastic world of Disney and let's hope that it will reopen quickly. To date, no date has been communicated…
Hong Kong Disneyland
All aboard, folks! Here we are in Hong Kong Disneyland where our two favourite sisters see their kingdom continue to be built. In this expansion the park will introduce 2 new attractions, a dark ride on a replica boat from the EPCOT park in Florida and a family coaster. So get ready to go "into the unknoooooooooooooooown" in 2023.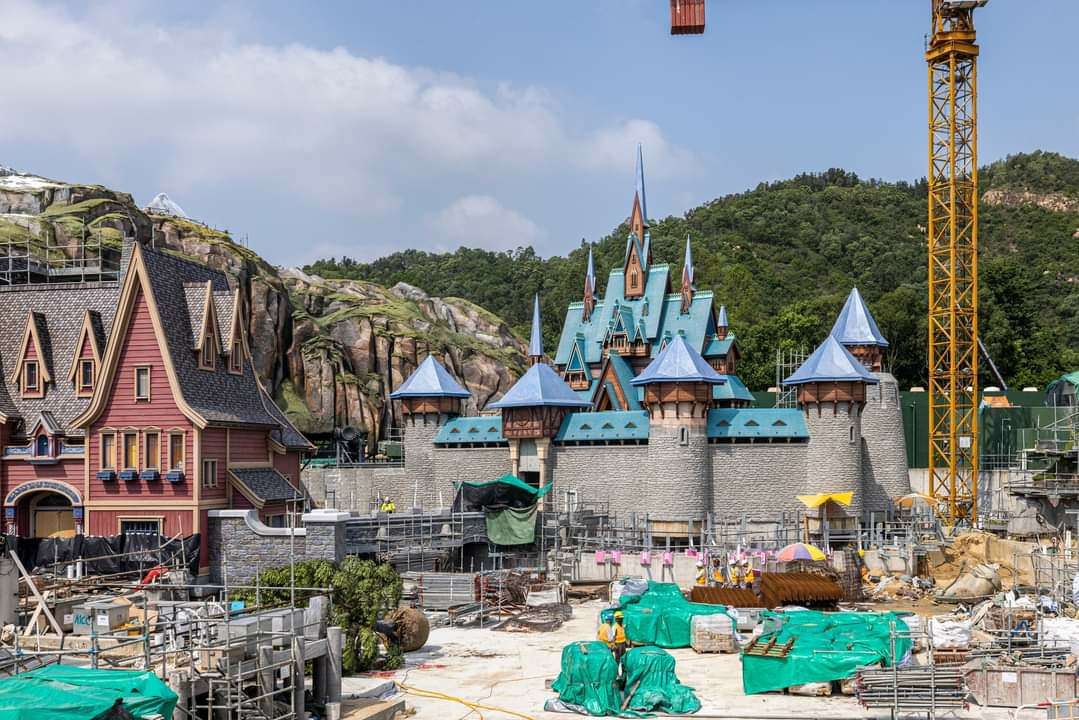 Tokyo Disney Sea
Quick! Let's run away before Elsa starts singing Let it go! Let's take our boat back to Tokyo Disneyland and more particularly to Tokyo Disney Sea, the second park of the resort. Indeed, this park will also be entitled to an extension on Frozen theme as part of the construction of its new Fantasy Springs land. Three universes will make up this place (a sort of Fantasyland for their second park):
one in Frozen theme,
the second one about Tangled ;
and the last one about Peter Pan.
Here are the new concept arts of this place that already makes us dream!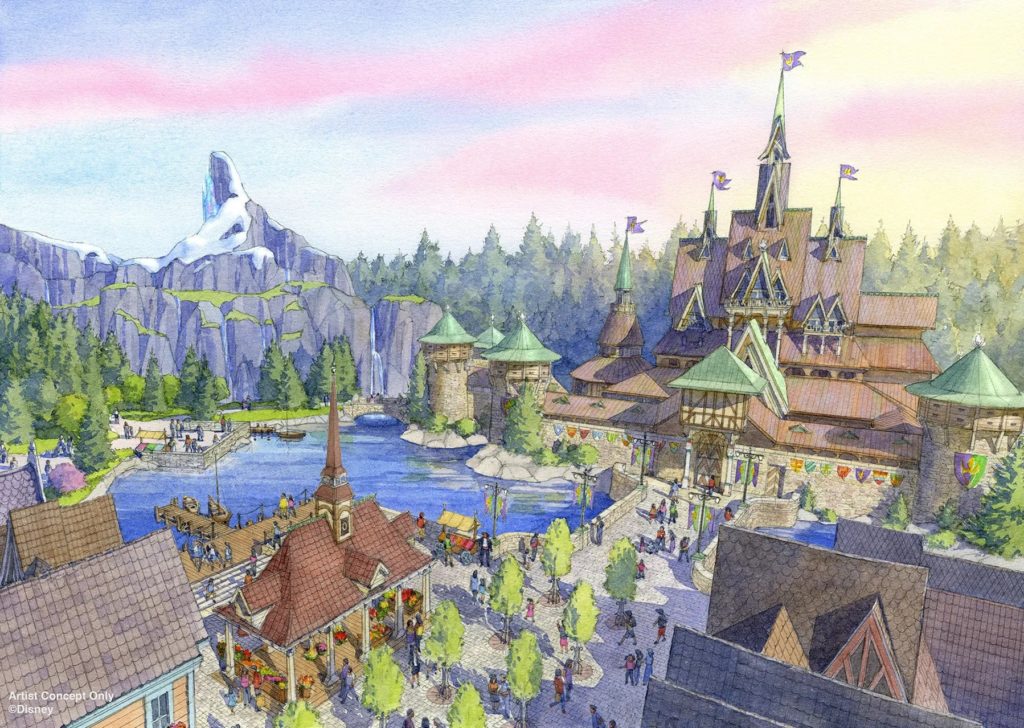 Wait a little longer, our visit to Japan is not over. Tokyo Disney Sea Park hosted a brand new show called Believe Sea of Dreams on 11 November 2022. This night show is located on the park's indoor lake and is a mix of fireworks, projections, screens and water floats with our favourite characters such as Miguel, Elsa, Peter Pan…
Walt Disney World
And to finish our cruise around the world, let's stop at Walt Disney World and more precisely at Disney's Hollywood Studio Park. In our previous issue, I told you about the return of the Fantasmic show. Well, the return of this classic Disney park show has been updated with new sequences incorporating the latest Disney and Pixar movies (such as Encanto), as well as Disney classics such as Mulan, Aladdin, Frozen, Pocahontas…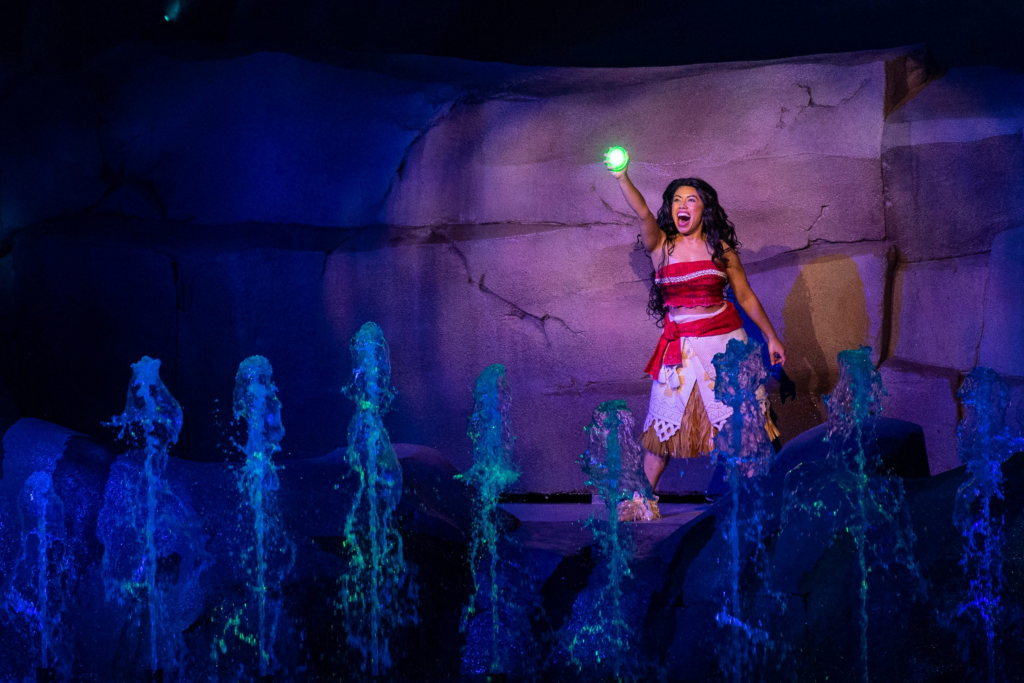 PS: Our round the world cruise ends here, please don't forget anything on board, the descent is on your right.
🍽 "A la carte" around the world By Estelle
"Everyone can cook': it's time to sit down to dinner with Worlds of Disney! Let's take a little tour to see what Worlds of Disney has to offer to wake up our taste buds. We invite you to come on board with us… the journey begins.
New restaurants at Walt Disney World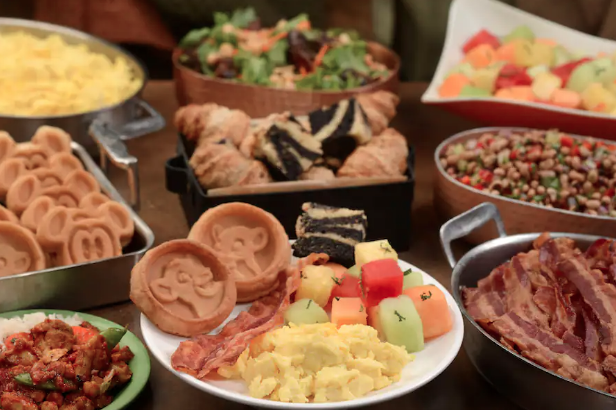 As of November 1, the Tusker House restaurant at Disney's Animal Kingdom has switched to a new dining experience featuring an all-you-can-eat buffet with an African-inspired menu. The restaurant welcomes you from breakfast to dinner.
In addition to the famous Mickey waffles, guests will find Simba waffles. For lunch and dinner, tandoori chicken and green curry shrimp await you, as well as macaroni and cheese and an assortment of desserts to finish your meal. The little extra that we appreciate (which is always a pleasure) is meeting Donald and his friends!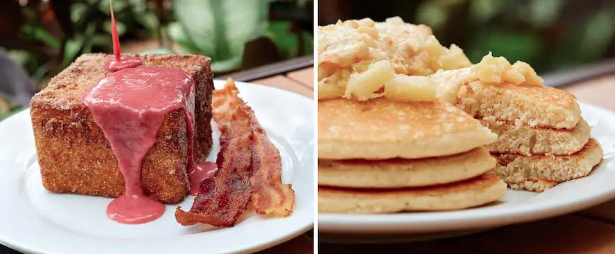 Let's go to the Kona Cafe at Disney's Polynesian Village Resort! Since November 1st, it is again possible to dine there. We'll say that the concept changes but remains a little bit similar. American cuisine with an Asian touch will be offered. However, guests will still see the chefs cooking in front of them! The atmosphere and the style are likely to seduce many.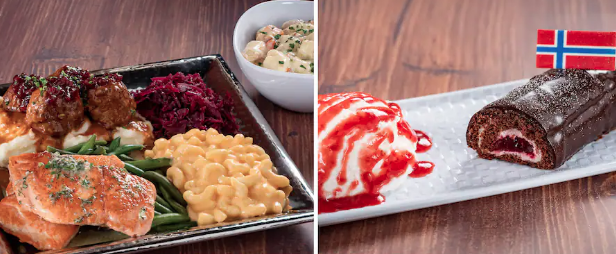 Get out the coats and skis because our trip to Walt Disney World continues… On 4 November, the Askershus Royal Banquet Hall restaurant at EPCOT reopened its doors. A traditional Norwegian culinary experience awaits visitors. Signature dishes from Norway will be on offer. Yummy!
Halloween is over and Christmas begins
"This is Halloween, this is Halloween" But no, it's almost Christmas… And Christmas means a gingerbread house!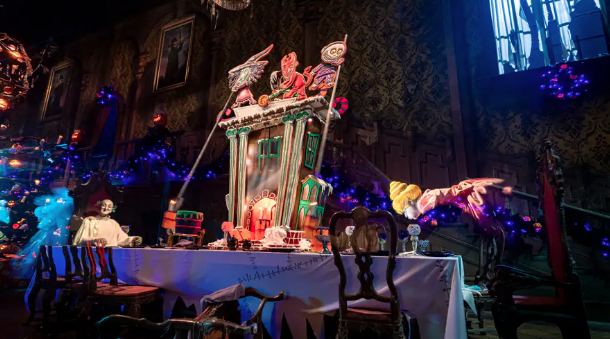 In the Haunted Mansion attraction at Disneyland Resort, visitors will be able to discover the Haunted Mansion Gingerbread House (yes, we would like to see that in France too). It took 20 days of work for the bakers and 135 kilos of gingerbread with three moving parts. You have until 8 January 2023 to eat it with your eyes!
From 14 November, it will be possible to admire the giant replica of the hotel at Disney's Grand Californian Hotel & SPA. To give you some figures, it is about 2 meters high and 3.70 meters wide. It took 272 kilos of gingerbread and powdered sugar and 25 hidden Mickey's.
Well, now that the stomach, or rather the eyes, have been filled, we can leave the table!
🛍 Magic shopping By Jane
Christmas is really here for Disney Store and licensed products around the world! The few remaining Disney Stores are bringing the season to life. And another popular brand has covered the matching pyjama trend!
Christmas at the London Disney Store
The last Disney Store in the UK has pulled out all the stops for the Christmas period. As always, the shop is filled with plush toys and decorations. This year, Disney Christmas homewares are also featured.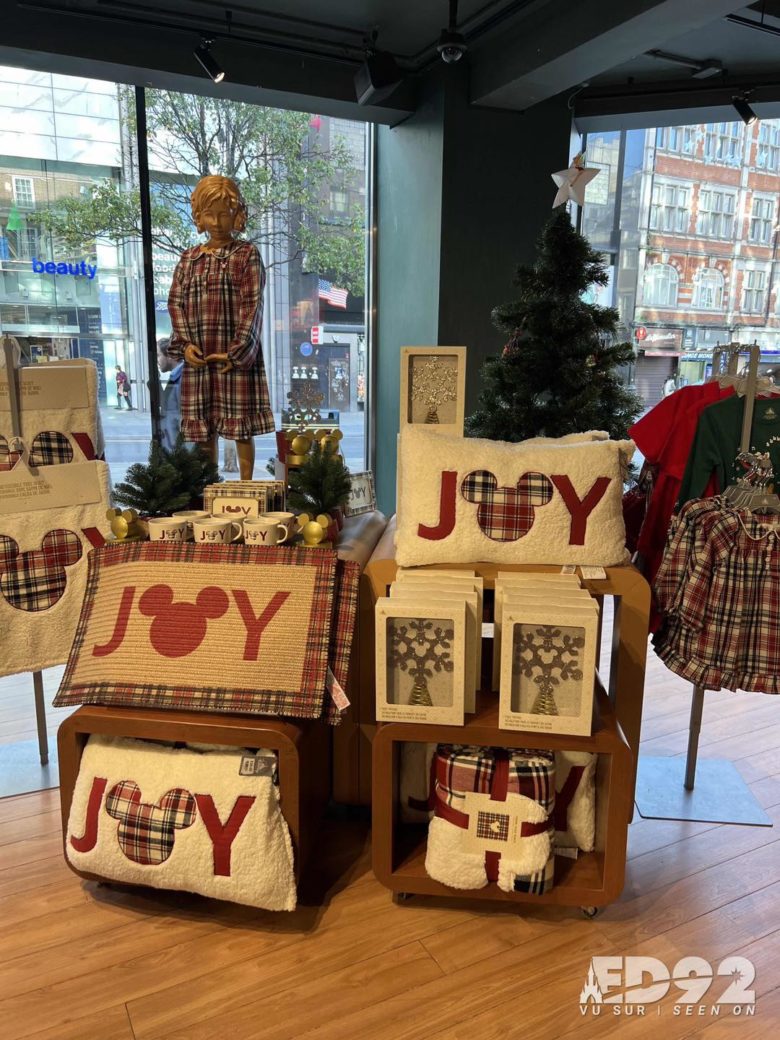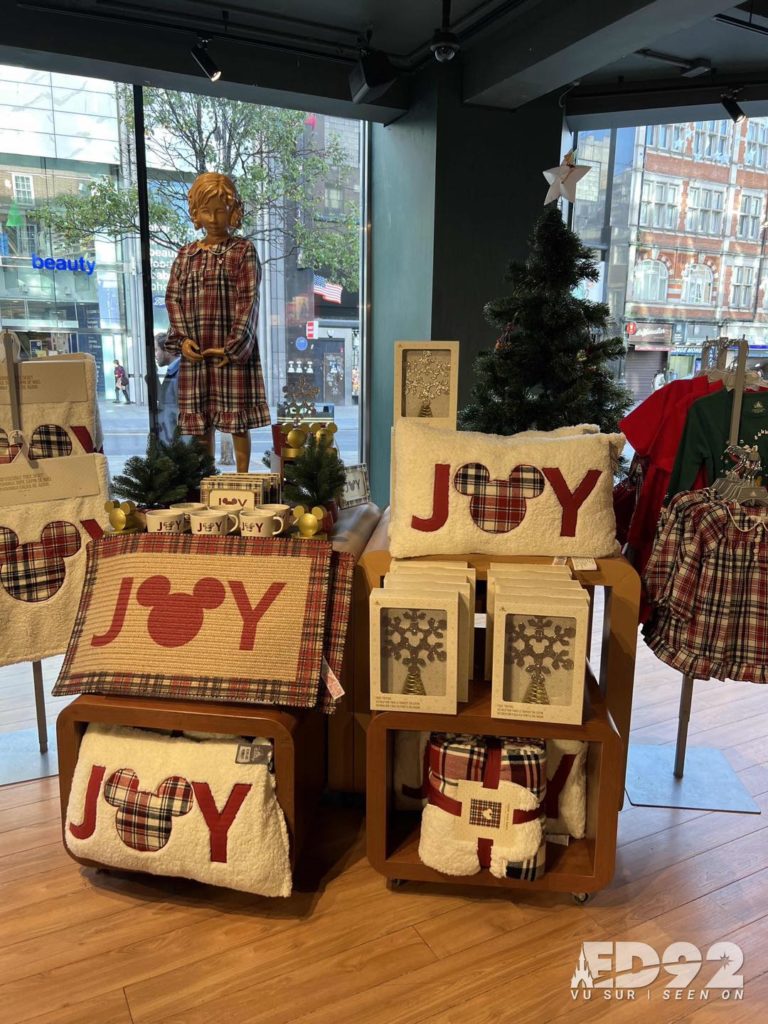 Don't miss Chip and Dale who are already hiding in a stocking, waiting for Father Christmas!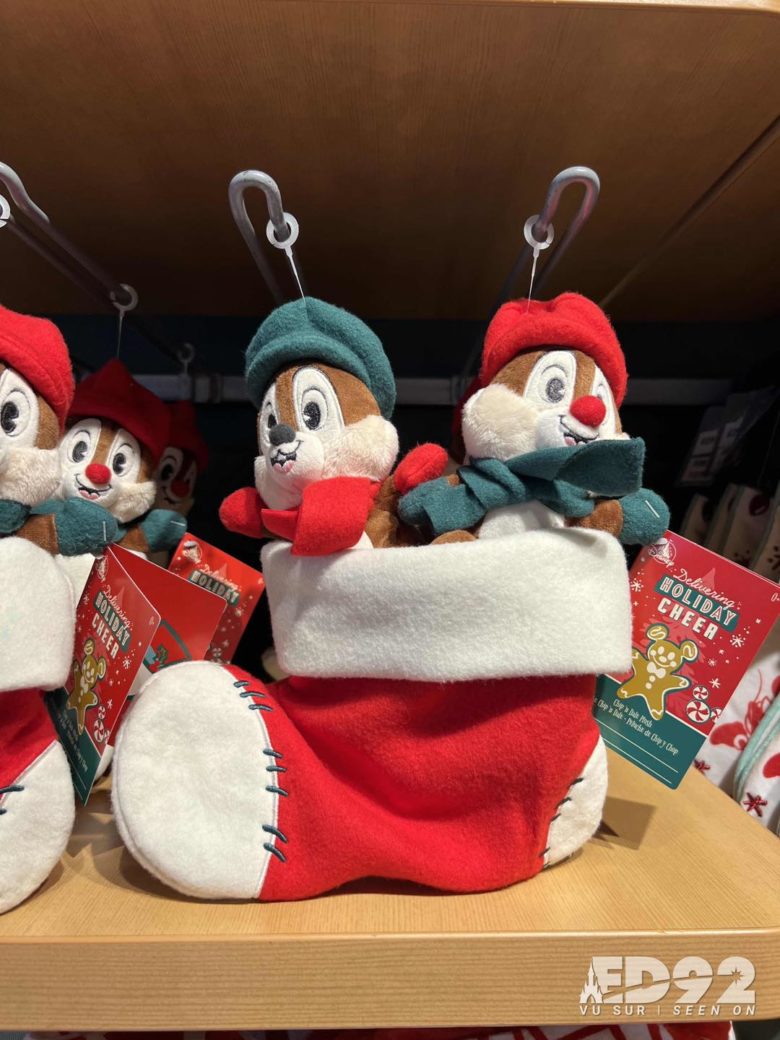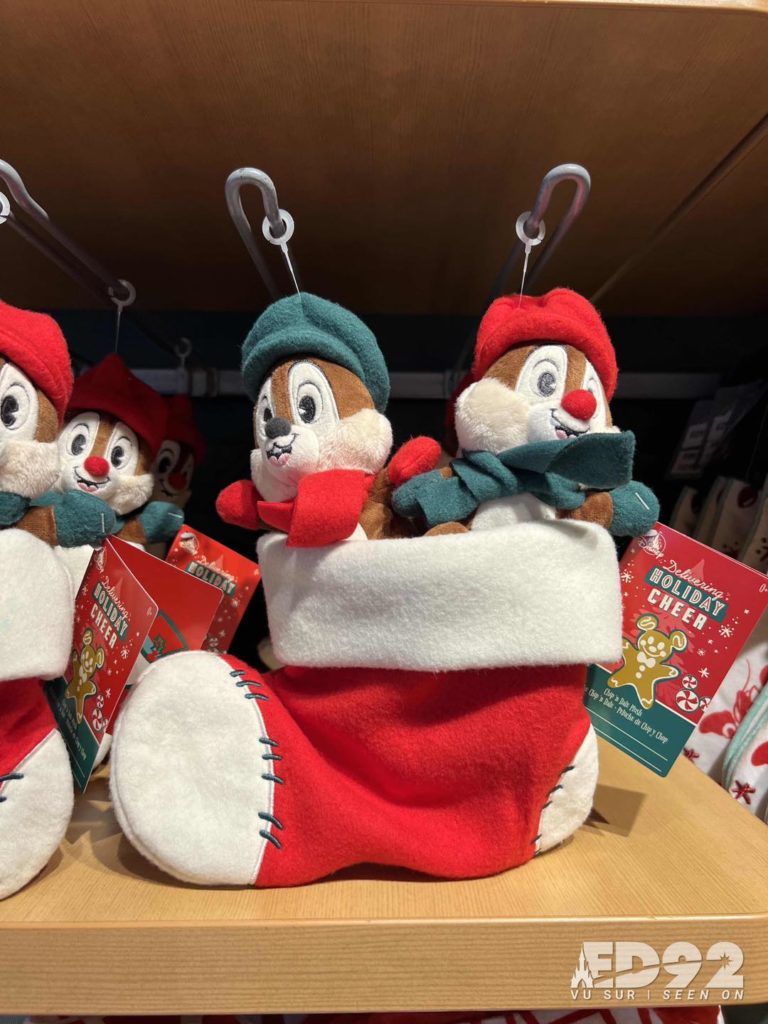 Christmas at Primark: Disney pyjamas
Primark shops worldwide have been promoting the new Disney 2022 Christmas pyjamas for the whole family. In Europe, Primark has made a name for itself in the field of officially licensed Disney products.
With the family pyjama trend still going strong, Primark has launched a Mickey and Minnie themed range for children and adults. Over the past few days, the range has been presented to customers around the world.
Shoppers can get Mickey and Minnie Christmas pyjamas with a navy blue background, or choose cosy red and white clothes.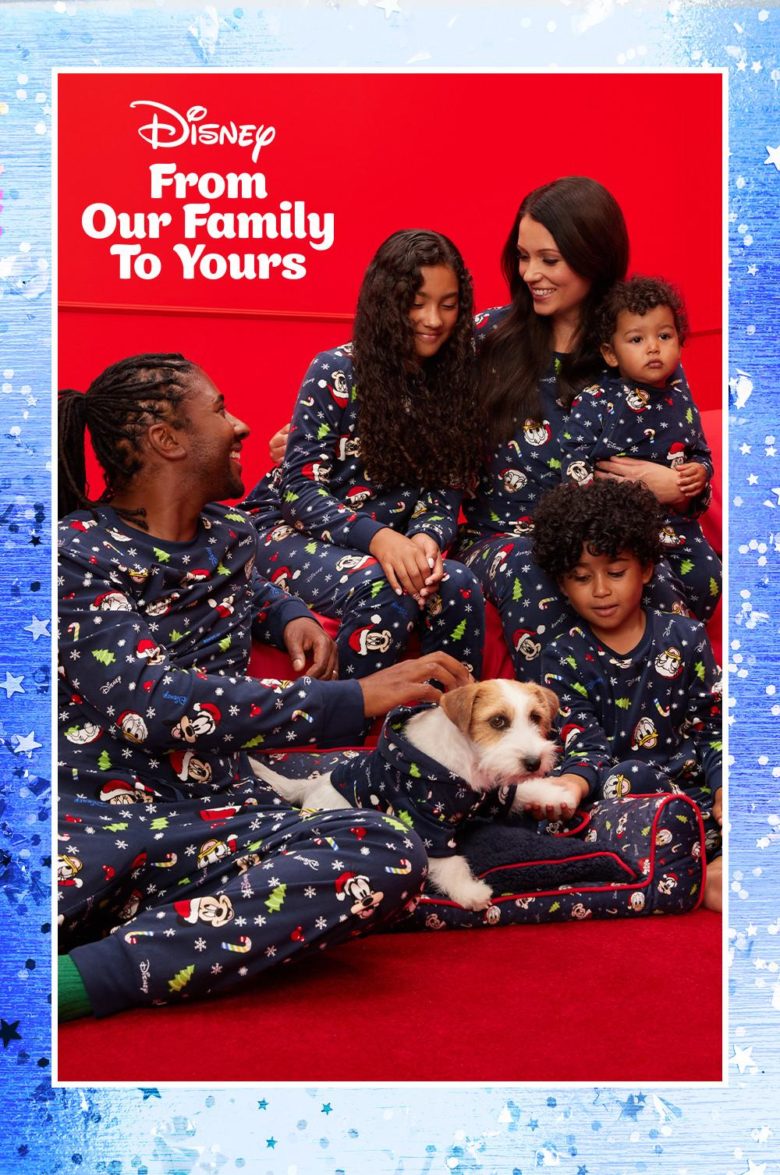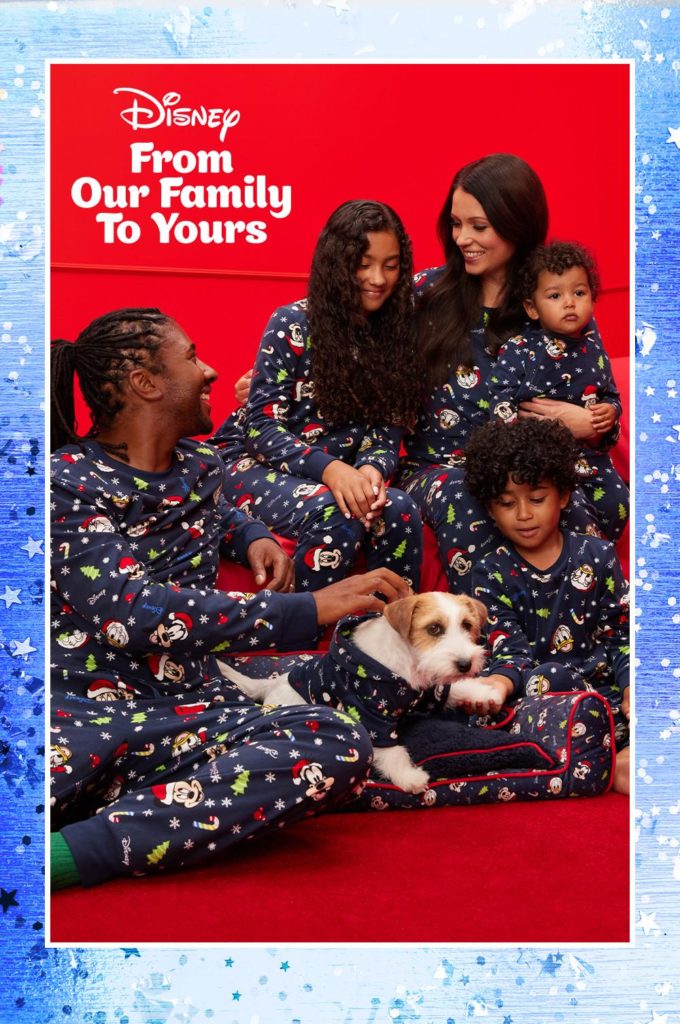 Prices for Disney print pyjamas on a navy blue background are $19 / €17 for adults, $14 / €12 for children. Even the family pet can dress up for the occasion. Yes, you read that right! Christmas jumpers for dogs are available for $10 / €9.
In the UK, shoppers are preparing for the launch of click and collect shopping at Primark on 14 November. This could change the way they shop for Disney must-haves!
🎬🎮 Disney Play By Eren
The Disney multi-media news is rich this month, let's take stock together!
Wakanda forever
Let's start by putting the spotlight on our friend Black Panther from the Marvel universe. The film had its premiere at the Grand Rex and the hype is building. Rihanna's music is regularly on the radio, and around here: we appreciate it!
To further tease the arrival of the film, Black Panther is featured in the Marvel Snap game. This is our first (but probably not last) opportunity to tell you about this mobile game that has been creating a frenzy for some time.
This card game in the Marvel universe is very quick to pick up, but the competitive aspect makes it possible to renew the games without getting bored.
The current season features Black Panther. A breath of fresh air in the game as it allows you to get new cards, but also offers new terrains. Personally I don't count my time on the game anymore, do you?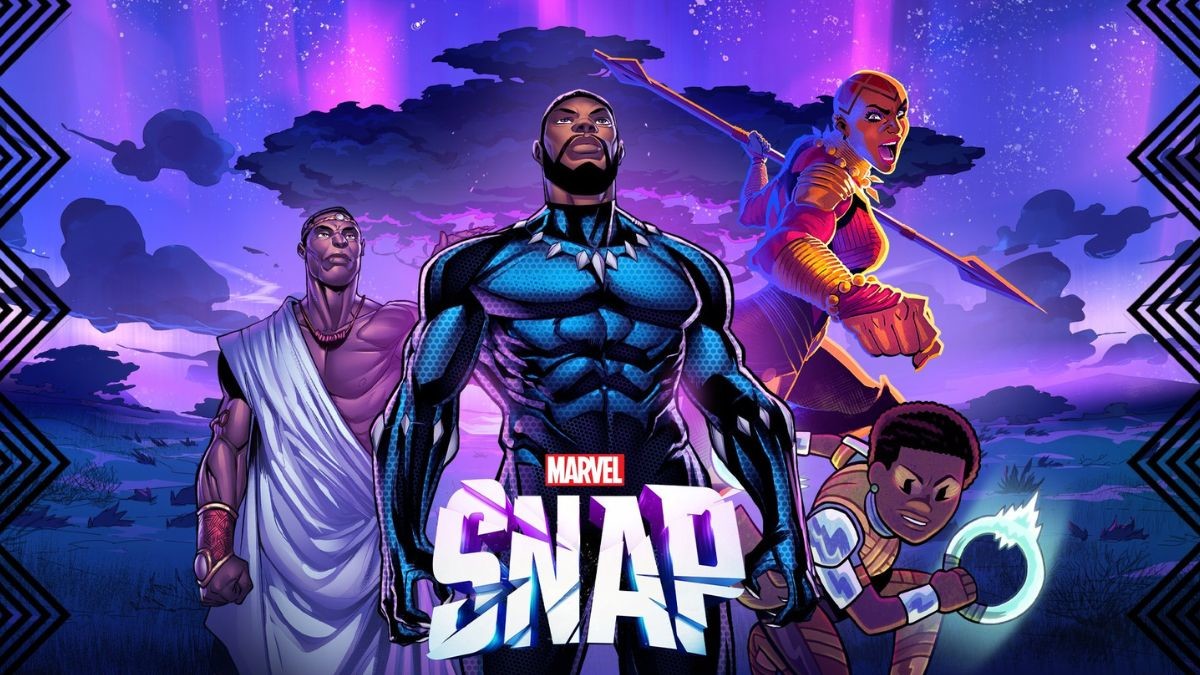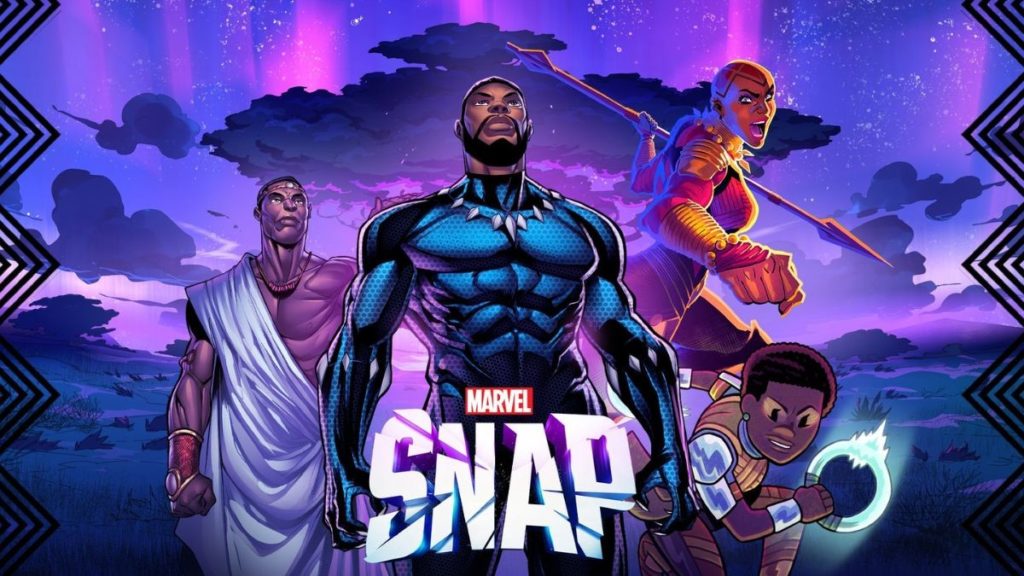 What else on Disney +?
Let's go now for the usual update on Disney +. Whether it's releases or rumours, the news is rich on this side…
First of all, we were able to enjoy the release of a brand new short film on a subject that is rarely discussed: overweight.
Reflet is about dancing, but also about being overweight. A very topical subject that has caused a lot of ink to flow on social networks.
Bianca, the young heroine, seems to have seduced internet users, given the numerous positive reviews. If you haven't seen it yet, you can go for it.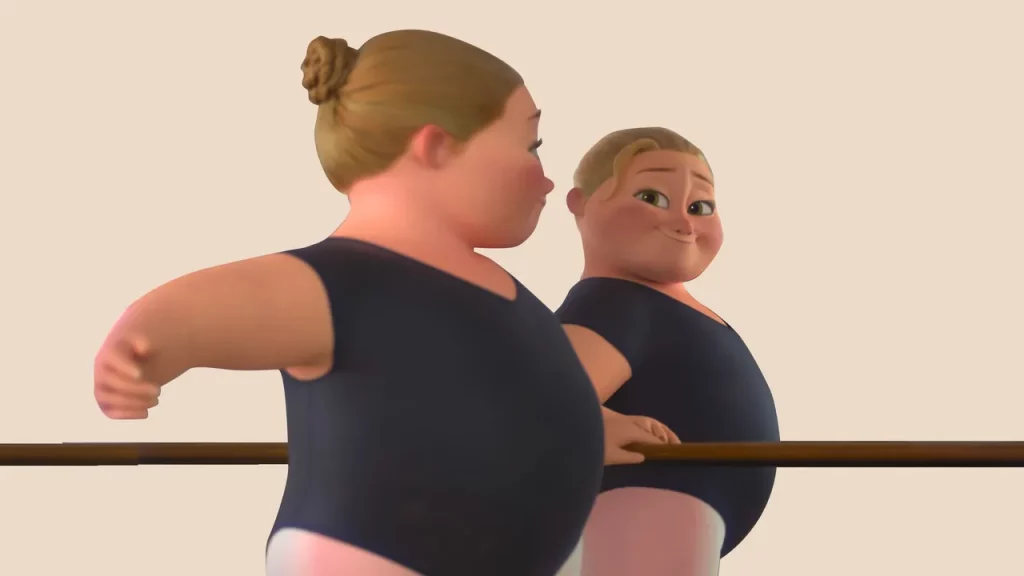 Our favourite streaming platform has also been in the news with a particularly tantalising rumour!
Indeed, despite the approach of a final episode for Harrison Ford, his famous character of Indiana Jones should have the right to a TV series.
It is Variety that announces this scoop without giving too much information. The series is currently only at the project stage.
The famous adventurer already had a series dedicated to his youth, but unfortunately neither this series nor the films are currently on Disney +.
Let's finish this streaming point with the launch of Christmas 2022 on the platform.
Indeed, 2 great novelties are going to arrive next week and will probably be part of the Christmas season.
First of all, the highly anticipated Disenchanted brings Giselle back to our screens. Hopefully her madness will touch us as much and make us laugh as much as the first time.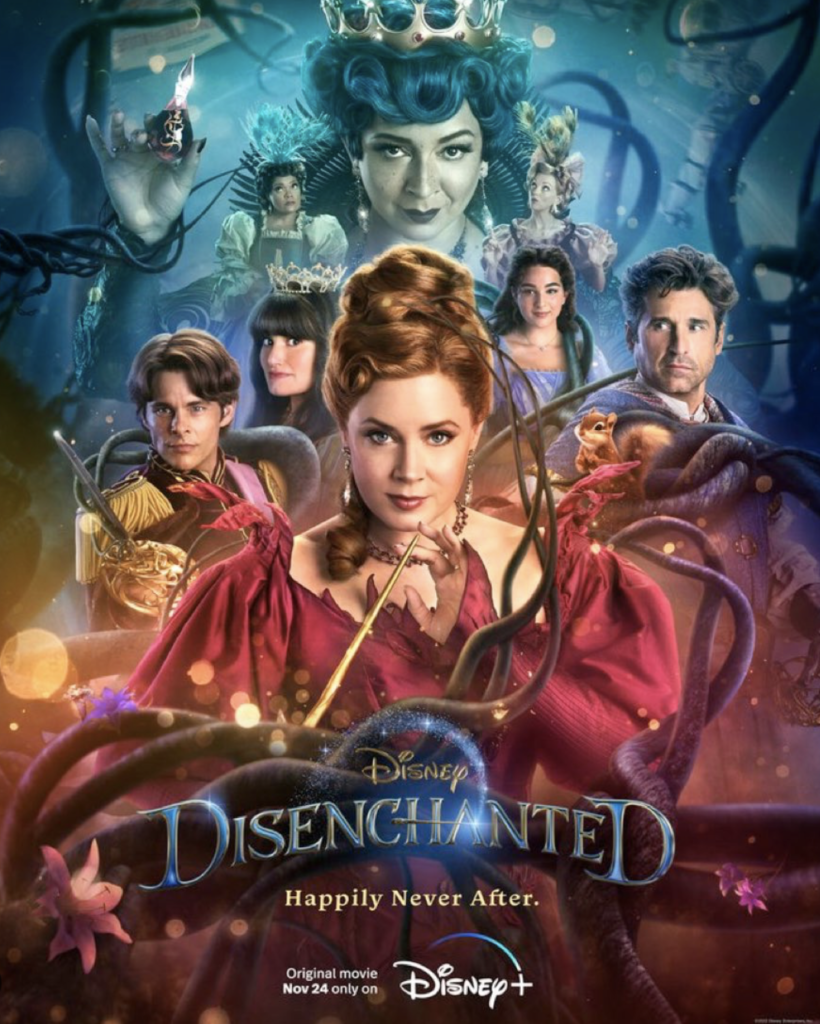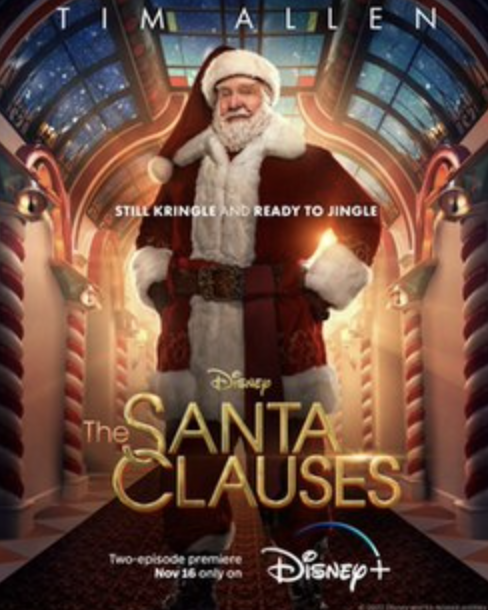 Then, The Santa Clauses is also back, but as a TV series this time. The opportunity for many to rediscover the universe, and for some like me to discover it. Let's hope that it will be a success and that the franchise will take off again, just like the mighty ducks, a saga resurrected thanks to Disney +.
Christmas is coming!
Let's stay in the Christmas spirit. Like every year, the company with the big ears tells us a nice story with its Christmas ad.
Nicole and her family are back for the third year in a row. The opportunity to be moved once again by this very touching family.
This year, a new member is due to arrive. This news delights the family, except for little Ella… We let you discover that:
This video spot again supports the make-a-wish charity, but this time with music by Jessica Durrow.
Personally, I reluctantly admit that I was a little less touched than in other years, but it's a real pleasure to follow the life of this family and the emotion still works, so we're not going to sulk our pleasure. A little bonus: the new Mickey plush toy presented in the book should once again make an impact, an idea that can easily be put under the Christmas tree…
The Christmas list of board games
Speaking of ideas to put under the tree… I've prepared a small top 10 of Disney board games to offer this year.
I'm giving you the first 3 today, the next 3 in the next issue, and finally the top 4 will arrive in time for you to have the whole list before Christmas.
Le Grand Quizz : ideal to put the atmosphere during your aperitifs with friends, or to challenge the youngest. The big quiz will ask you questions about your favourite universe… Are you as much of a fan as you think?
Le Donjon maléfique : No lie, I've never tested it, and I don't really want to. The game looks efficient but rather simplistic. It's mostly aimed at a family audience, but it's beautiful enough to join this top.
Pay Day, Uncle Scrooge Edition : to be nostalgic, the good pay allows you to experience games as fun as in your childhood. The Scrooge version is particularly beautiful, it will please all fans of the duck, and its image lends itself particularly well to the theme.
Our favorite
We're still in the world of palmipeds, but this time with a comic book!
Indeed, on November 9th, Glenat publishers released the comic book Scrooge, Le Dragon de Glasgow which will allow us to learn more about the youth of Scrooge.
The publishing house is used to comics in the Disney universe and always releases particularly beautiful and qualitative books. And this one is certainly going to be one of them. We can't wait to have it in our hands to review it.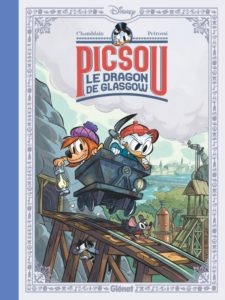 A new issue rich in diversity that makes us want to discover many things. Let's hope that the rest of November will continue in this vein!
---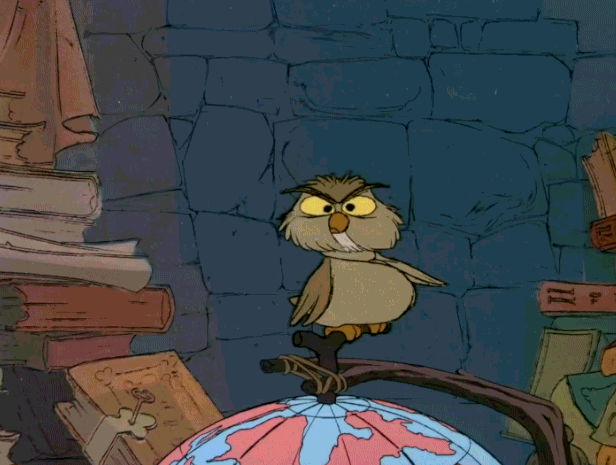 Our flight on Worlds of Disney is now over and you are back home. We hope you enjoyed your trip with us! Don't miss our next issue for a new world tour of Disney news.
Pss! If you missed the previous issue, it's here!