Dream… and Shine Brighter! is the new daytime show at Disneyland Paris launched on the occasion of its 30th anniversary.
Name: Dream… and Shine Brighter!
Location: Central Plaza in front of Sleeping Beauty Castle at Disneyland Paris
Opening date: March 6, 2022 – Previews on March 4 and 5, 2022
Break: October 1, 2022 to January 8, 2023
When: 4 times a day (variable timetables to be consulted on the Disneyland Paris website or on the official app)
Duration: 30 minutes for the round trip in parade mode, including approximately 15 minutes of show time on Central Plaza
Musics: "Un monde qui s'illumine" and "Ready for the Ride" – Recorded with a symphony orchestra at Abbey Road Studios in London
Concept
To the sounds of new musics, Mickey, Minnie and their friends dressed in sparkling costumes invite you to dance, laugh and dream louder in front of Sleeping Beauty Castle so that the world lights up!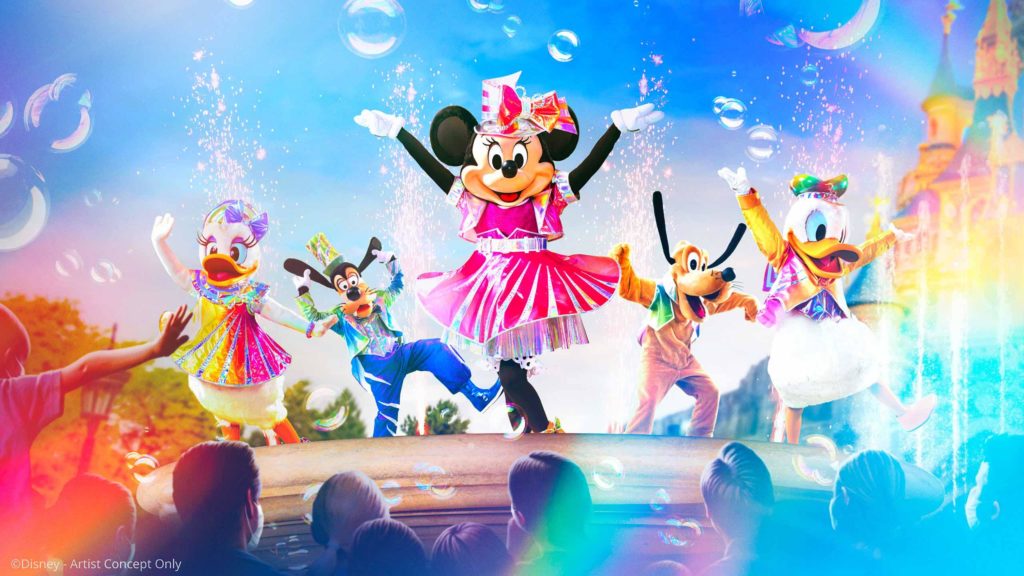 The experience
Led by dancers leading the way for the four floats, the characters take over Main Street USA. They then make their way to Central Plaza to the rousing theme song "Ready for the Ride". From their transparent and iridescent floats, Mickey, Minnie and their friends greet young and old in a particularly festive atmosphere. As the fountains of Sleeping Beauty Castle come into play, dancers, characters and floats take their places on the stages and around Central Plaza of Disneyland Park.
The celebration begins with a soundtrack, a medley of many Disney films. From Beauty and the Beast to Moana, from Toy Story to Aladdin via Zootopia, Coco and many others, it is a real musical journey through the Disney productions. The different scenes follow one another at a frantic pace. The artists move from stage to stage, getting on and off the floats several times. They also move around Central Plaza. Pyrotechnic effects on the castle and on the stages as well as numerous bubbles illuminate the performance before everyone finds their way home.
Many characters
Among the most classic characters represented are Mickey, Minnie, Goofy, Pluto, Donald, Daisy, Chip, Dale and Clarice in their iridescent costumes designed especially for the occasion. Other regulars such as The Genie, Jessie, Woody, Alice, Mad Hatter, Peter Pan, Rapunzel and Tiana complete the cast.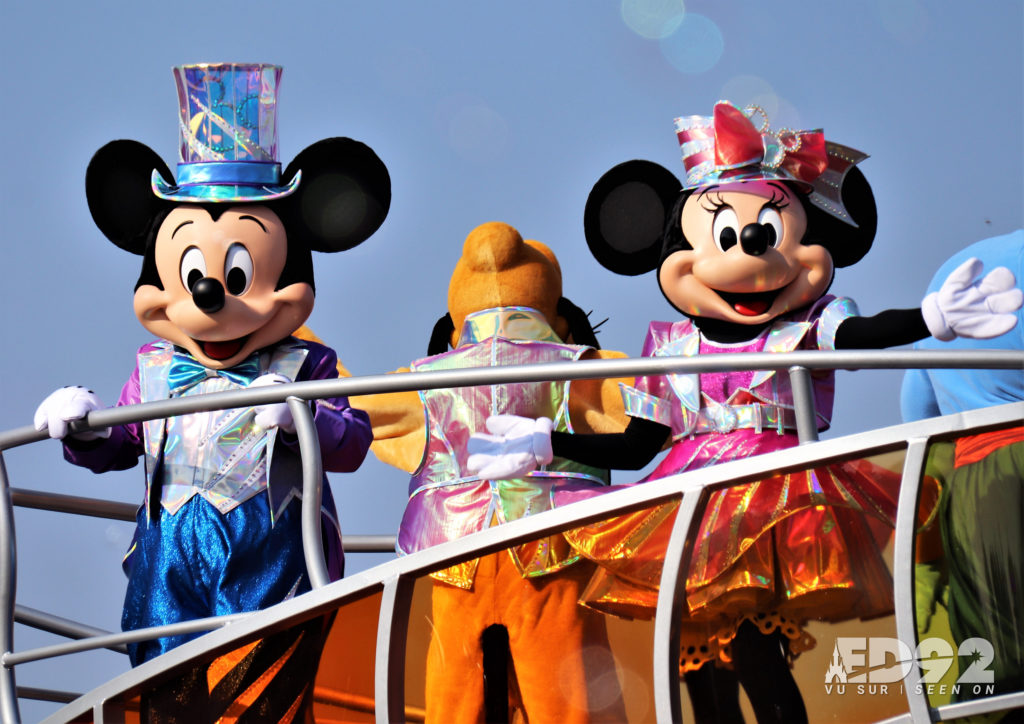 Real star of the show, Miguel (from the Disney Pixar film Coco) honours us with his presence for the very first time at Disneyland Paris. Joy (Inside Out), Judy Hopps and Nick Wilde (Zootopia), who are rarely seen, are causing quite a stir.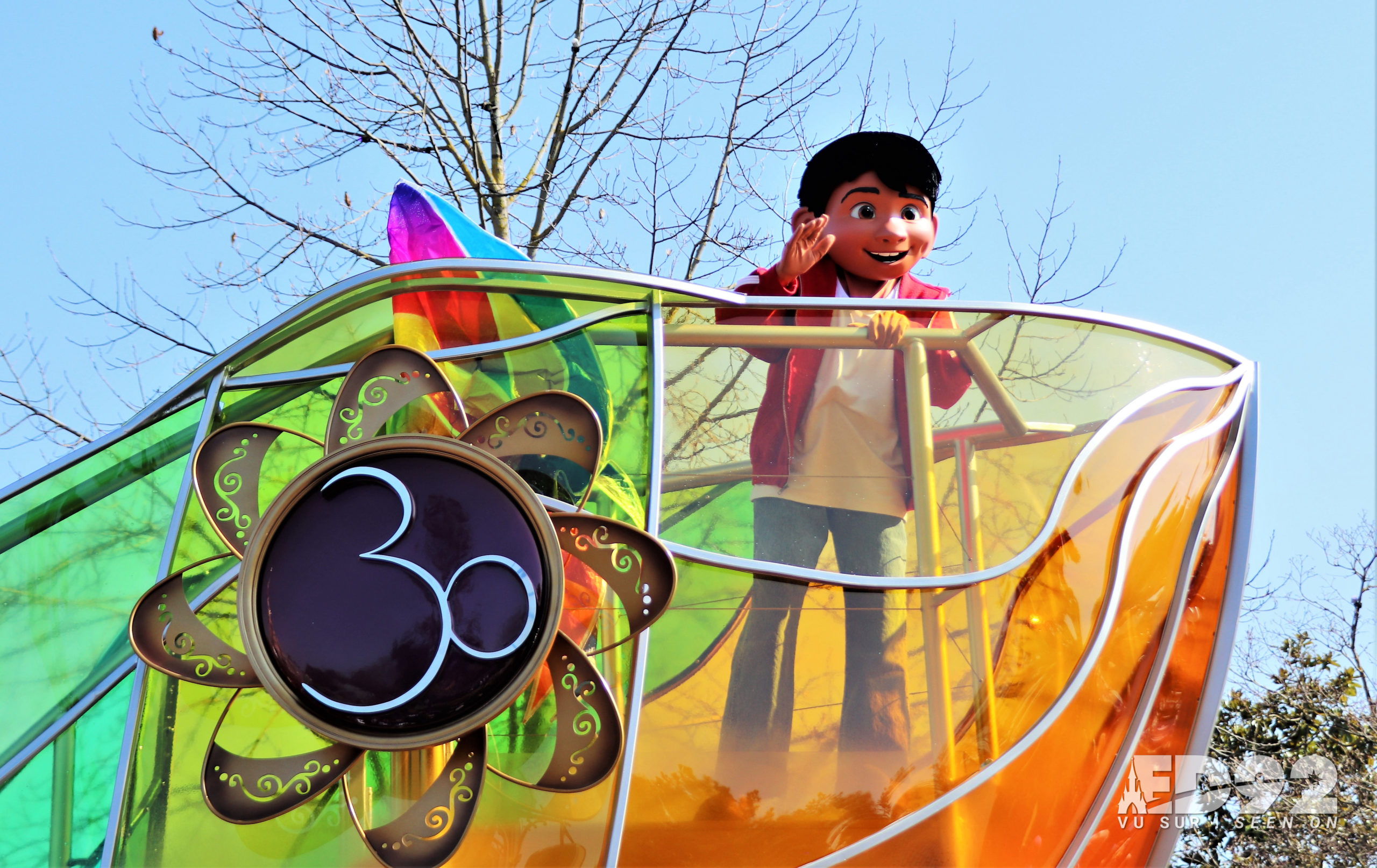 Costumes adapted to the seasons
In order to be able to perform the show every day, the dancers' costumes change with the seasons. With short sleeves in summer and jackets in winter, the artists are equipped for performances in all weathers. Please note that in case of bad weather conditions (rain…), the show can be presented in parade mode only.