Disney Legend Julie Andrews was born on 1st October 1935 near London. Her Oscar-winning turn as Mary Poppins marked her first appearance onscreen in 1964, and led to another celebrated role as Maria von Trapp in The Sound of Music. She was inducted as a Disney Legend in 1991.
Despite suffering the loss of her singing voice, Andrews returned to the Walt Disney Studios as The Princess Diaries' Queen Clarisse in 2001.
Broadway Starlet
Andrews was born in October 1935 in Walton-on-Thames in Surrey, near London, to a vaudeville family. Both her parents performed onstage, so Julie grew up singing and spending time around theatres. Andrews' talent was noticed, and she became a child star on the West End. By the early 1960s, she had transitioned to Broadway where, eight years and three shows later, Walt Disney discovered her.
Andrews had recently been passed up for the screen adaptation of her previous Broadway show – leaving her free to take on the role of Mary Poppins.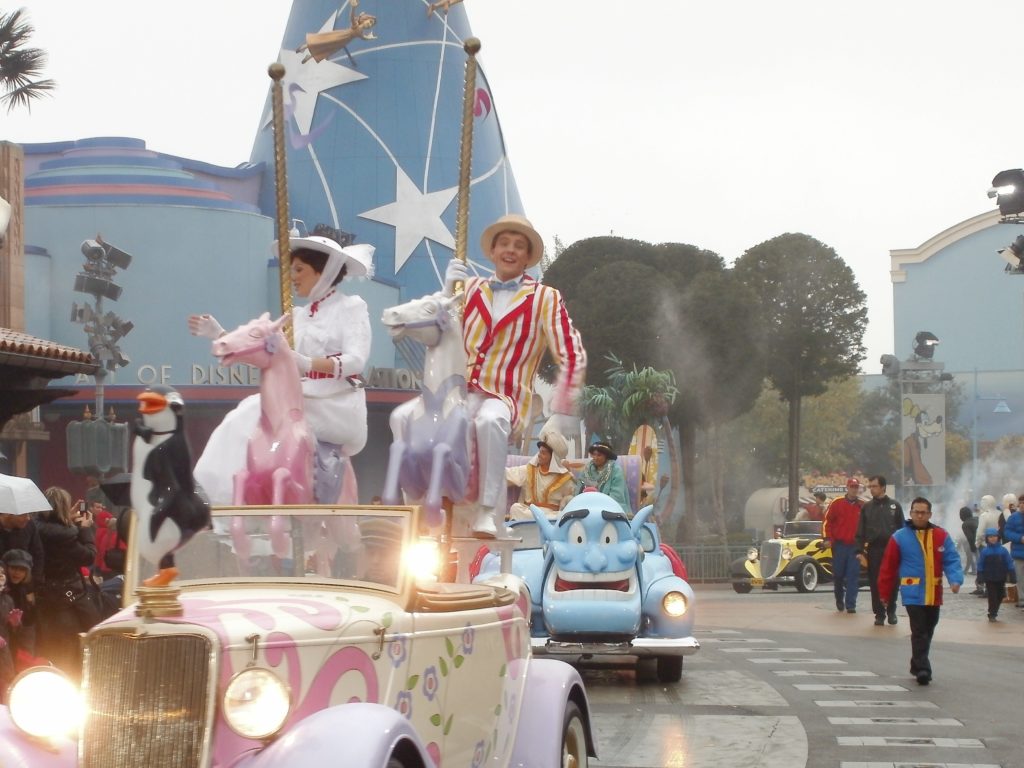 Practically Perfect in Every Way
Walt Disney was adapting P. L. Travers' stories into what would become the 1964 movie, Mary Poppins. After winning the author's grudging approval,
Andrews travelled to Burbank with her husband and three-month-old daughter to start filming. On set, she taught Dick van Dyke old vaudeville songs to help with his Cockney accent. Meanwhile, director Robert Stevenson guided stage veteran Andrews in her first film role. She also had to contend with early versions of greenscreen, flying on a wire and acting opposite animated characters.
It was all new to the Broadway star. But of course, singing and dancing were not, and the musical picked up countless awards. Julie Andrews won the Best Actress Oscar for her role, one of four Academy Award wins for Mary Poppins.
The Disney movie was nominated in 8 more categories, including Best Picture. Andrews' husband, Tony Walton, was the movie's costume designer and nominee for Best Costume Design.
Walton shares insider info on the Mary Poppins costumes in Disney Plus original series Prop Culture, including the iconic look he developed for his wife's character.
The star's acclaim as Disney's Mary Poppins led to another runaway hit the following year – The Sound of Music, for 20th Century Fox (now 20th Century Studios, under the Disney umbrella).
Julie Andrews was made a Disney Legend in 1991, becoming one of the first performers to receive the honour.
Why Julie Andrews Stopped Singing
Andrews had suffered vocal strain since the early 1980s. In 1997, she sought vocal surgery but instead of repairing the damage it left her with further problems. The Disney Legend was forced to stop singing.
From Nanny to Queen
Julie Andrews reached a new generation of Disney fans in 2001 as the Queen Clarisse of Genovia in The Princess Diaries, alongside Anne Hathaway's Mia Thermopolis. Appropriately, Andrews' return to Disney was filmed on the same stage as Mary Poppins at Walt Disney Studios.
The sequel, Princess Diaries 2: Royal Engagement, was released three years later and granted Disney another landmark performance. In the movie, Andrews performs Your Crowning Glory, her first musical number in years.
Having returned to Walt Disney Studios, the Mary Poppins star was cast in another topical new role. Julie Andrews played the Nanny in Eloise at the Plaza an Eloise at Christmastime in 2003.
The Eloise adaptations were led by long-time Disney director Kevin Lima, as part of The Wonderful World of Disney movie series. And when the director got the go-ahead for Enchanted, he brought in Andrews as the Narrator in a cameo role.
Julie in Disneyland
In 2005, Julie Andrews was chosen as the official ambassador of Disneyland's 50th Anniversary celebrations. Who better than Mary Poppins to help Guests celebrate the magic?
And of course, if you're lucky, you might see her famous character Mary Poppins around the Disneyland Paris parks!