The Sanderson sisters are a trio of witches from the 1993 film Hocus Pocus, three unforgettable villains.
Express Bio:
The Sanderson Sisters. Winifred (Winnie), Mary and Sarah Sanderson.
First appeared in the Walt Disney Pictures live action movie Hocus Pocus, released in 1993.
Wear 17th Century-style dresses, boots and capes in their signature colours.
Winifred is the eldest, followed by Mary. Sarah is the youngest Sanderson Sister.
Love of evil, playing games, and the Devil.
Have the powers to cast spells, brew magic potions, fly, and raise the dead.
Live in a cottage with a watermill on the edge of colonial Salem, Massachusetts.
Enemy of the 17th Century villagers, Thackery Binx, and Allison, Max and Dani.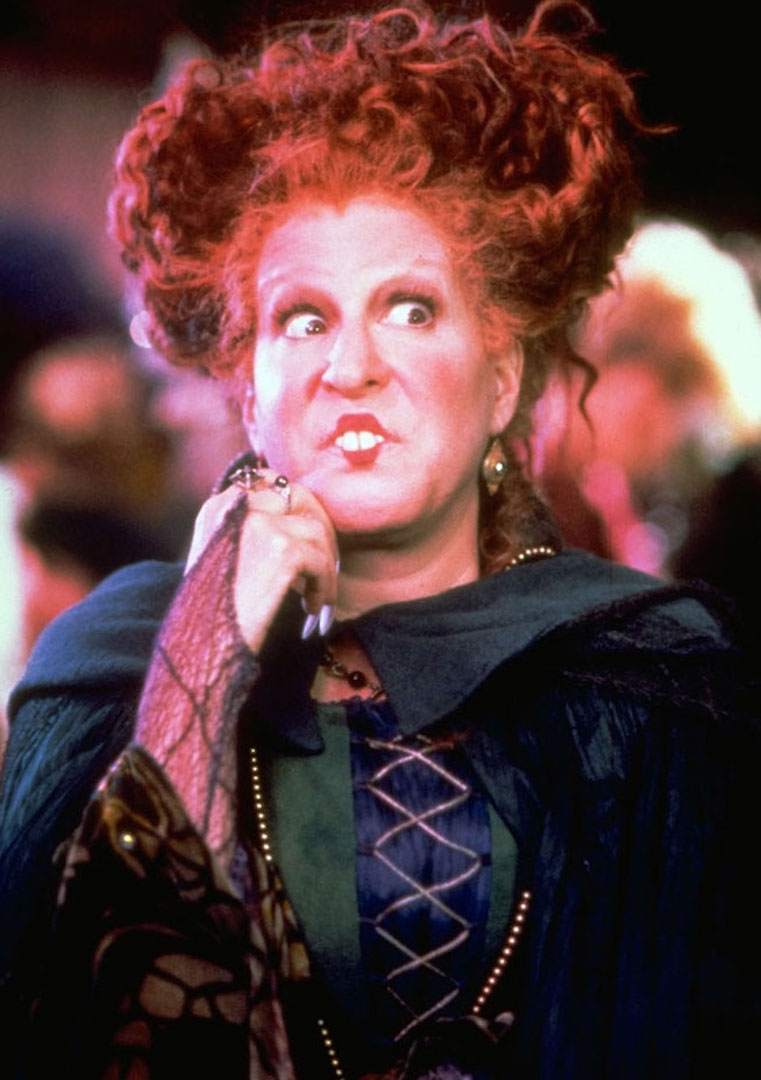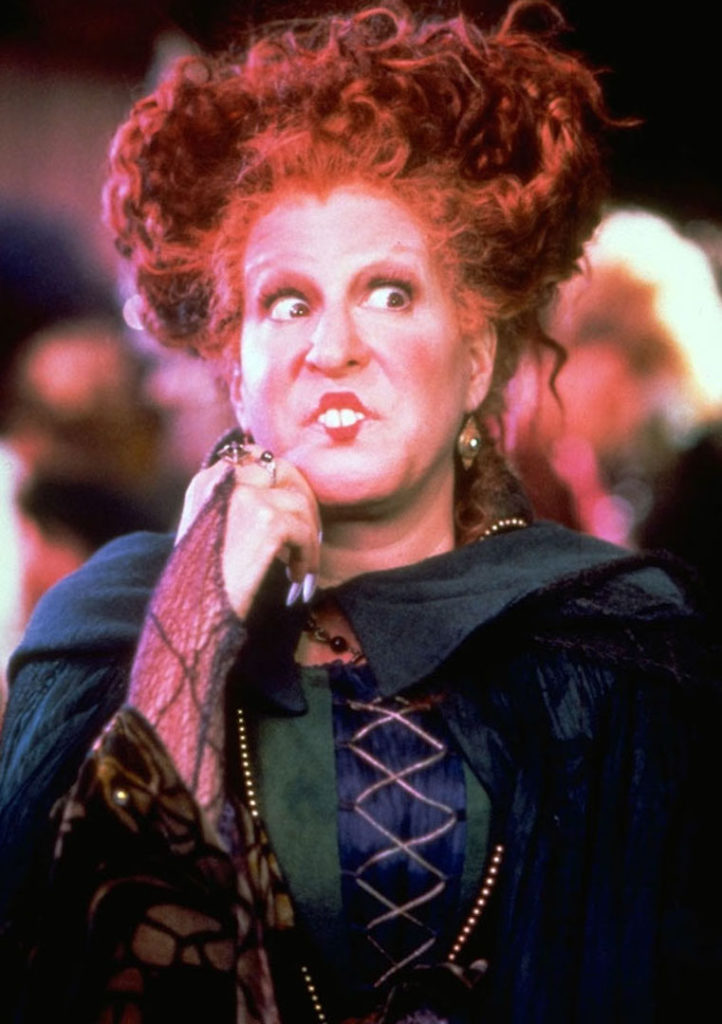 In Detail:
The Sanderson Sisters were created by the writer and producer of Hocus Pocus.
Producer David Kirschner came up with the concept of the witches changing a boy into a cat, and horror screenwriter Mick Garris wrote the script that created their final personalities.
Disney's 1993 movie Hocus Pocus also takes inspiration from the real Salem Witch Trials.
The first movie was directed by Kenny Ortega, also known as a skilled choreographer, who has worked on Newsies, High School Musical and Descendants.
Hocus Pocus was released in July 1993 in the US.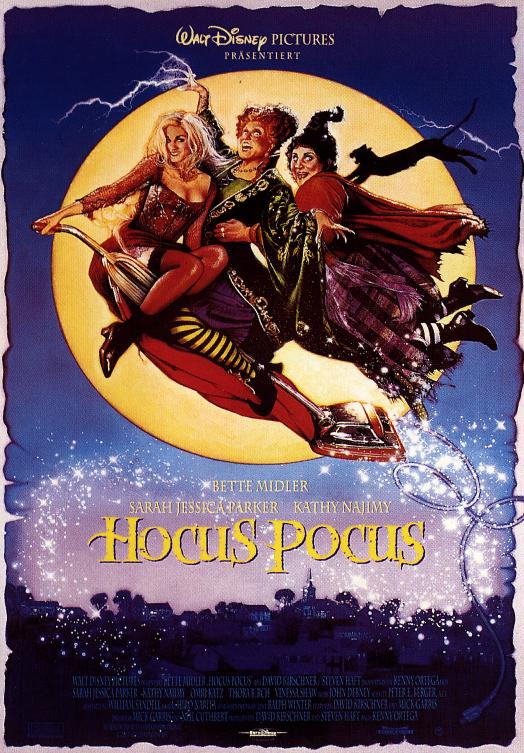 It's thought to have lost money on its original box office run, before becoming a cult favourite on TV repeats.
Winifred is played by Bette Midler, Mary is played by Kathy Najimy, and Sarah is played by Sarah Jessica Parker. All three actresses reprised their roles in the 2022 sequel.
Multi-award-winning actress and singer Midler has called Winifred Sanderson one of her favourite roles.
The Sanderson Sisters sing I Put a Spell on You, based on the 1956 song. It was adapted for Bette Midler by music producer Marc Shaiman, to sound like a Broadway-style number.
In Hocus Pocus 2, the Sanderson Sisters sing Elton John's The (W)itch is Back and Blondie's One Way or Another. Both songs were adapted by Marc Shaiman specially for the movie and its cast.
The witches always appear in their signature colours.
Winifred has red hair and dresses in green, Mary has black hair and dresses in red, Sarah has blonde hair and dresses in purple.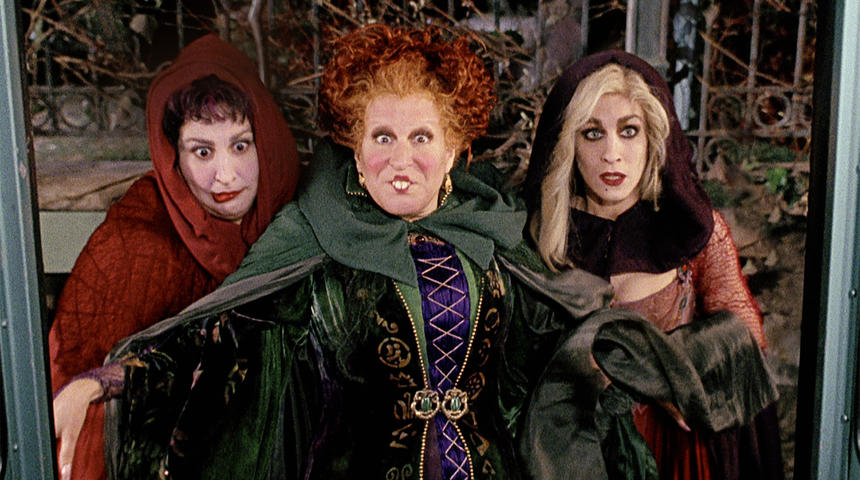 Costume Designer Mary Vogt has revealed in interviews that Winifred's dress design is inspired by mystical symbols, but they don't have an exact meaning. Mary's talent for potion-making inspired a historical baker's clothing, and Sarah's pretty pink and purple costume is inspired by Sleeping Beauty.
Winifred, Mary and Sarah are executed in 1693 and have been dead for 300 years. They are brought back in 1993 when the black flame candle is lit.
Winifred loves her spell book above all. In the movie's version of Salem, MA, there is a local legend that it was given to her by the Devil and is covered in human skin.
All three sisters look up to their mother and her memory. It's suggested that their mother was also a witch.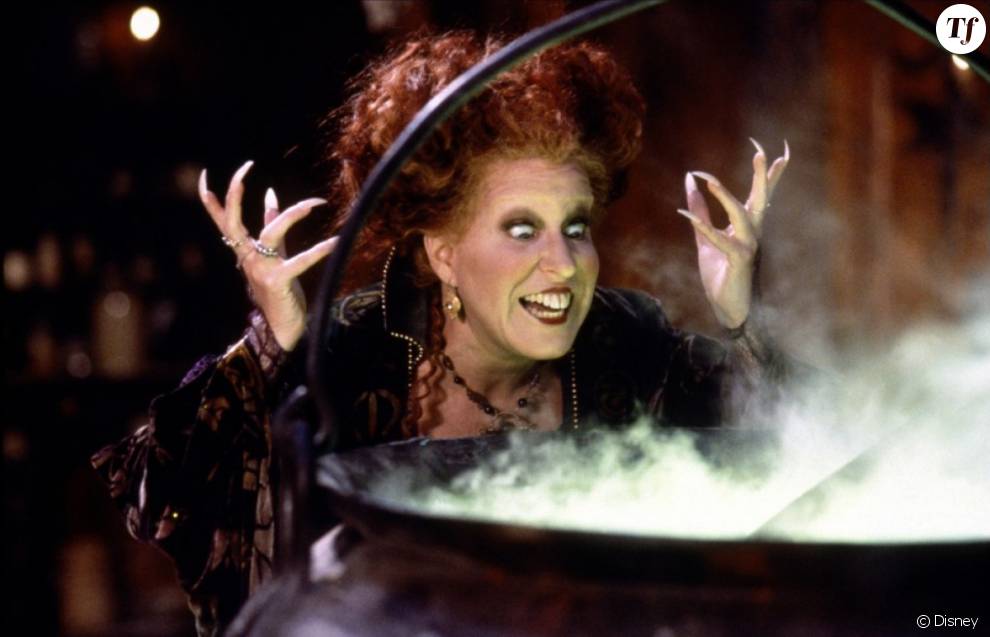 The Sanderson Sisters can also hypnotise and control people through songs and chants.
All three witches fly broomsticks originally, but can use their powers to fly on any similar vehicle. Throughout both films, they replace them with their modern equivalents including mops and vacuum cleaners.
The Sanderson Sisters are disgusted by children, but want to collect them to make themselves younger.
They hate happiness and nice things, but are tempted by novelty. The sisters are quick to adapt to inventions like buses, television, candy and vacuum cleaners.
The Sanderson Sisters have a mixed relationship with Billy Butcherson. It's revealed that Billy Bones was Winifred's boyfriend before cheating on her with Sarah, leading to his death in May 1693.
In 1693, the sisters transformed Thackery Binx into a cat after they kidnapped his sister, Emily.
In 1993, it's revealed that they have become local legends and their house has been turned into a museum. Allison tells Max and Dani Dennison that the museum had to close after strange things happened there.
Before their reappearance in Hocus Pocus 2, the Sanderson Sisters were featured in the Disney novelisation of Hocus Pocus. They also appear as villains in a second story, Hocus Pocus: The All-New Sequel. Both were published in 2018.
Since 2015, the Sanderson Sisters have appeared as face characters in the Hocus Pocus Villain Spelltacular Show at Walt Disney World, Florida. It's part of Mickey's Not-So-Scary Halloween Party, and features Winifred, Mary and Sarah summoning villains including Maleficent and Dr Facilier, and joining in with their signature songs.