By Valentine
You have a young child and you hesitate to come to Disneyland Paris…
You are afraid that it will be too much organization, that your child will not be able to do any attraction, that he will not remember it. All our advice for an unforgettable stay with your little ones!
If your child is under 3 years old, the Disneyland park will be your friend (although he can also access and enjoy the Studios but we will come back to that later…).
Our advice:
Download the Disneyland Paris app and click on "Plan", this will allow you to be able to select from the list of attractions what your little one can do thanks to the "interests" category: family adventure, entertainment for the little ones, and ESPECIALLY the minimum height. You will be surprised to see what can be offered with no minimum height requirement or from 81 cm!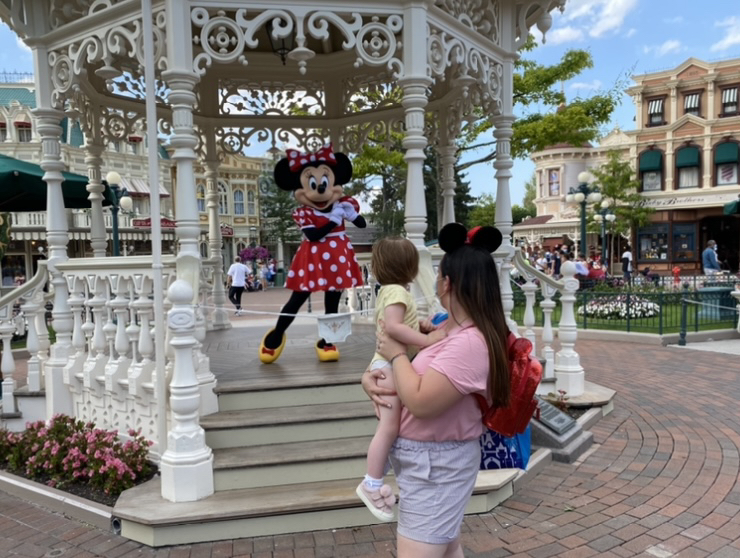 Attractions
We have to tell the truth, if we focus on the attractions only, Fantasyland is the best land for our little ones. The little ones will love "It's a small world", "Snow White and the Seven Dwarfs", "Casey Junior, the little circus train", "Lancelot's Carousel", "Fairy Tale Land", "Mad Hatter's Tea Cup"… In addition, this land is very colorful and whimsical, which appeals to children. We really find all the Disney magic.
When your little one is more tired, take a walk on Adventure Isle with its pirate world or in the Wild West in Frontierland. Discoveryland also allows toddlers to fly with "Orbitron" or to play space rangers with "Buzz Lightyear Laser Blast".
Apart from the attractions, "Alice's Curious Labyrinth" allows children to discover this enchanted world at their own pace or to take a break and take a train ride on the Disneyland Railroad to discover the entire park without getting tired!
You can count over forty activities to do with your little ones!
The key to the success of your stay will in fact be the organization. Add in your favorites the list of what you would like to do (don't hesitate to make a small paper list with the name of the activities referenced by color for the 4 lands of the park to save time and in case you run out of battery).
The stroller is an ESSENTIAL even if your toddler can walk, you have to tell yourself that you will walk about ten kilometers in the day and very often trample to wait.
If it is too cumbersome for you to bring your own stroller, you can rent one at the park entrance. However, please note that strollers are not accepted in the waiting area.
Photo point
What the kids also love is being able to meet the characters, their favorite heroes!
Again through the app, you can find out where they are in the park and leave with a memory that will last forever! The parade is also a great way for them to say hello if they are scared to get too close.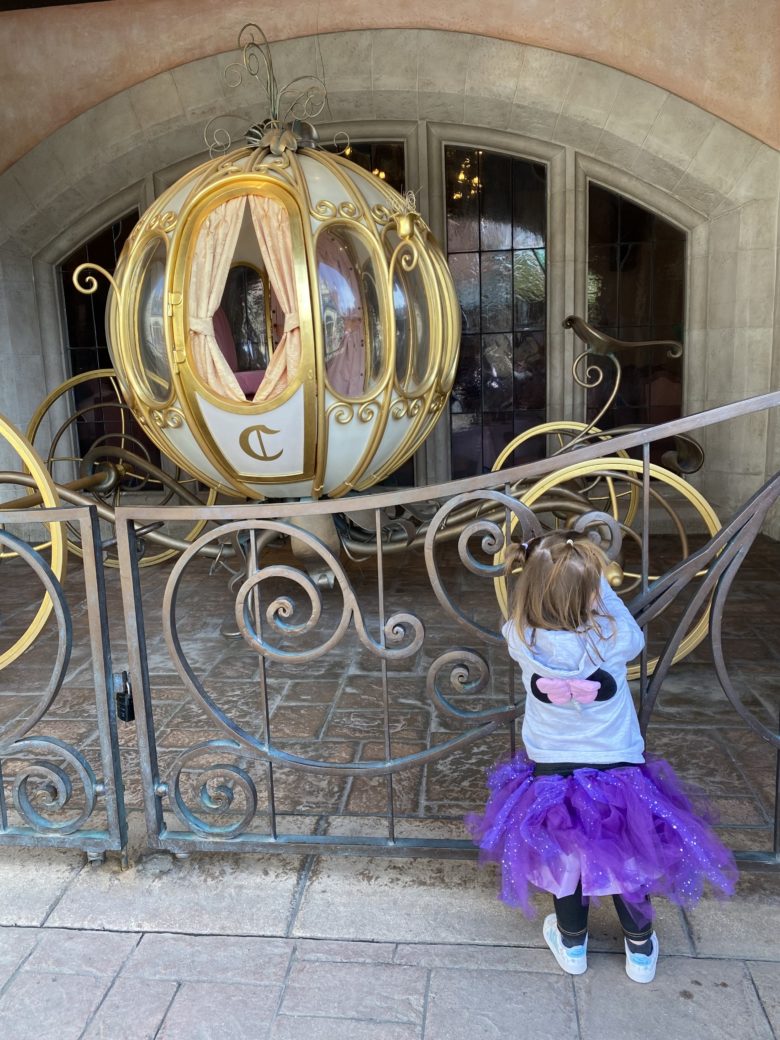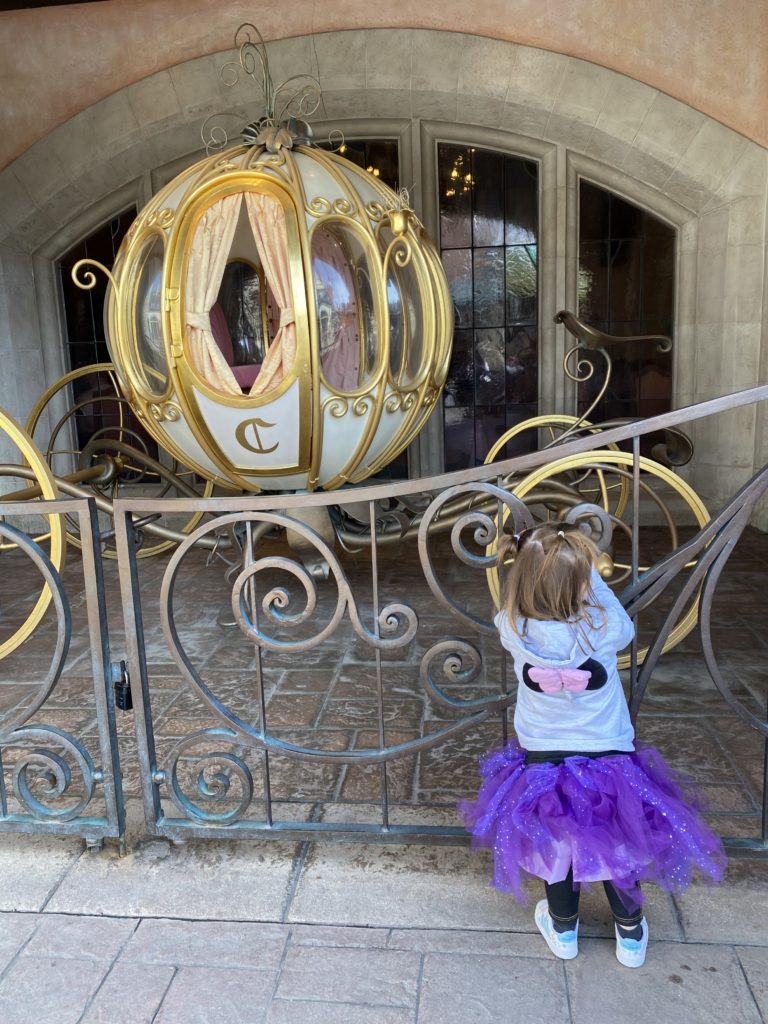 Shopping
At nap time in their stroller, it's a chance to store quietly! Enjoy looking at your own pace without them touching everything. And of course you can always give them some time before departure to choose their own souvenir, but at least you will have had time to look around before.
Meals
For babies, you should know that each restaurant will be able to heat up a baby's bottle or potty.
For those who eat like us, well a kids menu is always offered. Pizza Mickey, souvenir straw … again if you have spotted a restaurant and you do not want to eat too late for your little ones, book in advance through the application at the time you want, from noon itself!
Change
If you need to change your baby, you can do it in any restroom, but I recommend Bixby Baby next to Gazebo, at the entrance of Main Street. If you need diapers or anything else, you can buy them there! A very good reception with changing tables, a pink universe and a space to make baby eat or breastfeed.
Forget the traditional diaper bag, it could clutter you up too much. A backpack if you are alone or two bags if you are a couple with the minimum: diapers, liniment, cotton pads, wipes in travel size. A change of clothes, comforter, pacifier, a jacket and/or plaid, a small cooler bag to put under the stroller. But avoid overloading yourself because you need to last the day.
Walt Disney Studios Park
It's true that for the little ones it's not the park they think of first, but they will love to meet the Snow Queen and the atmosphere of Worlds of Pixar!
As for knowing if they will remember it… I sincerely think so! They will be rocked by the Disney universe. My little one was not yet two years old for her first visit and every day she asks us to go back to Disney, she is happy to see the pictures of our stay, the atmosphere (think of making short videos), the music… you are the parents, trust you! And above all, the stay is free for children under 3 years old.