As of December 3, 2021, Disneyland Paris is changing its accessibility and disability programme as part of a major overhaul of the historic system. The destination has chosen the International Day of Persons with Disabilities to launch this revolution. All visitors concerned must therefore apply all of the new guidelines presented below.
Conditions of the Disneyland Paris Accessibility and Disability Programme
The cardholder receives a 25% discount on the price of their ticket or Annual Pass. A companion is not compulsory to visit Disneyland Paris. Accompanying persons are not entitled anymore to free admission. In exchange, they can also benefit from a 25% discount.
At attractions, up to 4 people can accompany the cardholder and 2 on the shows and parades. It is important to note that the cardholder has to ride with its group.
People concerned by the Accessibility and Disability Programme
Priority access card
The priority access card is reserved solely for holders of the priority access card is only available to holders of one of its valid official proof of disability in French or English (see below).


For foreign nationals from the European Union and the United Kingdom (see below) , Disneyland Paris has listed all the types of card for each country to set up an equivalence system. Only the official documents of each country will be valid for the issue of the card. For residents of countries outside the European Union and the United Kingdom, the situation will be studied on a case-by-case basis.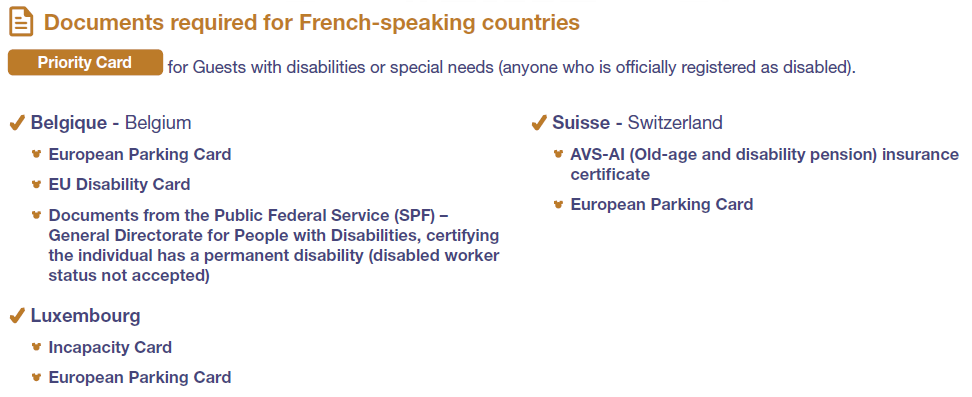 Prescriptions issued by the doctor are not valid. The Priority Card grants priority access to attractions, althought access is not immediate, shows, Disney Character Meet 'n' Greets, restaurant and shop cash desks.
Facilitated access card
The Facilitated Access Card is issued to people with a long-term illness (LTI). The presentation of a medical certificate, mentioning in French or English the number of the LTI, allows to benefit from a Facilitated Access Card in order to avoid queuing in the attractions, thanks to an appointment system based on the waiting time of the attraction. You can consult the List of Long Term Chronic Diseases with numbers on the official Disneyland Paris website here.
A reservation system has been introduced for you and your companions. Simply show your card to the Cast Member at the attraction entrance and you will be given a specific time at wich to return. A second reservation can only be made once the first one has expired, and so on.
Pregnant women
For pregnant women only, a grey priority access bracelet (Thumper) is issued in exchange for proof of pregnancy dated within 3 months in French or English.

Victim of a temporary health problem
If you experience a temporary health problem shortly before your stay, Disneyland Paris may be willing to postpone your stay to a later date. but basically you are not entitled to priority access. There may be exceptions on rare occasions, but this is not the norm.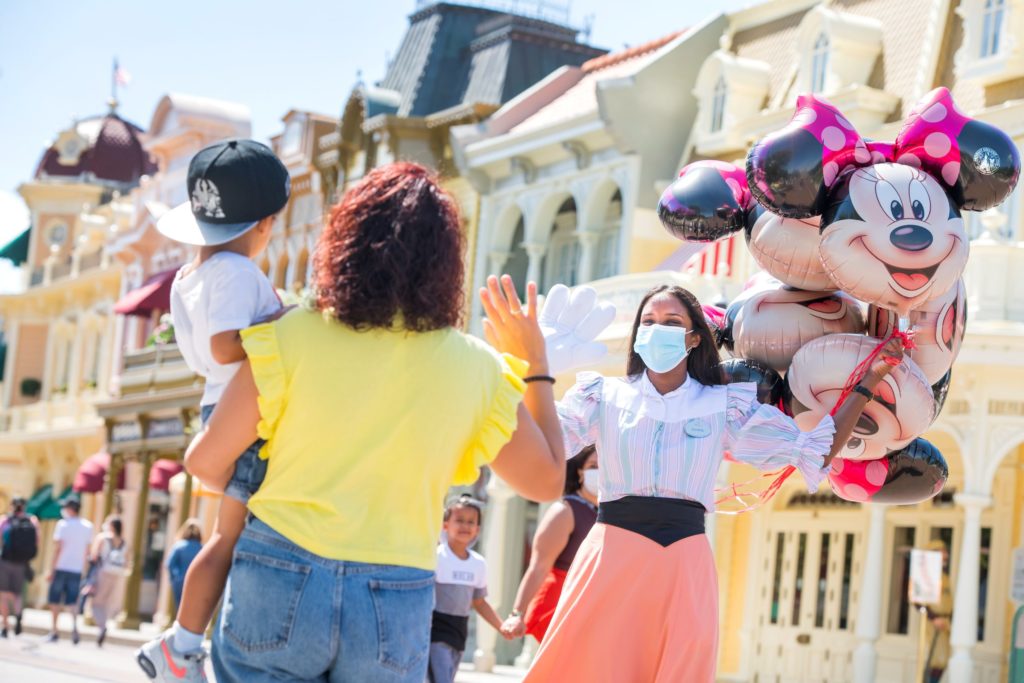 How to get your new card?
Since 3 December 2021, cards are now digital. They contain a photograph of the holder.
It is possible to fill in the form on line before a visit in order to save time during the visit. It is still compulsory to go to City Hall to provide the official documents and to take the photo. The file can also be completed directly on site.
Online application form for a priority card to be found by clicking here.
The file to be filled in includes 4 questions to determine your level of autonomy in order to give you a card with a coloured sticker corresponding to one of the 5 levels of autonomy that allow you to manage safety and evacuation issues.
1- Are you in a wheelchair?
2- Do you need support?
3- Can you get on and off a ride alone or not?
4- Is an evacuation possible by yourself or not?

The 5 levels of autonomy of the Disneyland Paris Accessibility and Disability Programme
Green: Autonomous, without mobility problems or assistance (e.g. mentally handicapped).
Purple: Independent but with reduced mobility (e.g. in a wheelchair but can get out).
Orange: Difficulty in evacuation and requires the assistance of a Cast Member.
Blue: Not autonomous. Mobility difficulties and needing the presence of the fire brigade for evacuation (example: wheelchair).
Grey: No autonomy. Non-transferable person. Very limited number of attractions. Presence of the fire brigade required.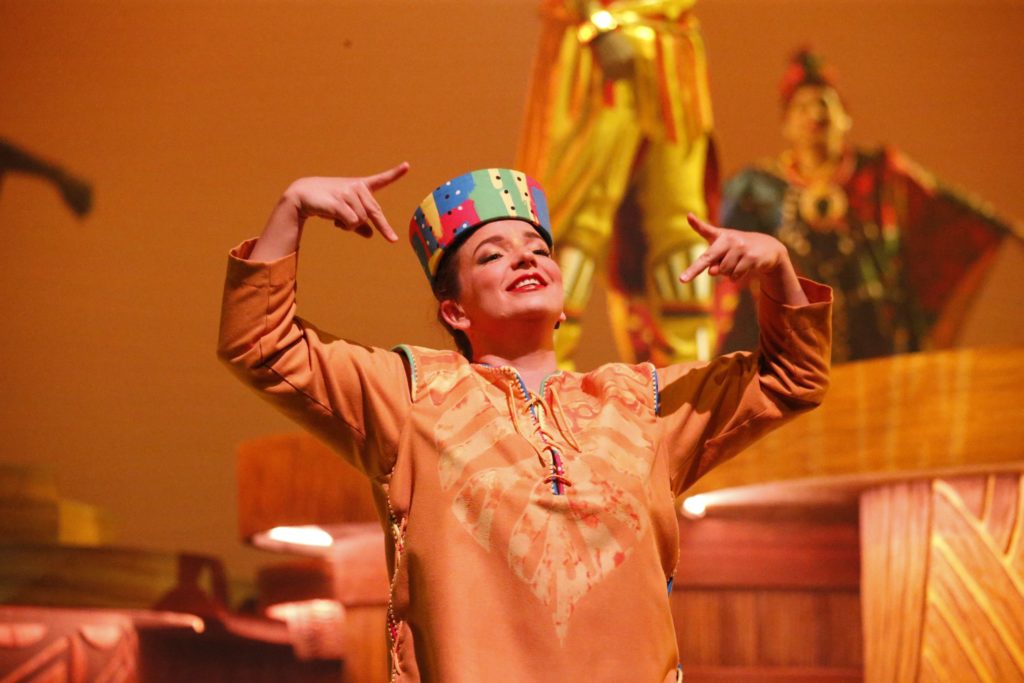 More inclusion : Magic for all
A specific guide for non-neurotypical children
A detailed guide (on the official Disneyland Paris website and in paper format) is aimed at people affected by the autism spectrum (ASD, ADD/ADHD, etc.). It presents the level of noise, light, darkness, etc. on each attraction, i.e. all sensory levels. It allows the feasibility of an attraction to be adapted to each person.
An audio description system for the visually impaired
The dedicated AudioSpot App is aimed at the visually impaired for attractions and restaurants. It is an audio description system. For example in It's a small world, you will get the description of the scenes in French or English. This is also the case for the restaurants where you can get information such as the name, the type of food and the detailed menu in 9 different languages. It will be implemented between autumn 2021 and spring 2022.
Useful links for more information
Accessibility Guide : This guide provides an overwiew of the specially adapted services and facilities we offer to help you to have a safe and magical time at Disneyland Paris.
Blue Booklet : A resource for guests with cognitive disabilities including Autism Spectrum Disorder (ASD) and their companions.